Starting a new project for something interesting to texture; instead of a material test ball I'mma make a character, because why not! I'm recording the process as I go, so it should be pretty easy to translate into a video series when it's all wrapped up.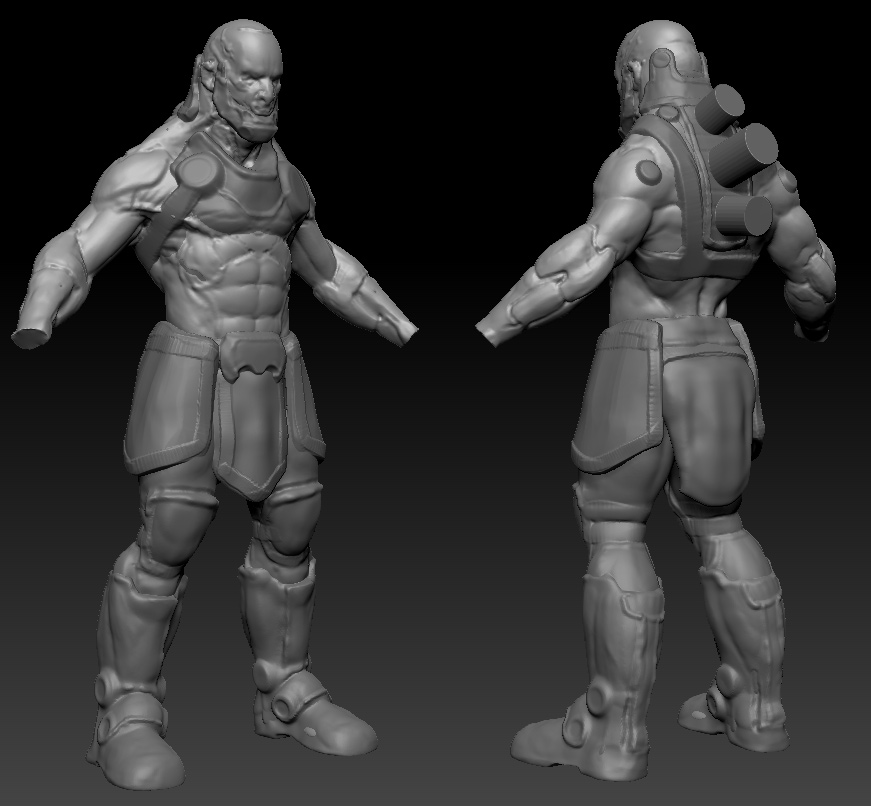 Tried something different this time to block in the body; I started with the Ryan Kingslein skeleton found in the tool tab in the Lightbox (hit the "comma" key, click tool); to isolate the skeleton, select the skeleton subtool, then go to subtool > delete other.
To pose the skeleton, I turned x symmetry on (hit "x" or go into the transform menu and turn it on), then used lasso visibility to select most of the arm (ctl+shift+lasso visibility), then ctl+shift+a to grow visibility to the entire arm, then hit ctl+w to polygroup that arm in case I needed it as selection later.
While it was visible, I ctl+clicked the document to mask visible, ctl+shift+clicked the document to bring everything back, then ctl-clicked the document again to invert my mask. Then I used transpose to pose the arms how I wanted; did the same process for the legs as well.
To get some meat on them skeleton bones, I duplicated the skeleton, went to tool > deformations > inflate, then did a tool > dynamesh so I could start blocking it in. It's nice to have the skeleton in there to provide quick landmarks and proportion; hit the transparent button while you work occasionally to see where things are at.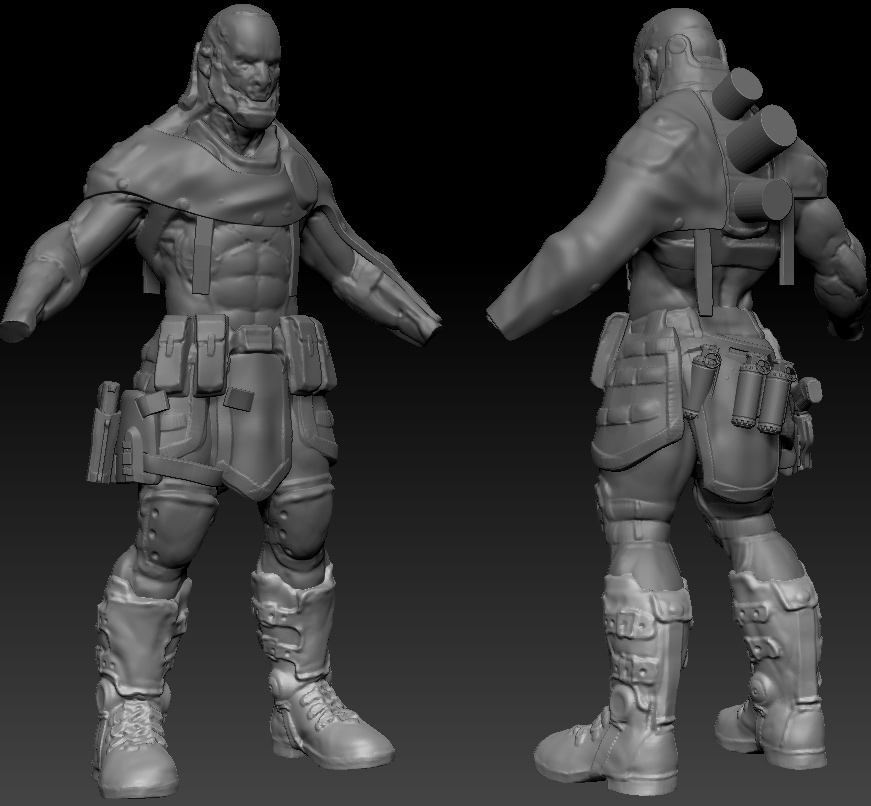 Not exactly sure what I want to make, but quickly adding stuff in to feel out the masses and see if there's anything that catches my fancy. You'll notice I'm skipping the hands for now-- I like to dynamesh in the body at a certain low resolution, and hands just get in the way at this point.
Actually I'm just lazy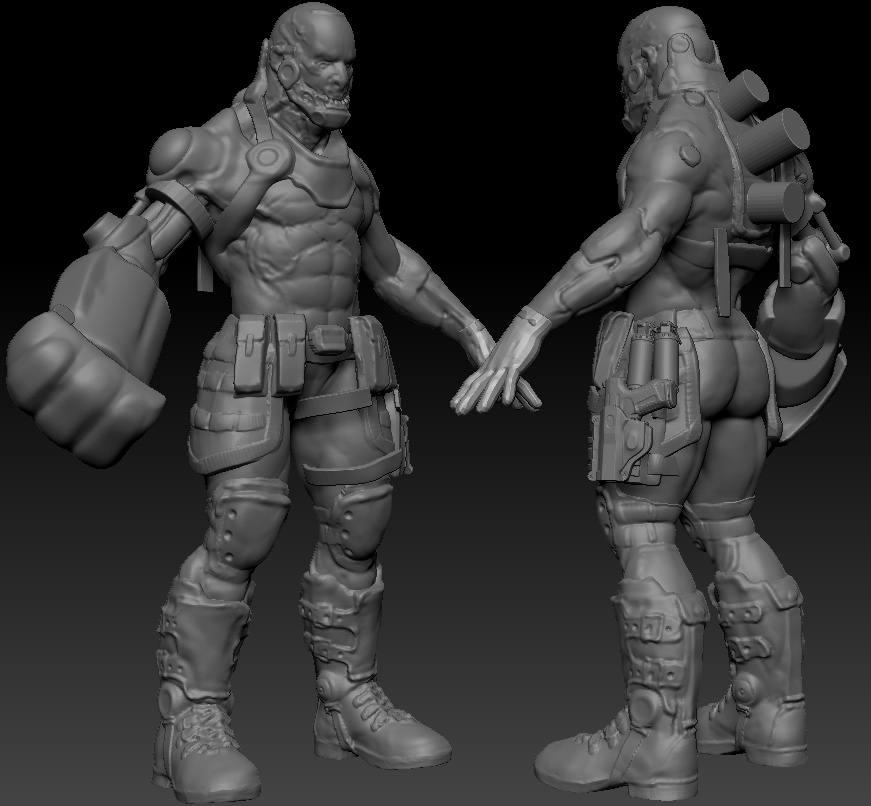 Need a big metalic hard edge thing in there to texture later, so why not his arm! This with his robot jaw is giving him a very trapjaw look, so I'll roll with that. You'll notice he has a hand now! I went to Brush > IMM BParts and just inserted his hands, then did a subtool > split > split unmasked to put them in their own subtool. If I dynamesh it with the body at this resolution, the fingers will web; it's best to keep them separate and sculpt them as-is, then if you need to combine them, wait until the body is at a higher resolution and dynamesh them then (or, keep them separate the whole time, then zremesh > project all later to combine them).
Changed the finger pose a bit using mask and transpose (mask lasso works great, don't need a lot of smoothing, but if you want you can hold down ctl while you drag a transpose line along a finger to follow the mesh topology with a mask)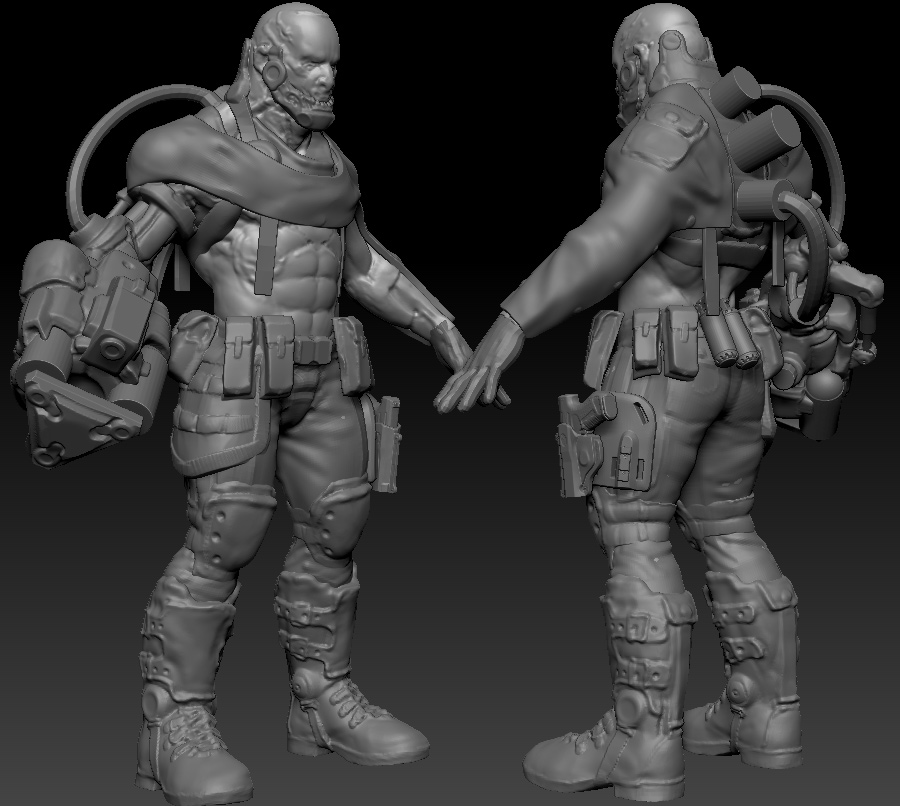 While I block pieces in, once they get to a point where I want to start refining them separately, I'll mask an area, do a subtool > split unmasked points, then dynamesh it and start refining it separately.
I'll post more as more stuff gets done! Thanks for stopping by!