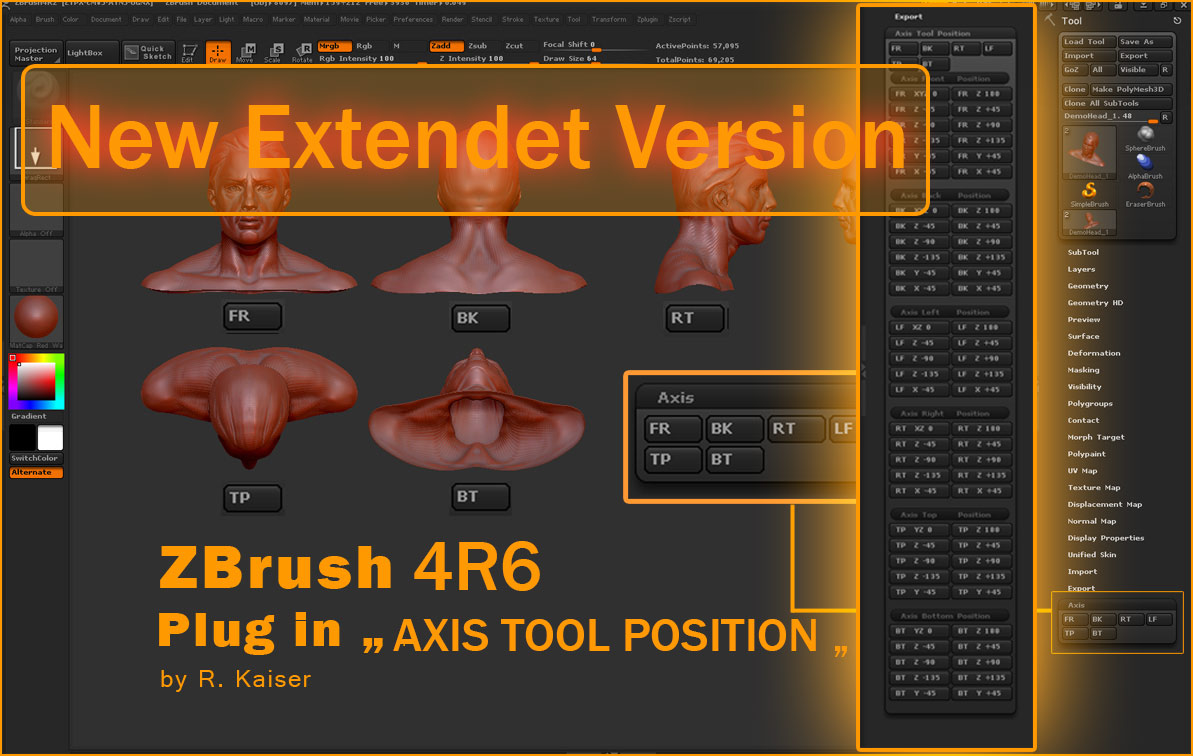 Hello Zbrush users
here is a little new years present of mine! Some people asked me to do more angles on my Plugin. So now i made a new
extendet Version, with new button names.
The new button helps to understand on which Canvas Axis your tool it's going to turn.
link to the old version:http://www.zbrushcentral.com/showthread.php?161588-quot-Axis-quot-Plugin-for-ZBrush-4r2
Hope you like the new version
Greets
Roland
Install:
First remove your older Version.
Just unzip the file ant put it in your startup/ plugin folder.
After starting Zbrush you will find a new subpallete " Axis Tool Position" in your toolpalette.
Axis Tool Position 4R6.zip (3.08 KB)
Here is a little update to the NEW VERSION.
Some people asked me if could toogle the button, so that you can see which position is activ.
Butt sorry , I got now idea.
Here i show a part of my commands, maybe someone can help me:
[IConfig,4.6]
[ISubPalette,"Tool:Axis Tool Position"]
[ISubPalette,"Tool:Axis Tool Position:Axis Front Position"]
[IButton,"Tool:Axis Tool Position:Axis Front Position: FR XYZ 0","Front Position (by R.Kaiser)",
[IConfig,4.6]
[IFreeze,
[TransformSet,0,0,0]
]
[IPress,Zscript]
So, here the update
Axis Tool Position 4R6 update.zip (3.22 KB)Axis Tool Position 4R6.zip (3.08 KB)Axis Tool Position 4R6 update.zip (3.22 KB)
Attachments