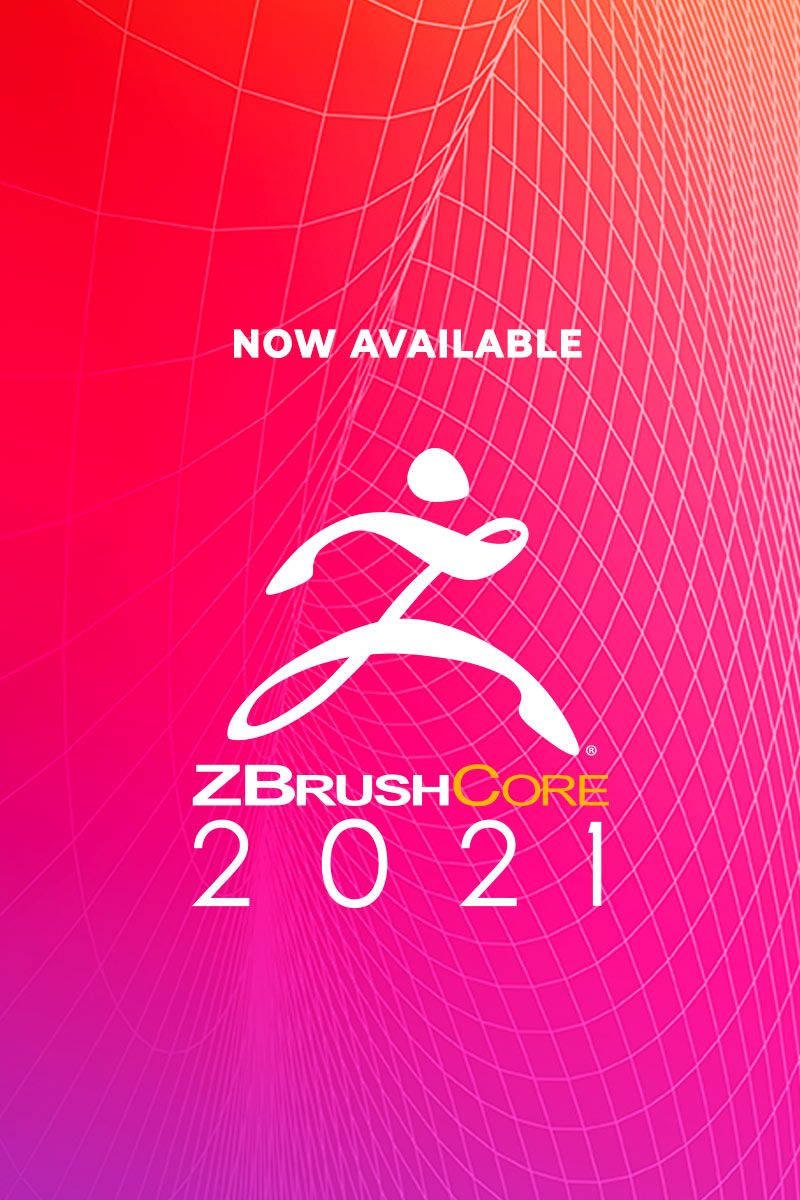 Pixologic is pleased to release ZBrushCore 2021. This new version will provide a number of powerful features that will enhance the way that you use ZBrushCore!
These features were demonstrated in our live stream:
Dynamic Subdivision
Display your model as a higher polygon version of itself, letting you see what it would look like when subdivided and smoothed. In ZBrushCore, this feature includes the FlatSubdiv and SmoothSubdiv options.
MicroPoly
Uses Dynamic Subdivision to replace each polygon with an instance of a 3D model. This allows your model to render as a much more complicated mesh, such as chain mail!
ZRemesher
You read that right! Automatic retopology is being added to ZBrushCore. While it doesn't have all the options that are found within ZBrush, this will allow you to instantly retopologize your model using the smart algorithms that make ZRemesher so powerful.
Performance
Even more performance enhancements have now been added to ZBrushCore. We revisited the systems behind the sculpting brushes along with many other popular features. Speed has increased across all sectors.
iMage 3D GIF and PNG Format
The iMage 3D format provides a unique way to share both an image of your work and the 3D model itself with others, all in a single GIF or PNG file. This file can be posted on any website where it will appear as a regular 2D image and once opened in ZBrush the complete model with all its SubTools is ready to edit.
Check out the many community sculpts waiting for you in ZBrushCentral's iMage 3D Community Expo!
Sculptris File Support
ZBrushCore can now load native-format files saved from Sculptris. If you have a library of models that you created over the many years before Sculptris was discontinued, you can now open those directly in ZBrushCore to continue working.
Release Notes
Additional features:
Preference added to allow single-click Solo mode.
Availability
ZBrushCore 2021 is a FREE UPGRADE for all registered ZBrushCore users. It is also available for new users to purchase immediately.
Purchasing
ZBrushCore 2021 may be purchased from our online store for immediate download.
It may also be purchased from any of our authorized resellers.
Upgrading
Please see our Knowledgebase Article for detailed instructions on how to upgrade, based upon your license type and current version number.
Issues?
If you have any issues with upgrading or with the new features, please post in ZBrushCore Support or start a Support conversation. Please note that account and login issues can only be handled via a Support conversation. Thank you.
Happy ZBrushing!