hey Geert nice and thorough as always

One's always learning new tricks from you!

Awesome work
We are waiting more of your work!
Great work Mr. Melis. Thank you so much for sharing your process. I also have you to thank for getting me up and running with Noise Maker! I really appreciate it.
Is there any chance you might share that page showing how you made the tile-able chain mail alpha?
Thanks!
abhominal: thanks & you're welcome!!! Yeah, Dynamesh is beyond awesome, allowing virtually limitless possibilities and experiments-> needless to say I'm looking forward to see what you'll do with the new Z

jmenna: hey Joseph, thanx for taking a look and the great comment man -> more soon!
majid_smiley: thank you Majid

! I'm compiling the sheets with the custom alpha workflow right now and hope to upload them as soon as possible-> check back soon

Ghostdancer: alpha update on the way (I'll change the thread icon when I upload them) thanx for stopping by and checkin' out tha worx

Intervain: thanks Magda :), new tricks eh… look who's talking…

misterix10x: thanks for the great comment

I'll probably manage more updates this week -> stay tuned!
poda: thank you very much Sir! I'm compiling the alpha sheets right now-> I originally planned to upload them when R2 launched but… family and work … . Aside from the tileable alpha, they'll contain a very interesting extra tip too

check back soon!
Hi Etcher…:)…Hey,…Thank You.

…Your tutorials and step by steps always make my life and learning journy a whole lot easier and enjoyable…Really and very much appreciated…Thank You Again…

small_orange_diamond:)
I can't thank you enough for all the tutorials you gave us. You are awesome.
I want to thank you Etcher for making it easy for someone like me to understand. I do have a question though. Experimenting with your tut I find it easier for myself to work on a subtool with 0 thickness during this process, however I need to add thickness to get the piece to show up proper on my main tool. Is there a way to do this w/o screwing up the noise texture after it has been applied? I tried inflate and the result was interesting to say the least

.
Spiritdreamer: thanks for stopping by man, you're very welcome -> hopefully you can get something out of this update too

Demonfetus: thanks so much here's some mo'

Muddpit: You are very welcome

. I'm not sure I understand your question properly: what thickness are you referring to (or do you mean Strength?) I would work with layers and layer strength to accentuate the noise texture. Check out the update!
Hope these are helpfull - should we create a tileable alpha repository on ZBC?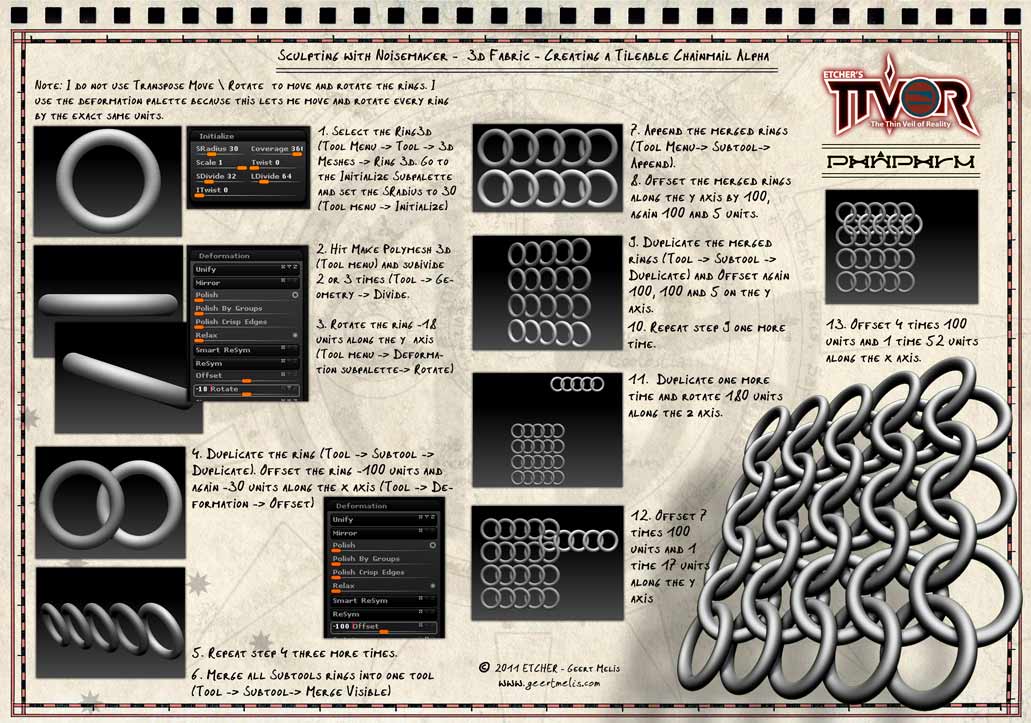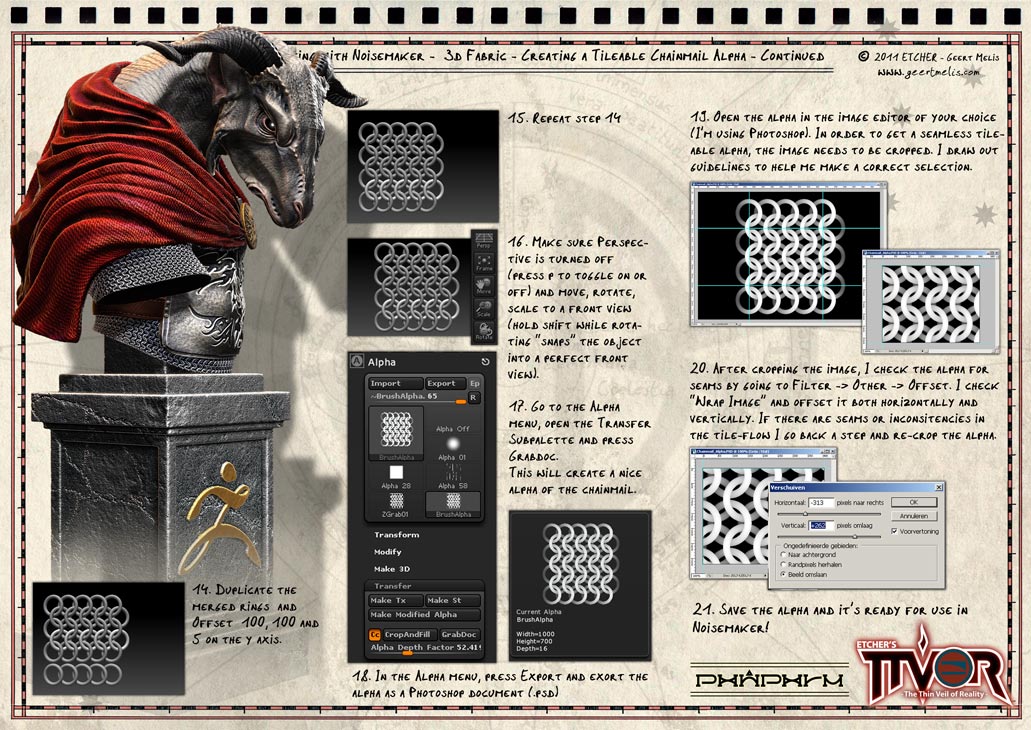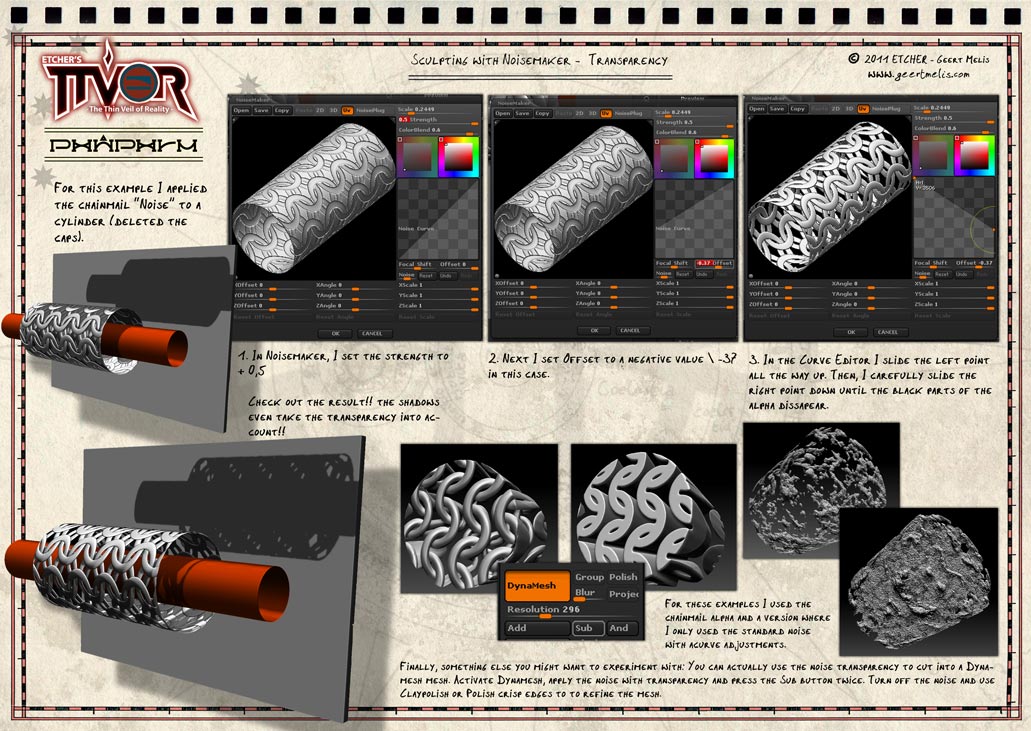 Awesome update, thanks for taking the time!Great technique !


"should we create a tileable alpha repository on ZBC?"- I vote in favor of that!

Thanks for sharing these workflow charts!
They are a great addition to your seemingly endless list of valuable info… very edutaining!

small_orange_diamond

small_orange_diamond

small_orange_diamond

small_orange_diamond

Hey Etcher ,
awesome model and thanks for the great tutorial

awesome presentation, great testing.
Great sculpting as always


Thank you Etcher
Hey Geert! congratulations man, one of the best threads in here

great sculpting, amazing presentation, and priceless sharing!
You da man

Take care
Thanks for this great presentation.

Man, I love this community! Always willing to share some great tips. That's why I love giving back as well. Thanks for some awesome tutes, Etcher! I always learn something new when I visit the forums.

Thank you, this clears some things for me!
I must say I am impressed with your prensentation and thanks for sharing …