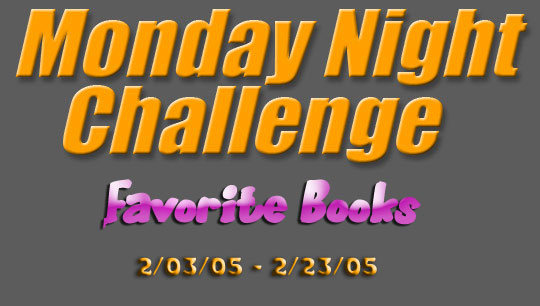 Ok once again I am stealing cool stuff from MTB. (This is last minute and looks like crap but will fix it tomorrow!

)
Anyway if anyone is still interested…
For this challenge…
First rule is… read this about challenges.
For this challenge You must create a character or scene from you favorite book.
It can be 2D, 2.5d, or 3d, a character or a scene. It would be best that you don't give us the book name or character and let us guess whom or the title of the book by your work…kind of like a 3d Charades!
Now to steal from MTB:
Wireframes, progression Modeling, and/or screenshots of your progress. This helps others to see workflow. Models, ZScripts, and other support materials are always welcome.
You MAY use a base mesh from another program but as always the preferred method is all Zbrush. If you do use a base mesh from another program please post the wireframe so we can see it.
Nobody is too good or not good enough. This is open to everyone. THIS INCLUDES ALL YOU LURKERS OUT THERE…POST SOMETHING!
Providing support material, by all means is a good thing…if you learned something cool…share it! , upload zscripts, materials lighting setups or whatever you feel will help others. It's not a requirement…just a way to say thanks to those who have gone before us and provided us with the means to be where we are…pay it forward as the movie says.
This mission, should you choose to accept it is for fun and bragging rights only, ZBC and Pixologic have nothing to do with it other than allowing us to have fun with their fantastic program, no prizes other than the pride and kudos you get from creating something cool.
If participation is nil, this will mean that Andreseloy will be the next MNC host!!! hahahaa As he has way more enthusiasm than me!
Oh yeah…for Jason Belec…I better see you at Cowboy Fengs since ya made me read the book!!!
Edit…the end date will probably change as once again I didn't have a calendar in front of me.