cute, funny, and love the concept art. can't wait to see him finished.
Thanks guys, I'm tryin.
Here's a final test fit for Lil' Punky for this evening. I've went ahead and done some warping and tweaking to the can and finished off the head. Still lots of tweaking to do.
[
](javascript:zb_insimg('71278','punky test fit.jpg',1,0))
Lil' Punky starting to look goog … good luck

After a bit more tweaking, warping, sizing, etc, I'm fairly happy with the pose after modeling his body. I'm still not sure about color though. I'll try different variations till I'm happy with it.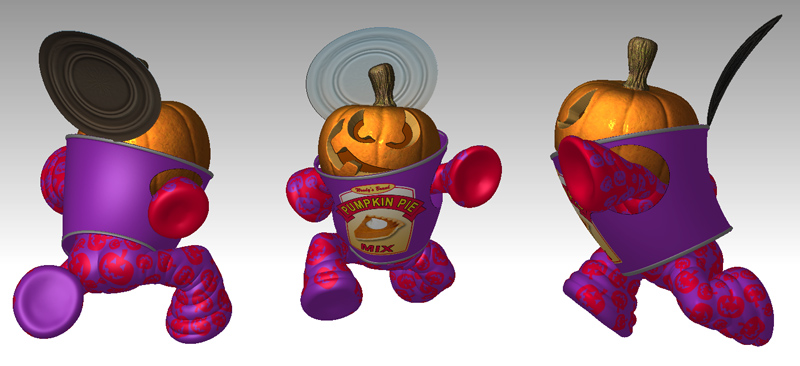 Looks awesome already !
Lucky
really nice work! i agree on the colours u should definitly tryout a few. post them abndwell give tips!
Ha ha ha… Very Fun!


Ha! Love the expression. That can label is super clean too.

:lol: Very nice expression, & gr8 idea. reminds me of Transformers:lol:
Really funny! :lol: I agree different colors could probably be better.
Thanks guys, and yes I did work with the colors a little. As you can see, I've finally got Lil' Punky completed. I wish I had more time to go back and detail everything out further, but since I'm working a lot of overtime at work and time is swinging by, I'll have to keep things basic until I have all of my assets completed.
If I have the time I'll go back and detail eveything out better.
[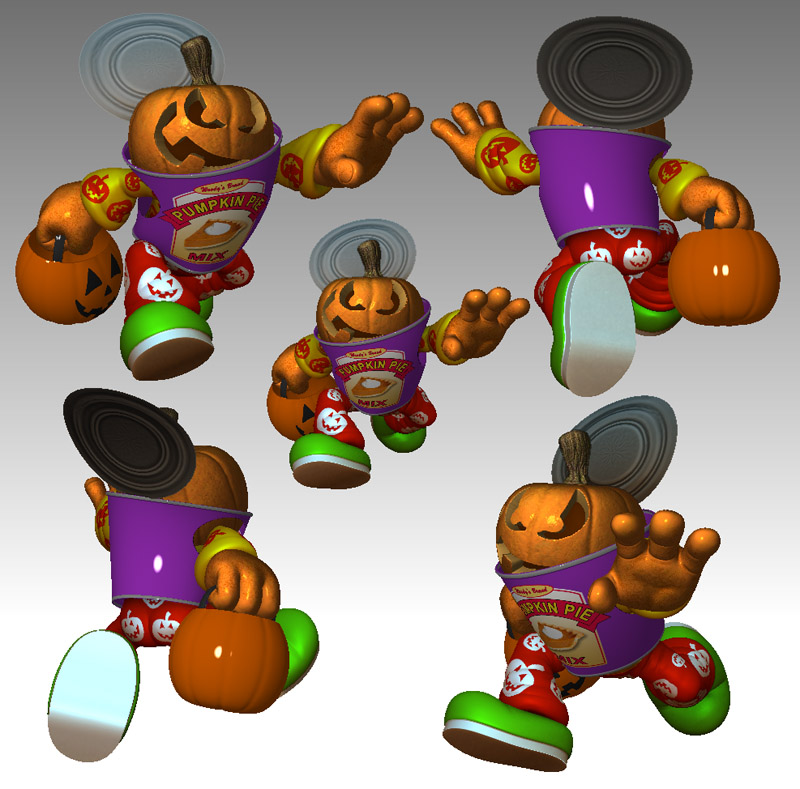 ]
O My God, that is so funny :lol: great work!
Haha, really cool. Great work!

Very Nice
I really want some pumkin pie… Mmmmmmm… mmmmmmmm… Mmmmm?.. eh?.. oh right! sorry!
That pumpkin dude is looking great! the colours are much better, can't wait to see it finished.



I've been watching this post since day one, Woody, and have waited to comment because I don't know what to say. The character is absolutely well done. He is very dynamic and colorful…makes me think about old video games for some reason…like he's the character and he gobbles up candy treats as you progress through the levels. I really like you style and the skill you show with colors and posing.



Thanks everybody, and thankyou Slosh.
That means a lot coming from an experienced modeler like yourself.
I've always loved and have been facinated by 3D modeling, but never could afford the "good" software to get into it. I'm still a hobbyist and novice and have always wished that I had gotten into character modeling long ago and perhaps make a career out of it.
Now that I'm at the age to afford the tools I'm going to enjoy it the best I can while I can still see and my aching back holds up lol.
Best of luck to everybody!
Excellent work Woody, love the character and the concept thus far!
Looking great. I like the concept sketch a lot. The point of view is working realy good and I hope you stay true to it in your final Composition.
Jason Belec: Thanks Jason, I appreciate that.
KOSOVA: Thanks to you too KOSOVA, I'm trying my best to keep to the "feel" of the sketch. Not always easy to translate 2D to 3D and keep the same look and feel.
This is just a quick update showing the 3 adult pumpkin heads that will be in the background. I created these a little differently than I did Lil' Punky cause I'm trying to save on time and keeping my ram manageable.
Lil' Punky was created using the extract mesh function which looks good, but it sticks you with a high mesh count.
[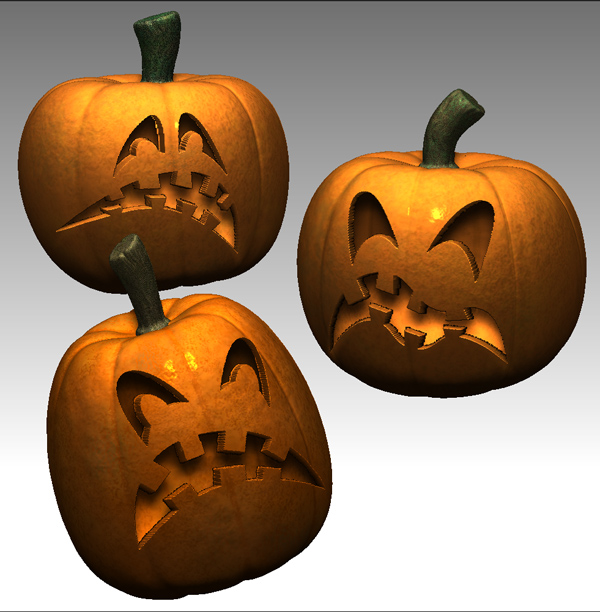 ]