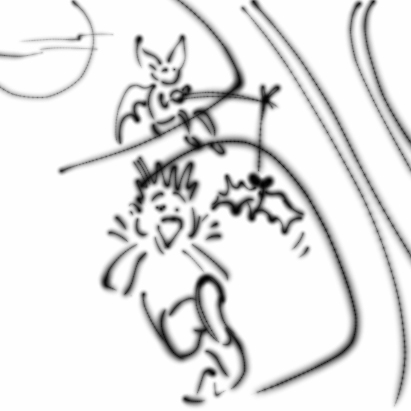 My aim is to retain the freshness of the design sketch, without miring the final image in redundant detail. My first thought about this picture is that it should stay away from the highly polished, rendered look. ZB is after all a drawing package and, in the very limited time I have available I'd like to see what can be achieved without resorting to an external renderer, or illustration software.
For anyone who can't recognise what's going on in the sketch, this is a night scene of a bat sitting in a tree, scaring passing folk with a rubber bat. It was the first idea that popped into my head and I think it fits the requirements of the contest in being rather silly!
The sketch was drawn on a subdivided poly plane, with the standard brush, but with a J shaped curve. Rather than painting straight onto the canvas, scratching my marks onto a poly plane gives me the option of rotating the 'paper' to suit the angle of stroke I wish to make. Not many illustration packages stock that feature!
My weekends between now and the deadline are mostly already scheduled for non-ZB duties, so this is going to be a time keeping challenge as well as one of creativity.
Wish me luck!
R