Hello all!
I am just starting to learn ZBrush (only a week), but I couldn't resist this great competition!
The idea: It's real simple, but great I think. There is a scary looking "pumpkin man" carving a jack-o-lantern out of the back of a human head. A mirror is proped up against the wall in the back, and you can see the expression on the human's face. The Pumpkin Man is holding a carving knife, and the top of the humans head by his hair. On the table is an ice cream scooper and the humans brains, much like the guts of a pumpkin. The pumpkin's teeth will be pumpkin seeds, and the gums will be the flesh or pulp of the pumkin.
I have attached a sketch of the idea as well as my work in progress. I'm learning as I go, but everyday new light is shed, and doors are opening everywhere! This program is so awesome and intuitive!!! I can't wait until Z3 comes out for MAC.
Programs: ZBRUSH 2, maybe cinema 4D, and photoshop.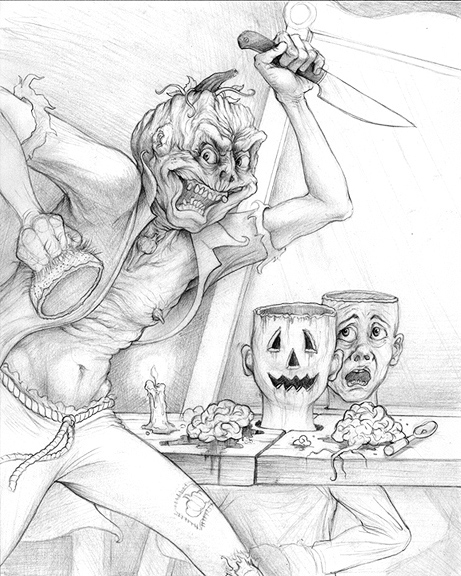 Attachments