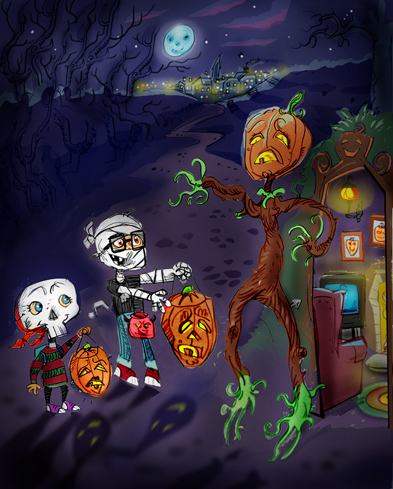 Well here's my entry in this very cool competition.
I wanted to keep it as simple yet get as much visual interest and 'Halloweeniness in to it as possible and keep it kind of fun with a dark twist too so here goes!
Basically 2 little kids dressed in Halloween costumes are Trick or Treating on Mr Pumpkin head who should be the one to Scare them but He is terrifiedd by them and to make matters worse they come brandishing his parents pumpkin heads as Lanterns!!!
I love the organicness of ZBrush so all the knarled trees and pumpkin skin should be right up my alley and I really loved the Organic Faun character form Pans Labrynth so I think I'll Take Mr Pumpkin Head in that direction rather than have him in clothes, the kids aren't set in my head yet but one mummy and one Freddy or Jason character or maybee little girl Vampire. Also we'll see how much time I have but I'd like to add background detail to the inside of Mr Pumpkins House so you might see his folks pictures on the wall and recognise the lanterns rather than have him have to say it in a speech bubble?
Also possibly mock the image up as the cover of a Horror comic book in the vein of CreepShow or The Twilight zone with this image as the cover art called 'Scared Silly' depending on time
anyway
We'll see, I'm actually scaring myself silly at the prospect of all the work but I've been after a solid challenge to get my teeth into and this is a belter so bring it on!
comments and crits as always
fiahadder



PS whenever I post a thread I don't get a nice little ZBrush man logo before my post like everyone else!? I get a sort of file icon! I'm not bothered but I'd kind of like to know what i'm doing that's different and if it affects my post in any way?