Mastering the ZProject-Brush
The ZProject-Brush is another cool new feature in ZBrush3.
As you can read in the Wiki (http://www.zbrush.info/wiki/index.php/Brush_Palette#ZProject_Brush), there are various uses for this brush-type.
My Tutorial is focused on its use as a transfer-tool for geometry from one surface to another (For use to transfer texturing-informations please refer to the other tutorials provided by the wiki-link above).
Although there already exists a tutorial in the Wiki ('ZProject and SubTools' from Sebastien Legrain), there might be some left questions and missunderstandings of how to get good results with this type of Brush when you use it to transfer geometry-information.
So, if you did not succed with it so far, let's take a look if this can help you to master the ZProject-Brush
What does the ZProject-Brush do in the use of transfering geometrys ?
In short terms, the new ZProject-Brush enables you to adapt the form of one surface (the target) from a sample surface (the source) by simply painting on it with the ZProject-Brush.
There are various ways to do that, the easiest and most common used is what I call the 'vacuum-technique', where you place a target-model over or better completely around a source-model.
I that case you partially 'evacuate' your target-mesh with the ZProject-Brush.
Imagine this works as like your target-model is a soft plastic bag that you put over the hard source-model. Now evacuate the air out of this 'bag'. The bag will at least lay closely on the surface of the underlaying model.
That's the way the ZProject-Brush is mostly used and therefore here descriped step by step.
In this tutorial, I want to show you the basic steps to get clean and good results as well as some solutions for problems that commonly appears when working with more complex or dismatching meshes than showed in the wiki-tutorials.
For that, we will give Mr.SuperAverageMan (he looks a little boring, don't he?) a cooler snoop-dog-face.

May sound easy, but is has some traps.
Here is the result: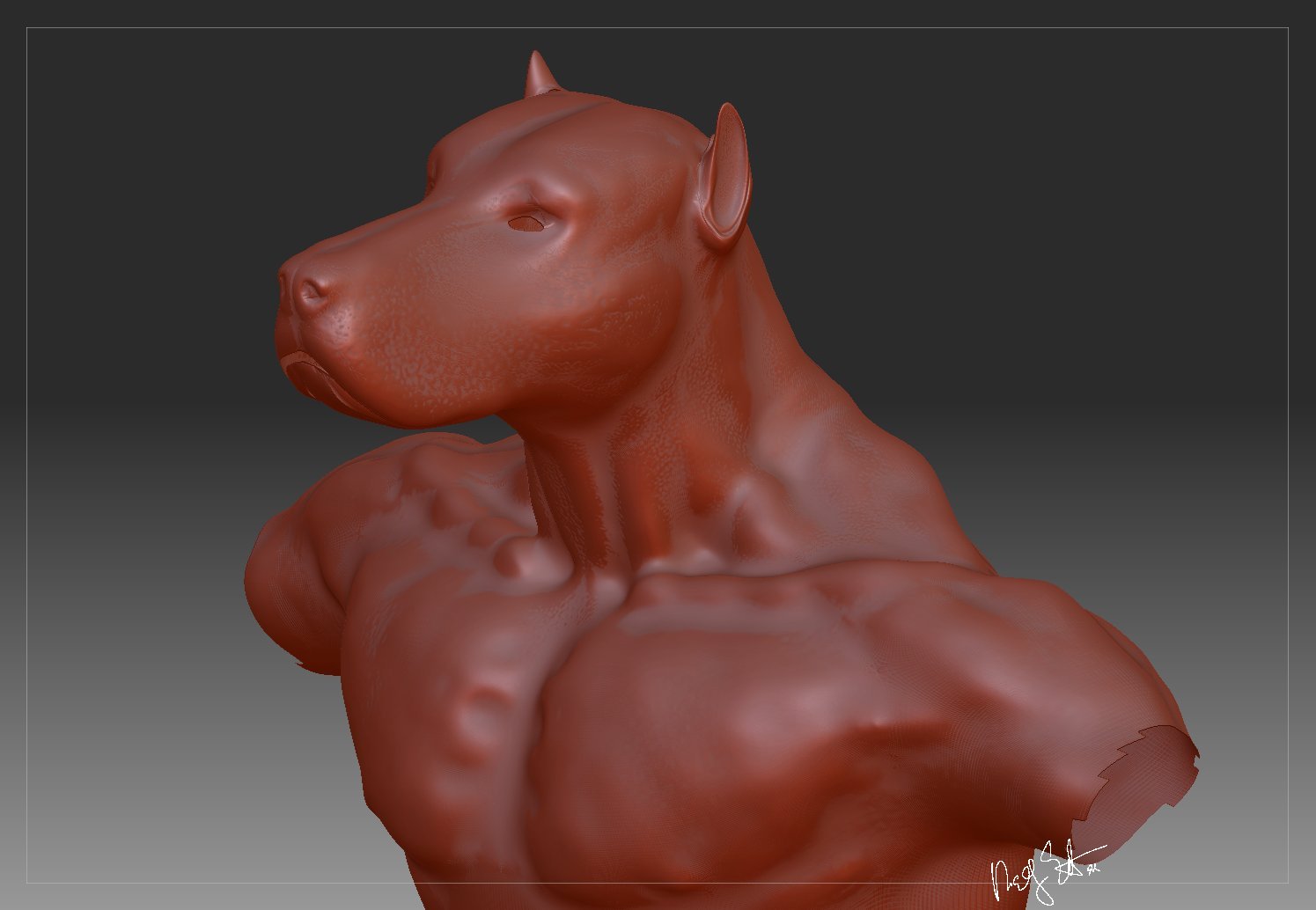 One note:
The pictures above are only intended to show a more final-looking result at the end of the tutorial.
I 've done the muscleling and the skin-structure in about 5-10 minutes, so it is not absolutely anatomical correct (f.i. M.sternocleidomastoideus is here straight, not diagonal like in reality) nor a really elaborated work.:o
Attachments