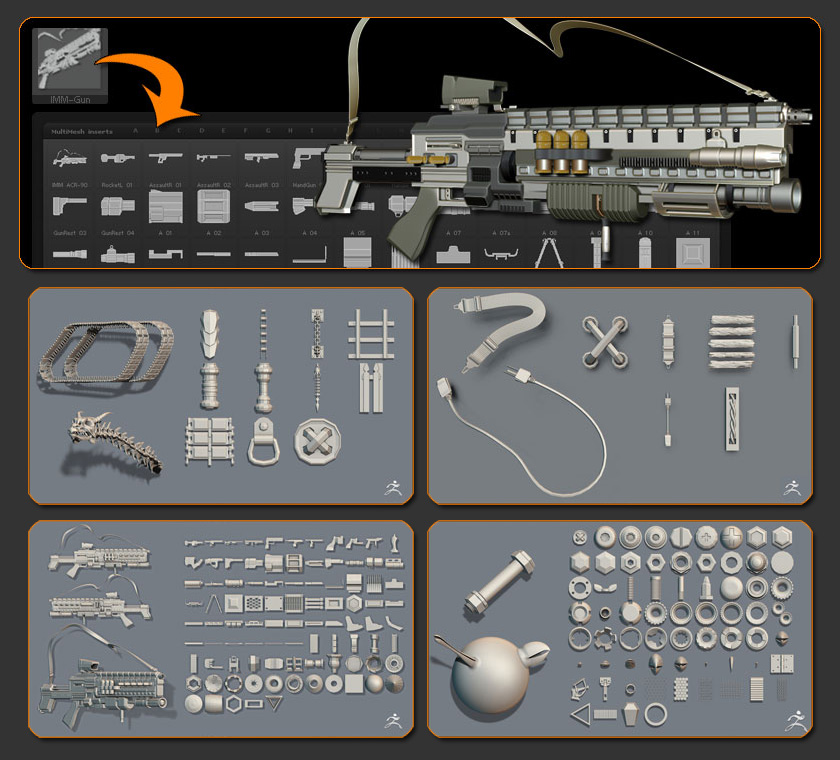 Share your Insert Multi Mesh Brushes!
Now that ZBrush 4R4 is out, we're excited to see that some artists are already starting to contribute IMM Brushes to the community. These are an extremely powerful feature in the new release, letting you easily build brushes for specialized purposes – anything from parts to build a spaceship to facial parts or various types of stitches for clothing. The sky's the limit!
In order to maximize the benefit of sharing IMM Brushes with the community, we've created this thread. Please post your IMM Brush creations here. Be sure to include a description of the brush, one or more illustrations showing what it does and what its options are, and a download link.
Don't forget that ZBrush also allows you to create custom icons for your brushes and with ZBrush 4R4 you can also add your name and website URL! (See page 69 of the ZBrush 4R4 What's New PDF included in your Documentation folder.) This makes sharing your IMM Brushes an excellent way to build recognition for yourself as an artist!
We can't wait to see what kinds of brushes you create and share in this thread.
Happy ZBrushing!
In order to keep this thread serving primarily serving as a library, please DO NOT post questions here. We have created a special thread for that, which you can find By Clicking Here
Thanks!