Hey all,
here's a Custom Ui I wanted to share…
I use it as my Start Up Ui and it's been evolving for a while now.
When I first built it I CRAMMED it full of all sorts of things. Just too much.
After a few months of refining I ended up with this minimalist setup.
I toyed with moving all the main Icons from the Left to the Right hand side.
But came to realize it was kind of pointless due to using [Space Bar] for the quick mini menu and
[Tab] to make it all disappear as needed anyway.
Stored Reference Views are the Basis of this entire User Interface.
So maybe some will not find it as useful. To those that are reference intensive, this should save you a little time.
I got tired of digging though the menus or being forced to keep the texture menu docked.
I should mention that this is the legacy system for stored reference views, not using the latest Grid Views.
The legacy version in my opinion is more flexible when you have more than just exact front and side views to work with.
In fact it lets you store 8 custom views.
First you should import all of your reference views. Starting with the front view lining up the corners of the eyes as best as possible.
Then storing that view using this custom Ui setup in the bottom Right corner. Work your way around the model until all necessary views are stored.
You can then quick pick through your stored views and just refine the forms to fit the reference. I always do a lot of adjusting to the stored
views as I make progress with the model and things tend to line up really well after the initial blocking out phase is over.
The result is a very precise representation of an actor for example, without any scan data used.
I've also been doing A LOT of timelapses and turntables over the last year and decided to grab most of the dedicated "recording" oriented buttons,
and put them out there as well.
Included are any Brushes or Materials that are shown as well a slew of my favorites.
I don't take credit for any of the brushes or Materials unless indicated in the READ ME doc.
And I'm very thankful to those artists that have shared their own, allowing me to combine them into my custom setup.
This is not a complete Ui by any means and I encourage anyone that uses it to fill in any gaps with your own additions.
There's quite a bit of space left open if you are running a 1920x1080 display.
Note: This has only been tested by me, on my rig. [and thanks to Sadicus for quick feedback!]
*Running ZBrush 4r4 and I can't say how it fares on older versions or different display sizes.
*Please turn Off "Wide Buttons" under Preferences>Interface>UI>Wide Buttons. Otherwise you will have overlap occur.
*And if you don't have the Image Plane Plugin Installed or cant find the "Reference Views" Drop down menu under Texture>Image Plane>Reference Views.
Install the plugin to the ZStartup>ZPlugs folder and you should be good to go.
This is the first time I've shared a Ui so bare with me and please let me know what you think if you end up using it.
Download:
Custom Ui - Reference Based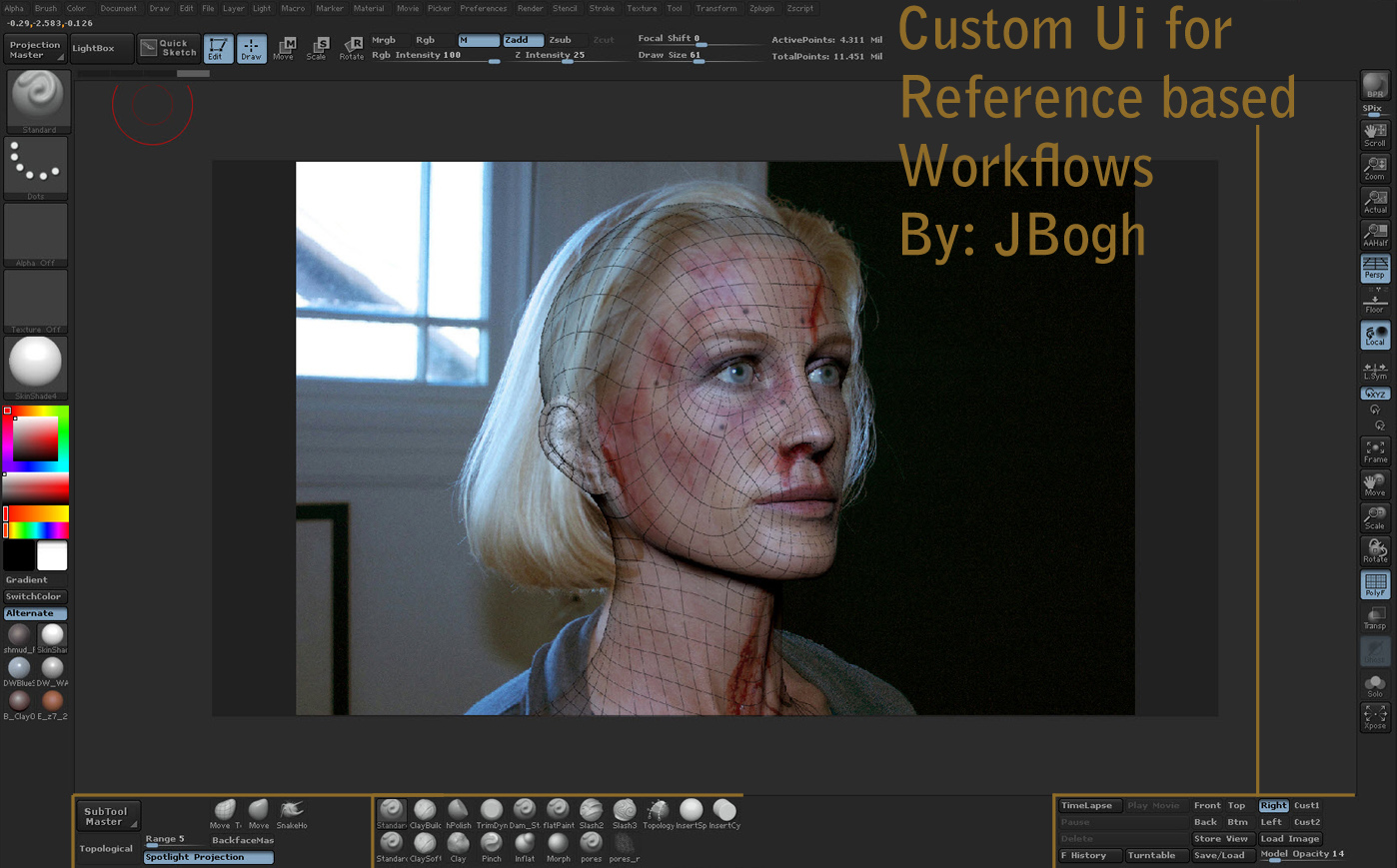 Attachments