Hey Jester,This is really cool! I like it a lot ! I can't wait to see it finished.Great job!
Looking great cant wait to see your progress!

Looks great. I liked the longer hair, it gave a more natural look.
Btw, are you going to color in the nipples?
What software was used for this? Looks like maya
What do you think about lengthing her upper legs, just slightly
to enhance her female elegance… meaningful distortion… her legs feel
a little stubby right now…
her hoofs look a little to large although with your present camera
angle ,they can't be really seen, just a few thoughts.
i9ng image linkingThank you all! Good to be here…

Here's day one of zbrushing.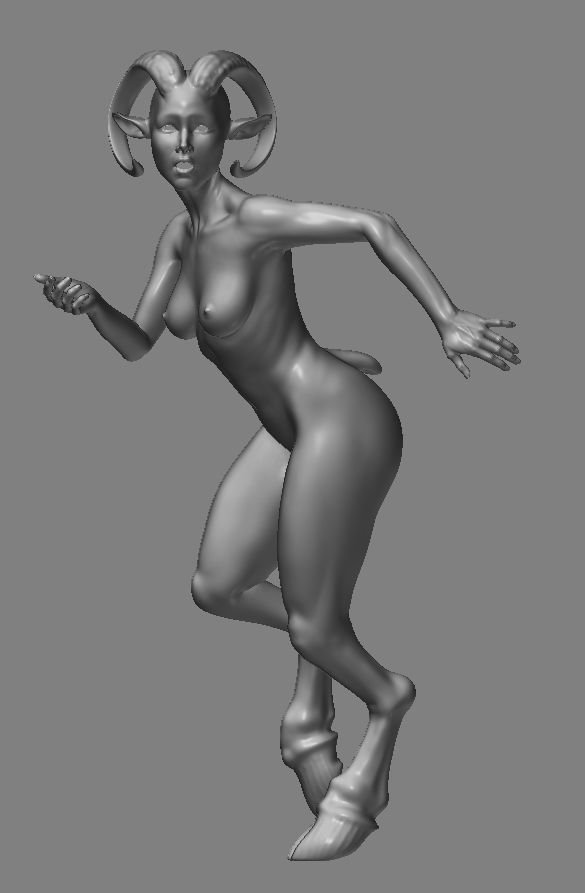 Slosh, Threetails: I was working a lot on the gesture, my wife was not satisfied at all, now she is. She posed me for this piece…
monstermaker, jason belec: nice to see you here, really inspiring to finish it!
RenderMAX: I will make color maps, so nipples will be colored as well, but very faintly, because I don't want to emphasize the sexuality too much. I prefer that shorter hair, she looks more "wild", and untamed

XTremeAMX: It's XSI, although the small vines were painted in Maya PaintFX and converted to polygons, and crosswalked to back XSI. I prefer XSI, I was working with Maya for a while, but it had bitten me.
lemmonado: Thank you!
vedanta: I don't want to do any changes now to the proportion, it had changed a lot from the original version, and I like it as it is. Moreover, if I work too much on a piece, it could be easily turn to abandoned project…

So, thank you all!
I agree completely on the hair! Keep it up! Looks great so far, and thanks for the insights on Mudbox.
Hi
Not much update I was busy in the last few days. Since I couldn't reproduce with displacement, what I wanted, I've exported the level 3 mesh (130000 polys) and used the displacement as bump map. Rendered really fast, and I had better results.
Maybe the lighting will be changed, I've found a beautiful artistic nude shot in a forest with the same lighting conditions, I like to have. Now I will sclupt the environment, before doing any texturing.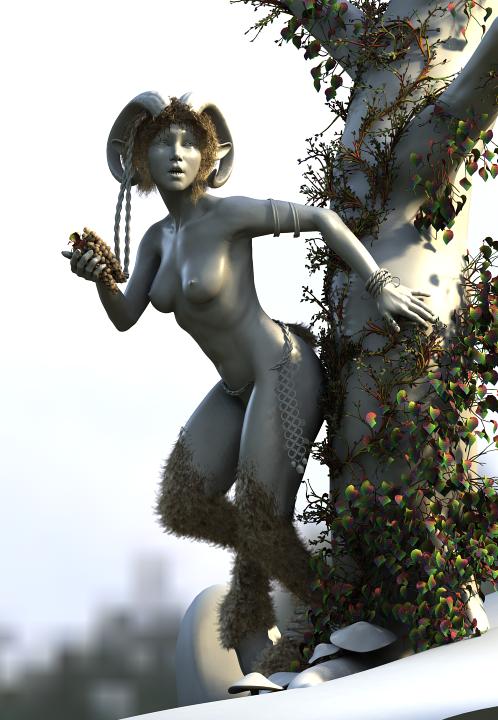 This looks really good. Should be top shelf render, when she and the tree get skin texture.
Small improvement here. Honestly I fell in love with zbrush3…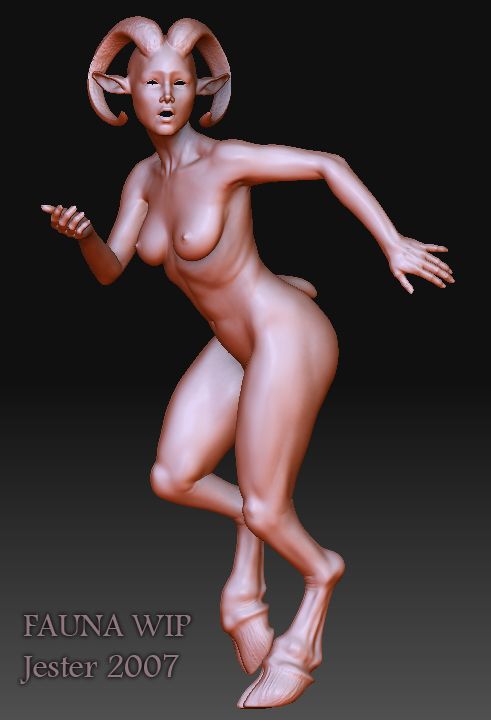 Looks amazing. And she's pretty hot, even with hooves and hairy legs…
New update. I haven't decided yet where to make the final image, I'll continue the texturing in zbrush3, and export back to XSI for displacement rendering. although I'm tempted to make a zbrush version fromit as well…
[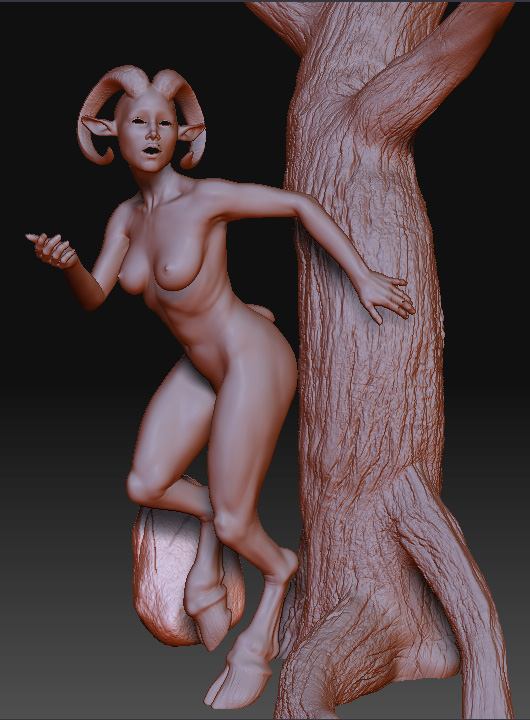 ](javascript:zb_insimg('58980','Currentt.jpg',1,0))
This is just getting better and better! Excellent!
Please do let your "fellow XSI'ers" know if you run into any issues when finally re-importing and rendering it. I'd sure appreciate the info and will be watching this thread not only for purely artistic and aesthetic enjoyment!

Btw, if I may ask, any way you'd share your wires? I sure would like to take real good look at that apperently superbly built base and your loop flow.
Ah, good to see an update on this excellent sculpt. Keep going!

highlander took the words out of my mouth…this just keeps getting better and better. I love the vines on the tree and the fur on the faun's legs. Not that I'm into hairy-legged women or anything, but on her it's great.

she is great and legs look awsome with fur but in zbrush version her knees are looking a bit too thin… may b i m wrong and u probably want to manage the volume of knees in furr version… very good gesture and composition so far.
thanks guys,
actually I had importing problems, but in the Import preferences I've set iFlipY and eFlipY off.
Alas the displacement export is not succesful yet, my 32 bit system can't handle it well…
Hi,
small impreovement, skin shading in xsi. Texture is polypaint in zbrush. I've tried matcap also, and it's brilliant, if I can assemble a skin material with it, maybe I'm doing a render in ZB also.
It's still WIP, that's just half hour of texture…
Here's the image: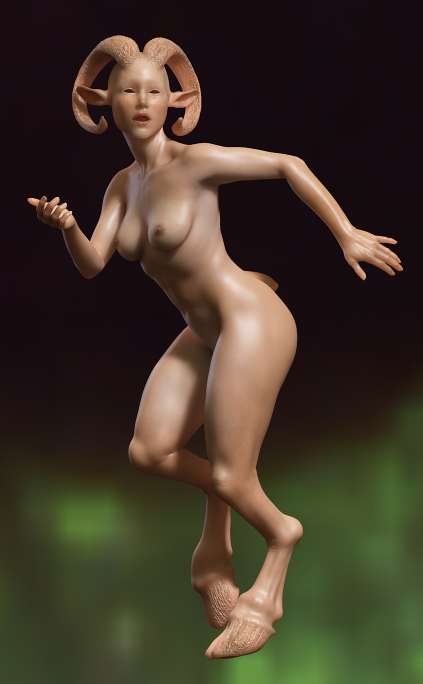 exellent! very inspiring …