Amazing

This is really great! Top row quality cant wait to see more!
And BOOOOM! go the Big Guns.

Fantastic work. As a fellow Vray user, it's nice to see that MR isn't the only one with good skin shader possibilities.
absolutely stunning result!
Beautiful shader work as well!
Todd
Great sculpt/render. Good to see you found a solution for the displacement issues!
awesome !! i can't wait to see the final result

small_orange_diamond

small_orange_diamond

small_orange_diamond

small_orange_diamond

small_orange_diamond

small_orange_diamond

small_orange_diamond

Great job on the skin and lighting, are you going to be doing a hair sim for the final image?
Simply amazing. Ive seen your Arnold before on zbrushcentral too. Next semester in school I'm going to be working on a Conan… it will be an extremely big project (modeling, hair, muscle system) I hope I'll be able to reach the fidelity that your achieving. Amazing!!!

small_orange_diamond

small_orange_diamond

small_orange_diamond

small_orange_diamond

Wow at that Skin Shader… that is amazing. I usually tend to find that Mental Ray produces better skin but in this case, wow. Great job.
I feel they improved the displacement overall in 3.5, because I don't get the artifacts anymore.
tres tres cool.

Wow! those came out looking really good, very lifelike.
awesome man, really great shading, can you show us texture preview and skin shader without skin texture please??

Hi Bigguns,
Great shader and I would like to see the settings, since the only thing that makes me stick to mr is the fast skin shader.
Cheers
Kostas Yiatilis MacFarlane
Hi all! Thank you very much for your kind comments

Here is an update, and yes I will remove the hairs in the texture today haha it's about time .
Here are the eyebrows , I made them with amazin hairfarm , convert them to poly and render them , I had to put the aa of vray very hight to get it not too much jagged… and it tkae age to render, will see if I render them in pass odr final render.
So here is a test with a single light, just to see how the skin shader react without hdri and sylight.
anyway, here it is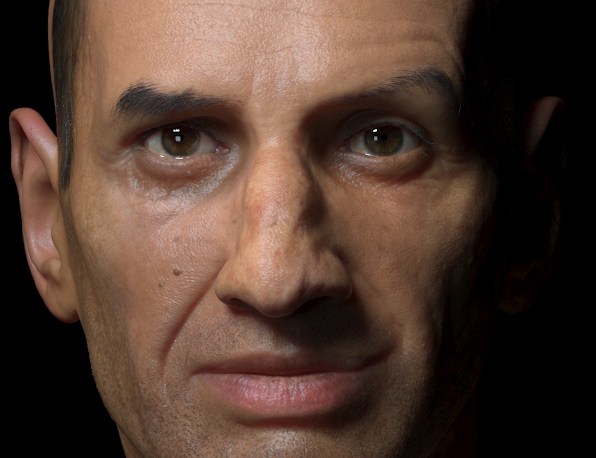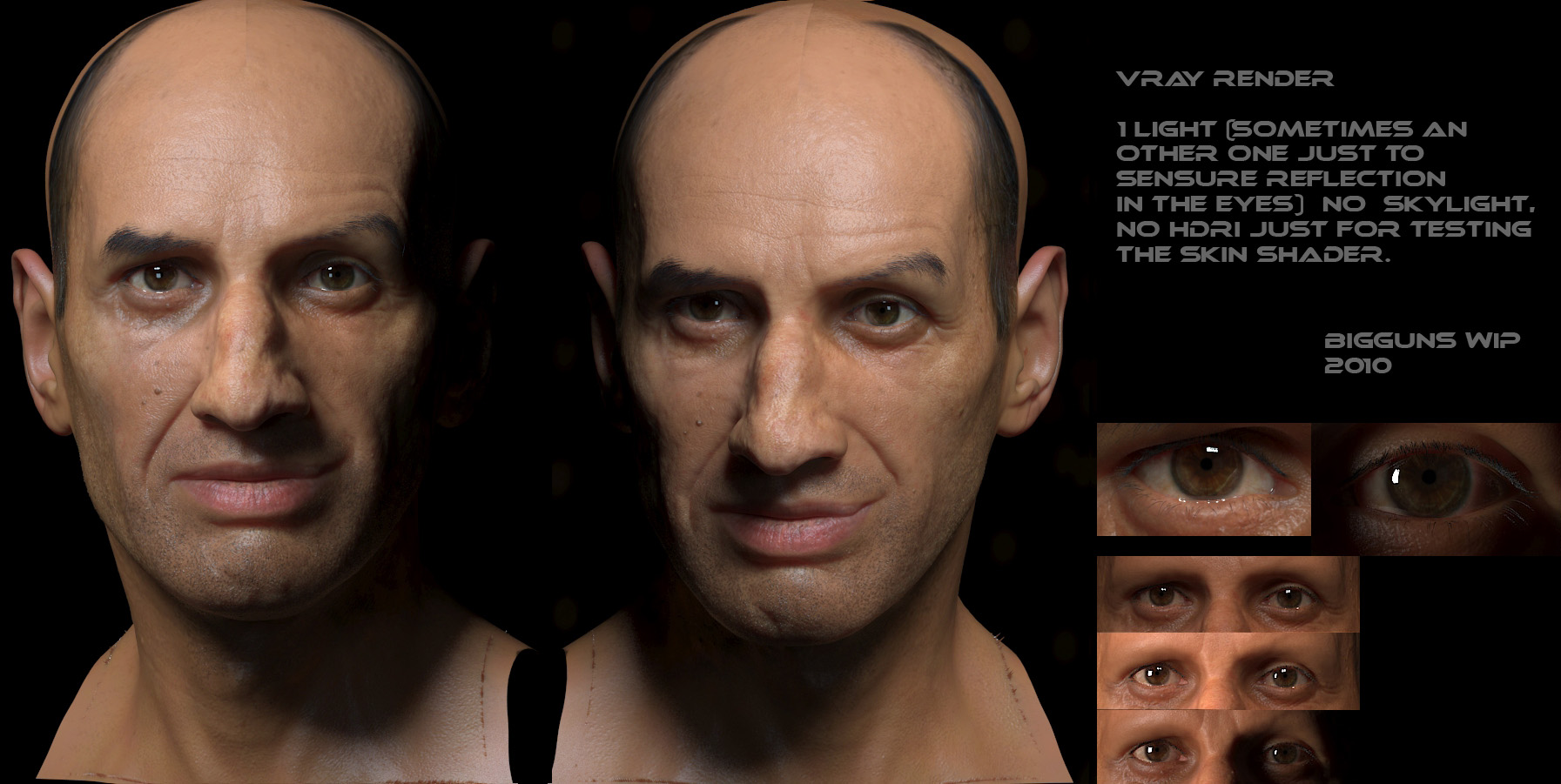 Icemanj : yes I will once I finish it, the maps are still in wip.
phat : merci mec

tobbeo : I like way much more the vray sss2 then the fastskin of mr, vray one is much more accurate and the lighthing of vray is more too. ok mr give more control over the shader, but with vray you don't need that much and you het better result.
mrguy: Great luck with your Conan

I must finish mine one day haha… I will rerender him in vray of crouse .
tonysculptor : hey thank's yeah I will do true hair, with hairfarm! I had begin them, but lots of work to do on them. I will add some true bird to get better result too and facial hair also.
sandpiper : haha thank's man

YEah vray sss2 is much better then mr when you understand it

may be slower when tweaked , but the result is much better and stable under any lighting, no need to tweak it for erey lighting.
Dryn : I don't know, I just modeled them, I think it's a combination, between modeling,texturing shading etc. I have redone the modeling and texturing of the eyes, much better then my older one, they are much more physically correct the way they are modeled. If I had been able to go higher then 2,6 millions polys in Zbrush I could have added more details to the bump map and even more realism, I was limited by the polygon amoutn, anyway. When I will have a better pc I will get more detailed maps and bigger then 4092.
Hope you like it, more to come soon
Nice, the skin shader holds up well in various lighting conditions. I'm assuming you used photos for the color map. The eyes look great!
Sheeeeesh your such an (im)perfectionist.
Looks Photoreal

small_orange_diamond:)

Incredible. Jaw dropping work Luc.
the eyes are amazing, they really have depth to them
the skin shader is very very good and eyes are just perfect. havent seen so realistic eyes…