Good to hear that. will keep extending the list time to time.
Asian Female body Mesh ZBrush By Pierre Benjamin
PIERRE BENJAMIN is a 3D Artist from London, United Kingdom. This model Could be used for any kind of personal or commercial projects. ZTL File for ZBrush Pixologic 4R7p3 with 5 Subdivisions on the body, See wireframe on shaded render. No UV's.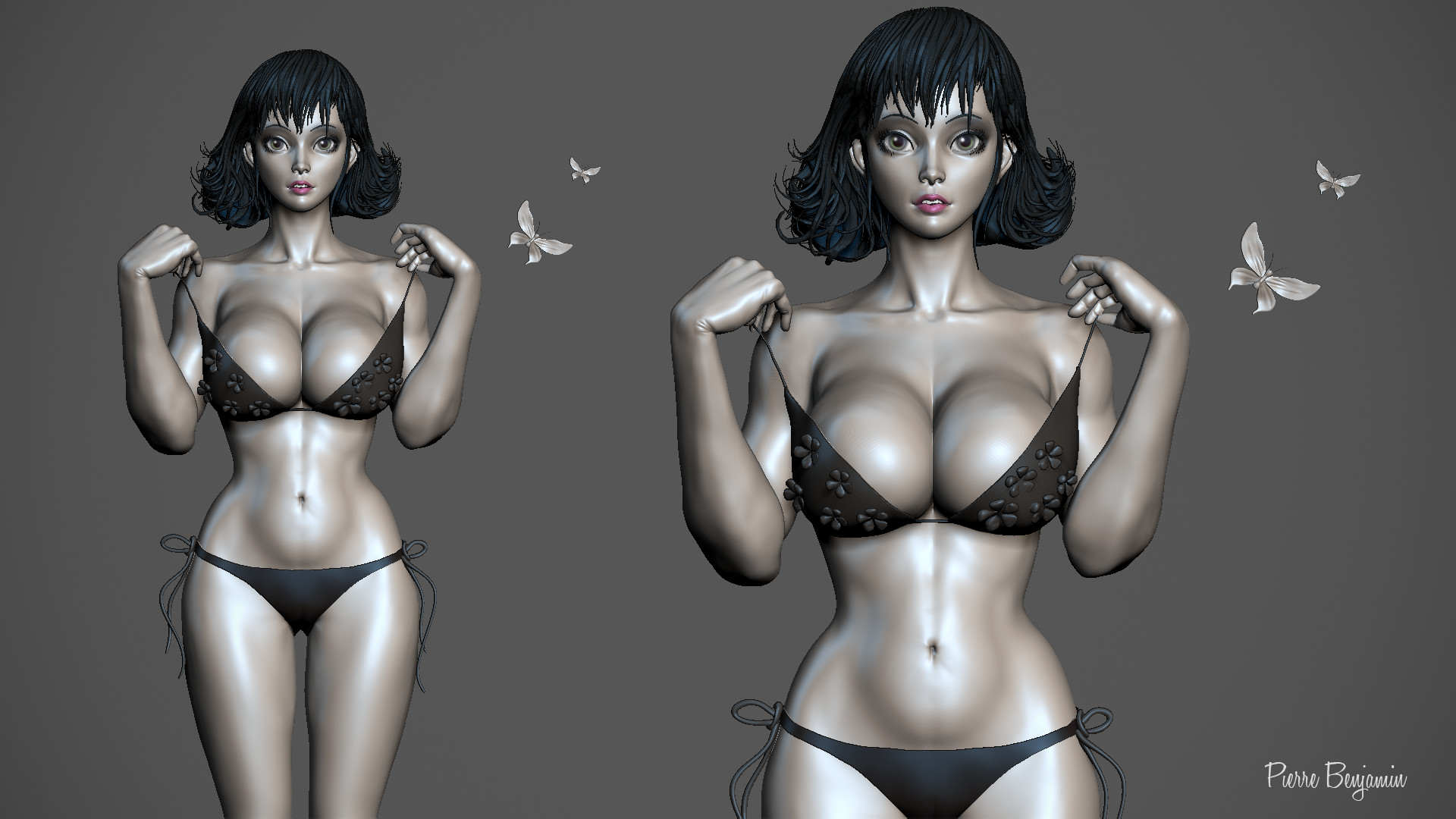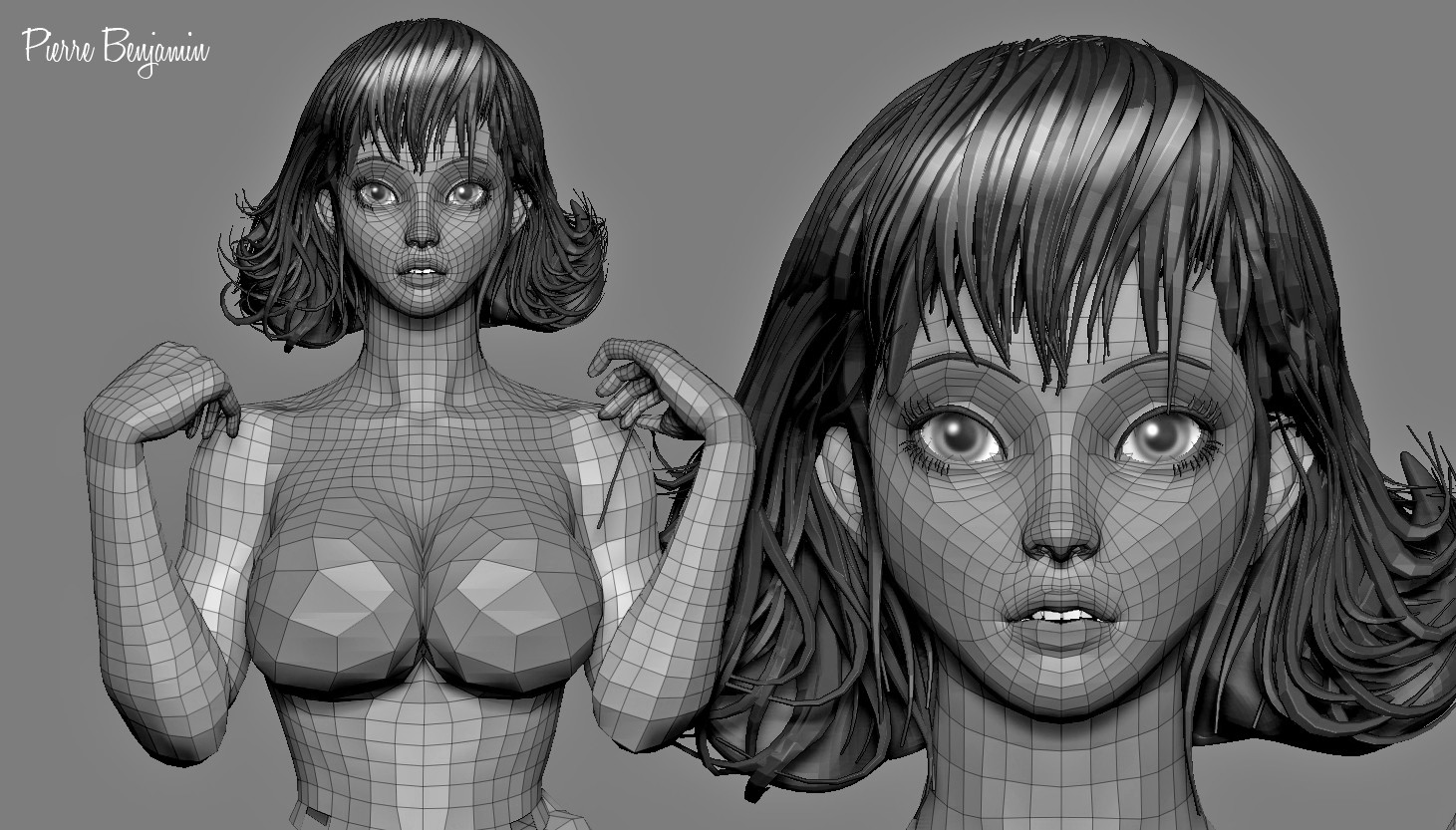 Creating forest grounds with ZBrush Tutorial By Pierre Benjamin
Pierre Benjamin will be creating a variety of assets which will then use for producing a ground texture from start to finish. By the end of this step by step tutorial, you will know how to create models and textures similar to the ones advertised. Volume 2 will focus on baking all necessary maps for PBR workflow, and implement a shader set up for Unreal 4 and Marmoset.
– Over 5 hours of video Tutorial
Includes:
– 8 x 1080p HD Videos with Audio + 2 Bonus video HD (No Audio)
– UI/Config file
– How to use photo reference and Alphas textures
– How to model and texture Leaves, pine cones, mushrooms, needles from scratch in ZBrush, ready to export into Unreal 4 /Marmoset as low poly meshes
– How to create IMM (Insert multi mesh brushes) and Nano Brushes
– Pine cone ZTL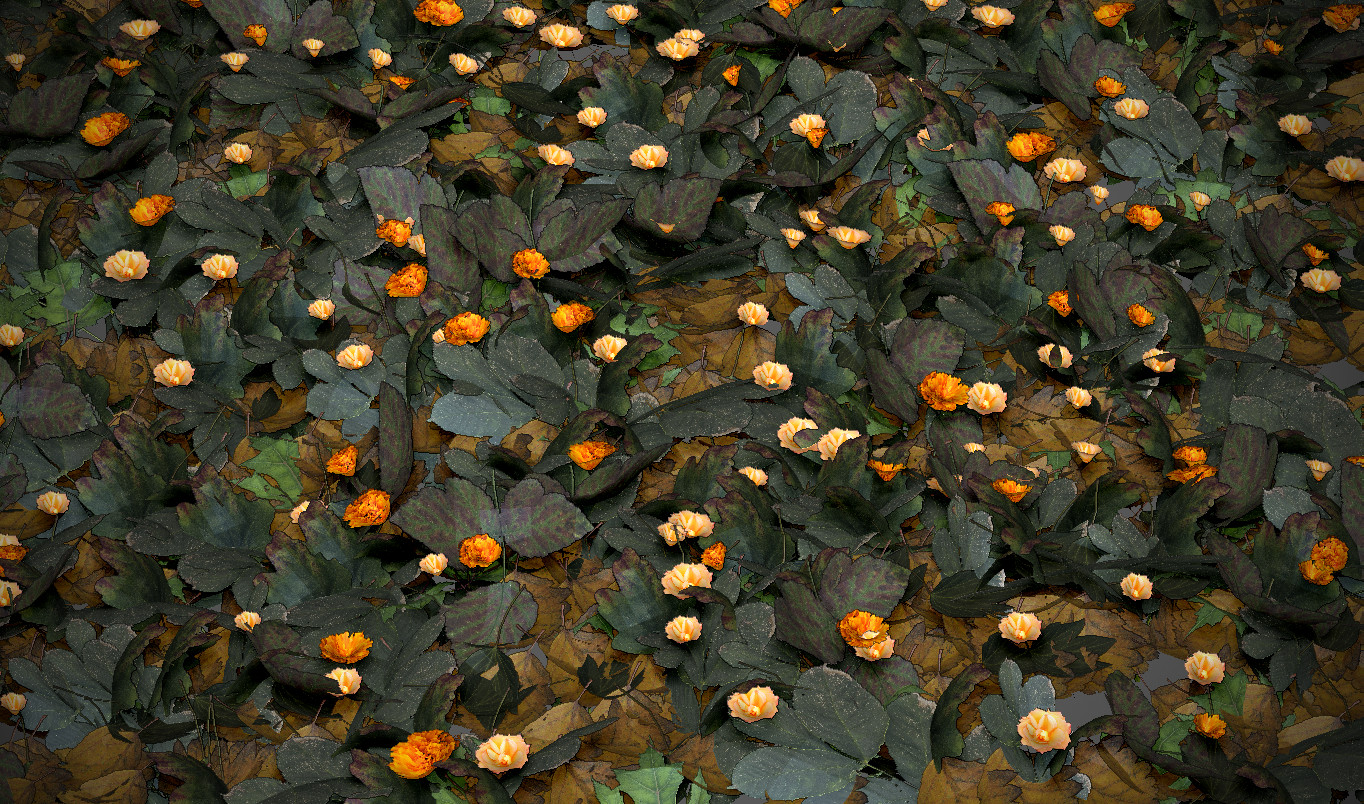 thanks i will try eye tutorial.
Learn how to digitally sculpt a Cartoon Frog (and Fly) with Zbrush! Create parts using Dynamesh and Insert Mesh brushes. Also, learn how to pose your character using the transpose tool. Lastly, use polypaint to add color to your character. By the end of this course, you should have the general knowledge to build your own simplistic, cartoon character from scratch using Zbrush. Basic knowledge of Zbrush required.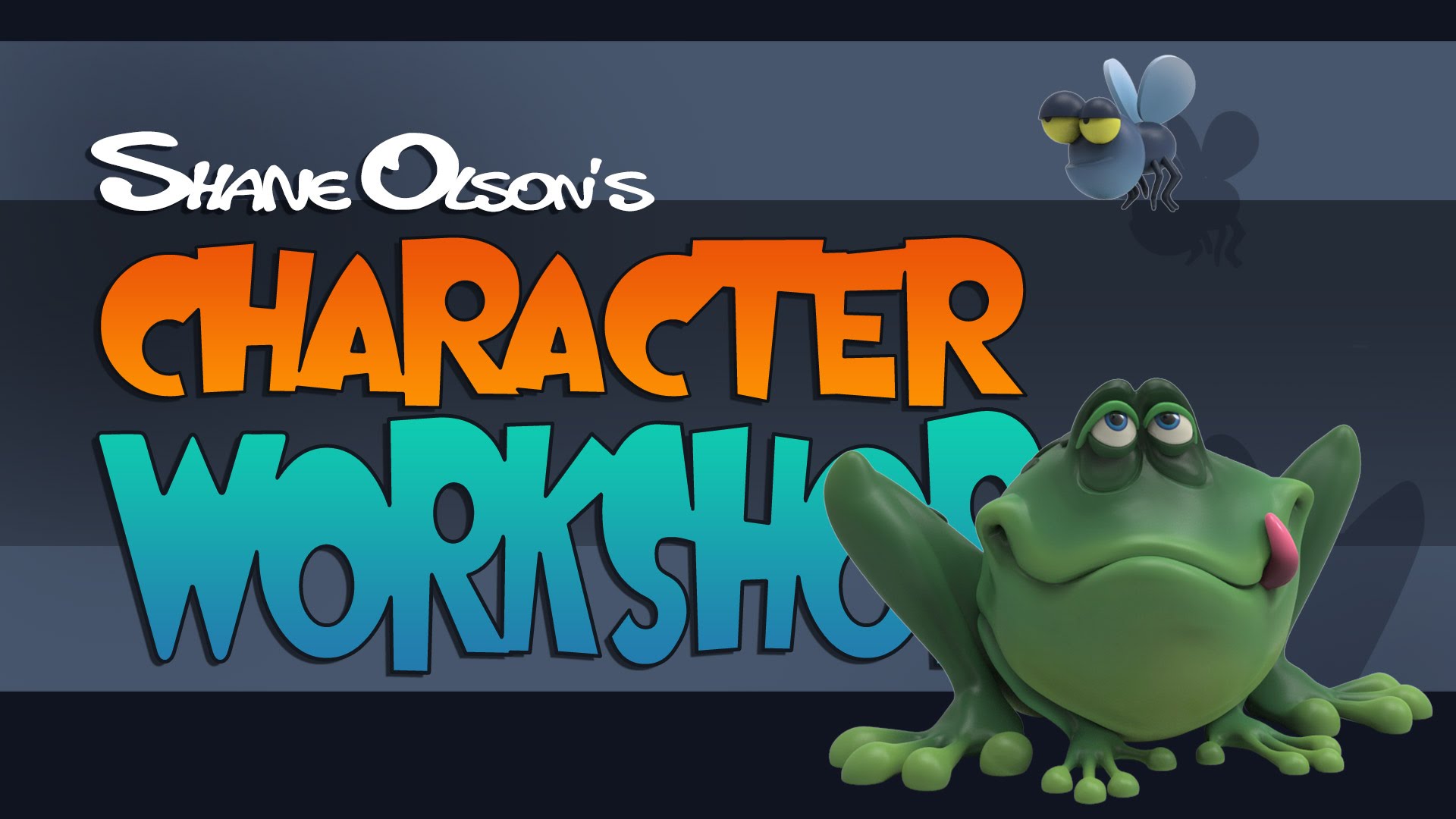 You'll get:
Custom UI, Brushes, and Starting Project File. Over Three Hours of video training! 10 video lessons in 1080P, MP4 format
Ultimate Hardsurface Tutorial – Turretgun Complete Edition By Simon Fuchs
This tutorial covers the entire creation process of this high quality, PBR game asset from the block out to the final mesh in over 40 hours of video. All of the important steps and most of the video is commented on, nothing is left out. In addition to modeling in 3dsmax you will learn how to use Modo`s meshfusion in combination with Zbrush to quickly create hardsurface shapes as well how to use Keyshot to create state of the art renderings of the final Highpoly mesh.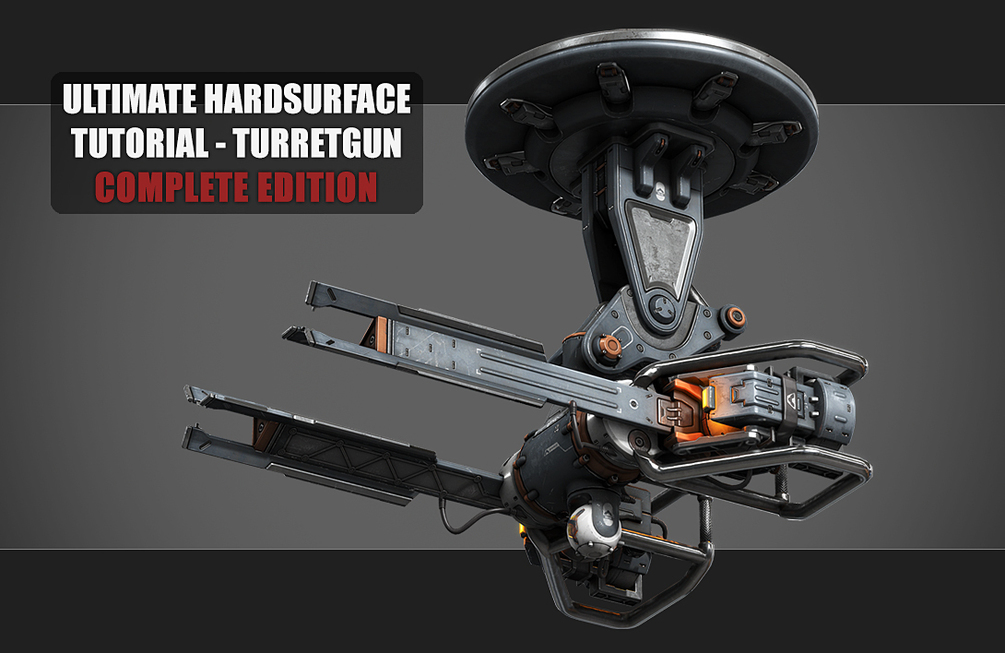 JONAS RONNEGARD is a 3D Artist from Tokyo, Japan. In this post you will see SP/Quixel Hardsurface Height/Alpha Maps by JONAS RONNEGARD.
1. SP/Quixel 325 Hardsurface Height/Alpha + Tutorials VOL 1
Sci fi brush and alpha set for Quixel and Substance painter, 325 brushes and height/alpha maps, all 2048×2048 16bit in tiff as well as jpeg and png.
2 Video Tutorials are included
– Creating alpha/height maps from high poly to use as brush
– Customizing Alphas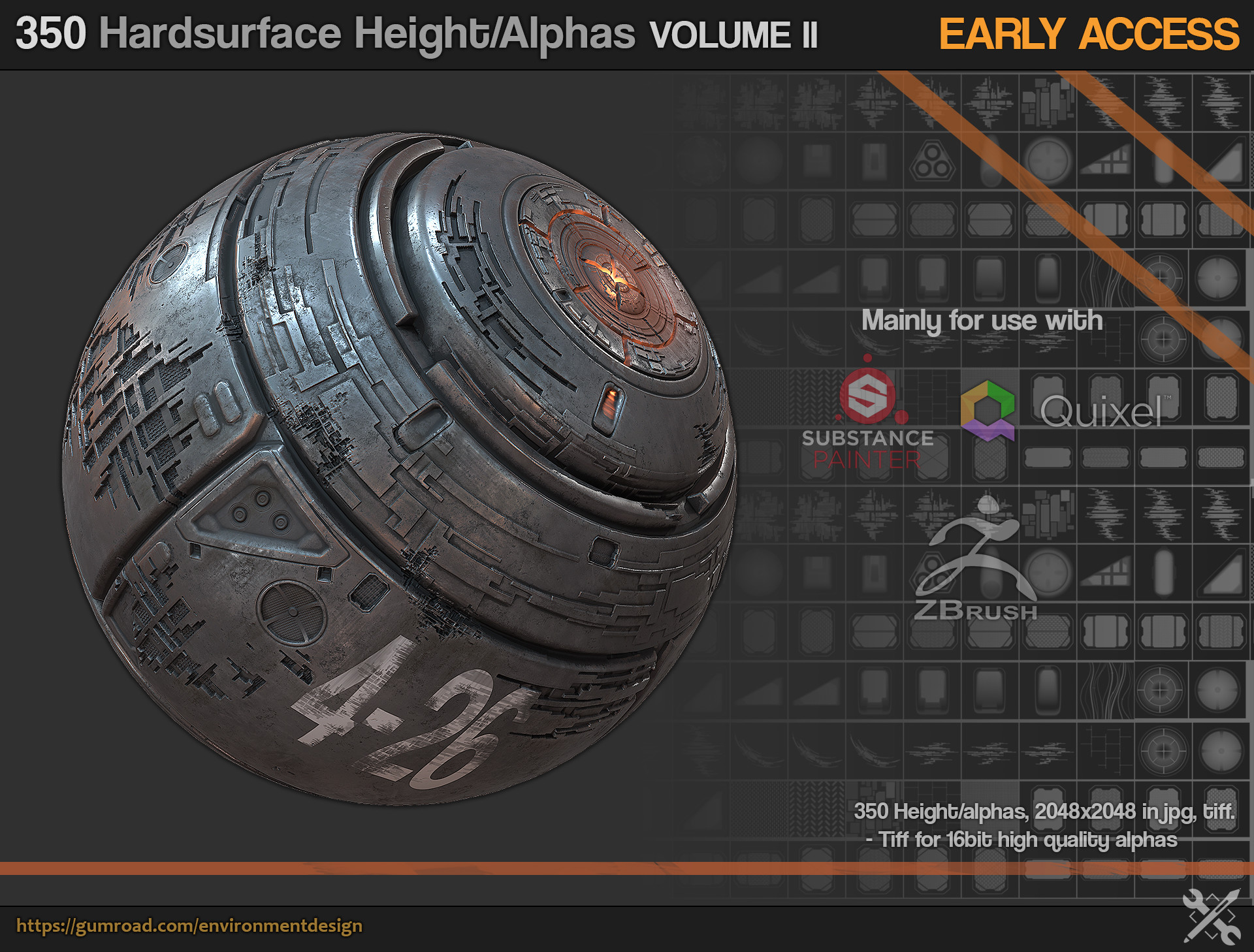 2. SP/Quixel 350 Hardsurface Height/Alpha + Tutorials VOL 2
This is the early access version of the second set of hard surface alphas. Please remember that you will receive all alphas no matter when you purchase this product, when updates are available you will receive an email.
What you will get in the final product
– at least 350 hard surface alphas
– 2 or 3 short tutorials on either making of alphas or use of alphas
JONAS RONNEGARD is a 3D Artist from Tokyo, Japan. In this post you will see 18 Zbrush Sculpted Rock Brushes by JONAS RONNEGARD. 18 brushes and height maps + 3 Ztool rock meshes, mini tutorial.
JONAS RONNEGARD is a 3D Artist from Tokyo, Japan. In this post you will see 20 Zbrush sculpted wood brushes by JONAS RONNEGARD. 20 brushes and alpha/height maps.
Human Zbuilder for Zbrush by Tsvetomir Georgiev
HUMAN ZBUILDER THE EASY WAY TO MAKE HUMANS for Zbrush 4R7 64bit or higher version. Tool for making detailed high polygon human models in Zbrush. Human ZBuilder is a scene for Zbrush 4R7 or higher version with this scene you can make any types of human bodies. The scene include materials, lighting and rendering presets for great presentation of your human creation. You can use the tool for commercial or non commercial purposes.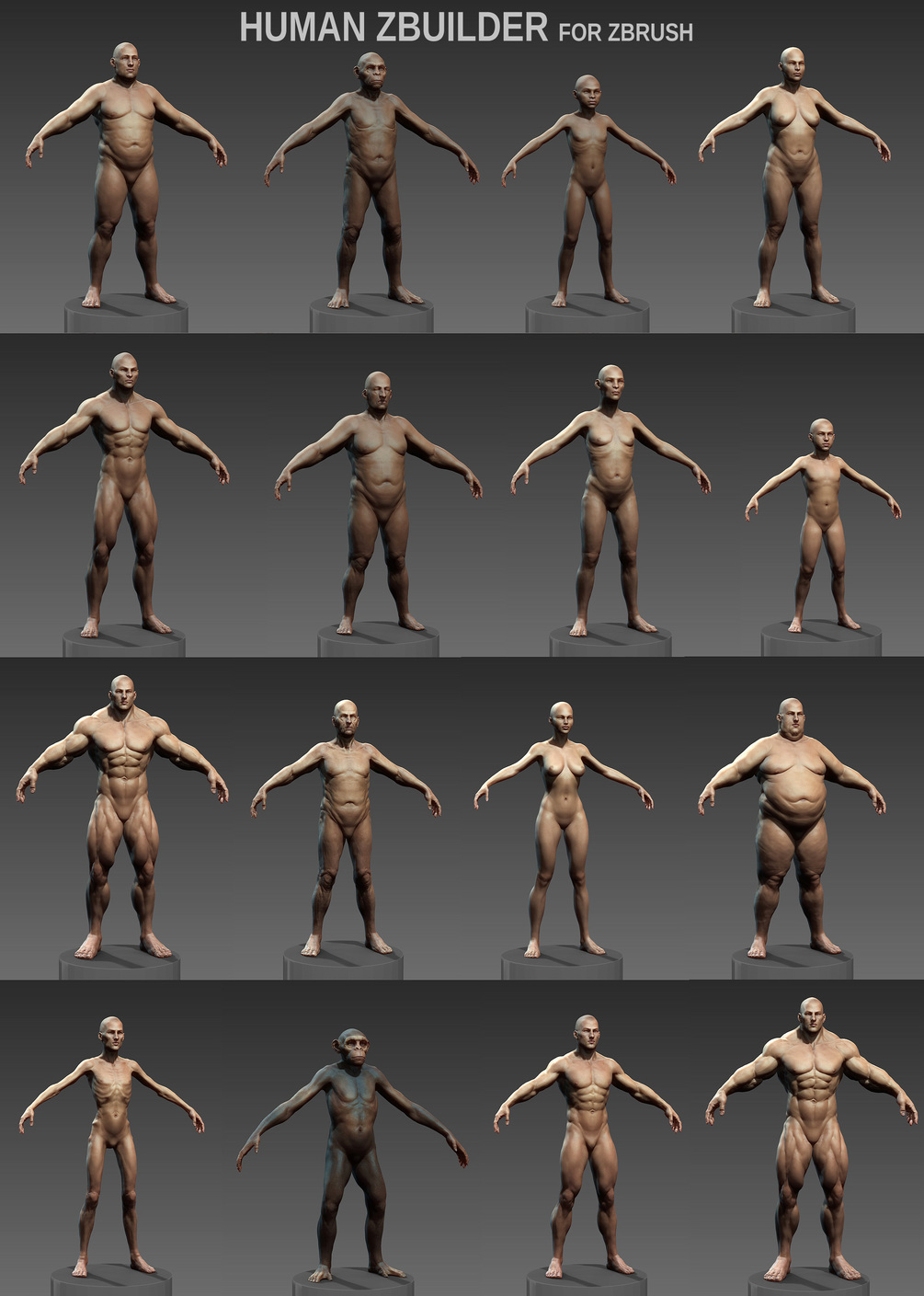 – 10 colorized layers for great blending between them
– the models is good for close up renders ,animations and etc.
– 50 MORPH controlled for ( body types, face types , expressions and etc.)
– SSS (Sub Surface Scattering) material
– LIGHT/RENDER/SSS/AO setup for BPR
Wow great stuff. I'm saving this for later use
Pity PayPal is not an option.
Advanced ZBrush: Female Design & Hard Surface Mega Bundle By The Redbeard, Matt Thorup
In this Advanced ZBrush Mega Bundle you will learn 2D and 3D character design principles, as well as techniques that improve and speed up your workflow. This course covers every aspect of the character design process, from breaking down the concept to posing and rendering your character. This Bundle also includes a Hard Surfacing Modeling 101 course where you will learn multiple techniques to approach hard surface in ZBrush.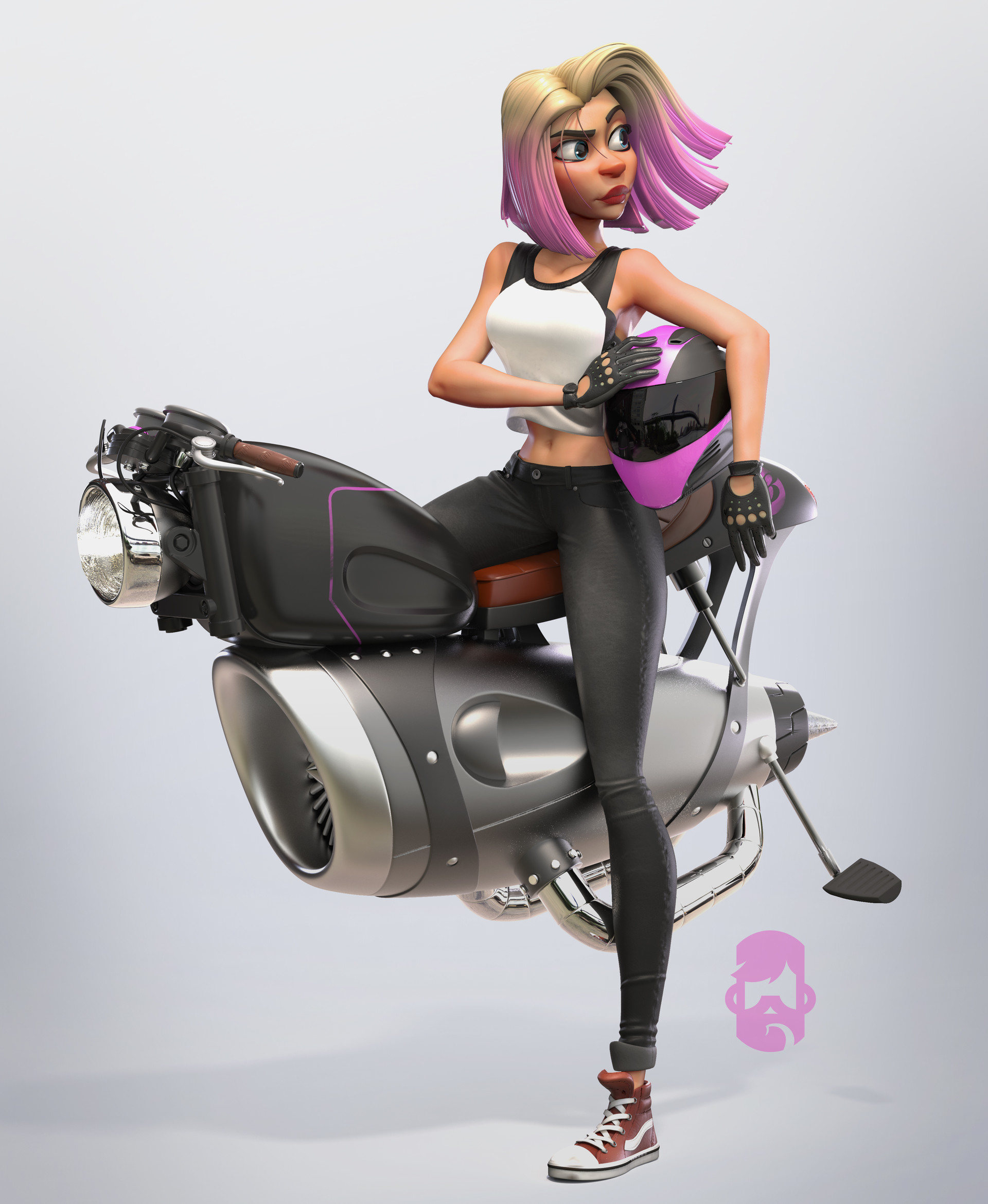 Here are a few of the Topics covered-
Female Design Principles
Anatomy Landmarks
Blockout Modeling in ZBrush
Designed Anatomy
Fibermesh Hair
Sculpted Hair
Hands
ZModeler
Polypaint
Gesture Posing
Hard surface Modeling
Prepping for Rendering
Tips for Rendering in Keyshot
And More!

You will be provided with original concept by Justin Rodrigues and all files used in the tutorial. (Custom UI, Brushes, Alphas, ZBrush File)
Creature Concepts and Character Creations Gumroad Tutorials by Kurt PapsteinTransparet Creatures By Kurt Papstein

This tutorial will show you how to start without an idea, and quickly render a creature to completion featuring transparent skin layers and organic forms. Sculpting the design from a sphere in ZBrush, Kurt spend his time building up a foundation of anatomy and surface details. Working with Subtools to build out additional organic parts such as teeth, eyes, and organs. He will discuss how he work with Polypaint to create convincing skin textures, and how he adjust his render settings in ZBrush to produce his final images. Finally, he share how to composite your renders in Photoshop, preparing the creature for final presentation.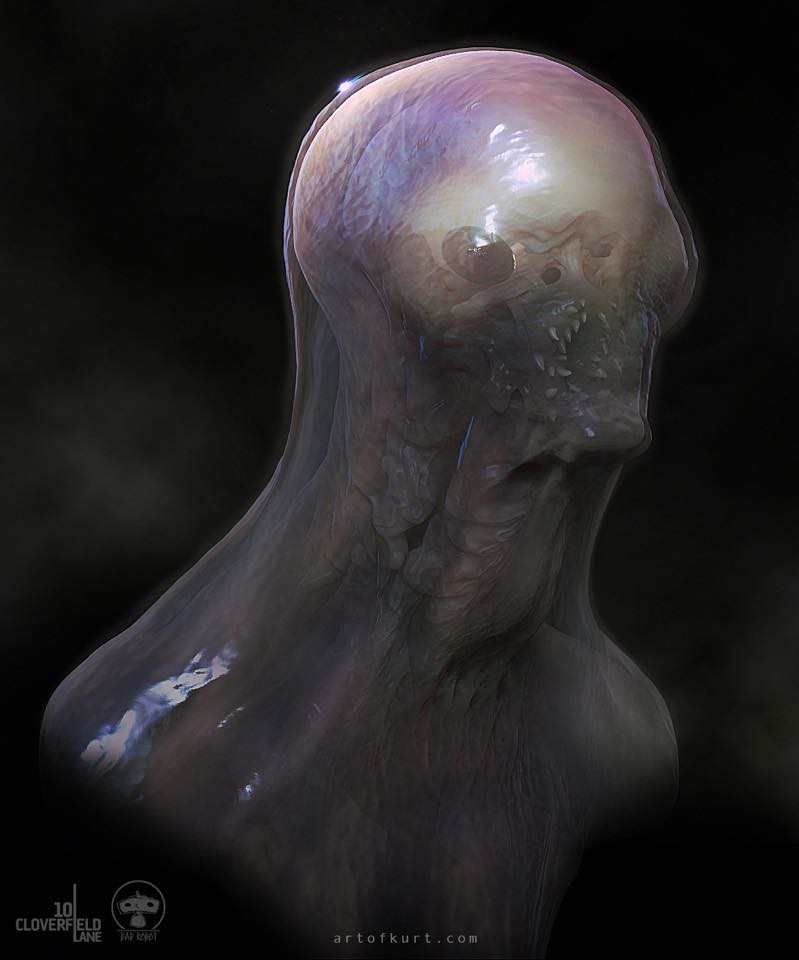 Greyscale Creature Concepts By Kurt Papstein
In this tutorial, Kurt share with you his thought process of creating creature concepts inside of ZBrush. He will talk about the flow of design, and finding a good balance. The real purpose of the tutorial is to share the steps to create fast conceptual renders in black and white, to share with your client or director. All using ZBrush and Photoshop.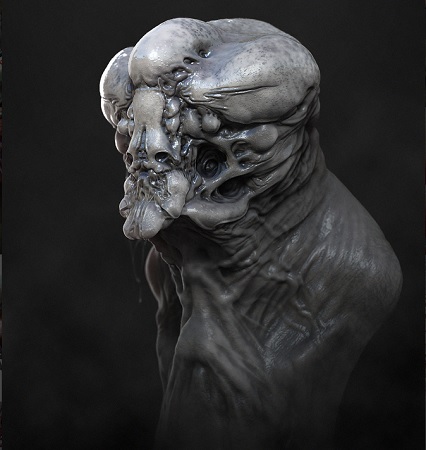 Character Creation in ZBrush By Kurt Papstein
A comprehensive and all encompassing walk through Kurt Papstein's process creating characters and creatures inside of ZBrush. Going over the entire pipeline from start to finish in over 5 hours of video footage, complete with narration and breakdowns.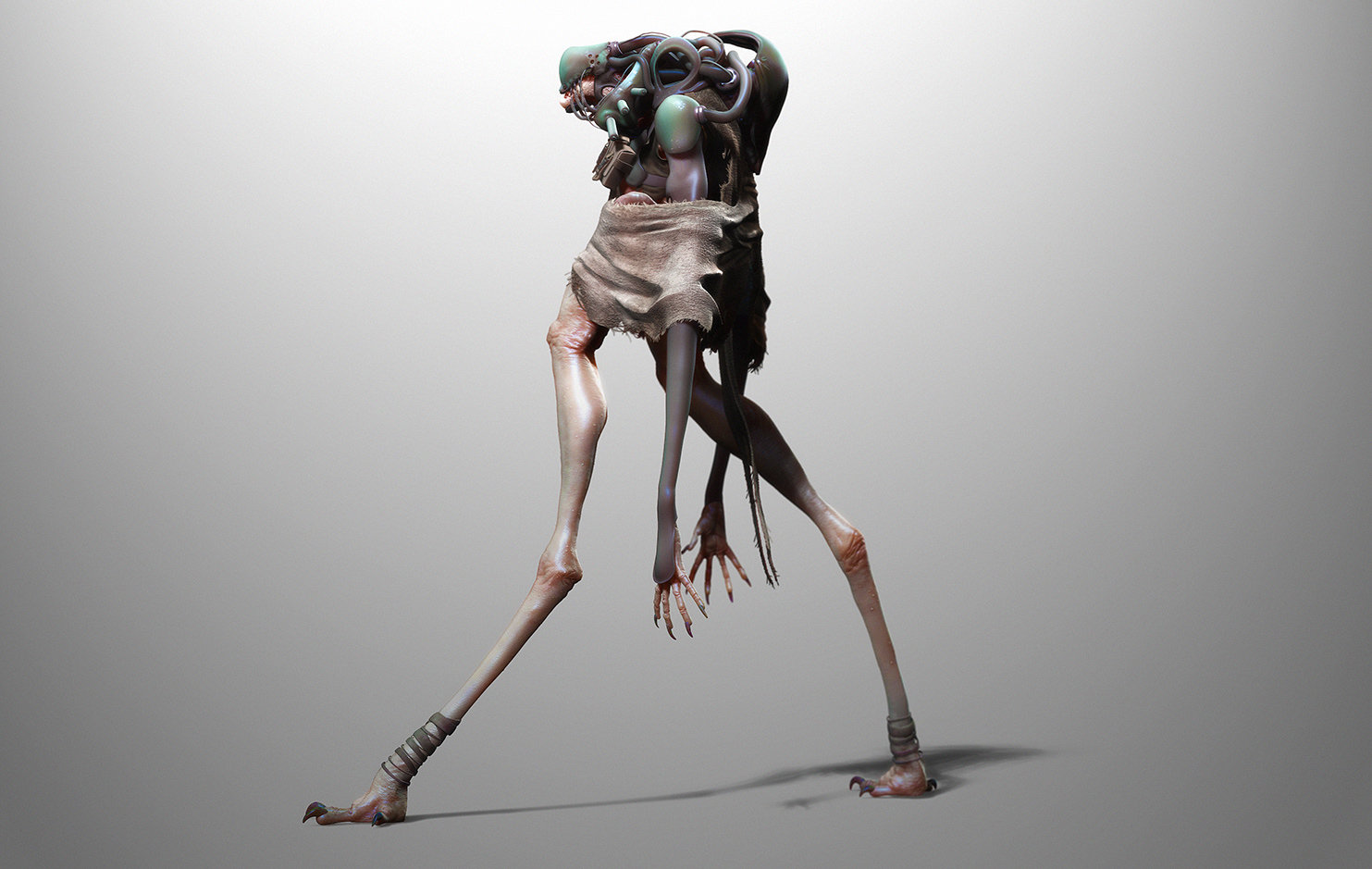 Human Zbuilder v2 for Zbrush by Tsvetomir Georgiev
HUMAN ZBUILDER v2 THE EASY WAY TO MAKE HUMANS for Zbrush 4R7 P3 64bit WIN OR OSX. Tool for making detailed high polygon human models in Zbrush. Human ZBuilder is a plugin for Zbrush. With this plugin you can make any types of human bodies and custom body types as a creatures or humanoids.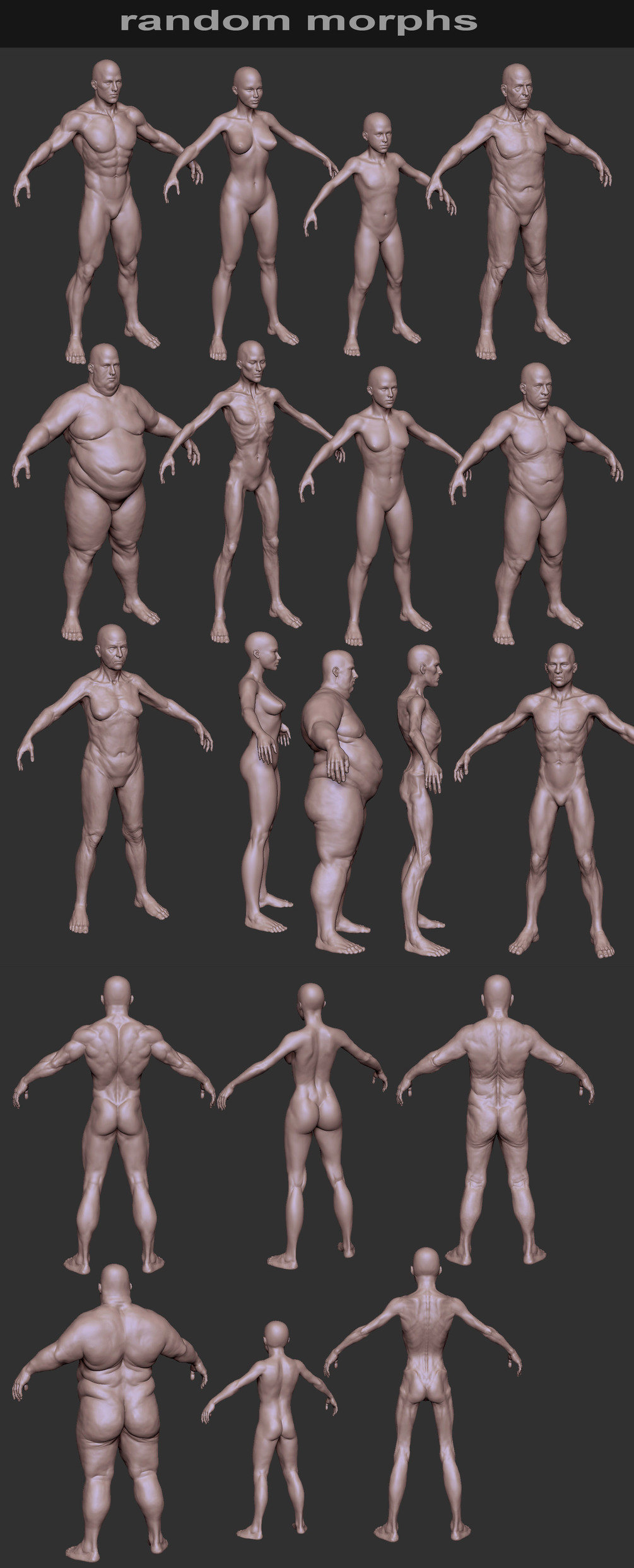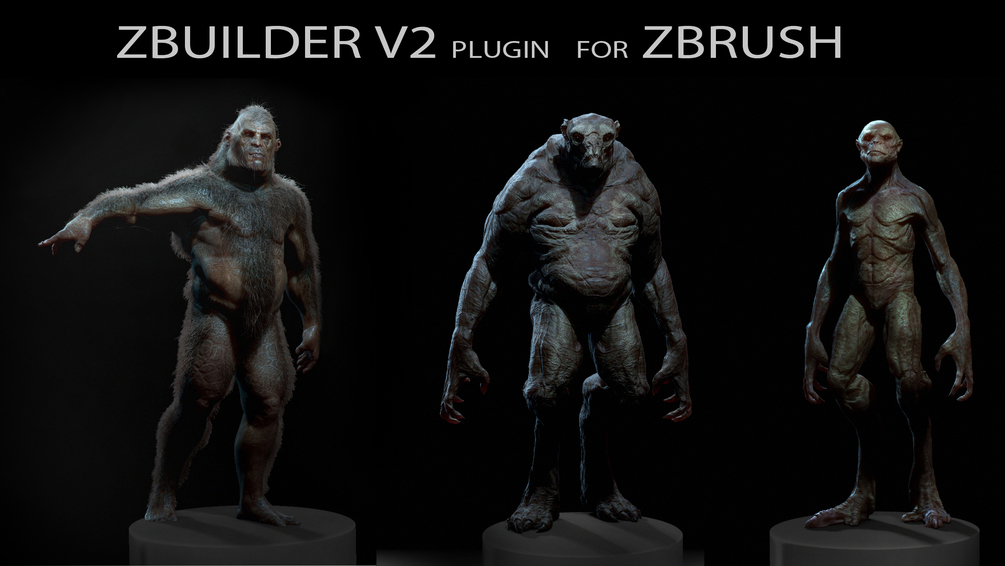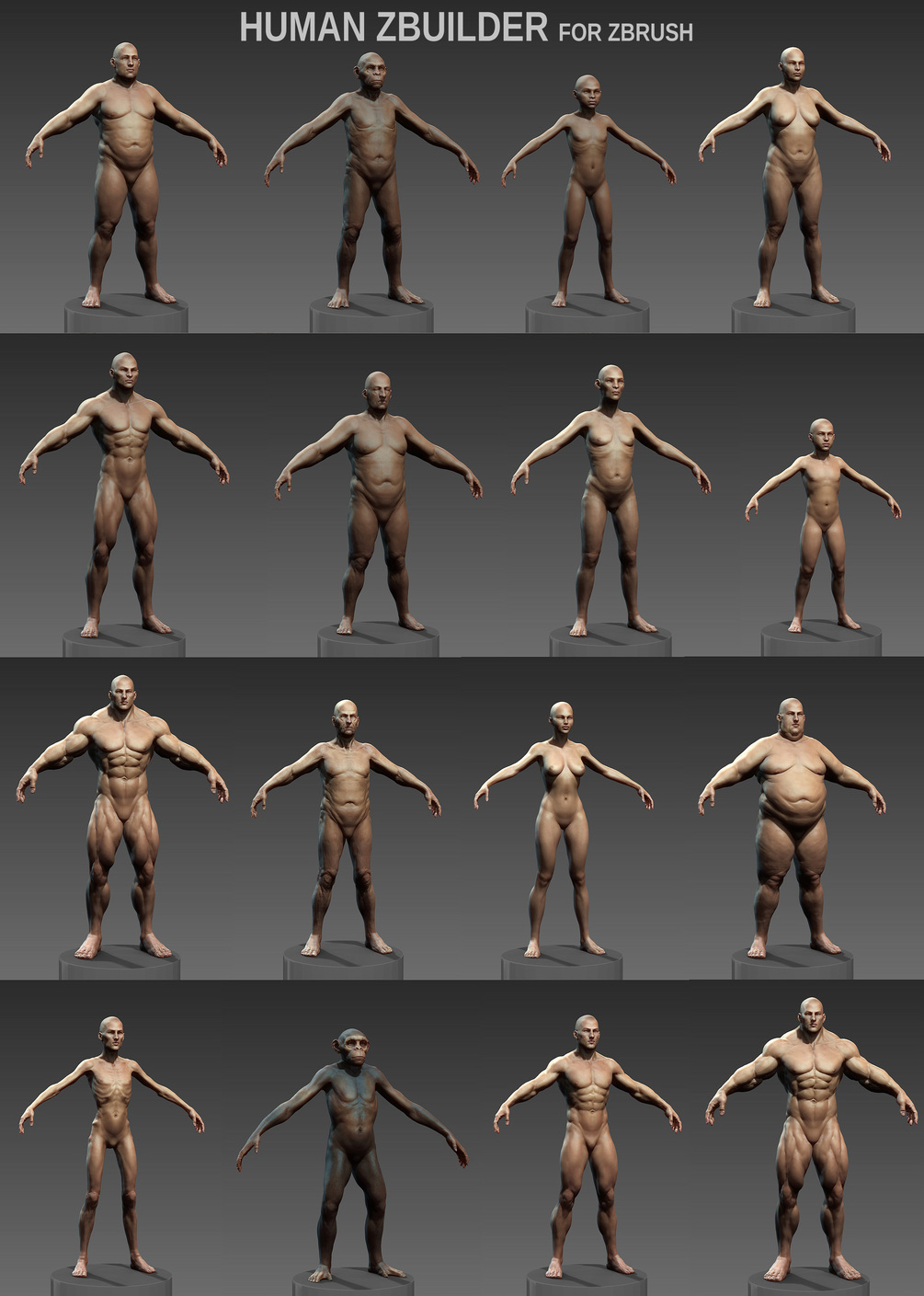 FEATURES:
EDIT POSE: will allow you to make basic pose of your model.You can save or load your pose.
EDIT MODEL: will allow you to edit your own model and integrate it into zbuilder plugin as a custom preset. And continue using all zbuilder features.
EDIT RENDER: will allow you to make great presentation of your model. The scene is set with the best settings as materials, lightings and fibbers presets for easy use.
GET MODEL: will allow you to get the finished model and use it for any purpose that you want.
[*=2]10 colorized layers for great blending between them
=2]the models is good for close up renders ,animations and etc.
=2]50 MORPH controlled for ( body types, face types , expressions and etc.)
=2]presets for Materials, Dramatic Lighting, Rendering ,SSS,Ao,Shadows, backgrounds and etc. For BPR render.
This workshop was held as a 2 hour-per-week online session, for a total duration of 8 Weeks intensive training workshop focused on creating and visualizing Characters models for Game art and Cinematics. It is primarily intended for 3D Artists, Digital and traditional Sculptors who are looking to expand their portfolio with organic and clothing work, mainly focused around characters. This is a modeling for production course.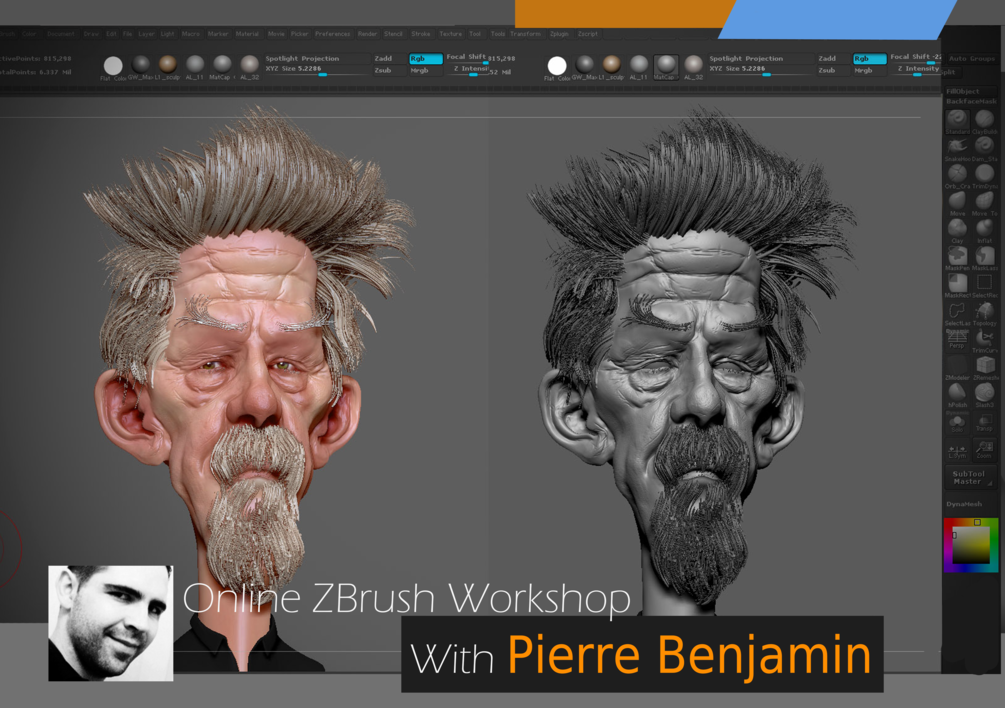 Amunet – Full Game Character Tutorial by Georgian Avasilcutei
It is game ready and has almost 100k triangles and 2x4k texture sheets. The tutorial covers all the creation process of this character from initial zbrush sculpt till final textures. The whole video length is more than 20 hours. The tutorial is split into 8 video so if you want to see just some part of it it should be easy to figure out where it is.
In the last video you will see some tips about baking and setting up your scene in Marmoset Toolbag 3. You will also get the full model with ztl, psd files, fbx and marmoset toolbag 3 scene.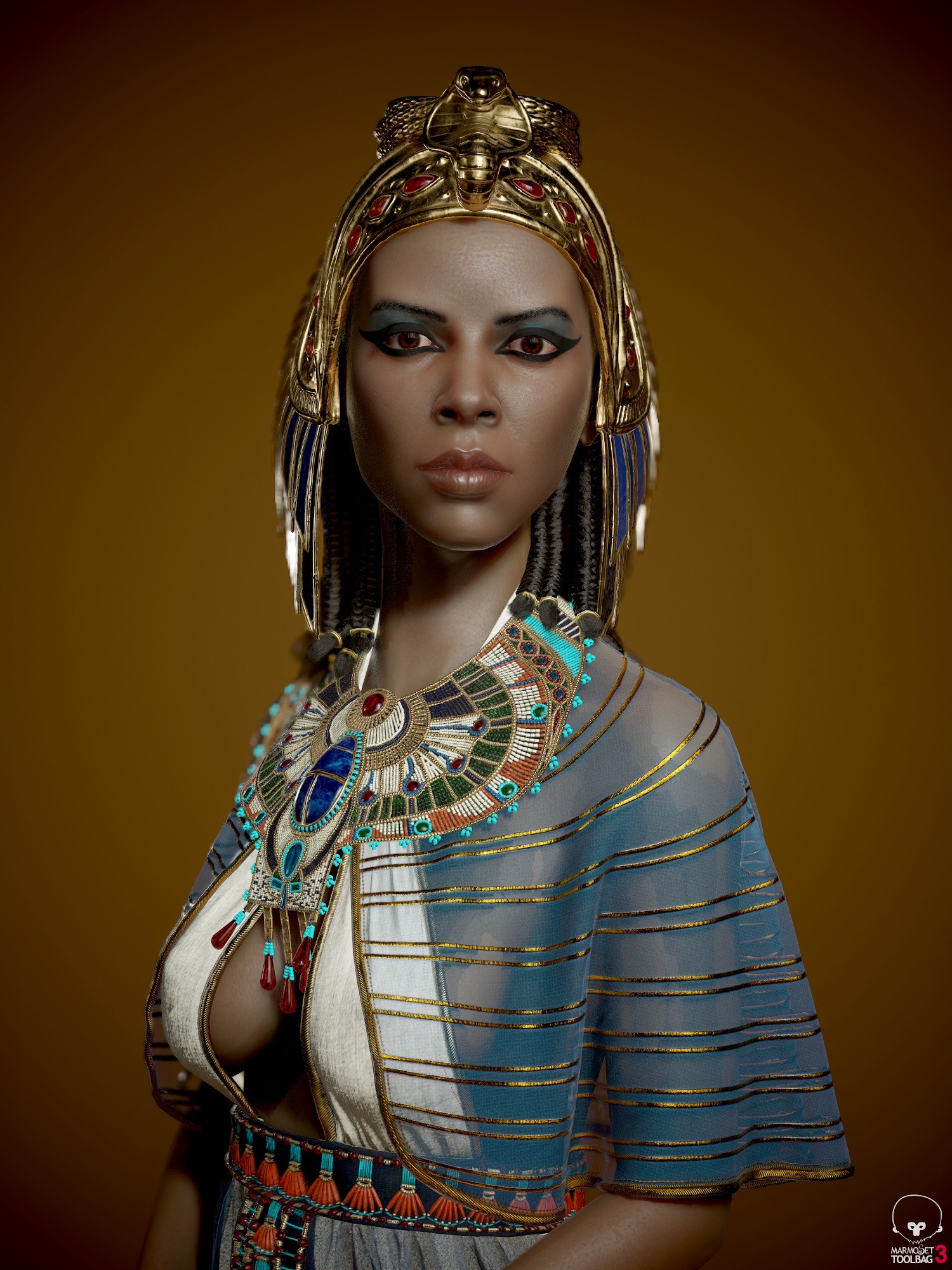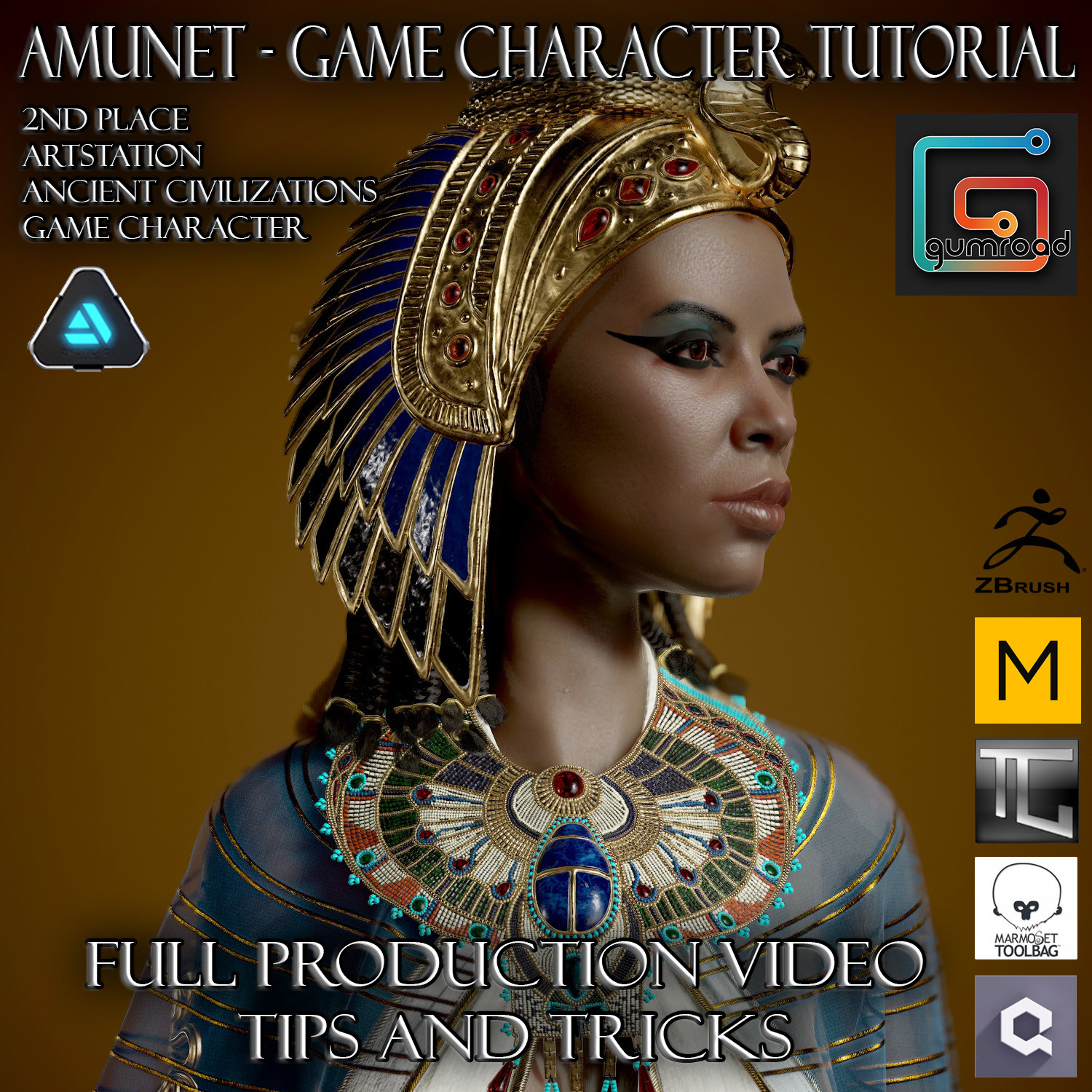 Really great guide. I followed and saved it for later use. Thanks for sharing!
Thank you so much for sharing this tips! They are cool!