Wow!! this is the most amazing presentation to one post that ive ever seen!!
…modeling indeed!
really nice presentation, love the forms in the fish, tail and all
your shiny blue sketch reminds me of this old pixolator image
![user_image-1037087231oyb.jpg|428x284](upload://rcN4Mjjn7Y5zzlXGCkPpDgPmSsz.jpeg)
Hey MtB! How's it going dude? Nice critter btw

Thank you everyone for you comments!

It is an honor. As I have said before, ZBrush has been and always shall be My Prize. I miss this place and giving back. It is sooo good to be back. Thank you!
Yeah and STILL we can't close a Zif Chain.
Hey Lon, thank you. Things are going well enough over here! Teaching now!! How have things been with you and yours?
Here's my first sketch in 3.5…I'm lovin it!
oops sorry…posted in the wrong thread…this is what i get for having multiple forum windows open

[]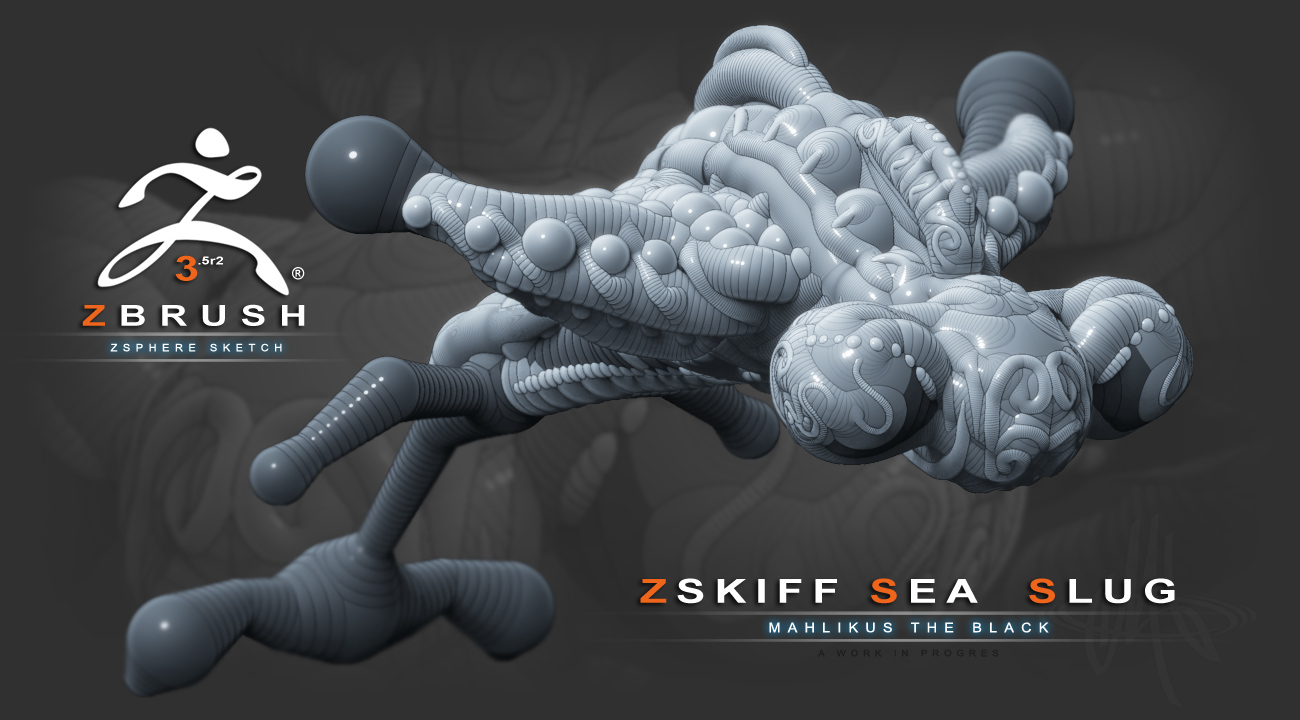 So</i>... Here is my second venture into the pleasure that is ZSkiff Creation.

I am become more and more comfortable with these new functions. I will
be setting some hotkeys to speed things up because I am a keyboard
person and it really quickens the creation process. More on that later.

I am recording the various session so I might make a movie of it's creation.
The goal is to use the zskiffs in ways some might not think about. I am also
using various Z features to help in the modeling process. Hopefully, I will
be able to finish before the week is out so that the video will be available
for the weekend.

<i>Cheers everyone!</i> ![MAH-ZSkiff-Sea-Slug.jpg|1100x720](upload://61QWOSh0zATySsMwpWwiA4E1au6.jpeg)
Beautiful!
The new ZSpheres2 are a work of art!
really fun stuff, love the presentation. i need to work on mine. always a pleasure.
Great work, just beautiful and that Seahorse like creature is just awesome.
By the way have you tried the Flush Zsketch brush yet, it acts like flatten brush, could have used it for that tail, I know you are done with that one but thought I mention it. Looking forward to see more from you.
Stunning! your presentation skills are great!
Thank you for sharing the Zsketch model! Really learnt allot from it!
Thank you again!
Great stuff going here, I haven't had much time to delve into 3.5, but will watch your video first, stealing with the eye… Ha ha ha, this is what I like about this forum, everyone seems willing to share…
Ziggy
Well, sorry folks. There seems to be something wrong with my zscript.

That's okay though, I will come up with something.
Be back soon…
[]
Stage Two - Wings
This recording session went well. Used some tricks so I think the movie will be helpful. That, I will have ready in a day or so. ![slug-wings-2.jpg|800x796](upload://69eK58cpfQUv4NQk1VPZm9kEG0N.jpeg)
Looking good. I really like the seahorse!
I m waiting your video for learn!!!
Inspirational creatures Mahlikus

.
This thread is a good example for the fact that sculpting with ZSpheres II seems to become an art form in itself. That's why I love Pixologic, it's far more artist related than any other software company I know.
This is really great.
Cheers to all!
Awesome ZII stuff Mahlikus! Super presentation. Thanks for sharing the Zskiffs! (and the valuable history lesson on the ZSphere naming - makes great reading for newbies like myself!). I'm having a blast following this thread- I'm looking forward to he updates!

!