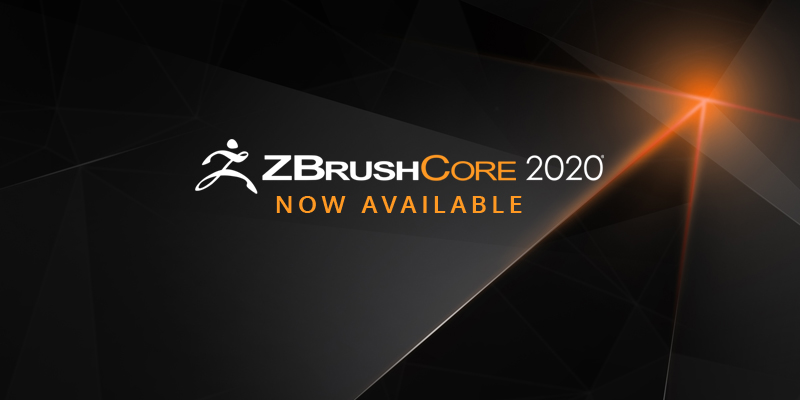 Pixologic is pleased to announce that ZBrushCore 2020 is now available! This new version includes updates and bug fixes as well as additional features that had only been previously available in ZBrush:
How to purchase
New users can purchase ZBrushCore 2020 directly through our online store.
Perpetual licensing is available for $179.95 USD and guarantees free upgrades for one year from date of purchase, with the potential for additional free upgrades beyond that point at Pixologic's discretion. (To date, we have never charged for an upgrade.)
Subscription licensing is also now available at a price of $9.95 USD per month. Subscriptions automatically renew each month until canceled. Cancel at any time. Free upgrades are guaranteed for as long as the subscription remains active.
How to Upgrade
If you already have a license for ZBrushCore or ZBrushCore 2018 then this new version is a free upgrade for you! All upgrades are done through our My Licenses page, but the exact steps will depend on your ZBrushCore version:
ZBrushCore 2018 - Simply click the blue button to "Download ZBrushCore 2020." You do not need to upgrade your license. Just download the new version and install. If prompted for activation, do so using your Pixologic ID (the same login that you use for My Licenses).
ZBrushCore - If you do not see a button to download ZBrushCore 2020 then you must first upgrade your license. Do this by clicking the blue "Upgrade to ZBrushCore 2020" button. Follow the on-screen instructions to complete this free upgrade. Once you have done so, My Licenses will have a new section that includes the "Download ZBrushCore 2020" button. Click that button to download and install ZBrushCore 2020. When first launching the program you will be asked for activation. Do this using your Pixologic ID (the same login that you use for My Licenses).
Moving up to ZBrush
As powerful as ZBrushCore is, its feature set is still just a sample of what ZBrush itself can do. When you feel that you're ready to take your art to the next level, we have multiple paths by which you can move up to ZBrush. Click here for more information.
Questions?
A ZBrushCore 2020 Support category has been created here at ZBC. Please use that to post any questions or issues you might have. We recommend a separate topic for each item, since that will leverage the capabilities of the new ZBC.
Happy Sculpting! :)