The 2018 ZBrush Summit is fast approaching!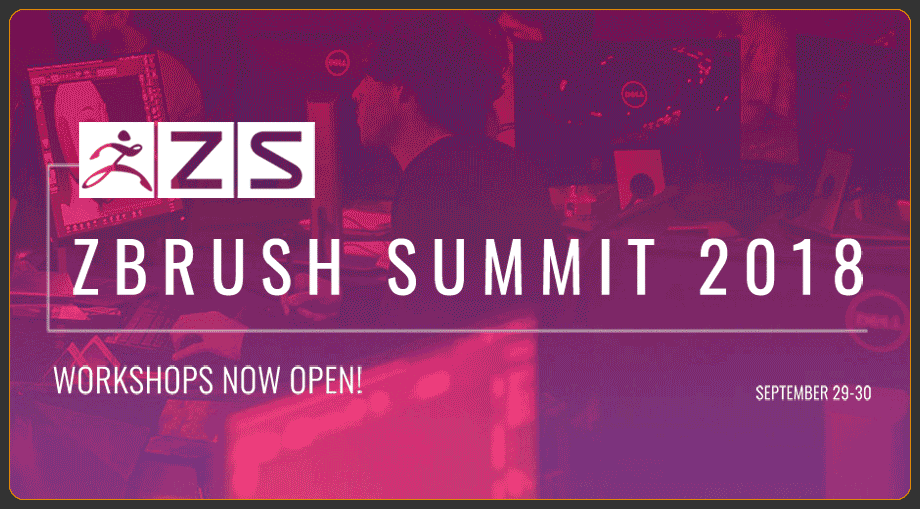 The ZBrush Summit is a three day event happening September 28 through 30 in Los Angeles, CA and streaming LIVE around the world.
You can look forward to presentations from top ZBrush artists, the Live Sculpt-Off, interviews, contests and the annual ZBrush Awards.
Click here to watch ZBrush Summit 2018: ZBrushLive.com
WORKSHOPS
Experience ZBrush workshops taught by some of the most prominent artists in a variety of industries! Whether you are interested in VFX or film, video game asset creation, character design, or simply want to sharpen your ZBrush skills, you can learn from the best in the business with this special opportunity. Each workshop is limited to 14 participants each and must be registered for in advance. Saturday, September 29
ZBrush for 3D Printing - Taught by Damien Canderle, this workshop covers the process of using ZBrush to create a model ready for 3D print. (SOLD OUT)
Creating a Sytlized Lead Character - Zack Petroc leads this workshop where students will develop a stylized character from a predefined 2D image, outlining each major step of the process in alignment with a production work environment. (SOLD OUT)
Training Your Eye: Translating Appeal from Design to Model - In this workshop, Dylan Ekren will show his process of creating stylized 3D characters, utilizing major design principles to translate appeal and life from flat 2D art to 3D model. (HALF GONE)
Sunday, September 30
Make it Happen in ZBrush: The Workshop - Pablo Munoz Gomez focuses this workshop on producing a polished concept from scratch in ZBrush in a short amount of time. (SOLD OUT)
Creature Design & Ideation with ZBrush - In this workshop, Maddie Spencer covers creative thinking and creature design in ZBrush with considerations in form, shape language and silhouette which combine to help you create an iconic design. (1 LEFT)
Detailed information about each workshop, as well as the bios of their top notch instructors are found on the Summit web page.
Click Here to Learn More & Register
PRESENTATIONS
In addition to the exclusive workshops, the ZBrush Summit will be offering a full slate of live presentations that will be streamed LIVE around the world. Of course, the best seats in the house are in the studio (there's nothing like being there in person!) but no matter where you are, you can be in on the action. You can even communicate directly with the presenters via social media and possibly have your questions answered live.
Friday, September 28
Kris Costa
ZBrush in Digic's Character Workflow
Blur Studios
Framestore: Pushing Characters Through the Pipe
Pixologic Demo
Saturday, September 29
Method Studios: Creating Creatures for Spots & Features
Double Negative: ZBrush Kaiju Creation for 'Pacific Rim: Uprising'
Santa Monica Studios: Creating Modular Architectural Assets Using ZBrush
Pablo Munoz Gomez: Make it Happen in ZBrush - The Workflow
Zack Petroc: Using ZBrush to Create Content for Story Pitches
ZBrush Awards Ceremony
Sunday, September 30
Michael Pavlovich: Using ZBrush to Facilitate Smarter Production
Epic Games: Fortnite (Exclusive to on-site attendees.)
Insomniac Games: How ZBrush Helped Build Spider-Man
Joe Menna: Engineering Toys & Collectibles for Production
LIVE SCULPT-OFF
Are three days of ZBrush action not enough for you? You're in luck! On September 27 we will once again be holding the Live ZBrush Sculpt-Off, featuring twelve artists in each of two categories (Organic and Hard-Surface) going head-to-head in a themed ZBrush sculpting competition. You can watch the event unfold during a LIVE stream and then vote for the winners.
This year's competitors will be:
ORGANIC
Marlon R. Nunez · Alina Ivanchenko · Cameron Farn · Daniele Angelozzi · Igor Catto · Leroy Chen · Leslie Van Den Broeck
Arturo Ramírez · Lucas M. Cuenca · Pablo Munoz Gomez · Rishikesh Nandlaskar · Tamas Kurdi
HARD SURFACE
Christian Urdapilleta · Daniel Alderson Smith · Darko Markovic · David Schultz · Eddie Munoz · Frederic D'Aoust · Hugo Sena
James W. Cain · Julio Cesar Benavides Macias · Kenny Carmody · Maarten Verhoeven · Miguel Guerrero
This year, Furio Tedeschi is being recognized as a LIVE ZBrush Sculpt-Off Hall of Fame Champion. After winning his first title, he has successfully defended it the two following years. Congratulations!
Past champions are Marlon R. Nunez (defending his Organic belt this year), Dmitry Gaborak (2016 Organic), Erick Sosa (2015 Organic), Paul Liaw (2015 3D Printer World Expo Organic), Justin Fields (2015 3D Printer World Hard Surface) and Rafael Grassetti (2014 3D Printer World Expo Champion).
PORTFOLIO REVIEWS
Want to know if you have what it takes to get hired by a major studio? Find out exactly what prospective employers are looking for. Representatives from leading studios will be on-site reviewing artist portfolios.
Friday, September 28
Carvel Creative
Method Studios
Framestore VFX
Sideshow Collectibles
Blur Studios
Saturday, September 29
Hasbro
343 Industries
Epic Games
DNEG
Santa Monica Studios
ZBrushGuides.com
Sunday, September 30
Dreamworks Animation
Certain Affinity
Grim
Insomniac Games
There is no charge for portfolio reviews. They are offered on a first-come, first-served basis to on-site attendees, only.
THE ZBRUSH MICHELANGELO CHALLENGE
Brand new for the 2018 Summit is a special contest that EVERYONE on-site can participate in. Workstations will be set up on September 28, 29 and 30 where you can spend 15 minutes with a block of digital "stone" to chisel away and reveal your masterpiece within. At stake is an Ultimaker 3 Extended printer, valued at $4,295! The challenge will run all three days of the Summit and multiple entries are allowed. Visit the ZBrush Michaelangelo Challenge thread to learn more, and download your practice file!
4th ANNUAL ZBRUSH AWARDS
Throughout the past year, you've been voting on your favorite images posted here at ZBrushCentral and we are pleased to now announce the nominees for 2018. Every post between June 15, 2017 and June 14, 2018 was eligible for an award.
Please congratulate all of this year's nominees. Their work has been exceptional!
Then come to the ZBrush Summit, where this year's winners will be announced live at the Awards Ceremony on Saturday, September 29th, 2018. For those of you who cannot attend the Summit in person, it will also be LiveStreamed to the world.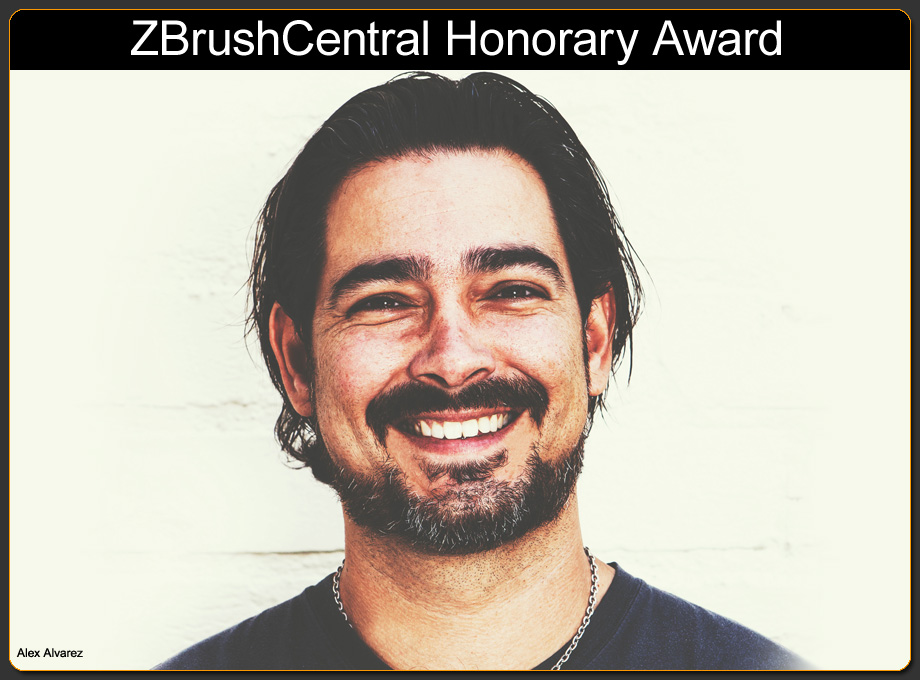 Alex is the Founder and President of Gnomon. After attending the Art Center College of Design and the University of Pennsylvania, Alex worked as an Applications Engineer at Alias|Wavefront. Alex has since dedicated the last 20 years to educating students and professional artists around the world. He has been published in industry magazines, websites and books. He has also taught classes at several major trade conferences, as well as on the Gnomon campus. Alex continues to work on personal and professional projects including creating over 30 instructional titles. He has also worked as a creature artist on blockbuster films such as Avatar, Star Trek, Green Lantern, Super 8 and Prometheus.
The nominees contending for this year's awards (winners shown in [COLOR="#FFD700"]gold) are:
(Click the names beneath each image to view the nominated ZBC posts.)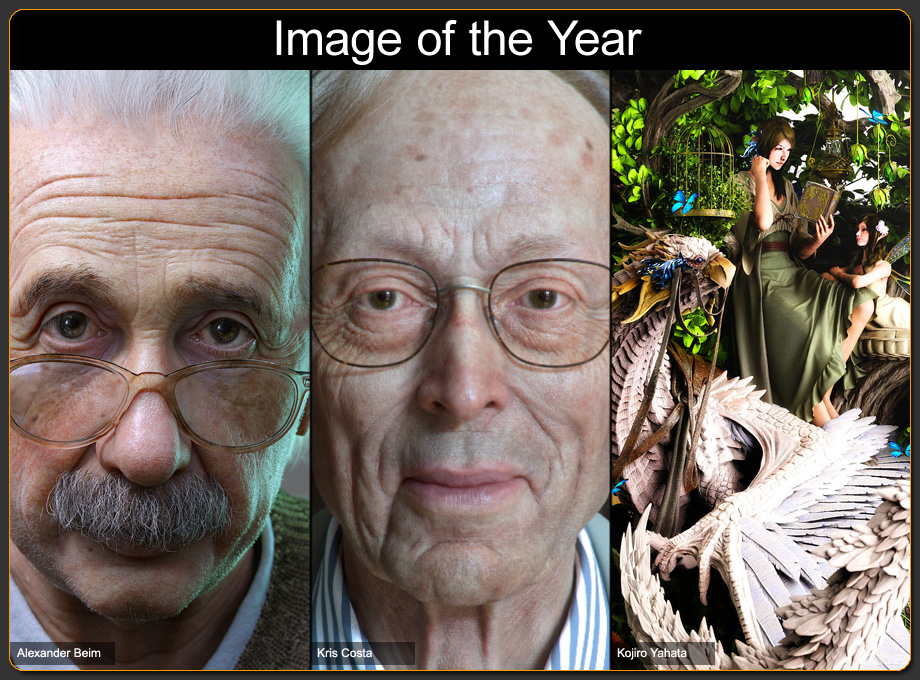 Alexander Beim · Kris Costa · Kojiro Yahata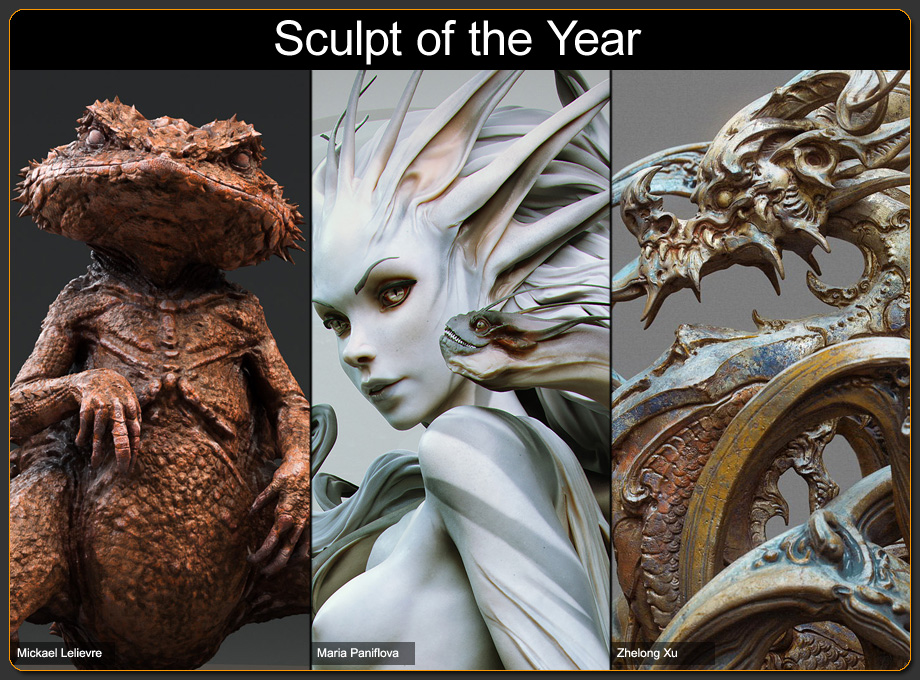 Mickael Lelievre · Maria Panfilova · [COLOR="#FFD700"]Zhelong Xu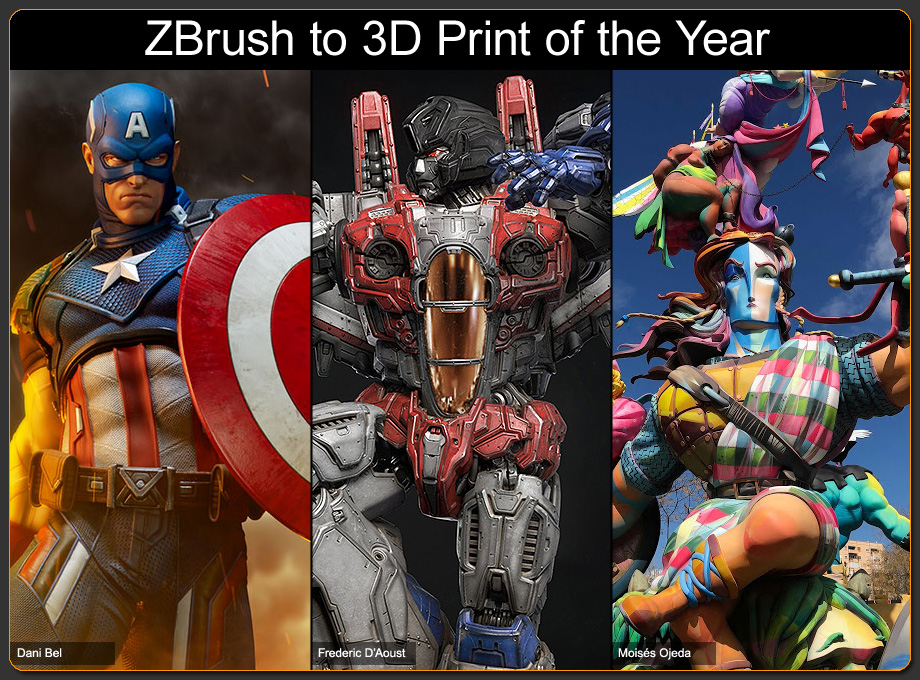 Daniel Bel · Frederic D'Aoust · Moisés Ojeda

Hossein Diba · Maria Panfilova · Piotr Rusnarczyk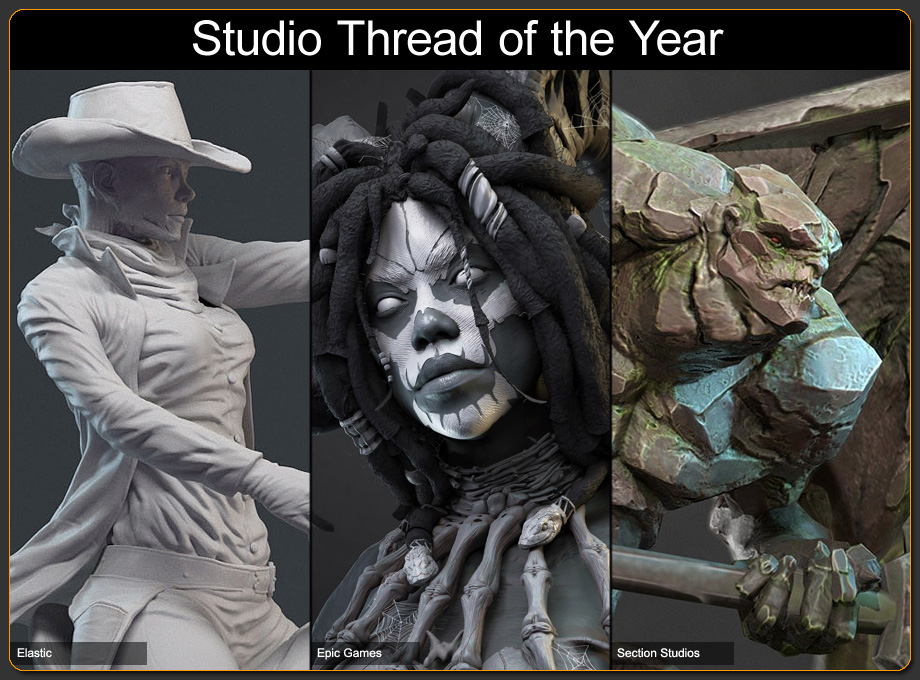 Elastic · Epic Games · Section Studios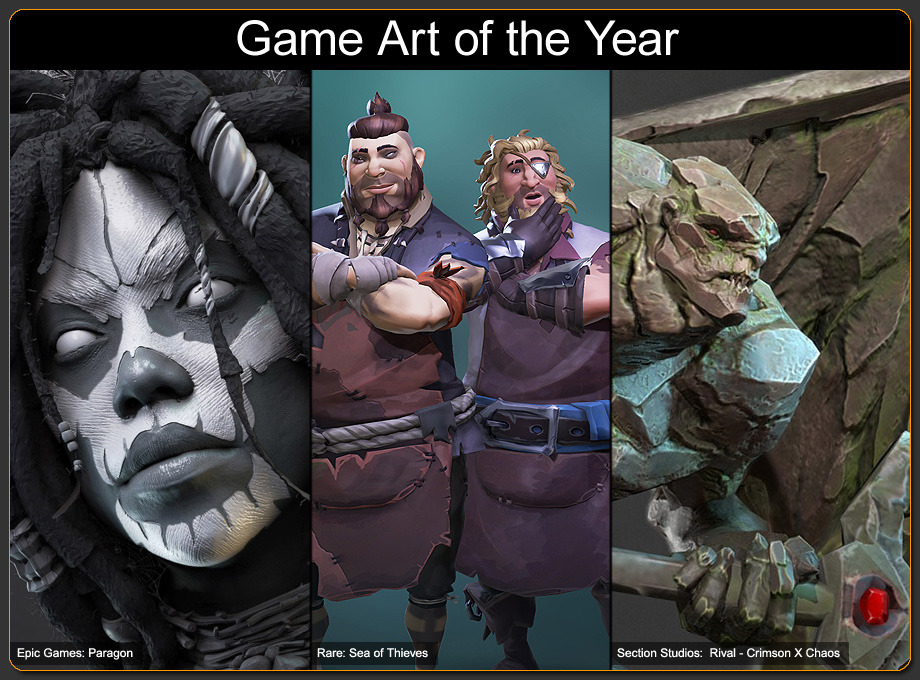 Epic Games - Paragon · Rare - Sea of Thieves · Section Studios: Rival - Crimson X Chaos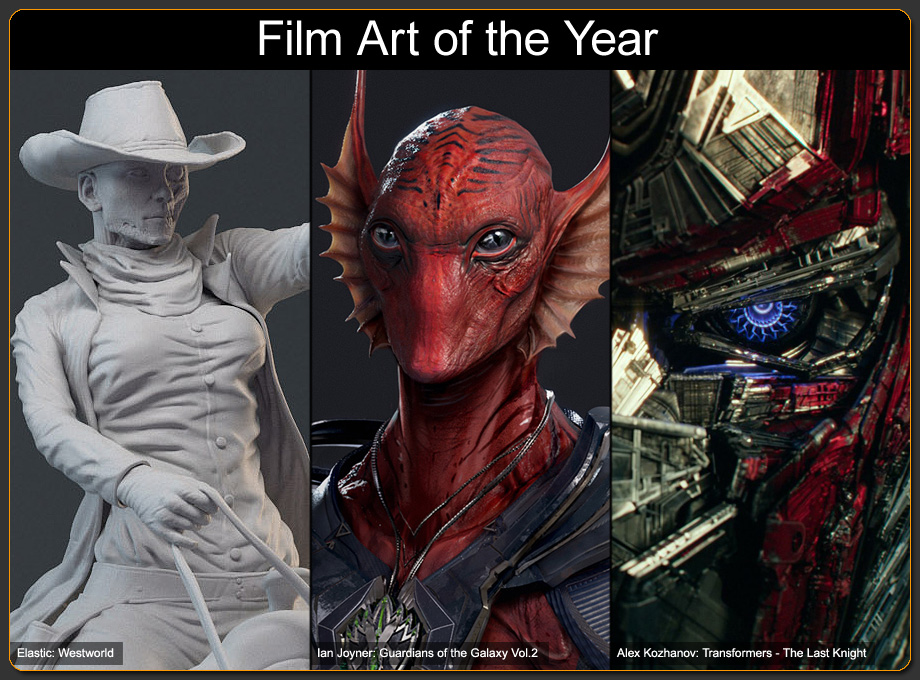 Elastic - Westworld · Ian Joyner - Guardians of the Galaxy Vol.2 · Alex Kozhanov: Transformers - The Last Knight
In addition to those listed above, there will also be an ZBRUSH HONORARY AWARD. This is traditionally given to a luminary of the industry – someone who has had great impact not only within the digital art world but also for ZBrush itself. The recipient of this year's award will be announced at a later date.
To qualify for a nomination, works must have been posted at ZBC between June 15, 2017 and June 14, 2018. Nominations for threads required a minimum of 6 images. ZBrush must have been an integral part of the creation process to qualify. For collaborations (including studios), all artists names will be present on the award that both worked on the project and posted images within the winning ZBrushCentral thread.
Don't forget that you can already vote for the winners of next year's awards! Just click the Vote button found over any image throughout the year running from June 15, 2018 through June 14, 2019.
Sign up here to get on the official ZBrush Summit mailing list and be among the first to be notified about all Summit-related announcements!
We look forward to seeing you there!