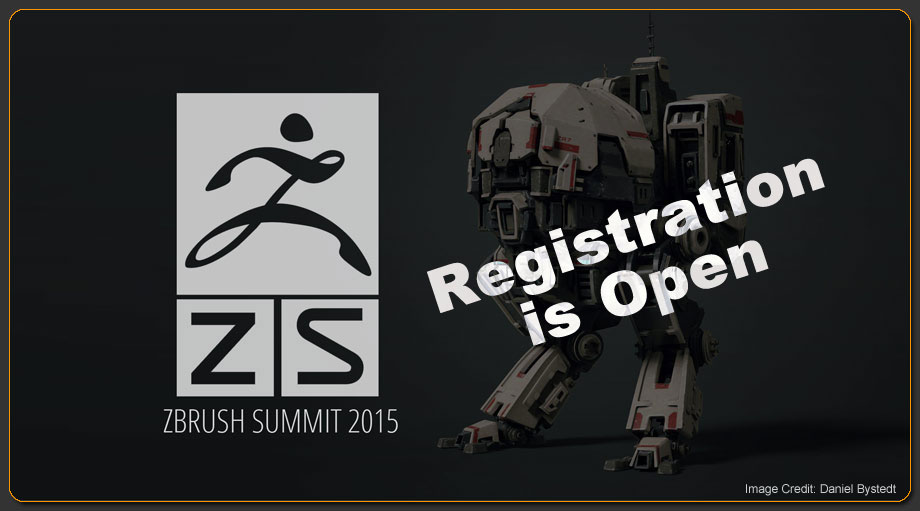 Registration is now open for the second annual ZBrush Summit and it will be the most epic ZBrush User Group Meeting ever!

The ZBrush Summit is a 3-day event happening Friday, September 25 through Sunday, Septermber 27 in Los Angeles, CA and streaming LIVE around the world. Whether you are here in person or at home, experiencing the ZBrush Summit is easy. Stay connected with our live feed. No matter where you are, we'll be there!
Several exciting elements are being added to this year's ZBrush Summit:

On-Site Only Workshops - For the first time ever, Pixologic is offering in-depth workshops. Taught by luminaries in a variety of industries, they represent an incredible opportunity for honing your ZBrush skills. The workshops are also exclusive, limited to a maximum of 16 people in order to give you the greatest possible access to these stellar instructors. Each of these six exciting workshops covers a specific area of ZBrush use. Each will last for four immersive hours. They will not be Livestreamed or made available as videos at a later date. The only way to get this in-depth training will be to come in person. Don't miss your opportunity – register today!
The LIVE ZBrush Sculpt-Off Championship, which will be Livestreamed so that everyone can see these terrific artists in action.
First-Ever ZBrush Awards - Voting is already underway! Cast your votes now for the very best artwork to have been shared at ZBrushCentral over the last year.
…and more!
Be sure to Register now so that you can stay informed as more information is made available in the coming weeks. Still to be revealed: The line-up of presenters, as well as the competitors in the LIVE Sculpt-Off.
Register Today and Stay Informed!
Live and breathe ZBrush with dynamic presentations, panel discussions from a variety of industries. There will also be prizes given away both on-site and online after every presentation!
With the exception of the Workshops, attendance – both online and in person – is completely FREE! So mark your calendars and don't miss this opportunity to be part of this year's ZBrush Summit!
While the vast majority of the ZBrush Summit 2015 is free to everyone, the workshops are the exception. These four hour workshops each focus on a specific area of ZBrush use and are being taught by some of the top names in the field. In addition to their time actually teaching the class, each instructor is putting a considerable amount of time and effort into preparation and materials. For this reason, there will be a fee for each workshop.
Because space in each workshop is limited to no more than 16 people, be sure to reserve your seats soon or risk missing out!
See you there!