Pixologic is proud to reveal the entire schedule for the second annual ZBrush Summit. This is sure to be the most epic ZBrush User Group Meeting ever!
The ZBrush Summit is a 3-day event happening Friday, September 25 through Sunday, Septermber 27 in Los Angeles, CA and streaming LIVE around the world. Whether you are here in person or at home, experiencing the ZBrush Summit is easy. Stay connected with our live feed. No matter where you are, we'll be there!
On-Site Location:
Gnomon School of Visual Effects
1015 N Cahuenga Blvd.
Los Angeles, CA 90038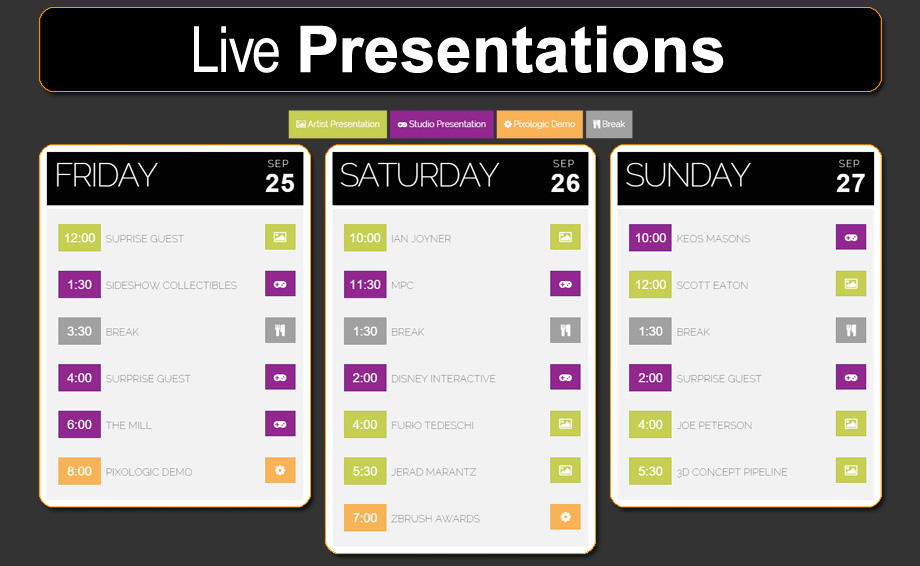 Live and breathe ZBrush with dynamic presentations and panel discussions from a variety of industries. There will also be prizes given away both on-site and online after every presentation!
Click HERE for the Schedule
(As well as Artist Bios)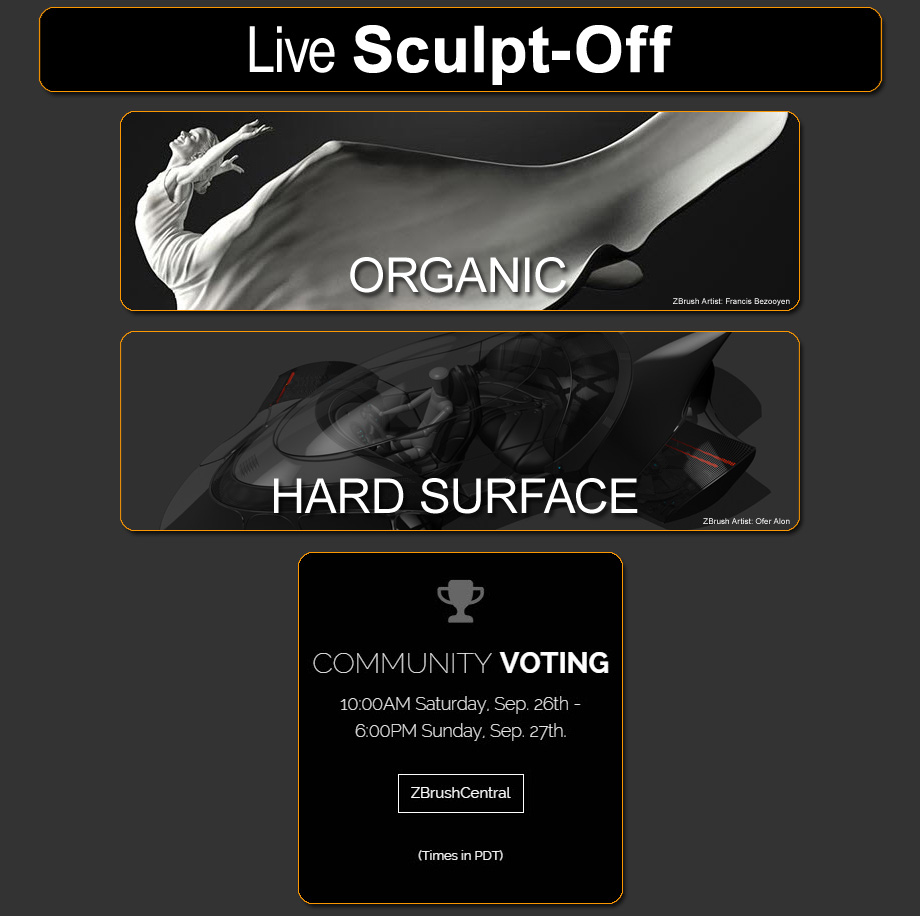 An epic battle between 24 leading artists as they square off head-to-head in competitions for the best Organic and best Hard Surface sculptors. Each artist will have four hours to complete and render their models and then it will be up to the ZBrushCentral community to determine the winners. The entire event will be streamed LIVE!
Click HERE for the Full Lineup
(Including Artist Bios)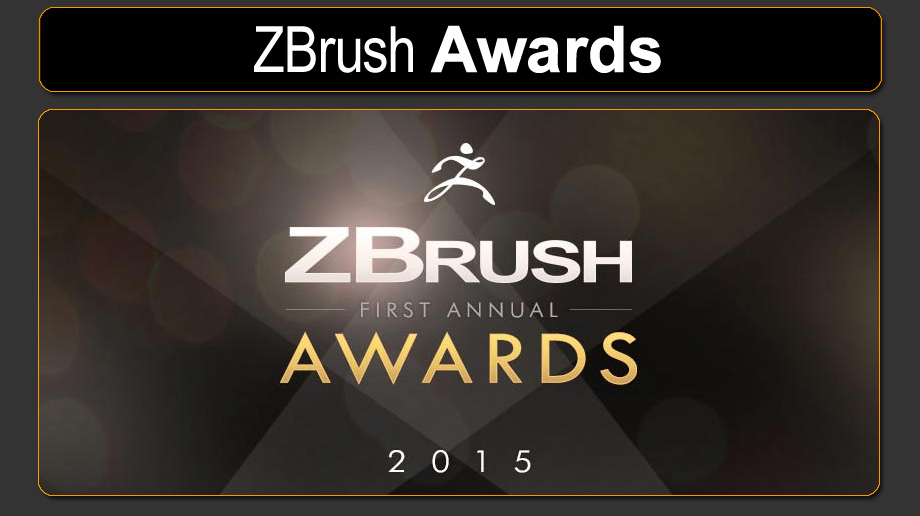 The ZBrushCentral community is voting right now to determine the very best of the best ZBrush artwork to have been shared over the last year. Voting ends on Sunday, August 16th and the awards will be presented in a LIVE ceremony during the summit.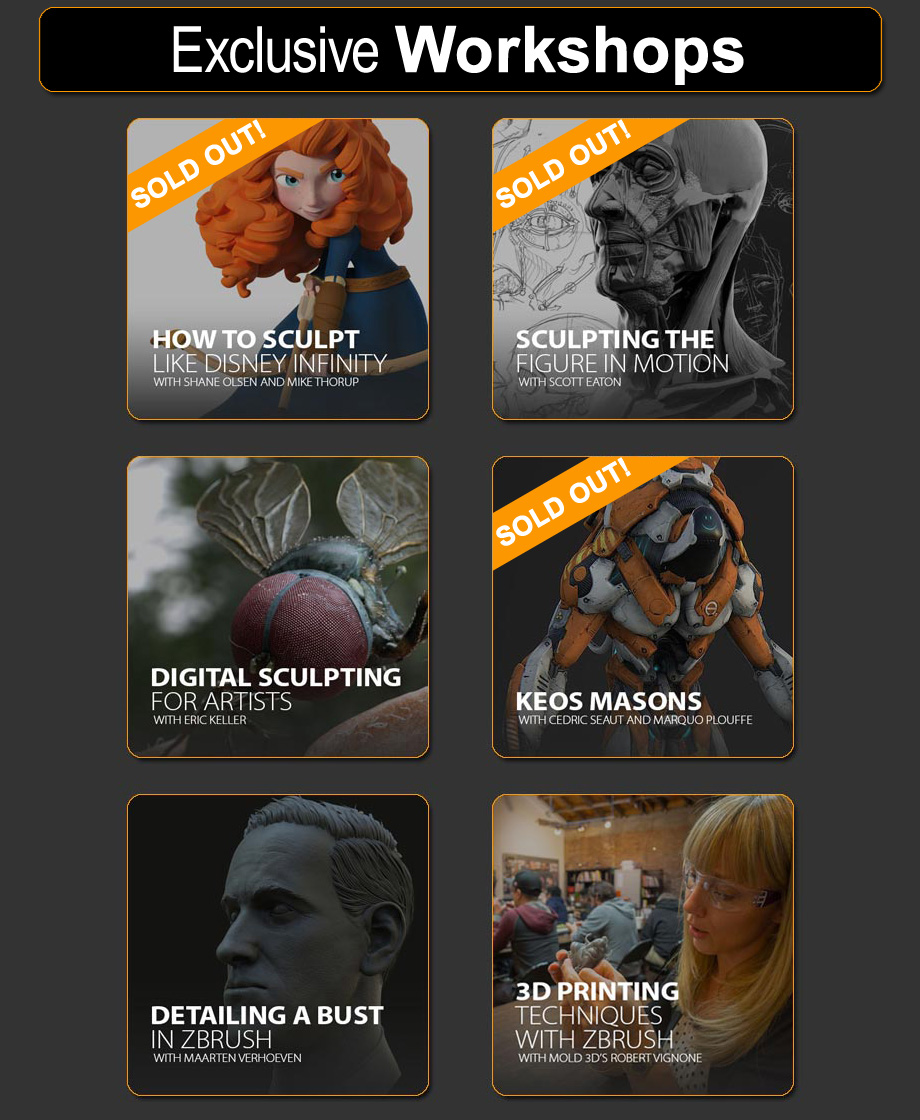 While the vast majority of the ZBrush Summit 2015 is free to everyone, the workshops are the exception. These four hour workshops each focus on a specific area of ZBrush use and are being taught by some of the top names in the field. In addition to their time actually teaching the class, each instructor is putting a considerable amount of time and effort into preparation and materials. For this reason, there will be a fee for each workshop.
Half of the workshops are already sold out and the remaining seats are going fast. Because space in each workshop is limited to no more than 16 people, be sure to reserve your seats soon or risk missing out!
With the exception of the Workshops, attendance – both online and in person – is completely FREE! So mark your calendars and don't miss this opportunity to be part of this year's ZBrush Summit!
See you there!