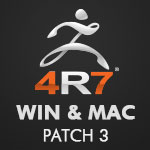 ZBrush 4R7 P3 (patch 3) is now available for Windows and Mac. Most of the core enhancements and fixes for ZBrush 4R7 were released in Patch 2. This newer Patch includes a few more items but is especially focused on ZBrush's various plugins.
You do not need to update to P1 or P2 before installing P3. This new version automatically includes everything from the previous patches.
It is highly recommended to update to the P3 version for both Windows and Mac OS X systems.
The recommended upgrade method is to uninstall your current copy of 4R7 and delete its folder. Then download the full installer from our [Upgrade Page](https://pixologic.com/zbrush/downloadcenter/instructions/full-installer.php). This new installation is the fully patched version. All upgrade links have been reset in order to facilitate this.
If you wish to update your existing installation without doing a full re-install, that is possible as well (although not recommended). In this case, browse to your ZBrush 4R7 folder and run the ZUpgrader application found there. Follow the on-screen prompts to download and install the update patch.
As always, disable any antivirus software prior to installing the update. You must also be logged into your computer under an administrator account when installing and activating ZBrush.
After updating, your ZBrush title bar will now display that it is the 4R7 P3 version.
For our floating license customers (who use server-based licensing rather than a serial number), ZBrush 4R7 P23 FL is now available. The standard upgrade methods will not work to receive your floating license upgrade. Please have your organization's IT manager submit a Support ticket and include one of your .lic files to facilitate getting the upgrade instructions to you.
All of the following have received updates in P3:
ZRemesher
UVMaster
Decimation Master
3D Print Exporter
FBX ExportImport
ZAppLink
SubTool Master
Noise Plugin
GoZ
Additionally, the installer has also been streamlined to help avoid conflicts caused by trying to install over top of a previous installation. It even now asks which version (32-bit or 64-bit) you wish to make your default application. Now, if ZBrush is closed and you double-click on many native ZBrush files (ZPR, ZTL, etc.) they will now launch your default ZBrush version automatically!
For the ZBrush to KeyShot Bridge, it will now activate automatically as soon as your license file is installed. The Pixologic Deactivation Manager (in your ZBrush folder) has also been improved for easier use.
On the Documentation front, the ZBrush 4R7 What's New Guide has been updated. It is found in your ZBrush installation's Documentation folder and is joined by the first chapters of the new ZBrush Guide. This is a work-in-progress which will be updated over time to become the full documentation for ZBrush, covering all its functions.
To learn more about ZBrush 4R7 and its features, click here.
All questions or comments regarding this update patch should be posted in the Questions & Troubleshooting forum. Thank you!
Happy ZBrushing!