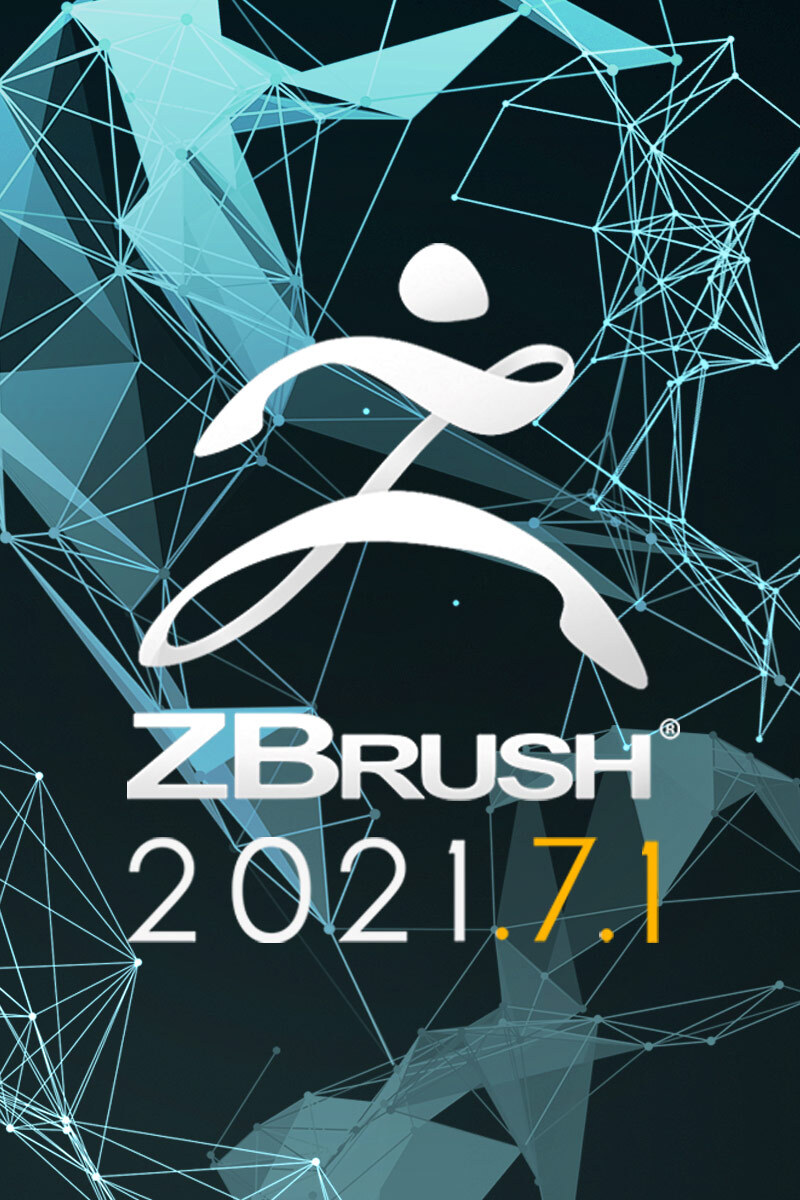 ZBrush 2021.7.1 is a FREE upgrade for all registered ZBrush users.
ZBrush 2021.7.1 Update Notes
Modified: File> Save As and Tool> Save As now remember the original location of the file regardless of any other file being imported.
Modified: BevelArc brush is now chamfer-based and will work with Sculptris Pro.
Modified: The use of Arrow keys in conjunction with IMM brushes and Timeline.
Fixed: 3D Layers that can cause a file with Undo History to become unable to load.
Fixed: Multiple Save and Export functions no longer remembering last location used on Windows.
Fixed: Knife brushes not working in some case with BRadius enabled with a small brush size.
Fixed: Flatten, Trim Dynamic, and hPolish brushes causing seam at symmetry intersection.
Fixed: Dynamesh Create Shell Thickness slider disabled for multiple Lightbox Project files.
Fixed: ZBrush unable to launch when using "x64" in a custom installation folder name.
Fixed: GrabDoc functions causing ZBrush to hang or crash.
Fixed: MultiMapExporter(MME) merging maps and UDIMs.
Fixed: Saving and loading iMage3d GIF format on macOS.
Fixed: PLY export
ZBrush 2021.7 FEATURES
Enhance your ZBrush experience with these additions: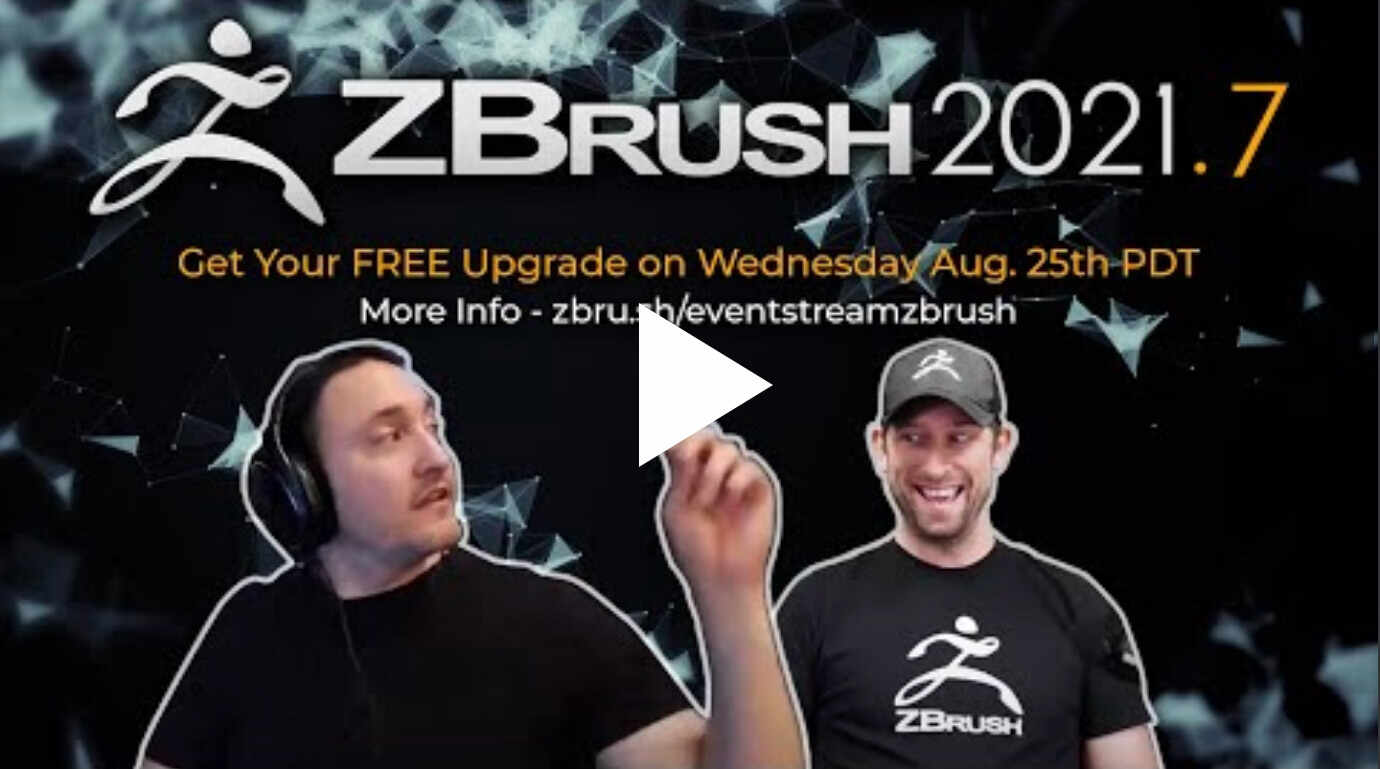 Design with Precision using the Knife brushes.
Store a point of view and swap back to it as needed with Stager.
Brush-Based Beveling
Use Stroke Interpolate to create stroke arrays.
Mirror Poseable PolyPaint and Mask on topologically symmetrical meshes even after they've been posed.
Adjust Last brush stroke to change its color or shape without having to redraw it.
Other Additions
Palettes can now be scrolled up and down with the mouse wheel.
Mask by Changed Points will allow the last stroke to be converted to a mask. This can also be used with Undo History to apply a mask to all strokes made after the marked undo point.
*PolyGroup by Changed Points will allow the last stroke to be converted to a PolyGroup. This can also be used with Undo History to apply a PolyGroup to all strokes made after the marked undo point.
BoostMask and DiluteMask features provide further options for refining the shape and intensity of an existing mask.
The Regroup Visible option assigns new PolyGroup IDs to the existing PolyGroups in your visible mesh.
Complete Notes
Added: BevelArc and BevelFlat brushes

Added: KnifeCurve and KnifeLasso brushes

Added: Regroup Visible button to PolyGroup palette

Added: BoostMask and DiluteMask options

Added: Added Stager feature to Geometry palette

Added: AdjustLast Stroke to Stroke palette

Added: "Mirror to poseable Symmetry" and "Flip by poseable Symmetry" to PolyPaint palette

Added: "Mirror by poseable Symmetry" and "Flip by poseable Symmetry" to the Masking palette

Added: MultiMapExporter updated with new options to set which UDIM maps to export and exclude SubTool names from file names.

Added: Image Plane has new Model Opacity toggle to quickly turn model opacity on/off

Added: "All to Home" and "All to Target" functions to the Tool >> SubTool menu in support of Stager feature

Added: Interpolate and Strokes Count functions to Stroke palette.

Modified: Multi-Curve brushes will not merge lines if the intersection has more than two points

Modified: Multi-Curves can be Auto-Smoothed when Alt-dragged to remove unused segments

Modified: Export Options moved into Preferences, making them a global setting that can be stored in the Custom UI and retained at startup

Modified: Bend Curve now automatically orients itself to the longest dimension of a mesh

Modified: Replay Last and Replay Last Relative moved into the main Stroke palette from its Modifiers menu

Modified: Mouse Average, Stroke Jitter, and Brush Imperfection moved into Stroke >> Modifiers

Modified: Keyboard Left/Right Arrows can now be used to select between IMM Brush meshes

Modified: Saving/Importing/Exporting will now return to the folder from which the file was originally loaded

Modified: Lazy Mouse now OFF by default for normal Selection and Masking Lasso brushes

Fixed: Rendering artifacts when resizing the ZBrush window

Fixed: Alignment when moving a palette to the right or left tray. ZBrush will now make sure that the top of the palette is visible within the tray

Fixed: Alembic export point order corrected

Fixed: Corrected issue with certain plugins causing the model to be dropped to the canvas while using Space Mouse

Fixed: ZScript commands - IClose, SIN & COS

Fixed: Smoothing brush now works as intended with Backface Masking

Fixed: Corrected sensitivity issue with TransPose Action Lines
Availability
ZBrush 2021.7.1 is a FREE UPGRADE for all registered ZBrush users.
Upgrading (Existing ZBrush Users)
Please see our Knowledgebase Article for detailed instructions on how to upgrade, based upon your license type and current version number.
Mac users please note: When upgrading to 2021.7, make sure your operating system is 10.11 or newer.
Purchasing (New Users)
ZBrush 2021.7 may be purchased from our online store for immediate download.
ZBrush has seen a great many advancements in the last year! Click the headings below for more info about each major update.
Dynamics
Cloth Sculpting
Dynamic Subdiv Revisited
SnapShot3d Additions
Performance Enhancements
ZModeler Upgrades
NanoMesh Modifications
iMage3D Support
Thick Skin
Sculptris Pro Enhancements
Contrast Brushes
Curves Helper
Real-Time Ambient Occlusion
SpaceMouse Support
Mesh From Mask
2D Alpha Extrusion Along a Curve
SnakeCurve Brushes
True Raytracing Ambient Occlusion
ZBrushCore users can move up to ZBrush 2021.7.
Issues?
If you have any issues with upgrading or with the new features, please post in ZBrush Help & Support or start a Support conversation. Please note that account and login issues can only be handled via a Support conversation.
Happy ZBrushing!