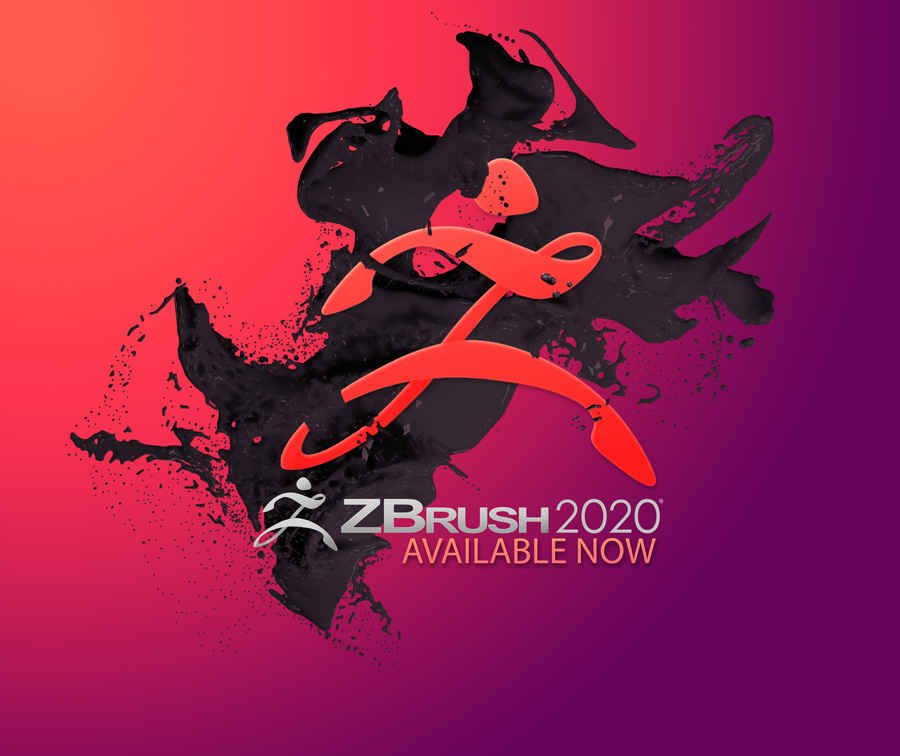 Pixologic is pleased to announce the release of ZBrush 2020! This new version enables artists with greater sculpting flexibility via powerful additions to the award winning brush system, as well as significant enhancements in a number of other areas.
New Feature Highlights
(Click the links for video demos.)
XTractor Brushes - Convert detail from your model into a new alpha or texture for reuse elsewhere.
HistoryRecall Brush - Project a model's Undo History to another model regardless of topology differences.
Sculpt & Paint in Morph UV - You can now paint and even sculpt directly on a model's flattened UV shell.
Move Infinite Depth - Affect anything that is directly inline with the brush cursor, no matter how far from the camera.
Texture Adjust Color - Adjust the colors in a model's texture on the fly, modifying hue, intensity, contrast, gamma or tint.
PolyPaint Adjust Color - Same as above, but for PolyPaint. These features include eight color channels to easily restrict your changes to certain areas.
Wall Thickness Analysis - Instantly know what parts of a model are too thin for successful 3D printing, or thicker than necessary.
Real-Time Draft Analysis - Easily identify and fix portions of the model that would lock up when used in two part molding or CNC printing.
Calculate Surface Area - ZBrush can now provide you with the bounding box size, mesh volume and surface area, check for watertight integrity and help calculate real-world material needs.
Cam View - Always know how your model sits relative to XYZ space. Includes one-click buttons for snapping to orthagonal views.
Real-Time Silhouette View - Turn on a picture-in-picture window that displays your model's silhouette in real-time, or see how it "reads" from a distance.
ZeeZoo - Mannequins have gone wild, with a library of animal figures to help you compose scenes of all kinds.
Deco Curve Brush - The classic Deco Brush for 2.5D painting is now available as a 3D sculpting brush.
Model Paint Fade Opacity - If a model's PolyPaint or texture is making it hard for you to see the sculpted details you can now partially fade the color or even hide it altogether.
No Back & Forth Mode - Zigzagging brush strokes can now build up in one direction, only. This mode also combines with LazyMouse Backtrack for unique effects.
New Import/Export Options Window - Easier control when importing or exporting and support for even more formats, all in one place.
How to Purchase
New users can purchase ZBrush 2020 through our online store. Perpetual licensing is available for $895 USD. Subscriptions are $39.95 per month or $179.95 every six months, rebilling automatically until canceled.
How to Upgrade
ZBrush 2020 is a free upgrade for all registered ZBrush users. Upgrading is done through your My Licenses page.
If you already have ZBrush 2018 or above, simply log into My Licenses and click the button to Download ZBrush 2020. We strongly recommend disabling your antivirus software (including Windows Defender) during download, installation and activation.
If you have never upgraded past ZBrush 4R8, log into My Licenses and click the button to Upgrade to ZBrush 2020. Follow the on-screen instructions to upgrade your license. After upgrading your license you will be able to download the new version.
If you have never upgraded past ZBrush 3.5, you will not be able to use My Licenses. Instead, submit a Support ticket to request your upgrade. Provide as much info as you can concerning your purchase (name and email address used, etc.) so that we can easily locate your license in order to upgrade you.
If you have floating licenses (managed by a server rather than using a serial number) you must have your IT Manager submit a Support ticket to request the upgrade.
ZBrushCore users can purchase an upgrade to ZBrush 2020 from My Licenses. Through December 4, 2019 you will receive an extra $50 discount off the usual upgrade. price.
More detailed upgrade instructions are available in our Knowledgebase article.
Questions?
A ZBrush 2020 Support category has been created here at ZBC. Please use that to post any questions or issues that you might have. We recommend a separate topic for each item, since that will leverage the capabilities of the new ZBC.
Happy ZBrushing!