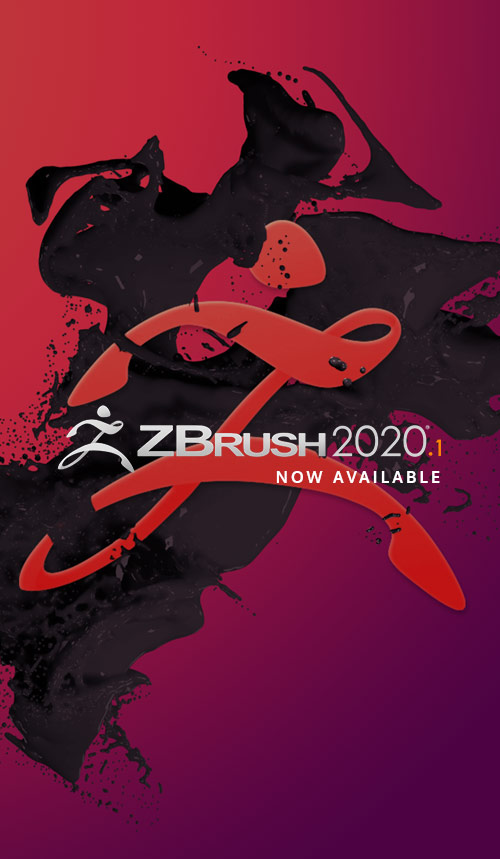 Pixologic is pleased to announce the release of ZBrush 2020.1! This free update enables artists by providing significant enhancements in a number of areas.
Updates & Fixes
Fixed: ZBrush UI - Mac Finder Blurry Text & Icons.

Fixed: Text box working in Japanese Windows with button Size set to <= 41.

Fixed: Translated UI that cut SubTool info off in Japanese / Korean languages.

Fixed: Size Sliders causing crash after changing size of a Project then reloading the Project.

Fixed: Bracket ( ] ) increase draw size hotkey was broken (MacOS).

Fixed: FiberMesh Curves OBJ Exporting was not creating OBJ (MacOS).

Fixed: Mesh Turns Black While Layer in Record Mode

Fixed: Tool:Masking:Go To Unmasked Center does not create an undo.

Fixed: Ghost SubTool names would remain when loading another project.

Fixed: ZAppLink Photoshop & PaintStop RGB Projection Errors.

Fixed: Switching to the lower subdivision during recording mode on Layers, the model turns to black.

Fixed: ZBrush would QuickSave a blank ZPR file that caused a crash.

Fixed: History Recall does not work if Split Screen is enabled.

Fixed: Slice Curve Brush to Morph UV mesh Crash.

Fixed: ZModeler vertex snapping with smaller meshes.

Fixed: Symmetry icons updating when switching from Local Symmetry to World Symmetry.

Fixed: Interactive Light causing crashes.

Fixed: Improved Mac fans issue on macOS.

Added: A diagnostic utility to improve the submission and resolution of future bug reports.

Updated: The Menus button has been placed back into the ZBrush UI.

Updated: Projection Master shortcut is now Shift +G.

Updated: Lasso Select brush will allow a larger selection.

Update: FiberMesh with Subdiv will not render PolyFrame color with BPR.

Updated: Size Sliders will only update if Enter is pressed.

Updated: Clip, Slice and Trim brushes will no longer be able to be used when in Morph UV mode.

Updated: Button Size Clips UI clipping (MacOS) with very large button size(>90).

Updated: User can now define colors for Draft Analysis.

Updated: When renaming SubTools the first letter will no longer be capitalized automatically.

Plugin Updates:

ExportImport

Fixed camera import error messages
Improved support for more than one display on macOS

Decimation Master

Fixed path issue that affected some users on Windows

Left and Right tray macro

Right tray macro updated to open/close right tray.

Polygroupit

Will now launch on MacOs 10.15 (Catalina)

UV Master

Automatically selects Paint brush for control painting

ZBrush to Photoshop

Resolved Subtool layer issue

3D Print Hub

Updated 3DPrintHubAbout.PSD file

SubTool Master

Removed stray button in DoVisible options

PaintStop

Restored hiding of the top menus

GoZ for Maya (Win/Mac)
GoZ Installer
How to Purchase
New users can purchase ZBrush 2020.1 through our online store. Perpetual licensing is available for $895 USD. Subscriptions are $39.95 per month or $179.95 every six months, rebilling automatically until canceled.
How to Upgrade
ZBrush 2020 is a free upgrade for all registered ZBrush users. Upgrading is done through your My Licenses page – or users of ZBrush 2020 can update using the ZUpgrader application.
More detailed upgrade instructions are available in our Knowledgebase article.
Questions?
A ZBrush 2020 Support category has been created here at ZBC. Please use that to post any questions or issues that you might have. We recommend a separate topic for each item, since that will leverage the capabilities of the new ZBC.
Happy ZBrushing!