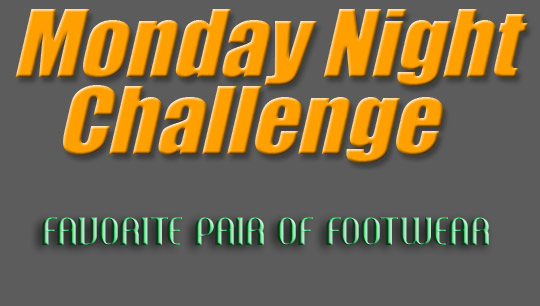 Well that last challenge went over like a lead balloon.

So for this one…something simple.
Everyone has a favorite pair of shoes. Be they an old pair of work boots ya just can't seem to throw out, or those old leather Converse hightops that conformed to your feet the minute you stepped into them, or those high heels that just drives your husband/boyfriend/significant other insane or some old moccasins that have holes in the bottom and ya swear your gonna get some new ones soon or gosh darn it…the slippers your kids gave ya for christmas 20 years ago and your wife tries to throw em out every year and ya sneak out to the trash and retrieve em. We all got em. Can't live without em.
So this weeks challenge is to share those raggedy old (or new to die for) pieces of footwear with the rest of us.
Rule…
#1. … read this about challenges.
#2. … You may use a base mesh from another program even though it's preferred to be ZBrush all the way. If you do use a base mesh from another prog…please show the base and let us know which prog it is from.
#3. … You should if possible post a pic of the footwear you intend to model and texture up. I realize some folks don't have digital cameras or scanners so a link to a picture of one will suffice. Although if you can a pic of those tired old things is preferred.
#4. … While not required, if ya can record a zscript of the wip. At the very least use Pixolator's way cool TimeLapse Script so we can have fun watching how ya work…foibles and all.
#5. … These challenges are open to anybody and everybody. Newbies…use it as a great way to learn some new things…Vets…use it as a way to pass on what ya learned.
#6. … I think it would be fun but not required to share the models. So if ya can record a script…that would be easiest to save and upload. If ya can't do that then share the base model for others and future newbies to learn from. Again it's not required but in the spirit of ZBC please do. It's only a pair of shoes.
#7. … Not required of course but…if ya can texture and color em up…go for it. Also if ya create some new alphas for the project…and are feeling generous…show em.
#8. … Just do it because you can, because it will be fun, because ya might learn something along the way!!
This mission, should you choose to accept it is for fun and bragging rights only, ZBC and Pixologic have nothing to do with it other than allowing us to have fun with their fantastic program, no prizes other than the pride and kudos you get from creating something cool.