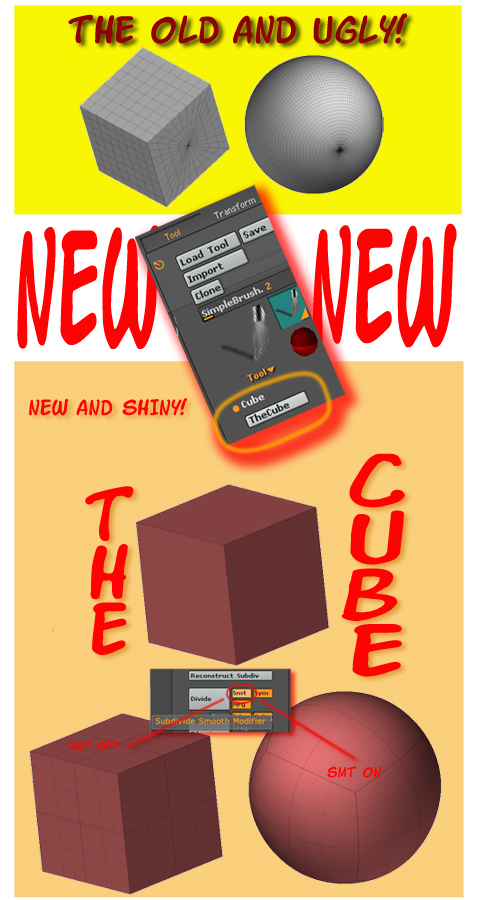 A must for the box modeling enthusiast!
Here is my latest tool! Unpack it and install it in:
C:\Program Files\Pixologic\ZBrush2\ZStartup\ZPlugs
If you do not have the directory, then create it!
This plug should work on the MAC as well.
After the installation you will find the CUBE button in the TOOL section.
When you press the button a script will run briefly and leave you in the position to simply draw a cube on the canvas without further action necessary.
Q: Cube button? Lemo's one vertex short of a polygon now!
A: The standard Cube has poles. Thus there are a lot of challenges attached with that fact. A 'real' cube is simply better to handle.
Q: Why is the Pixologic Cube the way it is?!
A: I don't know the story but I expect that in the end Sphere, Cube, Cylinder are actually from the same structure/algorithm. So they share the same basic properties. And thus the same poles etc. etc.
Q: Is it just a cube or is there something else useful?
A: The cube can be subdivided, if the smooth button is off, a subdivided cube is the result (for Zeebling, and the popular box modeling, etc…), if the smooth button is ON, a really cool sphere is created as the edges are all pulled together. THAT sphere has NO pole, and accepts a UV map much easier than the sphere beast the Pixologists throw at us! Of course it has draw backs… I just can't come up with one right now ;).
Besides the ground breaking idea (cough cough) this is really a simple script in the core, but I had some difficulties getting it going. It worked, and once Zbrush was started again ZBrush crashed. I did not find it, but our friend and relentless scripting supporter Marcus Civis was again the knight in scripting armor. Thanks to Markus Civis mentioning of the subpalette code (or rather the lack of it in my case). Zbrush stopped crashing on me and the latest plugin of great sophistication and value could be released!
Enjoy!
And as always, show what you did with it!
Lemo your trustied used Cube Salesman
(ALways cubes with low subdivisions in stock!)
PS:Hitting Spherize in the Deformation tab pulls out the last wobble of the cube-sphere.