Bonjourrrr!

Here is the english version of the Making Of, I hope you will enjoy it!
http://carcaryas.free.fr/making1english.htm
Oh yeah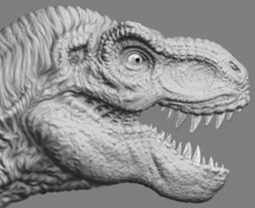 Very Excellent…tutorial…



Good tutorial! will you be following up on the animation in Maya?
Thankyou for taking the time to create this excellent tutorial Carcaryas.
Thanks for your enthousiasm! I 'm going to create the texture of the T-Rex in Zbrush (projection master) and especially with the plugin ZappLink.
Then certainly the animation.
See you soon so!
Clear and concise! Thanks thanks thanks…
(Wonderful model, by the way)
wonderful T-Rex

Excellent tutorial. Nice to have the particulars as well as the insight into your workflow. Thanks a ton man.
amazing will be attempting it once i have finshed all my uni modeling projects

Hey, i dont mean to be nuissance but the website doesnt work anymore.
Can you post it on a new page or something, i really need that tutorial!
Thanks.
hello everyone, i checked the link, bit its not opening…i think the file has been removed from the server, can anyone please re-upload the tutorial…its great tutorial and i don't want to miss it…

thanks in advance…!
Hey,
I also cannot get the tutorial… the link is broken.
Cheers!
link doesnt work for me as well…
yeah gets an error page when you click the link

No linky winky, plz update cuz I don't want ot miss out on all the fun pwetty pweeze?