As an old Sculptris fart, I am in love with Sculptris Pro.
There are things to know and to obey, and I would love to see what you have to contribute as well.
What about those beta tester folks?


Here are my experiences. Remember! I am new to Sculptris Pro as well
Tip #1 "Basics"
Watch the demo video. ZClassroom Lesson - Getting Started with Sculptris Pro
You really should take at least the ten minutes for first video.
The video explains how Sculptris Pro works.
To explain from my old Sculptris point of view:
In the Stroke menu you find the Sculptris Pro tool.
As far as I understood: If you switch off "Adaptive Size", and "Combined" you are almost at old sculptris mode.
The difference to sculptris: Instead of density silder, you have two sliders.
"SubDivide Size" which was density for tesselation
"UnDivide Ratio" for decimation. Sculptris had an reduce brush.
"Adaptive Size" Switches the connection to Brush size & tesselation on and off .
"Combined" combines the result of the two sliders "SubDivide Size" AND "UnDivide Ratio" in one stroke.
So, whatever you do as your first steps in Sculptris Pro, if you want to understand what's going on, switch on (SHIFT+F) Polyframe!
Another nice source for better understanding: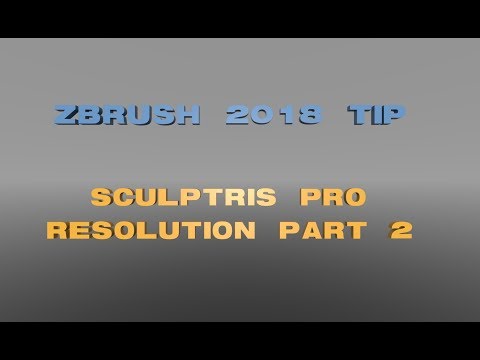 Thanks DominiekDR for these Videos and thanks Erik for posting it here.
Tip #2 "SP works relative to model size"
"SubDivide Size" & "UnDivide Ratio" are working relatively to world space so to say.
The bigger the model the less it will be decimated by smoothing with "UnDivide Ratio 3" i.e.
Sometimes it is a good Idea to scale your model back into "workspace", something like the default sphere i.e.
Be careful if you use Tool / Deformation / Unify.
This can cause a massive step in scaling. So next stroke with Sculptris Pro can cause some very unexpected results. Remember SubDivide & UnDivide numbers are relative to world space. If Unfiy will scale your model ten times down, Undivide Ratio effect will be ten times bigger - crunch…mesh gone

Tip #3 "Snake Hook as Move brush"
Use Snake Hook brush as move brush.
Best with "Adaptive size" and "combined" off. Maybe decrease focal shift. Maybe deactivate "dynamic" if you want to move everything at once with a huge brush.
What I really loved in sculptris, is the drag function. In Sculptris Pro we have the Snake Hook which can do this job as well.
But sometimes it is a good idea to switch adaptive size off and combined off as well, as a relative big brush will crunches away your geometry - remember combined = divide & subdivide in one stroke / adaptive size looks for brush size, big brush.
This can be also helpful for creating smooth = dense tentacles. But watch your poly count!!!
This is my first try on a move brush which works somehow like sculptris drag brush
SnakeMove.zip (6.98 KB)
Watch out! In brush menu / Sculptris Pro "Use Global" is switched off. That means it won't be affected by the SP settings in Stroke menu… For changing this brush, you have to go into the Brush menu SP settings.
If you mask a part of your mesh and make the snake move brush multiple times bigger than the part you want to move, you can move it without, or almost without distortion and dynamic tessellation.
Tip #4 "Inflate brush possibly crash"
Be careful with the inflate brush!!
It was a bastard in sculptris and crashed zBrush several times as well already. It creates a lot of intersections in seconds. Too much for zBrush.
Tip #5 "History eats disk spce"
If you don't need the history, switch it off before saving!!!
The history saves the complete model for each step, as tessellation creates a new model on each stroke.
In numbers from my experience:
Without history 8MB, with history 3GB!!!
Tip #6 "Symmetry intersections can cause problems"
Be aware of intersection when sculpting with symmetry with Snake sphere.
It is not as sensitive as the inflate brush, but if your strokes crosses the 0 koordinate and hits the brush from "other side" , I had a crash.
Tip #7 "Sometimes less is more"
If you look for a more consistent behaviour while doing the basic forms, switch adaptive size and combined off.
Now, you only have to watch the two sliders of Subdivide and UnDivide and your mesh relative size to workspace to keep tessellation consistent.
Pixologic really improved the functionality of old Sculptris but sometimes too much functions are too much.
Tip #8 "Normal Smoothing"
A beauty tip

If you are fed up in seeing triangulation, but don't want to increase polycount go to render / render properties and switch "smoothNormal" on.
Now on BPR Render it will be at least smoothed.
Tip #9 "Add geometry with smoothing"
If you want to increase the tessellation on a part without any other action, you can use smooth, with "combined" on "Adaptive" off and small subdivide size.
Tip #10 "Tessimate"
Use "non destructive" ?? "tessimate" to find a good overall density, to smooth out triangles.
Tip #11 "Use Decimation master
Use decimation master, specially if you have run into memory problems.
Try the new presets, they don't need pre-processing and are due to this faster.
To adjust memory allowed to be used by Sculptris Pro, you can do this in preferences.
I've never done that and have no background knowledge about this.
Per default MaxSculptrisPolygons is 3,5 million polys. on my system. Under Preferences / Mem / MaxSculptrisPolygons it is set on 5?? maybe some math fun

Tip #12 "slide brush is magic"
One more! Play with slide brush for anything like wings, tails, fins … Hmmmmm

Tip #13 "Z intensity on 0 for dividing or decimation only - depending on brush size"
So cool…and logical. If you haven't watched second video under first basics, here in isolated form:
Tip from DominiekDR. Thanks for posting them here, Erik.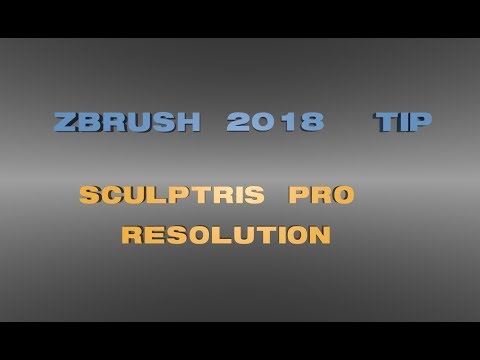 Tip #14 "Use trails to control Snake Hook thickness over length"
I discovered today that if you increase trails under brush/modifiers you'll get constant thickness over length.
Fingers are much easier done this way.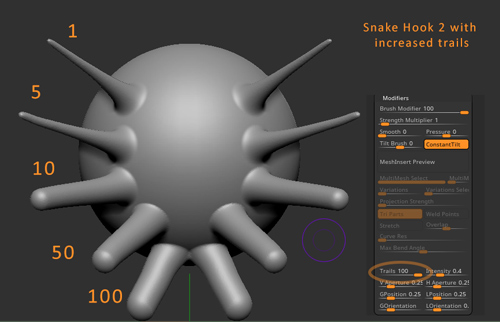 Tip #15 Remesh by Union
Glenn Petterson shows a nice trick to weld intersections together without changing overall topology. Same technique is said to work for IMM brushes.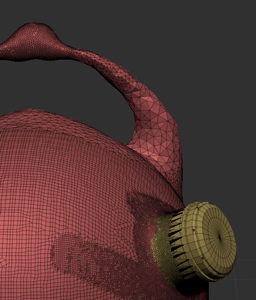 Thanks to jubala to bring this up again.
I'll try to keep those hot and easy to add stuff updated in first post, but can't add everything to keep it clear and doable for me- So keep on reading! The collection is growing much faster than I was hoping for!SnakeMove.zip (6.98 KB)