When I use the transpose tool to measure I see mm and after exporting it to STL I have a good scale in mm. So in my scene 1U is 1mm. I have a few different scenes like that (from different people). Some scenes have got export scale but every scene is in mm and has correct export to STL with the correct dimension.
When I try to extrude from the mask then I have to put as thickness different values to get demanded mm thickness.
Sometimes 1mm is 0.04 extract thickness. Other time 1mm is 0.02 extract thickness.
Could you tell me how that thickness slider is related to scene units? What numbers are related to calculating correct mm values on the thickness slider? Because now I have to try on blind and calculate on paper what is quite a time consuming on bigger projects. I would like to create an excel spreadsheet to faster my work in Zbrush but I don`t know which values are related to that calculation.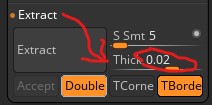 Cheers!!!