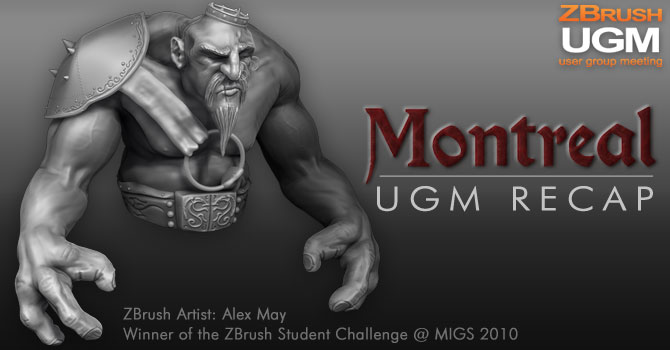 Many thanks to all those attending our events in Montreal and Quebec City. It was great to meet you; we hope you enjoyed our ZBrush presentations and activities and we look forward to seeing you again in the near future!
Prize Draw
Thank you for completing and submitting the ZBrush on line comment form.
Congratulations to our lucky prize draw winners:
Rachel Jenny Langlois – Quebec City
Daniel Cantin – Montreal UGM
Tsz Ho Tsang – Montreal International Game Summit (MIGS)
They each receive a full commercial license of ZBrush 4!
ZBrush Student Challenge at the Montreal International Game Summit (MIGS)
Our ZBrush Student Challenge (in association with Wacom) at the Montreal International Game Summit (MIGS) proved to be a great success with 17 students being challenged to create a 'Leader of an Empire' game character in ZBrush, 'live' from scratch in 3 hours!
The minimum requirements for the challenge were:
The model must have at least 5 Sub Tools

Must be a bust from the waist up (minimum)

Must start from a ZBrush base – no importing of a base from any other application
Creations were judged by the Pixologic panel on the basis of:
Artistic skill and overall design

Most creative and original interpretation of theme

Best use of ZBrush tools and features
The first ever ZBrush 'live' real time challenge created a thrilling and captivating buzz as students' creations came to life on monitors and a large projection screen in the designated MIGS competition arena.
A big 'thank you' to all those student 'ZBrushers' who participated – we were very impressed with the standard of work and hope you enjoyed the experience and opportunity to show your artistic skills and creativity under the pressure and glare of fellow artists and students. We hope to do more 'live' ZBrush competitions in the future!
The winner was Alex May from Champlain College, Burlington Vermont!
He was presented with a full commercial special anniversary package license of ZBrush 4 and a Wacom Intuos 4 tablet at our own Pixologic/Wacom academy style award ceremony.
Honorable mentions and a special anniversary package license of ZBrush 4 were also presented to:
Jeffrey Lee
Francois Bergeron Demers
Yannick Tetreault
Alex May commented: ''I am incredibly happy that you told me to enter into the D3D contest and that actually won it. I want to thank you and your company for sponsoring the competition, I love ZBrush and I love the community that has sprung up around your product.''
Please see ZBrush Student Challenge images below. Click each icon to view the full-sized image.

















And if you're going to be in Los Angeles this coming weekend (November 19-21) be sure to join Pixologic at the CTN Animation Expo 2010! Full information can be found by CLICKING HERE.
Many thanks!
The Pixologic Team[/COLOR]