modo,ZBrush, photoshop. Modo render![JonhtheBpost2.jpg|1100x960](upload://nQc8MiwgIJwgOsLq8XjJs5Mh1n.jpeg)![icon2.jpg|100x76](upload://7Gjzng0iwqgccHd7VfgBonIPiGp.jpeg)
Attachments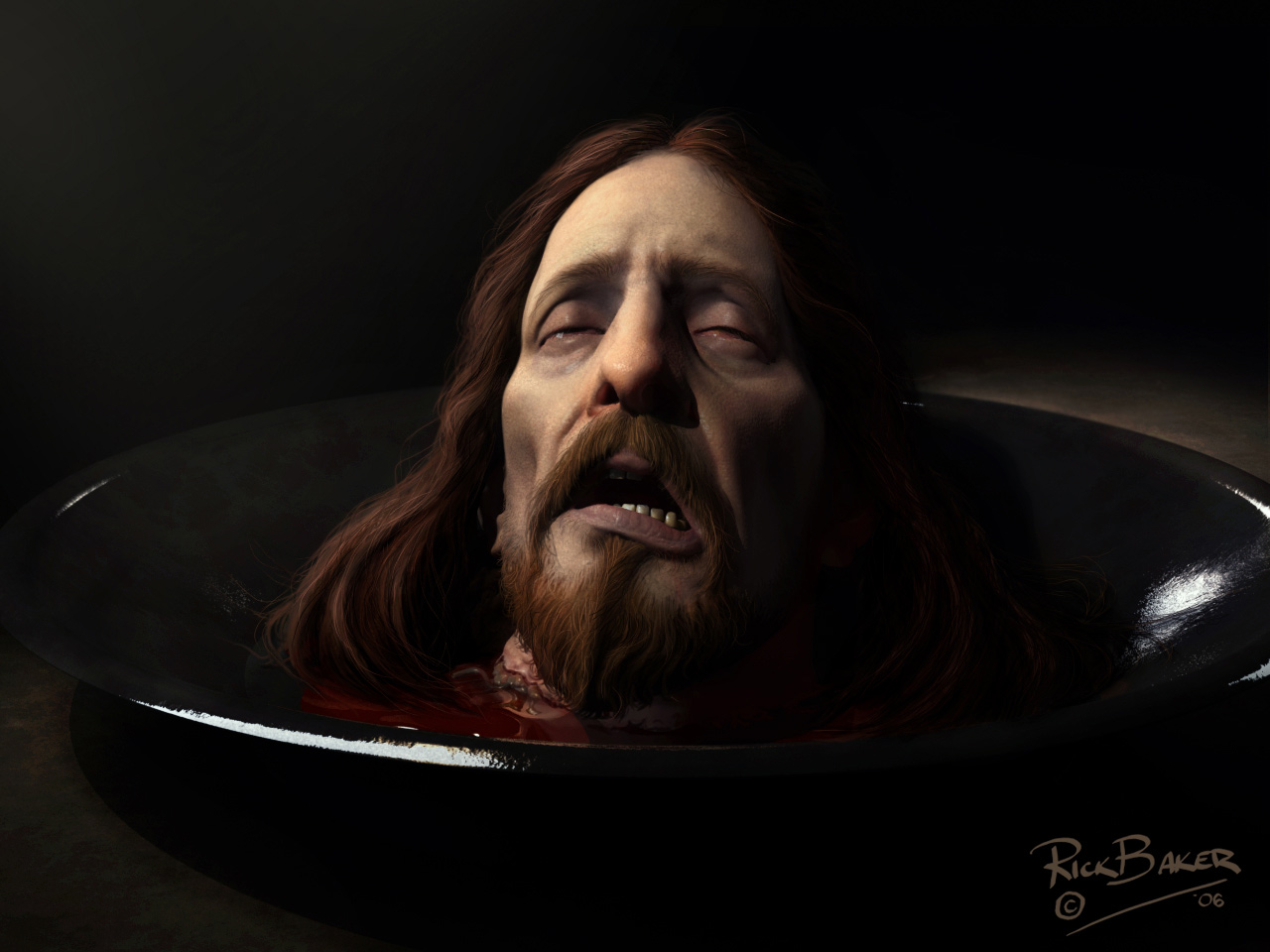 Salome really should stay out of the kitchen
Great work

fantastic work as always. The hair is great, any tips for that?
Ouch and a half more like! Bloody great, literally

Rick Baker eh?! Really, or just a rather cool coincidence? :lol:
Alright… Who ordered the head on a silver platter?!
Simply great! Is the hair painted in Photoshop?
This is amazing



great work !!
I love how you did the blood, it looks real !
Giovanni Battista?
Great work!!!
Time to make a dentist appointment also.
edit: just noticed I was the third Great work!!!
so…
Superb accomplishment!!!
Open mouth like him…




Rick,
amazing!!
Alex Oliver
Superior craftsmanship !
I am not eating dinner at you place man! Yyeeaauucchhh!
Other than that, great idea.
beautifull work!
I love the style of the whole picture, the feeling it has. really well done.
Could we see some pictures of the origional sculpt?
What can I say. Piece of art. This is my comment.
Ohhhh, Rick you know I like this!!! Wicked \m/
GORILLA
How long did this take Rick? I love it. Just for fun?
Bones
eek! Superb work. Absolutely superb. My mouth dropped open also and I had to check to see if I had the rest of my body laying around lol One of your very Best Z pieces rick. well done :)

You still amaze and inspire me. I love it! Is the hair Photoshoped?
Nice one Rick!





Greg
Heyas Rick,
Knew from the thumbnail who had created this and who the creation was immediately before clicking it open. Another outstanding work! Glad to see you posting. Saved this goody to my screen saver gallery.
cheers,
Ron
hey rick,
i was at the animatronics exhibit this weekend, your work was very nice to see in person, the postal worker guy and the mighty joe young… very inspirational… i recommend to anyone who hasnt been there yet, this is last week i believe.
even better i was cleaning out my personal messages outbox and i found one i wrote to you 3 years ago almost… made me laugh…

in February 2004 i wrote…
"hey if you practive your topology, either using maya or using another 3d app and THEN bringing it into zbrush. or now that 2.5 will have it built in you will have no problem getting into the industry.
i love your boris karloff.
Cheers.
Miguel"

so yeah in case your 3000 oscars dont help you in the industry…