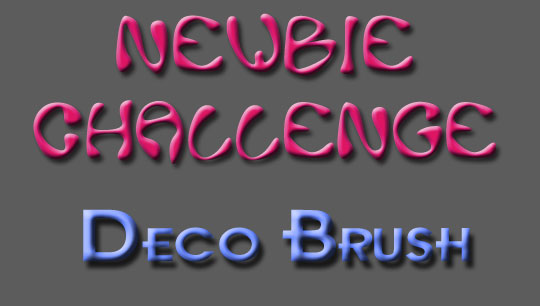 Hi New Zbrushers!!
This post might be a little long winded because it is the first. Forgive me for that.
Andreseloy and I have gotten together to bring you some challenges to help you learn zbrush. This first challenge might be kinda rough but we are just getting started…and learning some new things ourselves…but I promise you, that like you we will only get better!!!
These challenges will be left open as hopefully there is always someone new to Zbrush who will want to add what they have learned to the mix!!
The idea as it stands today (it might change as we grow in our abilities to guide and figure out a gameplan) is to start with the brushes, like the DECO BRUSH. The reason being for this is…we can show you the basics of how Zbrush works at the same time show you some more advanced stuff…step by step with the idea…each lesson will help you further down the road with Zbrush.
Kind of like the Practical Guide, but with more time spent on specific things and various ways of doing things, to give you more ideas and see different ways of doing things.
Keep in mind that we cannot show you every durn thing Zbrush does within each challenge, we will however endeavor to show you as many options possible for each lesson…some yes may be repeating…but only because they are important or necessary for using Zbrush and are the same for other tools.
With that said we are including a file here. This file includes two scripts on basics of Deco brush…
the first is very basic…how to get started using the brush
the second is basic…but will show you how to use the deco brush to create an alpha to use later as a skin for deforming a model. This one includes a deco ztool you can use to experiment with.
The third…Andreseloy…shows some magic and more advanced ways to use the Deco brush!!!
The file is a zip file and to use it properly you will need to unzip it into the Zbrush Zscripts folder.
then start Zbrush go to Zscript menu and click load…go to the Zbrush/zscripts/newbiechallengescripts folder to find the scripts.
You should also watch the very excellent Deco Brush tutorial included with zbrush.
remember you can turn on Actions and Notes in for scripts, you can also slow things down within the zscript menu.
At the very least…make sure Notes are turned on!!!
That said…your challenge is to take what you have learned and make some cool alphas for skins or create a cool tileable texture or create a cool alpha others can use for Meats Meier's wire style, or paint a scene with it.
in other words…show us what you learned, and show us a creative way to use it that you discovered on your own!!!
And don't forget some more scripts are on the way to give you a helping hand.
If you have a question about what you have seen please ask!
Good luck!!