Here is a new character I am working on-
I still have quite a way to go.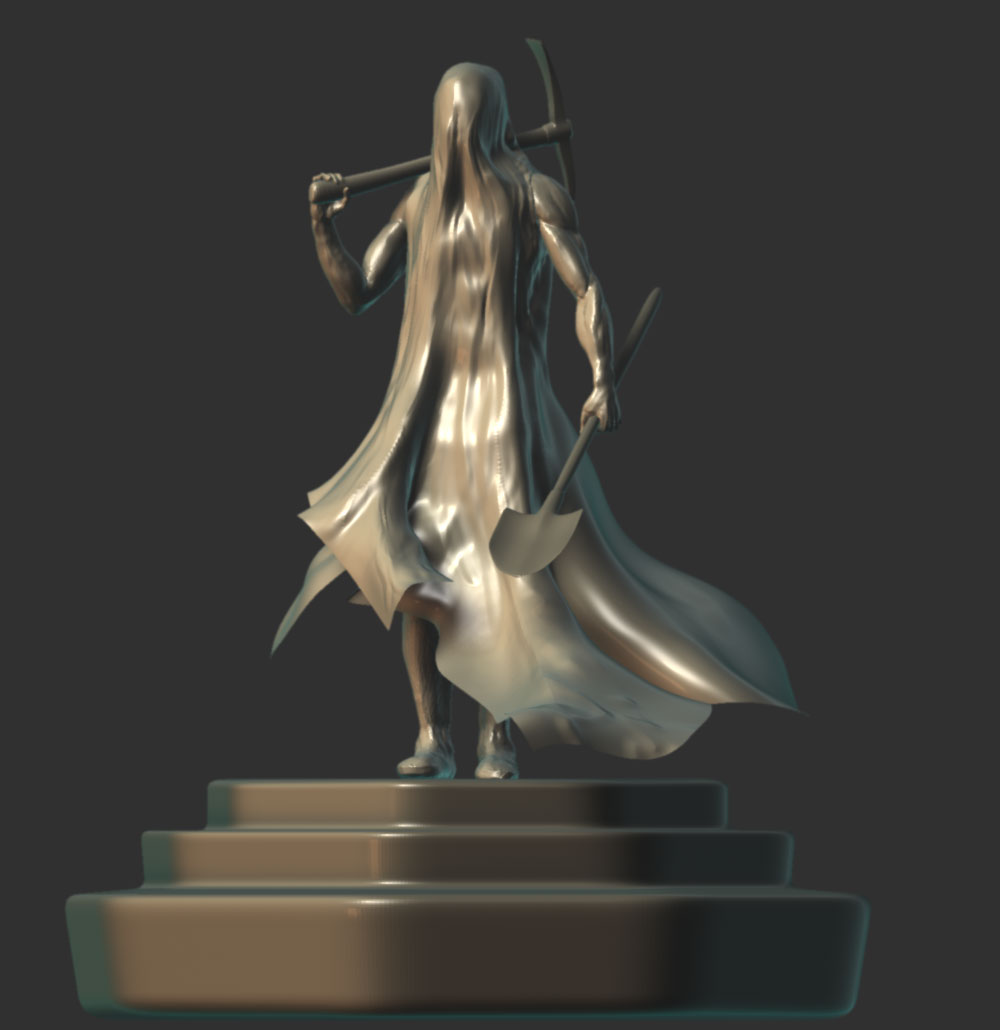 Very strong!
Is he going to be a Cousin It type?
Yeah, kinda. no fur though. The sheet will hopefully look more like satin.
Nice character design. would love to see more of this update.

thanks Solid! Mantis Man turnded out really nice!
Here is an update…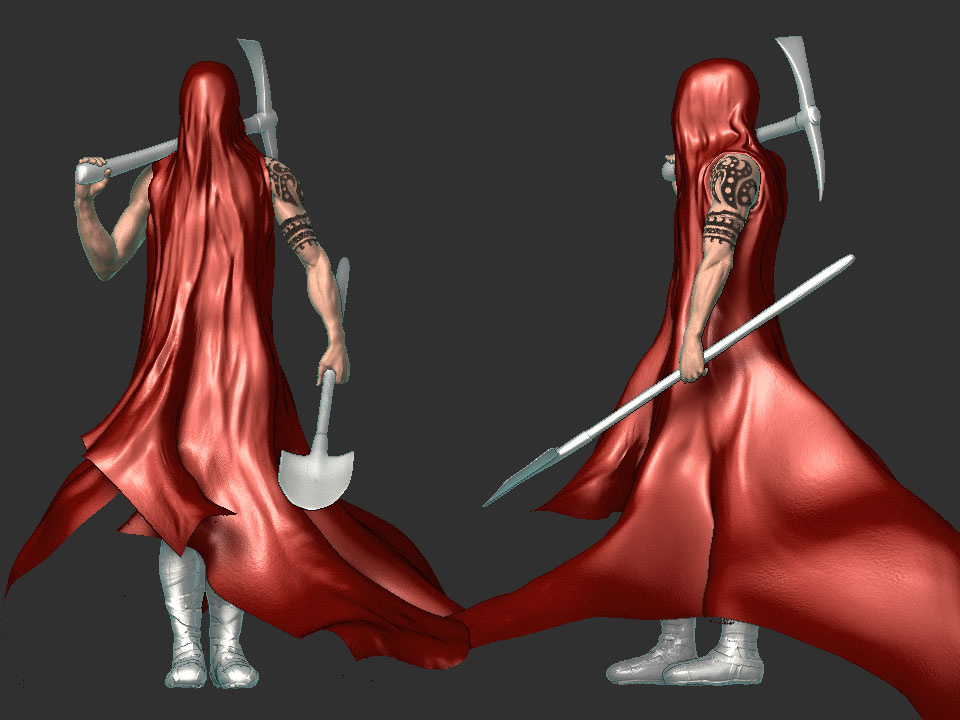 Thank you, fluxist8070

Glad you like Mantis Man.
I like the red cloak to this character. He's looking mean even we don't get to see his face!
Here is the latest.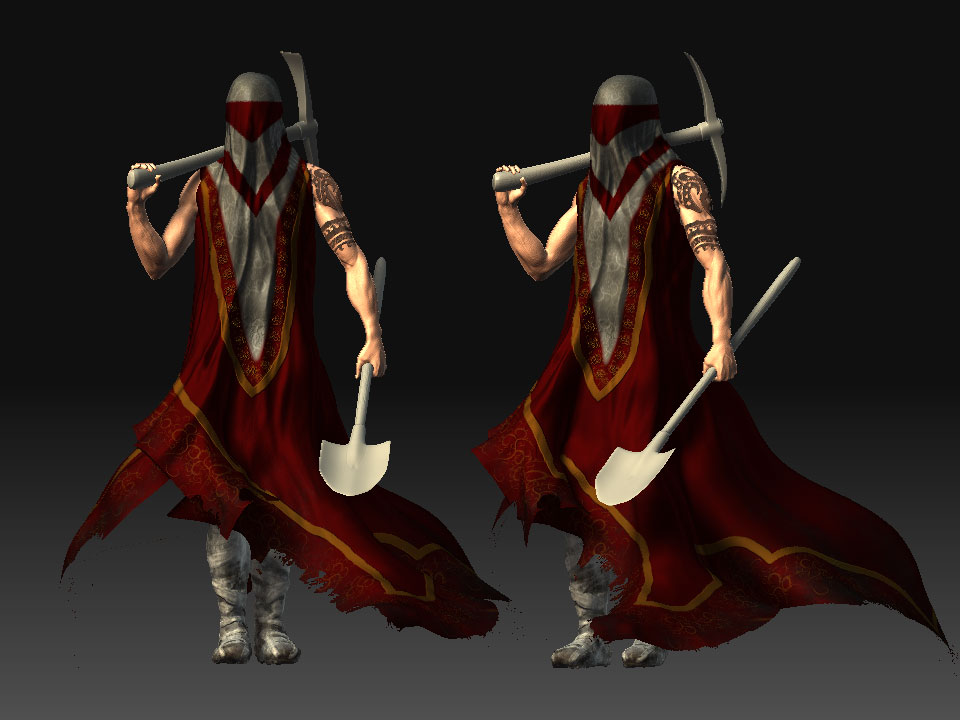 So…I worked(polypaint) on the tools and made adjustments to the arms. After that, I baked this render and painted wit some of the 2d brushes. Feedback appreciated and thanks for looking!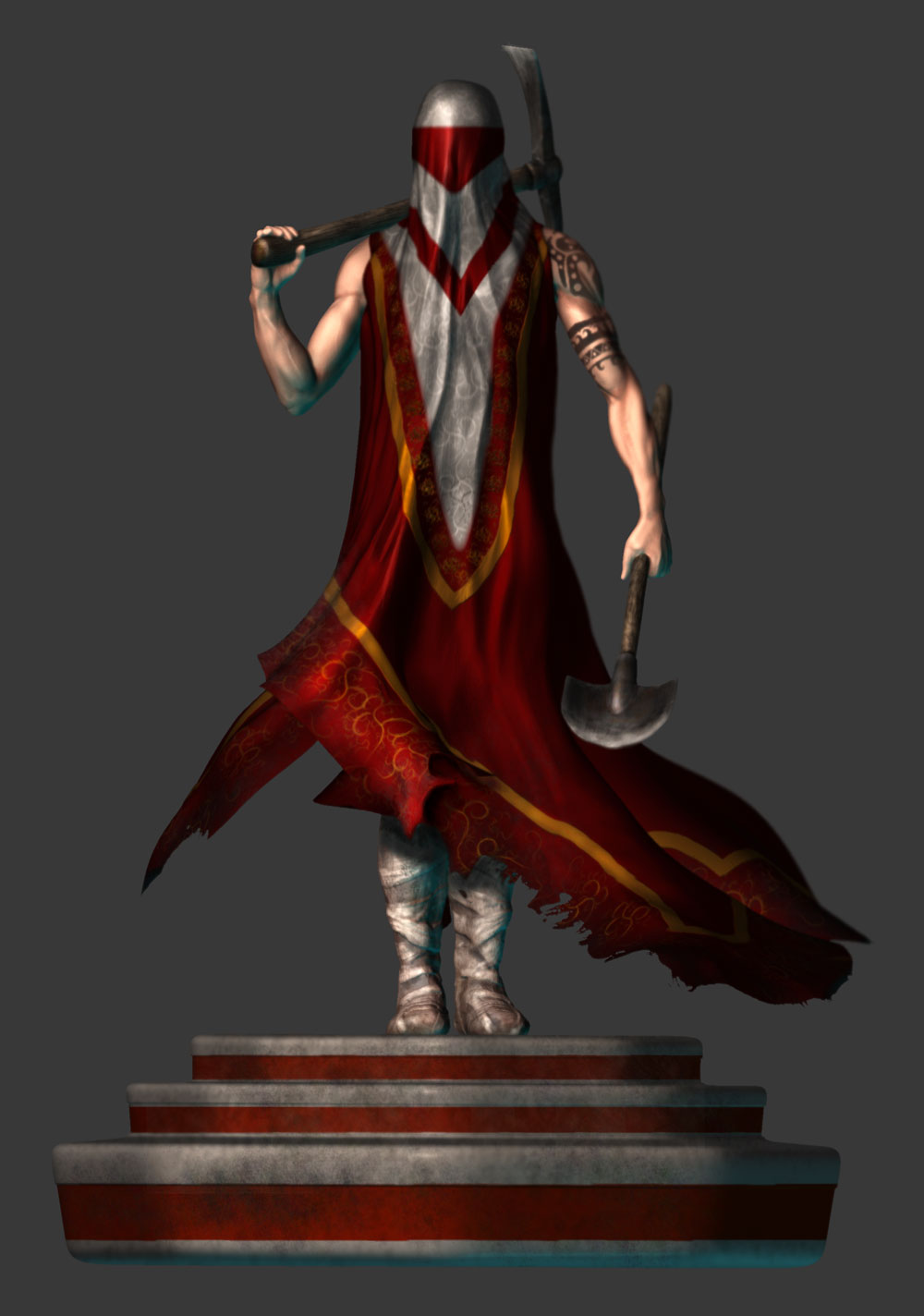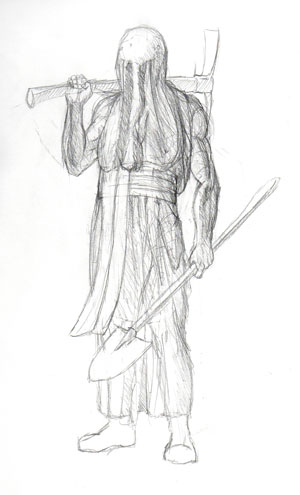 Attachments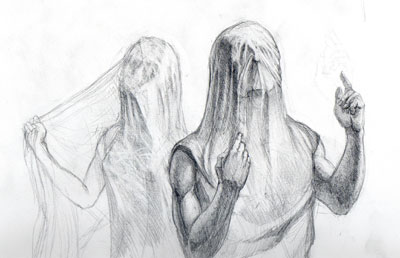 It seems that i have become even more addicted to zbrush sculpting.
Here is an update on my worker. I am trying to dial in lighting and render settings.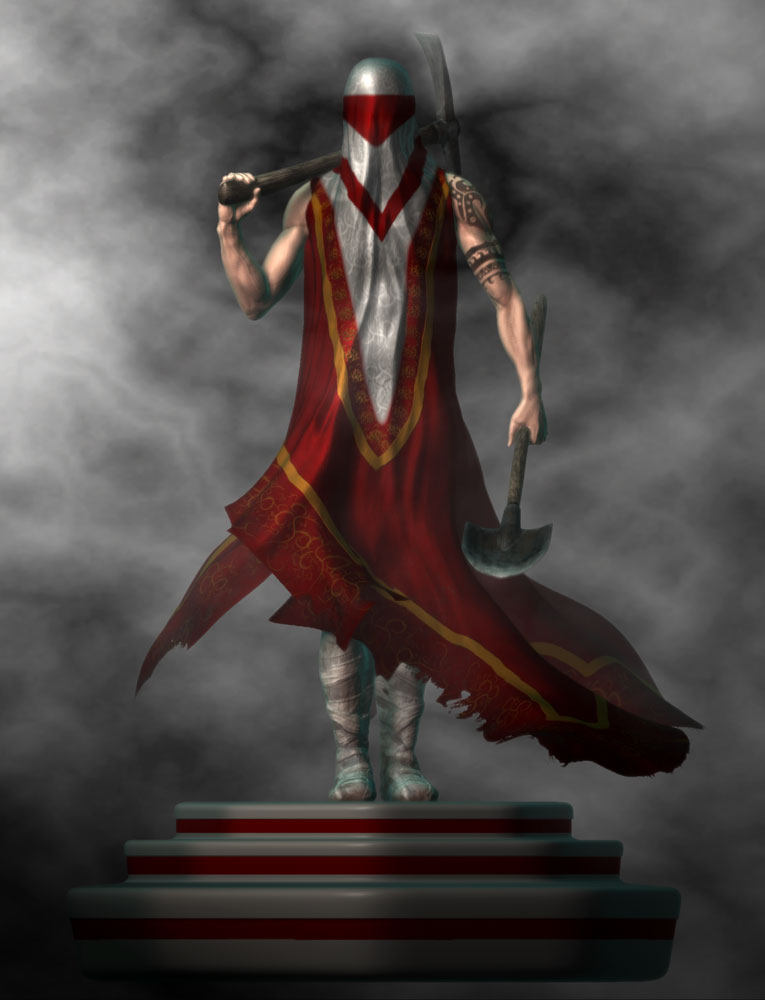 Here is a female sculpt that I am working on.
I modeled the base mesh in 3DS max. It is the first model that I have made in the program. Usually I use Maya or XSI. Comments and Crits appreciated.
I plan on taking her through the whole workflow with normal maps and then into the Unreal Editor. I can't resist a nice ZBrush pass though! I still need to work on the feet and fingers and anything else that is pointed out.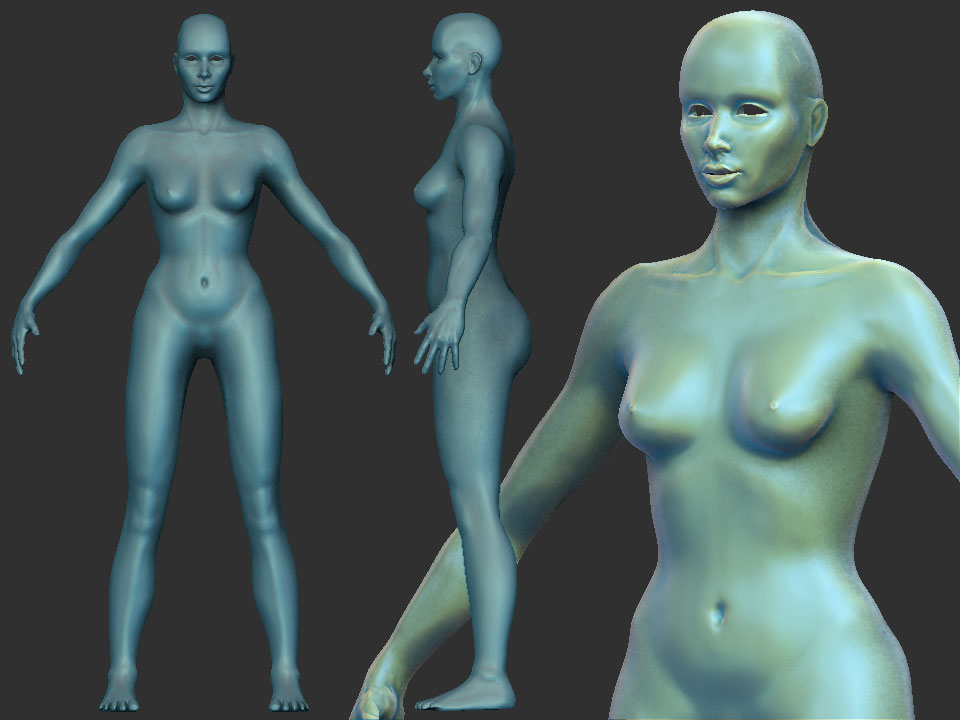 Attachments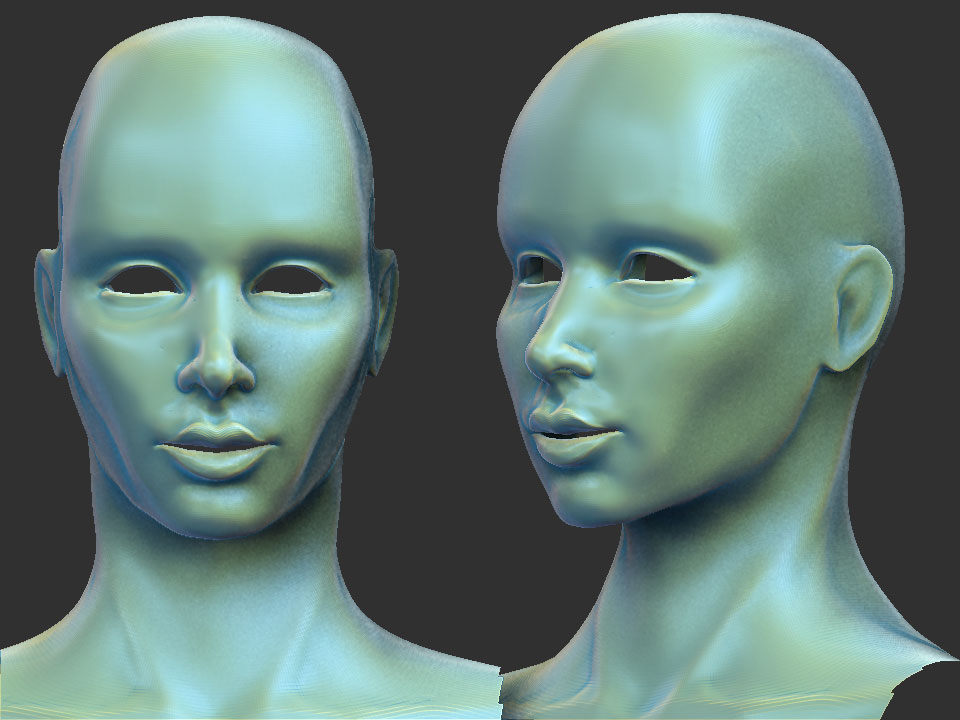 Heh, she kinda looks like me, big butt, small breasts. :lol: I haven't gotten half this far, still starting out, but I am a portrait artist normally. The area around her nares looks just a little too sunken, especially around the top where the nares connect to the face. Fill it in a little and it will look less defined, which is a good thing. Also, if her butt is that big, her thighs should match, and extend the lower legs a little, she looks ankle-less. You are doing well with her, and I really like your red cloaked character. Great job on him.
Digiclay, Thanks for the comments! I really appreciate the feedback. I actually had to look up the meaning of nares:p…got it now. thanks for your help! I started out as a painter before 3D. If you can draw, you will get the hang of this stuff.

Boy I hope so, My first creation was a lopsided vase that looked like it half melted in the kiln.

I hope it gets better from here and I will be close to what you and others I see on here do. I am simply fascinated with the entire program, hope to figure out the paint mode soon. On to more tutorials.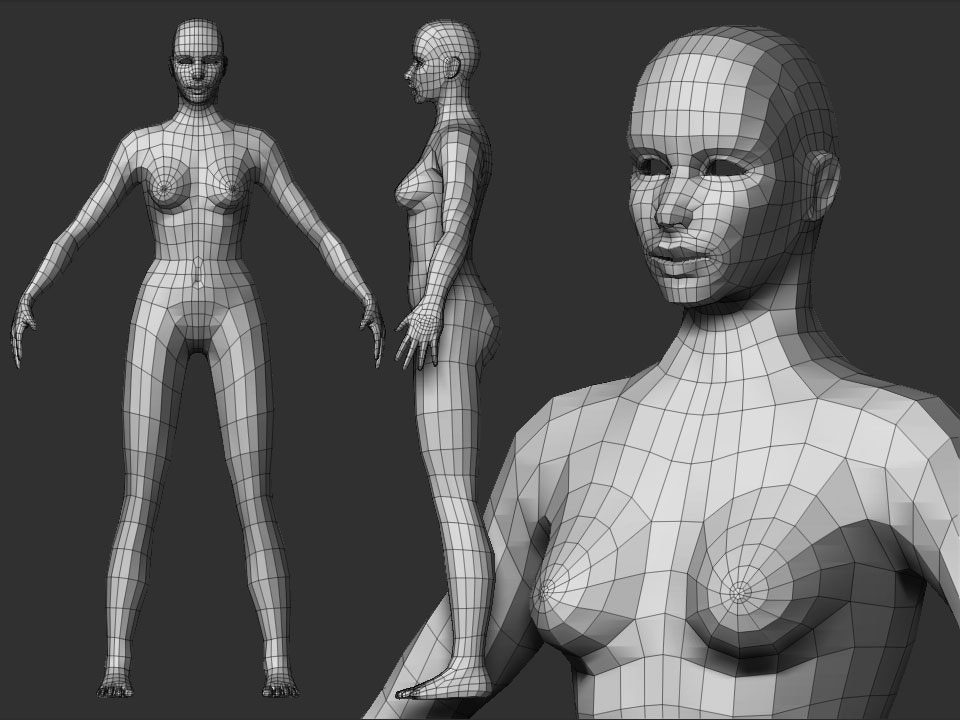 Here are some wires…
dude keep it up man if you ever made a costume of the red dude i would buy it man rock on
thats good for a maya job, its really difficult to get a natural looking face out of normal modelling, thats what zbrush is for.
Pulling points and knifing areas is a pain, theres just too many points to pull with too little time, all it needs is a good going over with zbrush in all the robotic areas.
Here is a quick look at the hands.
[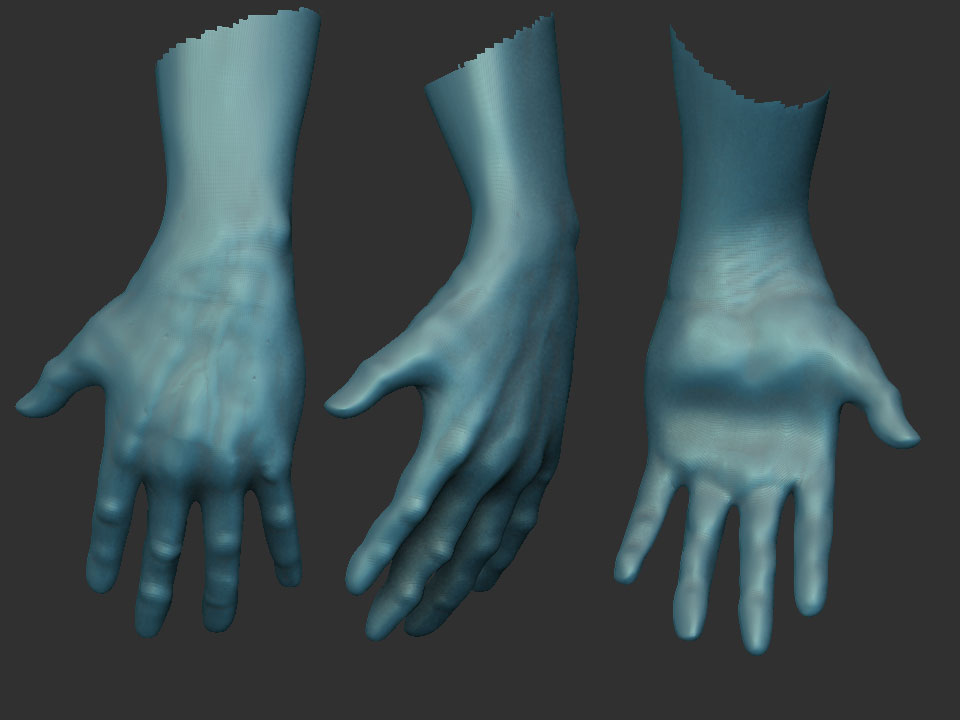 ]
Good stuff, especially your first character – I'm liking the renders.
The thumb looks a bit small on the hand and the little finger might be a bit long? Hands can look even more like "hands" if you slightly exaggerate the curvature of the fingers along the finger tips.
Difficult subject because we all have a set of them to look at all the time.

Nice work that grave digger character is a nice concept.