I got a couple cool updates to share. Firstly, I tried to make the UI a little more readable by making some pseudo-sections. I also have started including a "READ ME" file that includes all the descriptions for the scripts. This way you will always have them locally if you need them.
IMPORTANT!
If you have used this plugin in the past, please remove the old content first by deleting the "NicksToolsdata" folder.
If you want to keep the Quick Load project settings, you can copy the file "storedpath.zvr" into the new "NicksToolsdata" folder. If Zbrush fails to start you should just delete this file.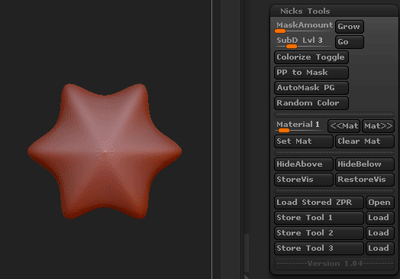 Material Cycle

: This script was inspired by our very own Hazardous. Check out the link to see an better example than my GIF. He and many other artists swap their matcaps frequently during sculpting. I wanted to try and make this process faster and easier.
To use this script pick your desired material and then select a number to assign it to. Click "Set Mat" and the material will be assigned to that number. Whenever you scroll to that number or use the "<<Mat/Mat>>" buttons the material will be assigned to the mesh. Continue doing this for your other favorite materials. You can overwrite a material using the same process or clear it out altogether using the button. Note however that if a number is "blank" you will have to press the "<<Mat/Mat>>" again to move on to the next mat so I don't recommend leaving "blank" spots between numbers. The materials will stay assigned between ZB sessions as well.
For optimum use, you should assign the "<<Mat/Mat>>" buttons to hotkeys. I use the Left and Right Arrows. This script can also speed up your startup. Immediately after ZB loads I just tap the left arrow key and my sculpting gray blinn material is assigned and I am ready to rock!
Also note that the materials HAVE to be loaded first before they be cycled to. So ether use the materials in your Zstartup folder or load them before hand.
Batch Rename

: This one has been requested ALOT. Rightfully so! This script is mostly self-explanatory. You can set a prefix/suffix as well as any padding before the serial. You can also adjust the starting number of the serial with the slider. The "Underscore" button toggles if underscores will be placed before/after the prefix/suffix. (Ordinarily ZB will change all your underscores to hyphens.) Pressing "Rename" will rename only the visible subtools.
This script has to temporarily save the Subtool to rename it. This can make the script somewhat slow with multiple very dense meshes. I have renamed multiple 8-million polygon meshes with this with no problem. HOWEVER…PLEASE save your Tool before using this. You never know.
Thanks again to Marcus for constantly answering my nagging questions!