I had a lot of fun sculpting a realistic version of Anniversary Lara and the Raptors as a 1/4 scale collectible for Weta Workshop and Crystal Dynamics.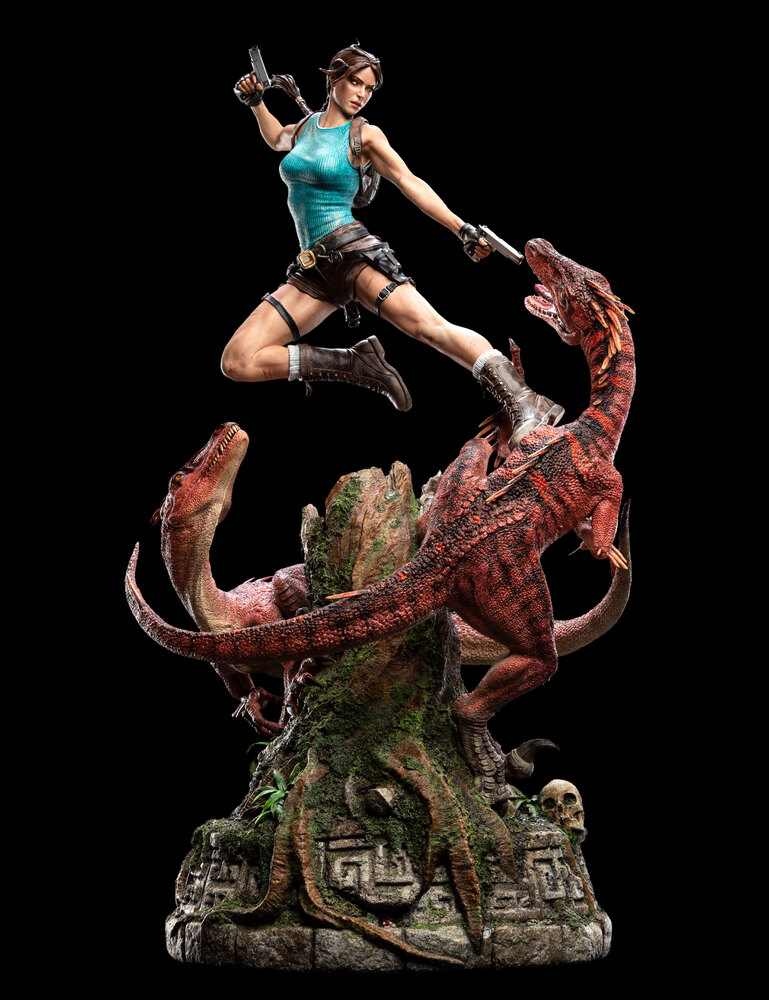 This is the finished model. It was sculpted in Zbrush, 3d printed, molded, cast, cleaned up and painted by the team at Weta Workshop.
Here are some Keyshot renders showing more detail: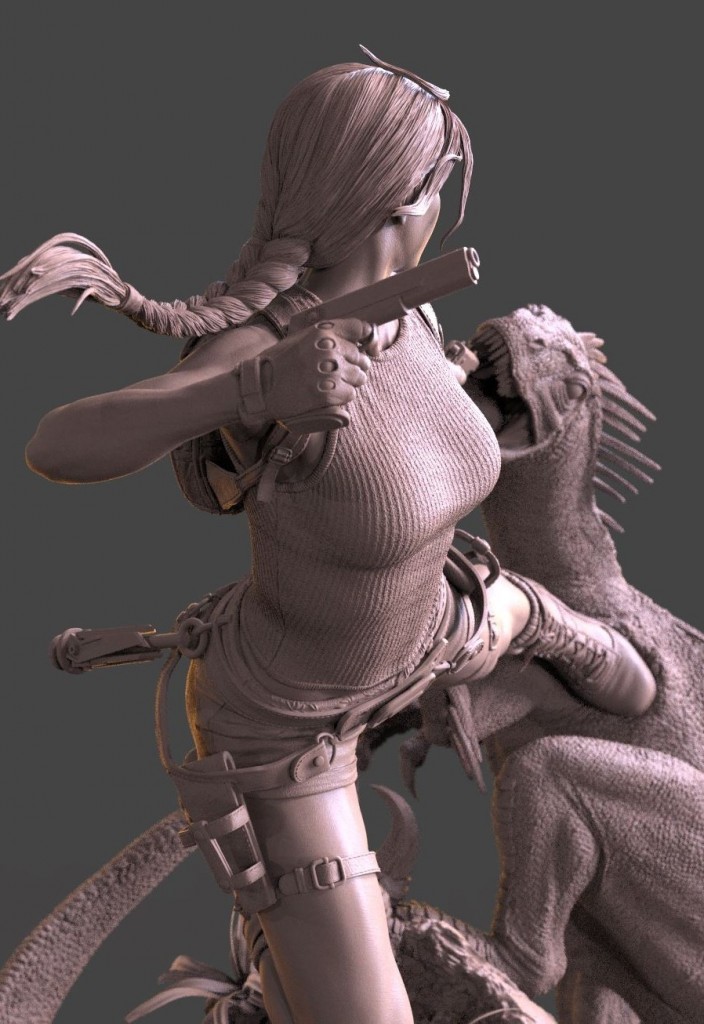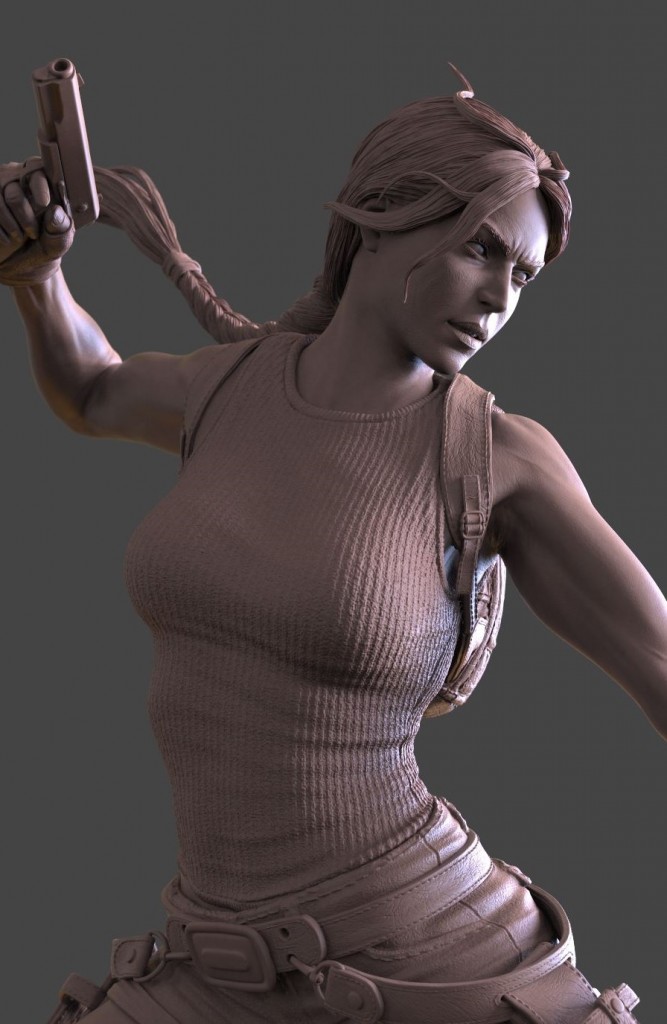 and some Zbrush renders: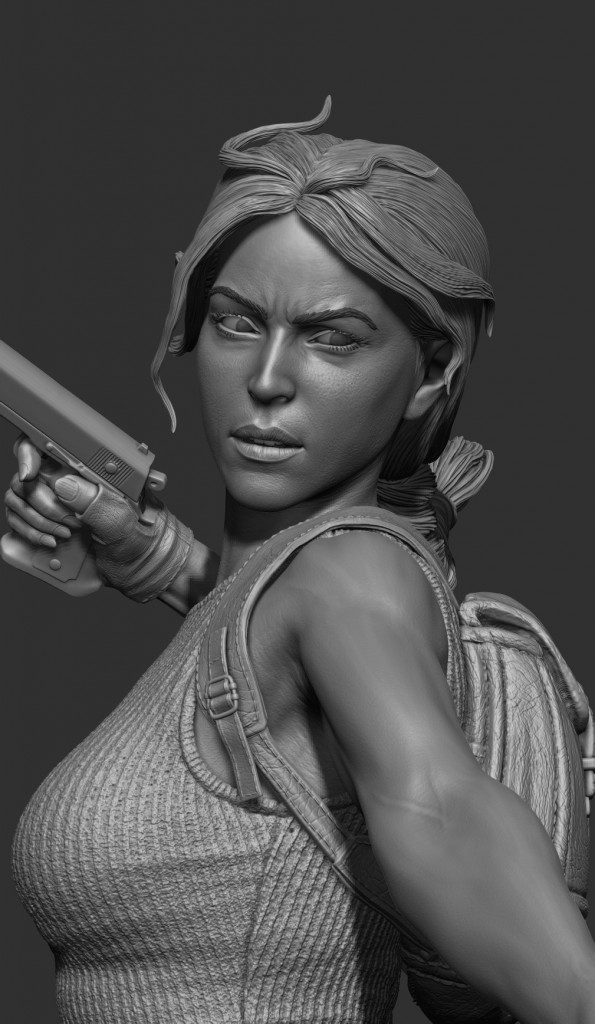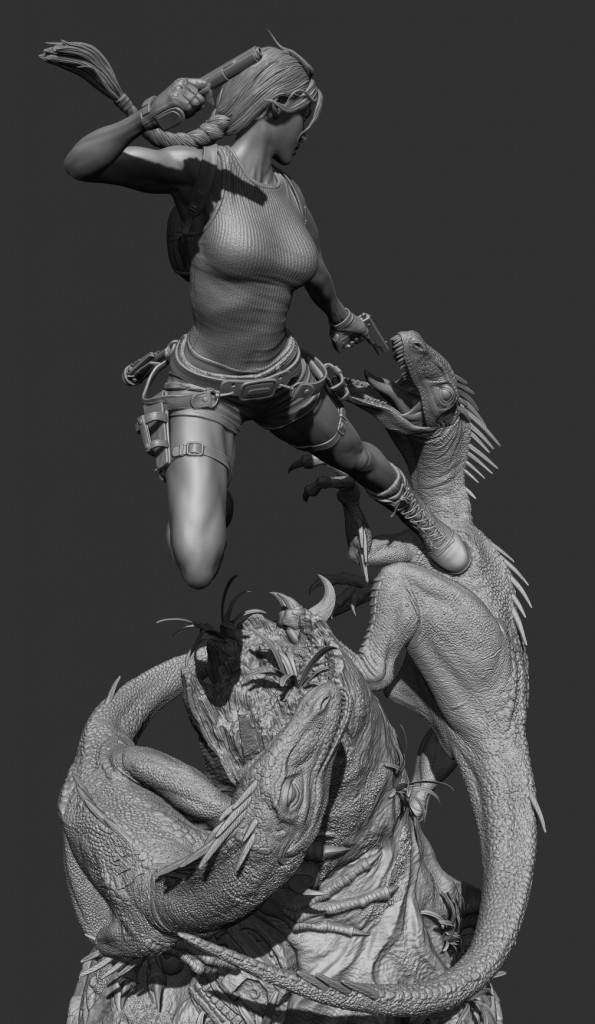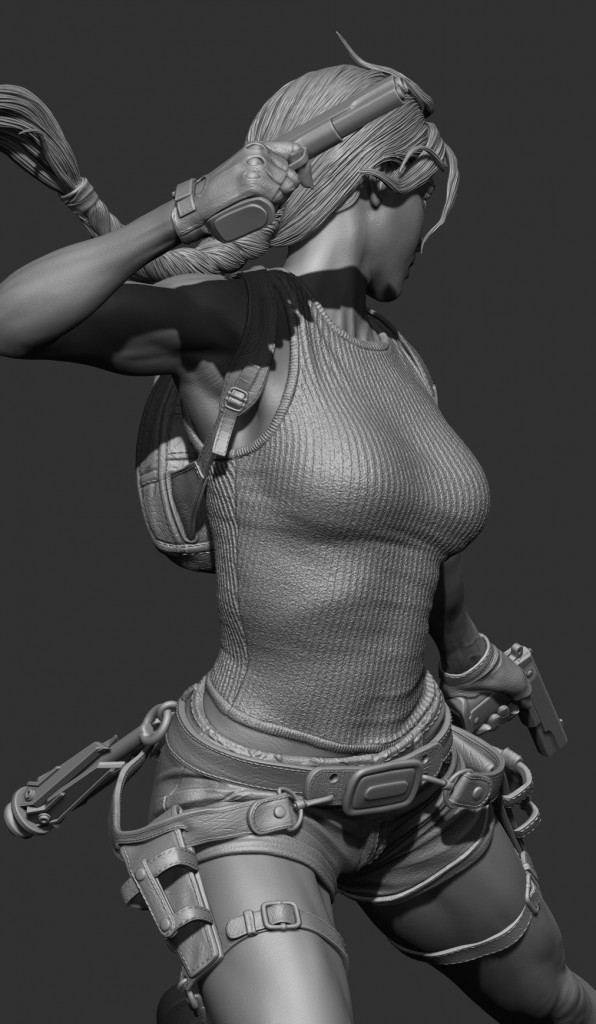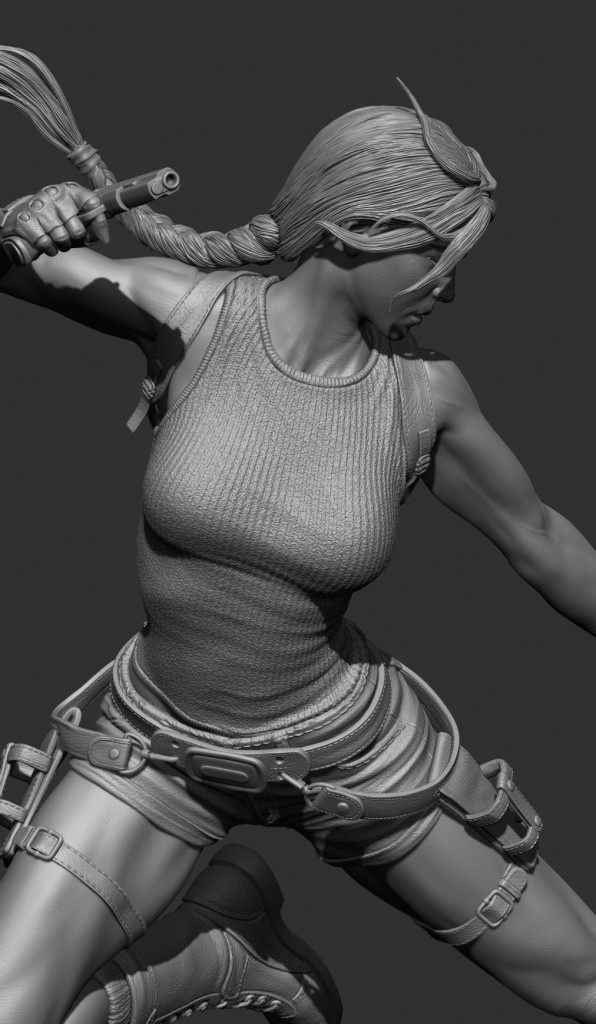 The physical painted version:
Here's a link to a video tuntable: https://www.youtube.com/watch?v=gpzBprC6bzU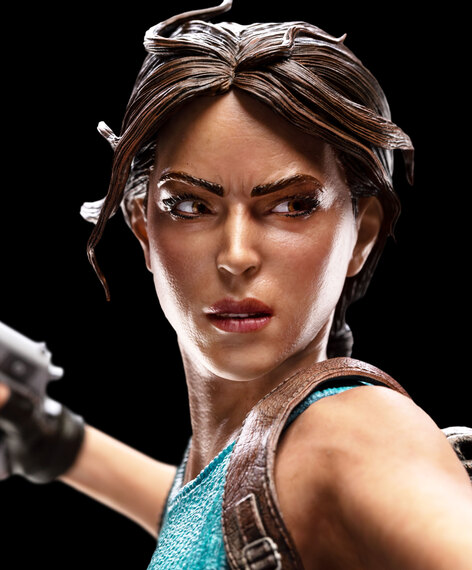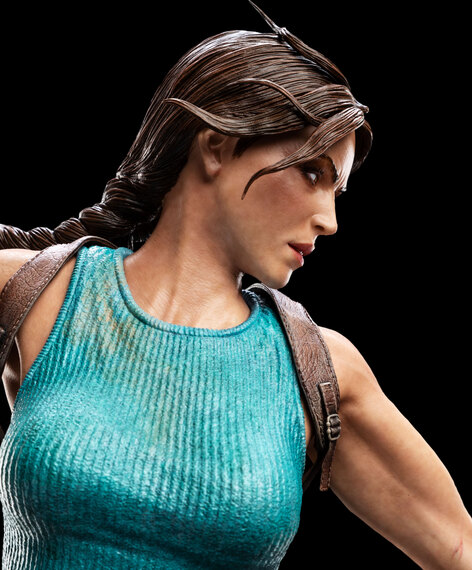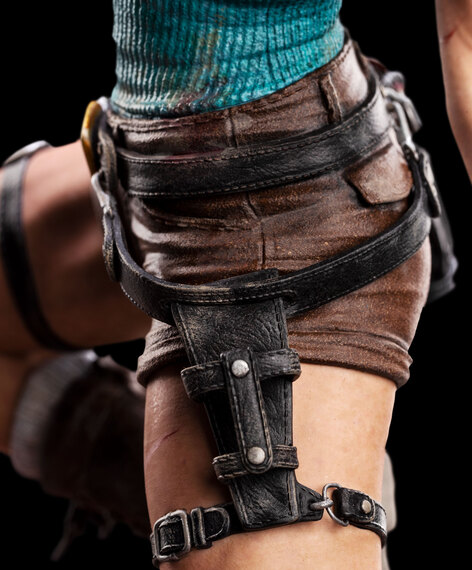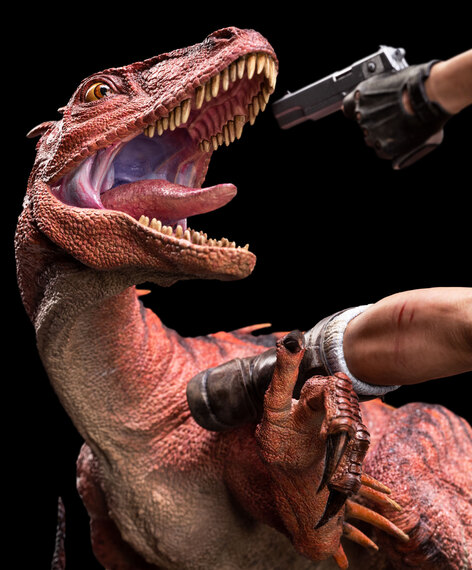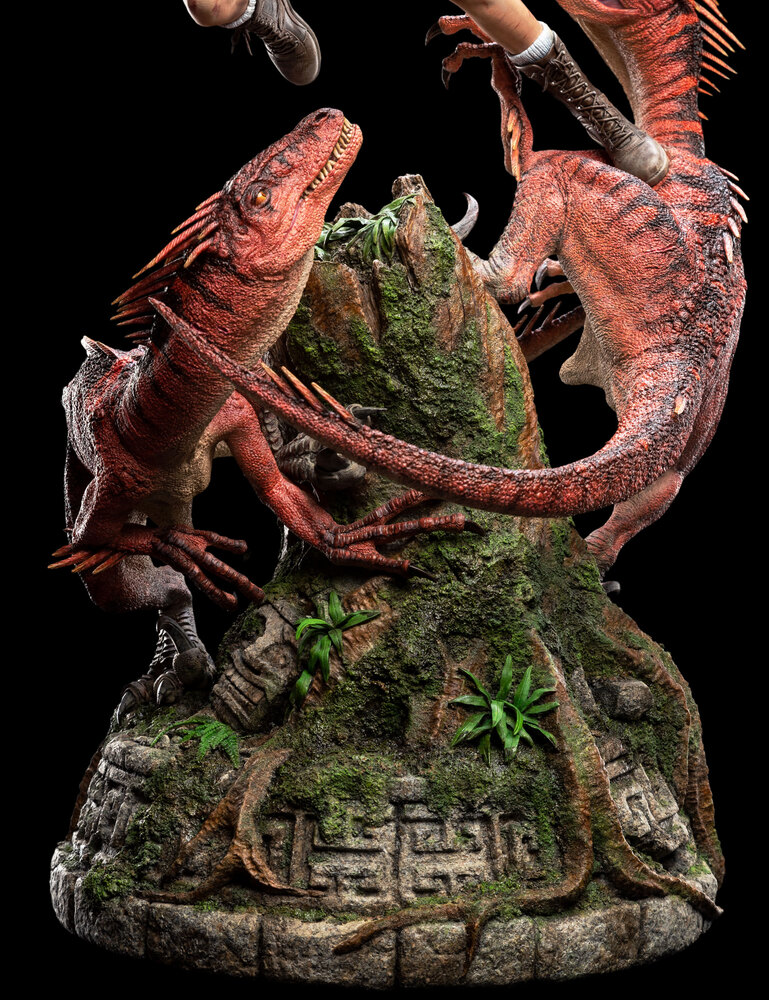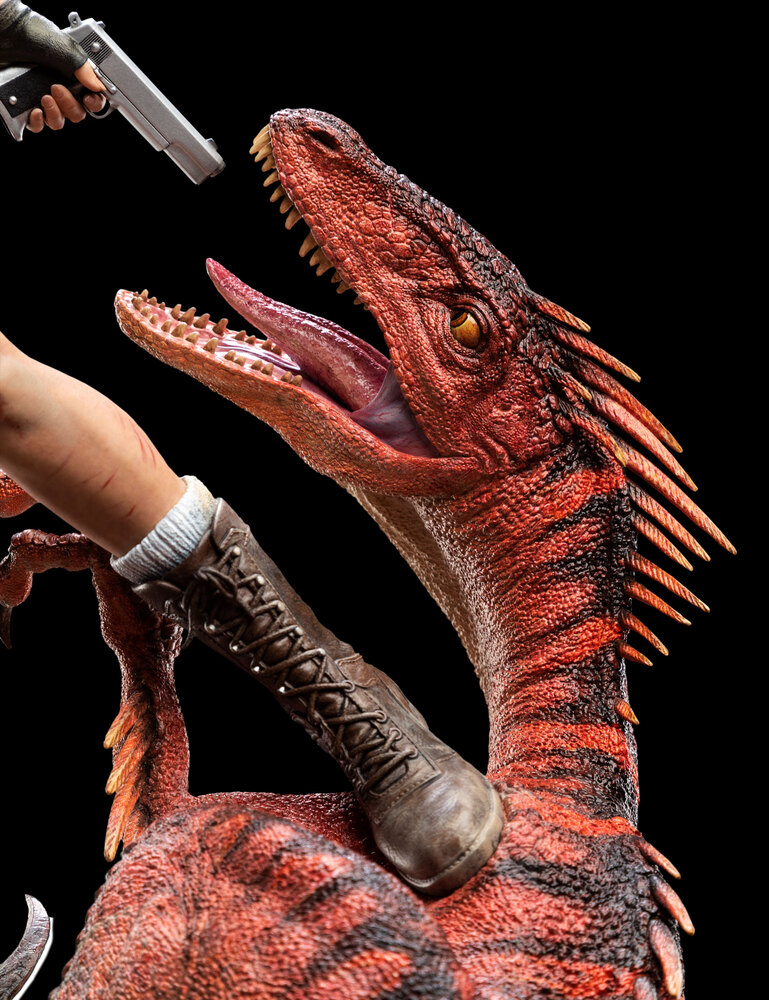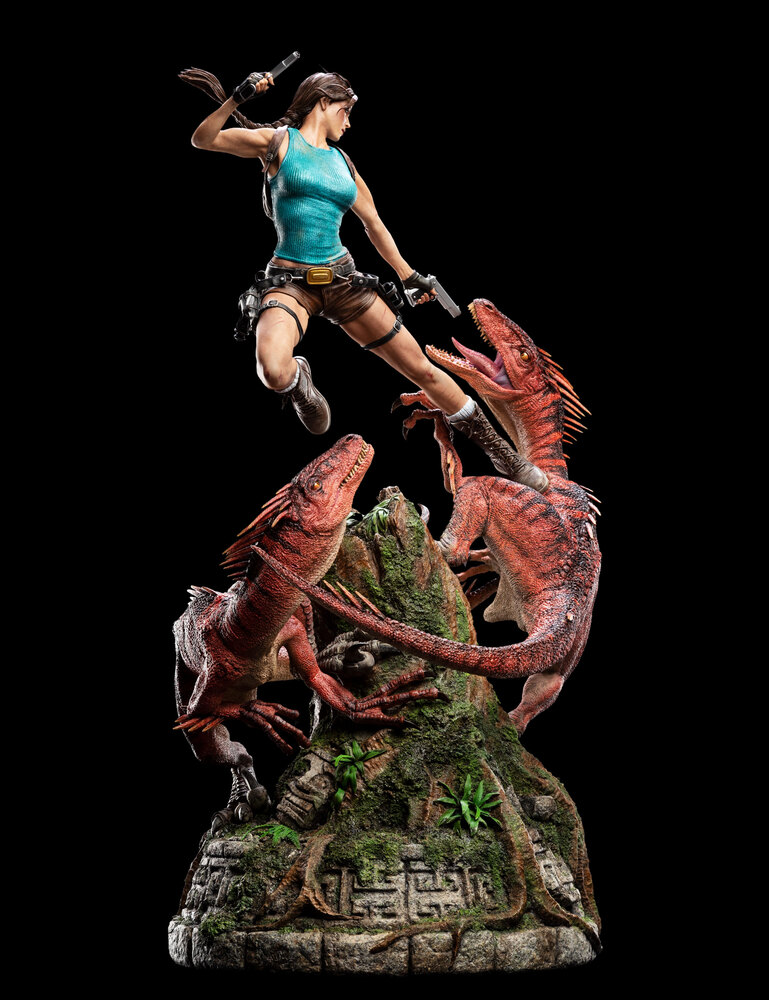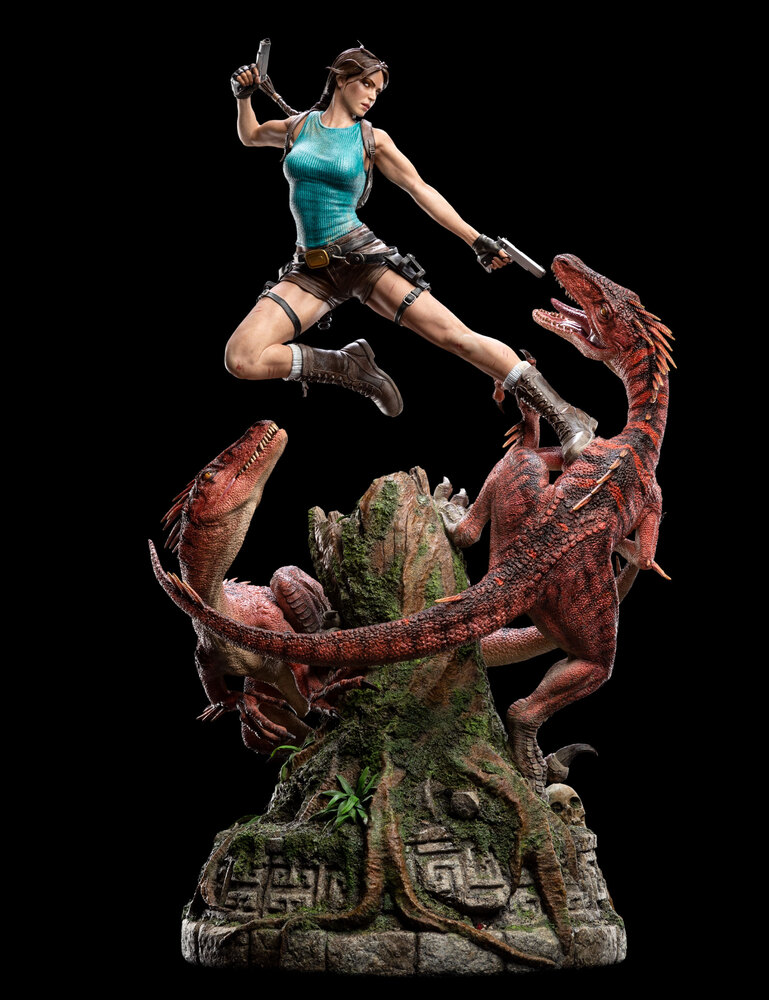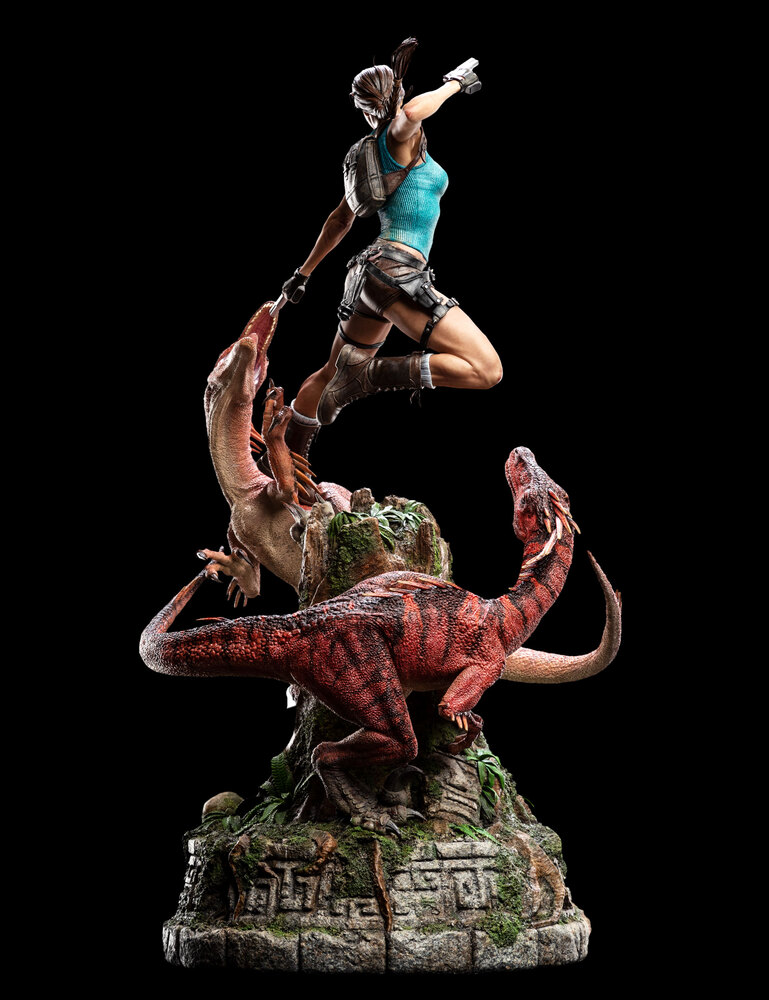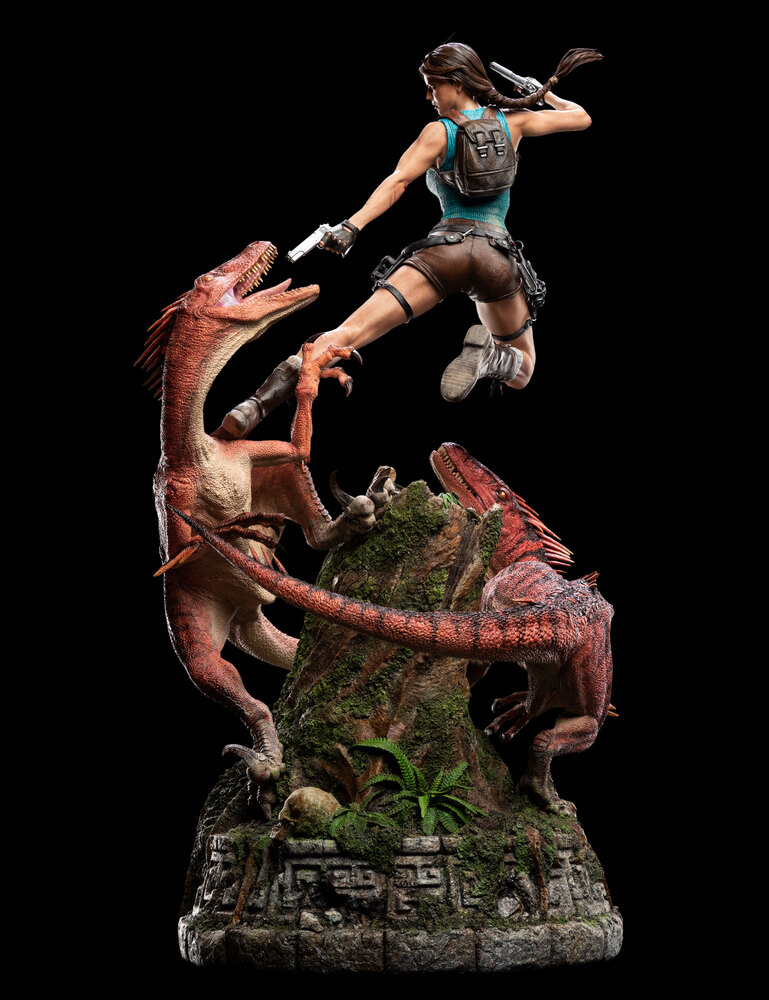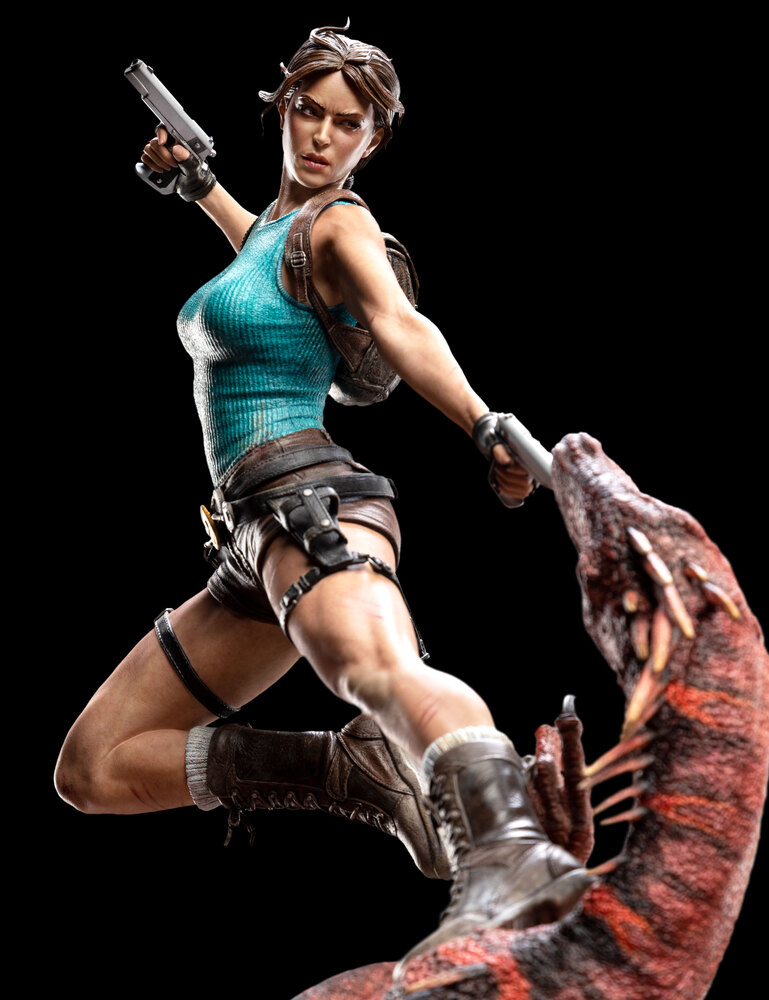 Crystal Dynamics gave me a digital model of Lara, some parts, such as the boots and holsters remained similar but with added details. I kept to the heroic body proportions (long legs). I then used a scan of a a real human in place of the body and matched it to Lara's proportions. Upon posing it was clear that the musculature needed a lot of tension so with the help of some models, posing and a lot of photo reference I re-sculpted all the muscles to match the pose. I had the Crystal Dynamic face as a starting point but pushed it towards a slightly older looking Anniversary Lara style face adding expression. Crystal Dynamics were great and asked for some minor changes to the lip line and clenched jaw which helped beautify her a little more. I'd also gone a little heavy on the skin texture so toned it down a little using the layers that I'd set up.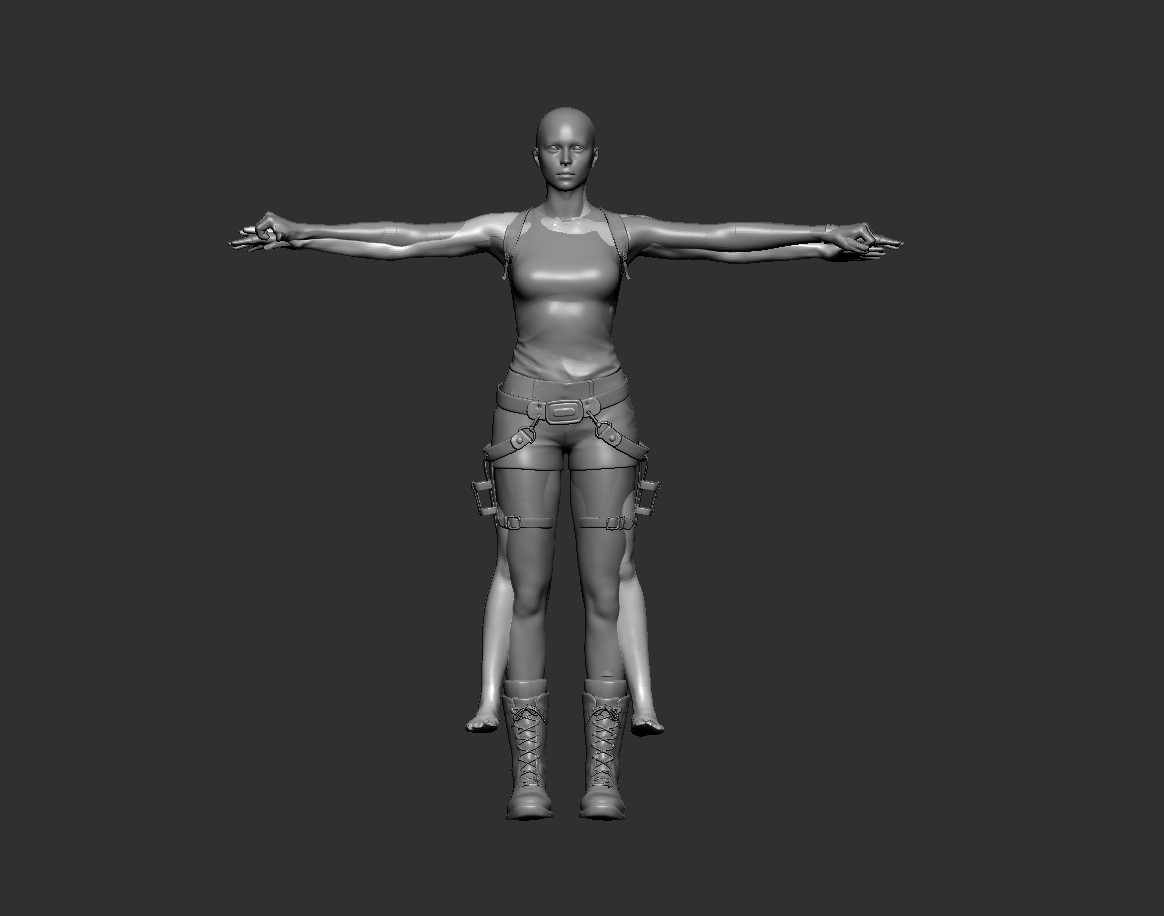 The Raptors I sculpted from scratch, the only reference being Anniversary game models found on you tube and google. This was great, I tried to add realism by doing a bit of paleontology research into Raptor and Deinonychus skeletal/muscle systems and artist impressions. I then created a T-pose model but tried to keep the feel of the game raptors adding the spikey proto-feathers in the same places.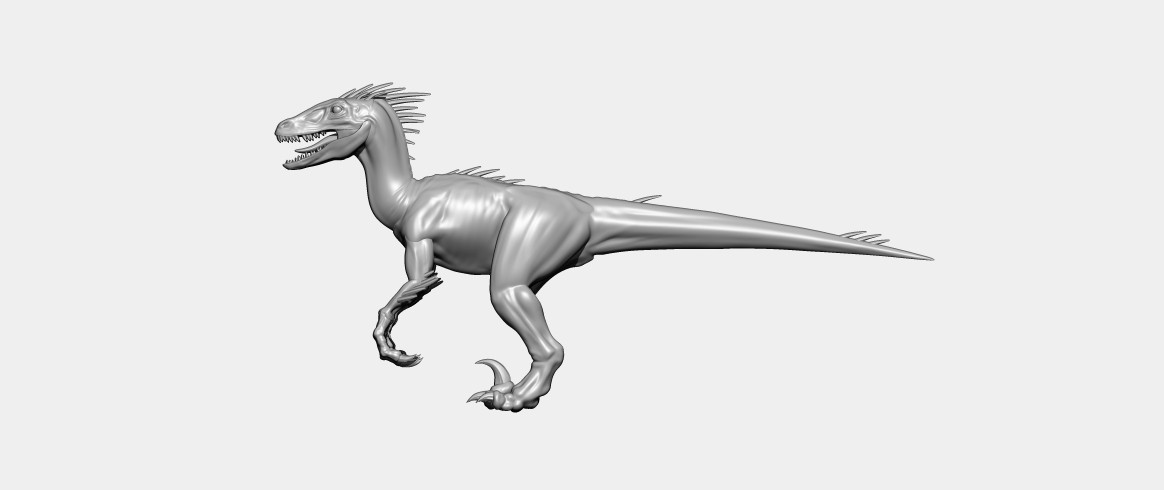 There where a lot of people involved in creating this piece from start to finish:
Concepting: Gus Hunter, Mark Dewes, Yorke Yu, Gary Hunt.
Art Direction: Richard Taylor, Daniel Falconer, Gary Hunt, Crystal Dynamics.
Sculpting: Gary Hunt, Crystal Dynamics.
Modelmaking: Leonard Ellis, Steven Edwards.
3d printing/prep: David Duke, Form labs.
Molding/casting: Micah Stewart and Mold dept
Painting: Jules German, Sourisak Chanpaseuth, Poppy Ferguson , Carl Lum
Models: Kelly-Marie, Kathryn.
and then there are many in photography, Videos and marketing… Chris Williamson, Betsy Bauer, Christopher Cope, Madeline Buddo, Gareth McConnon, Caitlin Begg, Jenny Zhang… etc
Sorry if I missed someone… Here's a link to a behind the scenes video: https://www.youtube.com/watch?v=1zce5zrY21Q&t=16s
The Sculpt is 1/4 scale and available for a limited time to pre-order from weta workshop Ltd.