Available to Buy as either Direct Download or DVD hard Copy
[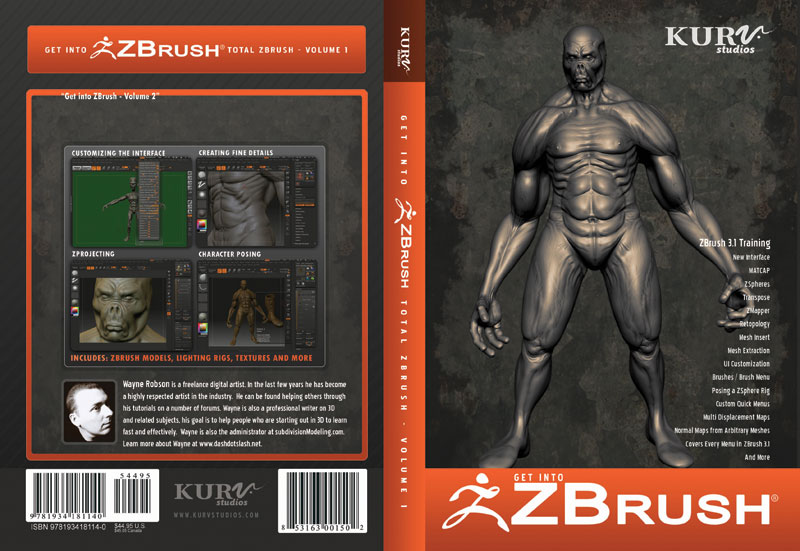 ]
Running Time: over 6 hours More info and samples: [Link](http://www.kurvstudios.com/zbrush/get_into_zbrush_volII.php) Price: $44.95 For a limited time vol's 1 & 2 are available together for the price of$ 67.43

(Download version is identical to the DVD version except that no extras are included.)

Vol 2 of get into Zbrush takes you through a complete character from an empty ZBrush canvas to the final texturing phase. He explains every step of the way both 'why' as well as 'how' things are done to give you enough confidence to tackle your own characters in Zbrush.

With insights into the creative mind during the design and sculpting process this DVD will prove invaluable to Zbrush users. This DVD is from start to end ZBrush. No external applications are used to help get you completely comfortable with using ZBrush in preparation for future volumes of 'Get Into ZBrush'. This 6 1/2 hour video covers more advanced features of the ZBrush toolset including HD Geometry, with the final sculpt being just shy of 40 million (with no slow down.) Topics covered in this DVD include: Interface customisation for a better sculpting experience Creating a controlled Zsphere character base. Which brushes to use to start off your sculpting. Sculpting the basic forms Refining every part of the body Character design on the fly and why decisions are made Using the Zproject brush to save you a lot of time This includes sculpting every part of the Oranguman's body at both normal and HD level Using mesh extract to create new accessories Texturing the Oranguman and some simple texture painting theory Posing the final character sculpt. The video samples should be up in a day or two at the outside. :) OK volume 2 is available now for hard dvd copy and direct download as is Volume 1 for those that wish to buy and watch them straight away. Download copies do not hav the extras though, so thats down to the users judgement call. Enjoy. Wayne...