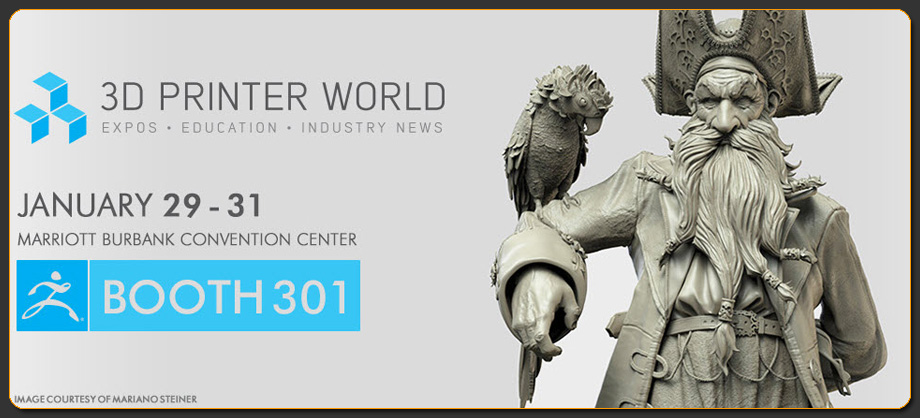 For the second year, Pixologic will be attending the 3D Printer World Expo in Burbank, CA. Held January 29-31 at the Marriott Burbank Airport Hotel & Convention Center, this exciting event promises leading-edge technology and the largest assortment of 3D printers ever under one roof.
At the Expo, Pixologic will be presenting industry seminars featuring artists from Makerbot, Hasbro, Gentle Giant and Disney Interactive - as well as select freelancers at the forefront of the 3D printing field. (Adam Ross, Brian Wade, Kevin Garcia and Paul Liaw.)
Click Here for Last Year's Recap!
Additionally, our extremely popular artist showdown is returning with even bigger stakes! The "Pacific Rim" themed competition will feature two separate facets, each with a group of 8 artists facing off against each other in a live sculpt-off. Who will demonstrate the best organic skills as he sculpts an epic Kaiju? Which artist's Jaeger will dominate the battle? Watch live and then vote to find out!
Join us at this year's 3D Printer World for an epic event! Of course, if you can't make it to Burbank you will still be able to participate. Keep an eye on Pixologic's Facebook on Saturday, January 31st to view photos of the 3D prints created by each competing artist and vote for your favorite in each category. Voting will only be open for 5 hours so don't miss your chance!
See you there!

Attachments