Really awesome work! Look forward to seeing more!
wow! thanks so much for sharing your work. its really well done!
great to see zbrush used so skillfully, Top Row candidate!
These are truly great and inspirational! I like that as I become more immersed in ZBrush, I'm also getting an education in scientific research on vast interesting subjects. It looks like the bone Matcaps have a bit of bronzing in them – great renders. Are you able to post info on how big these files are before you decimate them? I love the photos of people standing in front of the printouts. They would make great posters. Thanks for sharing!
wow ! great job !

Really fascinating stuff! It's fun to hear that ZBrush is not only used by sculpting artist, but also in science. Impressive!
Actually yes we can
The Orca Skulls came in at a little over 10 million polygons for "Hope" and a little over 11 million for "Kruzov." A majority of the bones we have scanned and built for the VZAP Project only have around million raw polygons in them when we finish their editing. Some things are so small (less than a CM in length) and they normally come in under a hundred thousand polys. Honestly, I look at some of the models people post here that have around 50K polys in them and wonder how you all can make things that look so awesome with so few polygons!
We have a process we take each thing we scan through that makes the models easier to work with and ZBrush is a HUGE part of that. We start by saving a full resolution model, then decimate the ever-loving-life out of them. We make low resolution models with between 1000 to 5000 polygons in them depending on the surface complexity we are trying to capture. Just yesterday I posted an update to our scanning and editing process on our website (http://ivl.imnh.isu.edu/Process.htm), so if you want to see some videos about what we do and how we go about doing it feel free to check them out.
<shameless promotional="" plug="">(Shameless promotional plug) We also happen to have a Facebook page (https://www.facebook.com/IdahoVirtualizationLaboratory) where we post updates, renders, etc. on a semi regular basis. Feel free to check that out. Remember to "Like" it while you are there :D</shameless>
amazing work. can't image how much time and patience it took to get it right.
very nice
Training is very enjoyable with creativity
Tanks for sharing
fantastic work.
your job sounds really interesting:)
glad you finally decided to join the forum, so you could share these cool works.
-r
I really like your work!
Bravo!
This stuff is awesome and is more than welcome here! After all, isn't art and science basically the same thing?

I also really appreciate your explanations on things. Thank you kindly for sharing, and I'm looking forward to more.
Great work!
I would really like to have the skull posters as reference sheets with the names and labels on it (and maybe even in hi-res? ;)).
Thank you all for your comments, it is pretty awesome to see your work so well received by such a prestigious community. I will be back to posting some things after I finish a particularly complicated build that I have been working on. We are still working through the bugs of getting some visuals out for commercial distribution but as we are a non-profit academic lab, there are special considerations to be made. However, I can throw some of the labeled posters up here for posterity and will do so soon.
Thanks for looking!!!

Nick has convinced me to post another one of the posters I did for the art show last year. This particular piece was actually put together as a reference poster on Human Anatomy. All the individual bones were processed and textured in ZBrush, though the final image was rendered in Blender. The text was added in Photoshop later.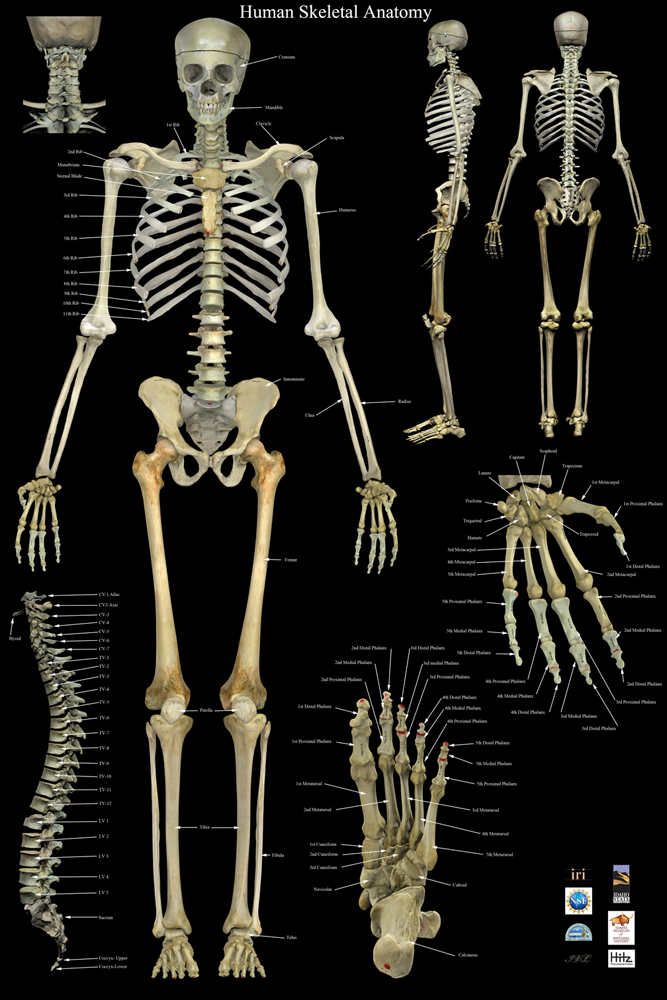 This skeleton was the very first actual non-test thing we ever digitized. We have gone back a few times and re-processed the files as we have learned more about how to do things better. Right now we really need to re-shoot all the photographs for this fella since we truly didn't have the photography skills then that we do now. Unfortunately the skeleton is in almost constant use with the osteological classes so the window to do anything with it is really narrow.
The professor does use our 3D models of this skeleton in his classes, but the students still have a number of lab classes where they are required to interact with the actual bones. If I understand the professor's comments correctly, access to the 3d models (in 3D PDF files by the way) has increased the student's ability to learn the bones substantionally. Which is what we like to hear

congrats on the Top Row. very well deserved!
Your images remember this
So it has been a few weeks since I've updated here. Thank you for the great responses!! I have been a busy bee articulating the second Orca we scanned, the skull of which was the first image of this thread. I made lots of grabs so I thought I would put them up starting with the spinal column and work my way through the articulation process. If you have any questions feel free to post.
Hope you enjoy them!!
A clean layout of the spinal column is the most important part. It is what everything else is going to 'hang' off of so it had to look right before I did anything else.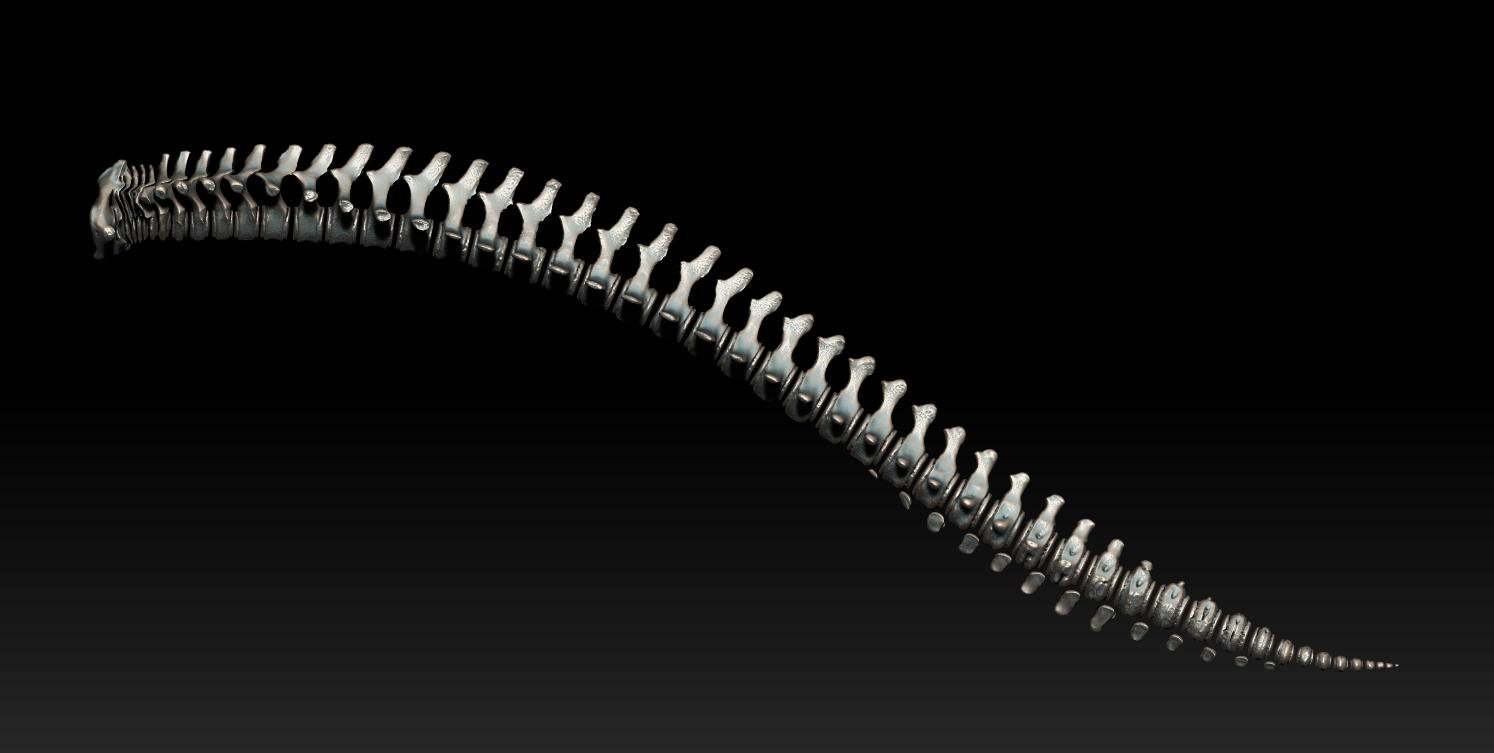 These are some detail shots of how the ribs went together. As this was a juvenile, not all of the bones were fully formed so much of the orientation had to be idealized a little bit to make it look correct. None of the bones were scaled or modified. They are true to form.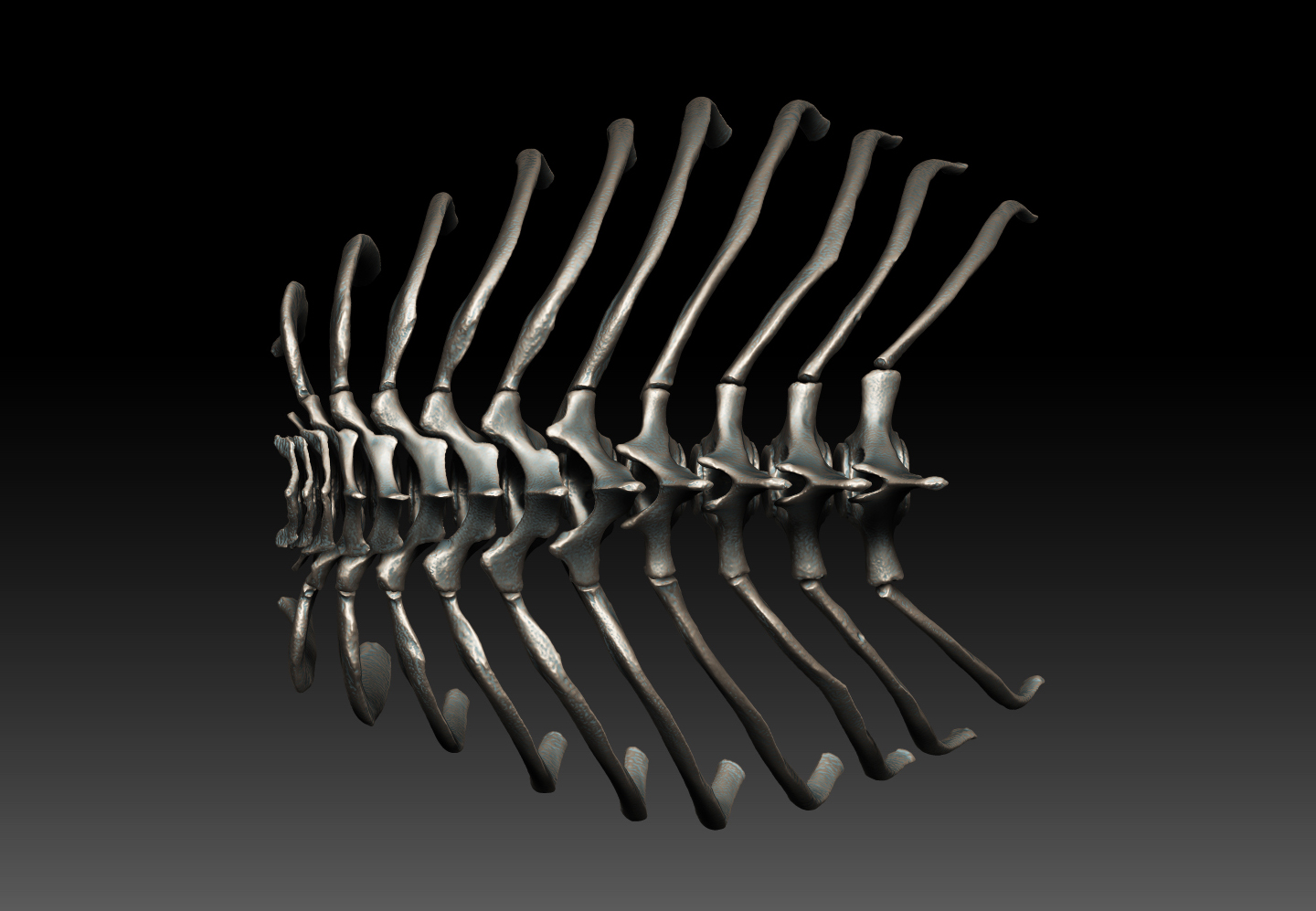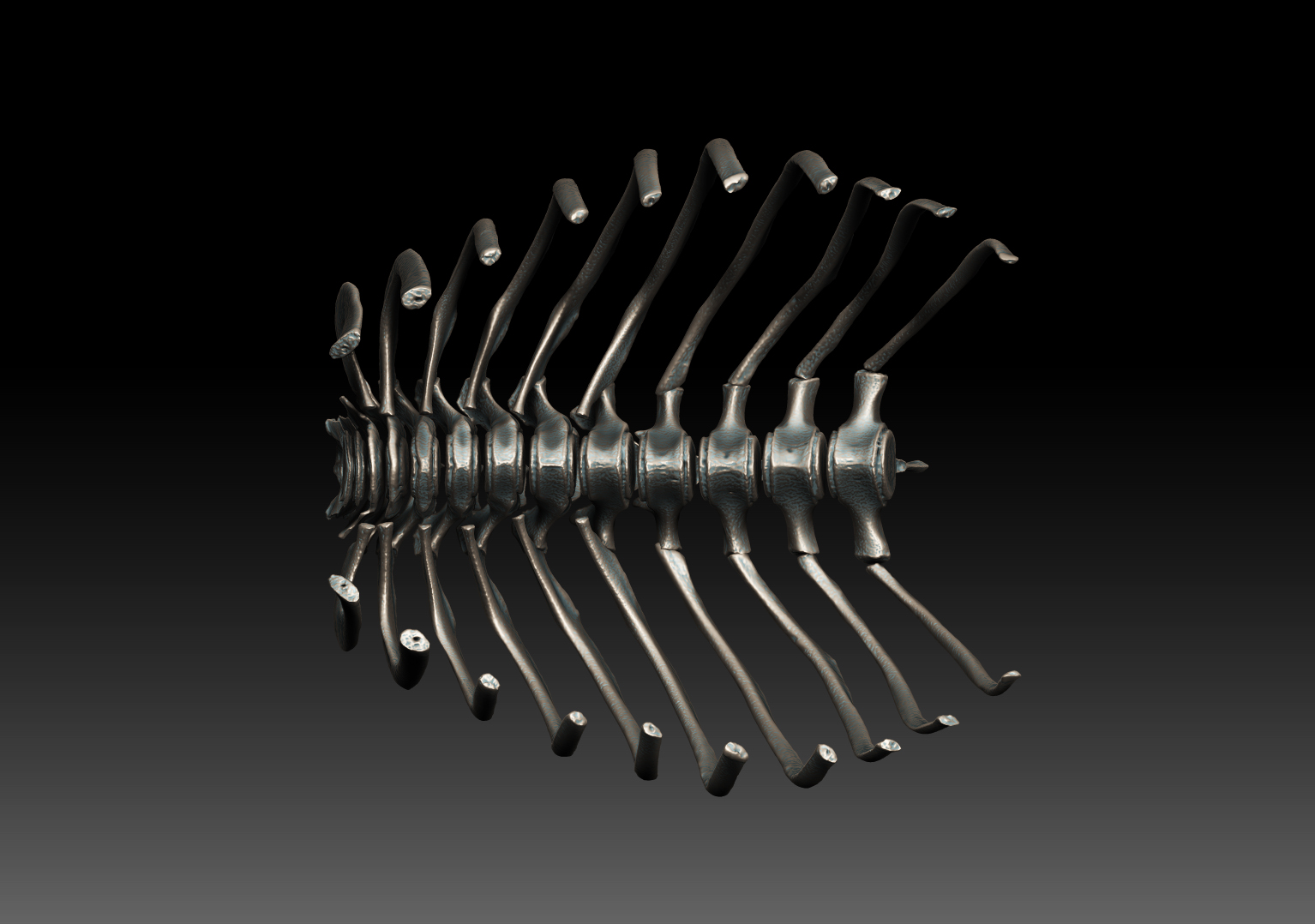 This is a full view of the rib cage once the sternal ribs, sternum and flipper assemblies were articulated.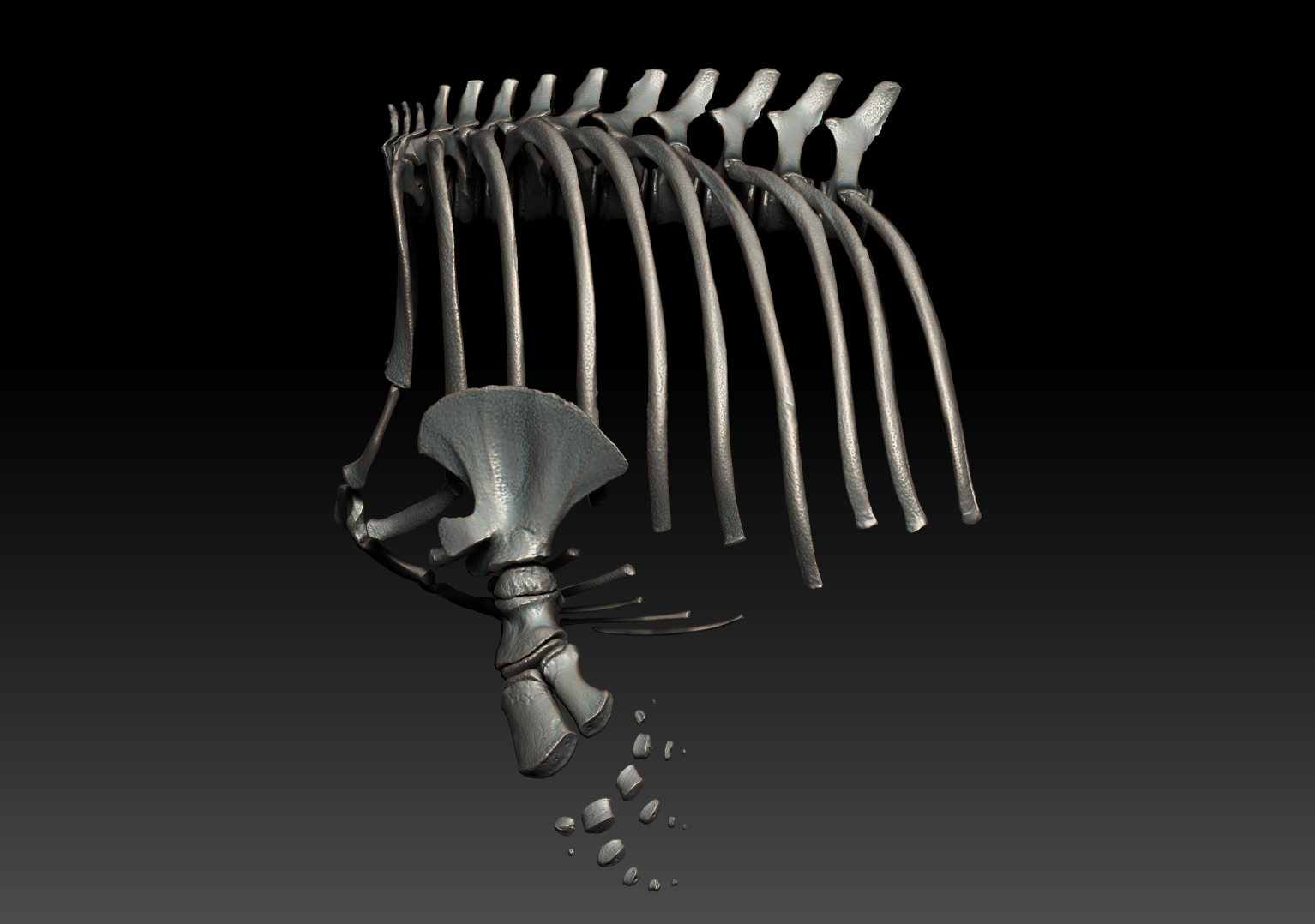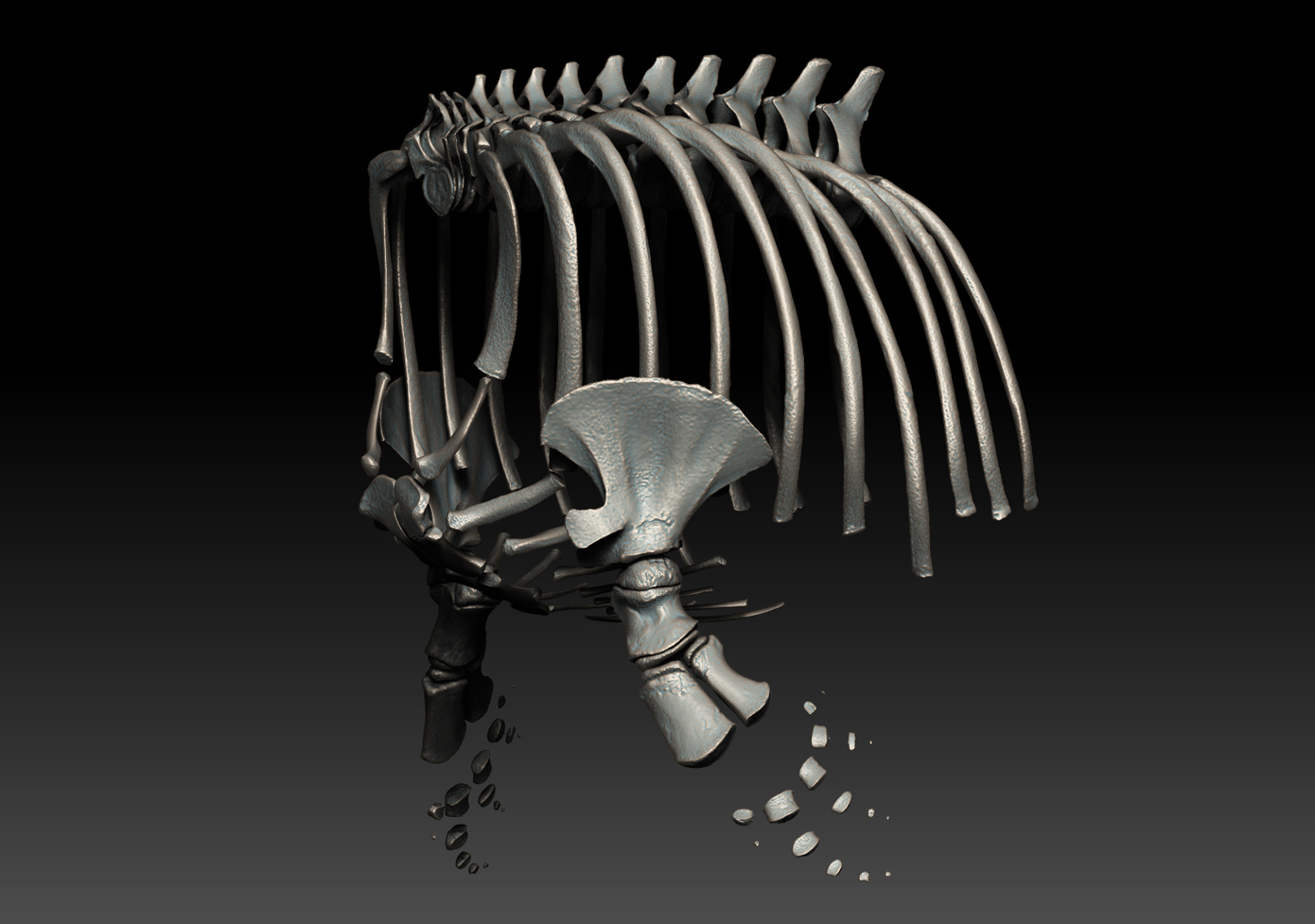 The placement of the teeth in the rostrum was probably the most difficult aspect of this build in terms of making them look and feel symmetrical. I included a few renders of how the teeth are sitting inside the bridge for posterity. The teeth represented here are actually scanned from casts, the originals need to be pulled and placed in liquid immediately to keep them from drying out and shattering. So for all you intrepid osteologists and bone preparators out there, first order of business in de-fleshing an Orca is tend to those teeth!! …just in case you were wondering. These casts were masterfully done, and the lower mandibles were already fitted (hurray!) with dentures when we arrived on site to do the capture. One less thing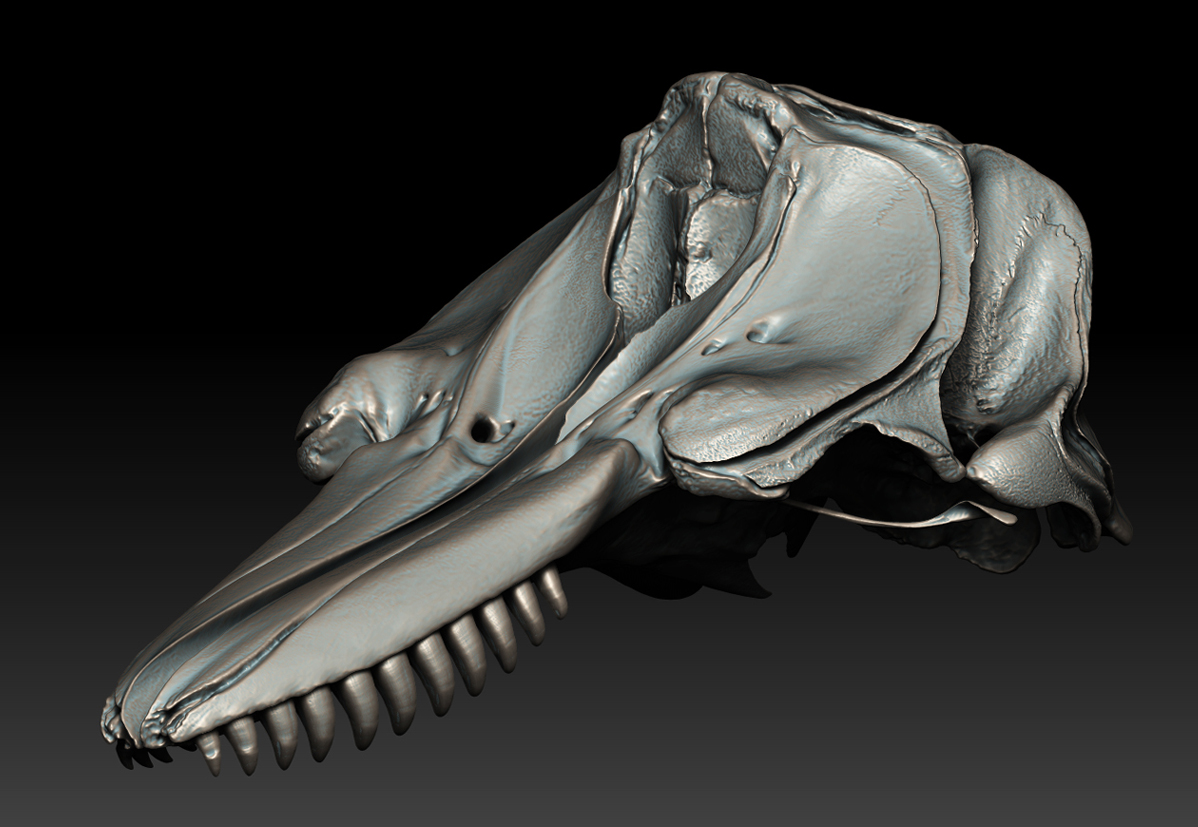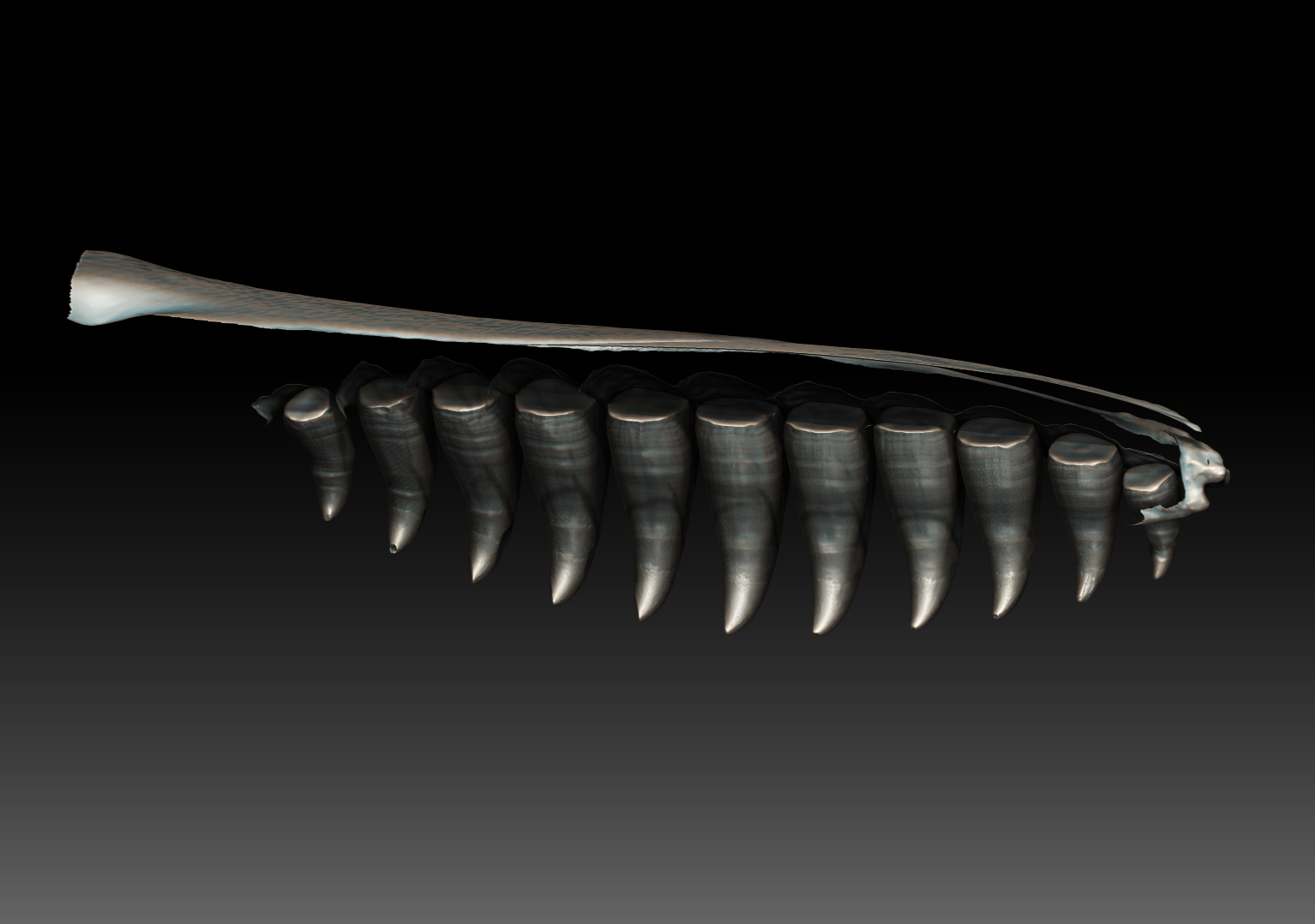 A nice toothsome grin from a right modern day dragon

Orca whales are really an amazing animal.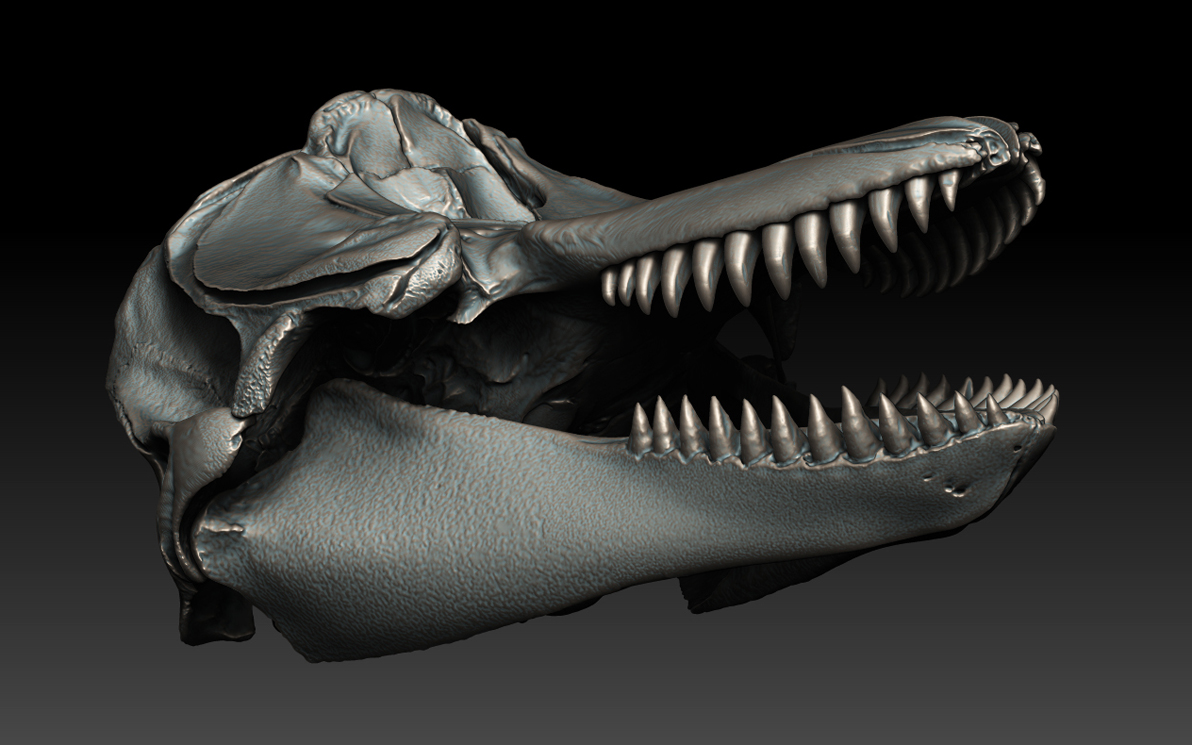 This is the final layout, i may tweak it a bit here and there but for all intents and purposes this is how it will stay. If the head looks on the largish side, that is because it is, or rather, it is the body that is on the smallish side…this is an aspect of its age not in the scaling of the elements. I will put up a side by side of both the whales we have now done together to give you an idea of scale. For whatever reason I cannot with this post. Likely ran out of room, so stay tuned!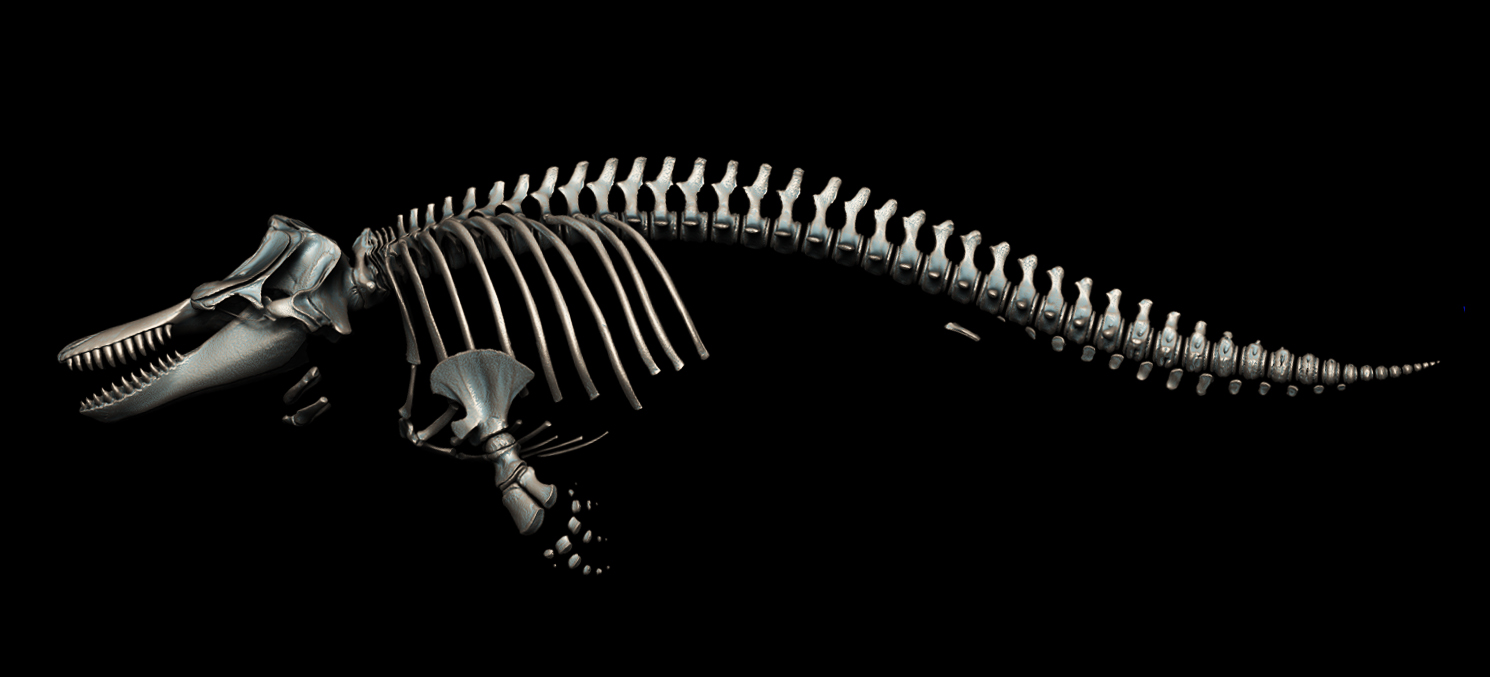 Thanks for looking!
Cheers,
NGC
Attachments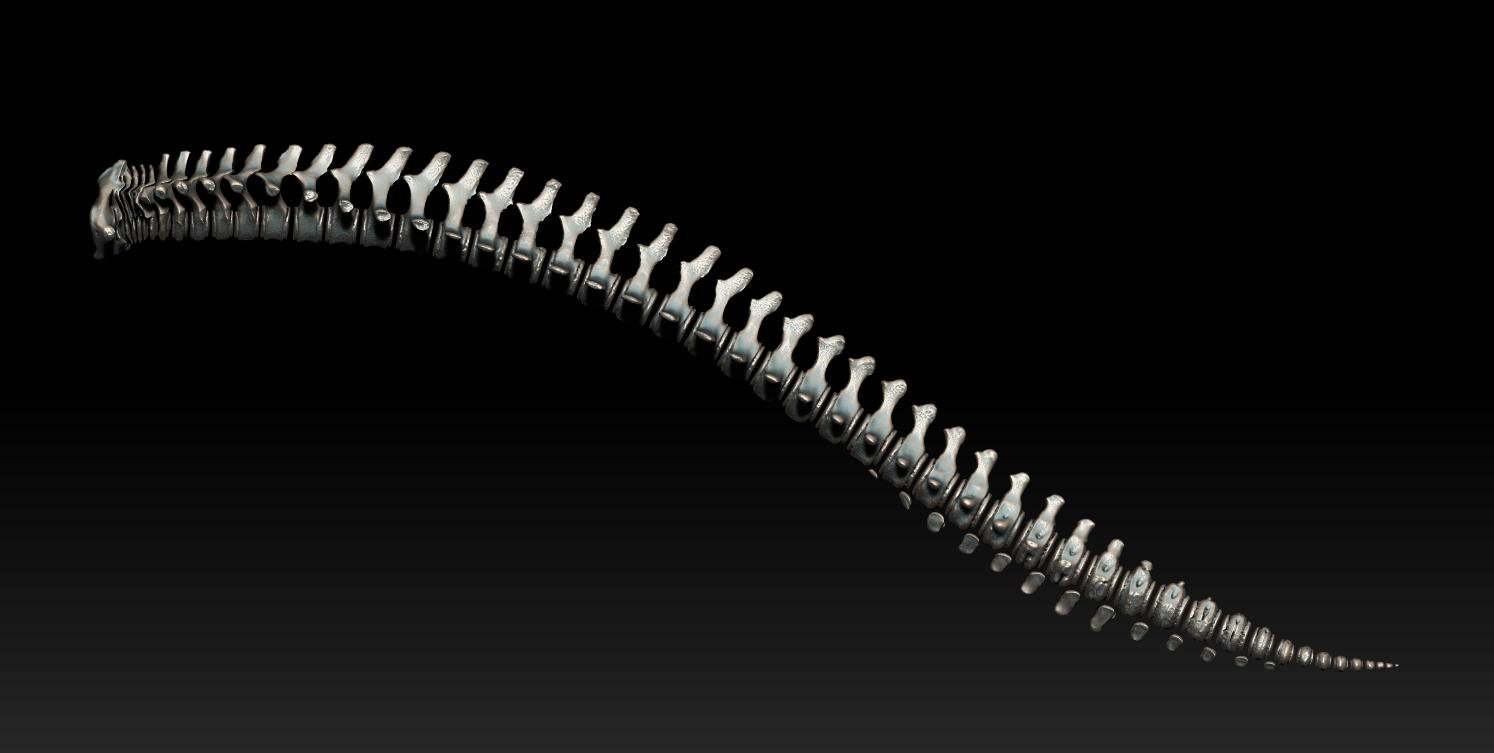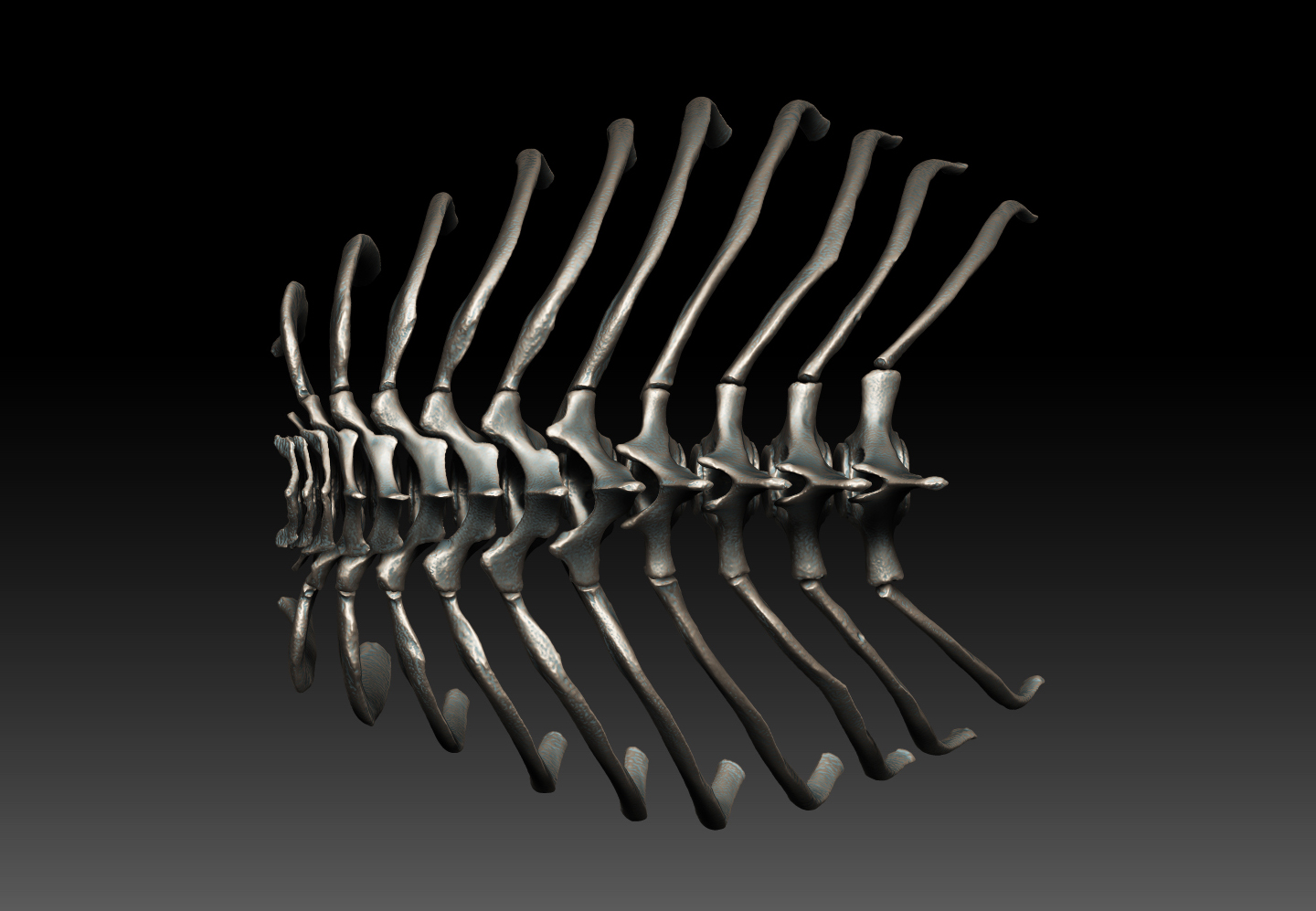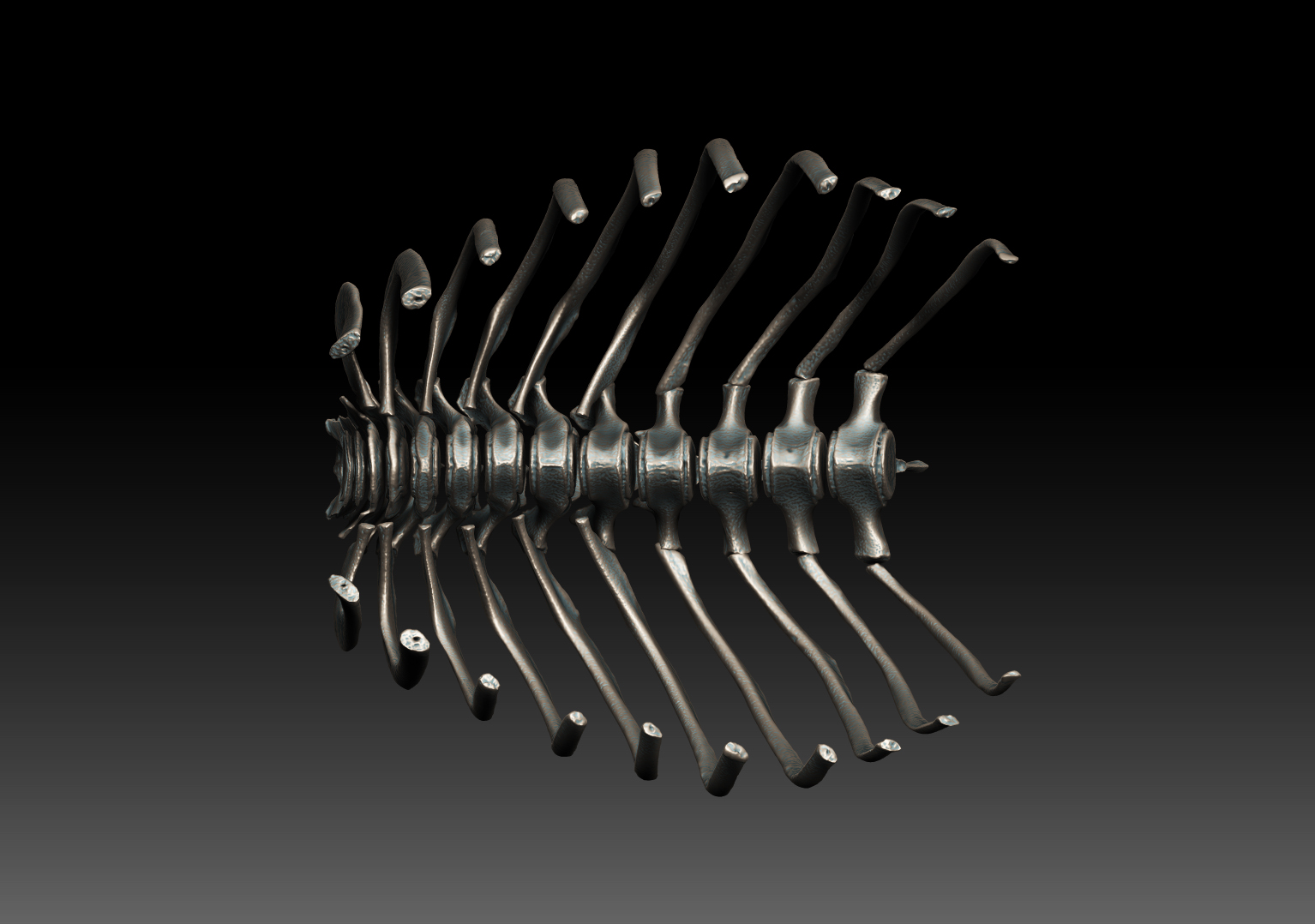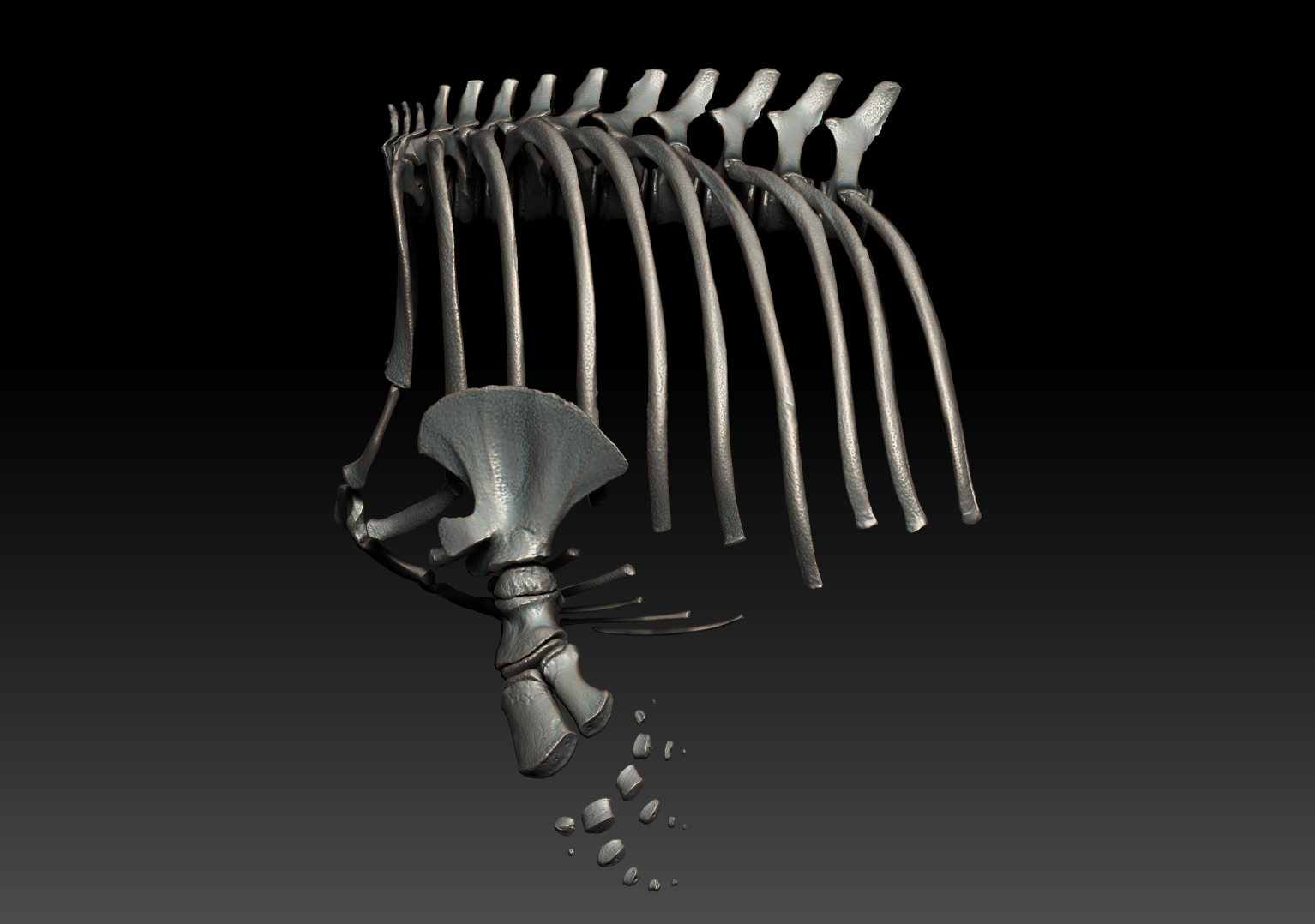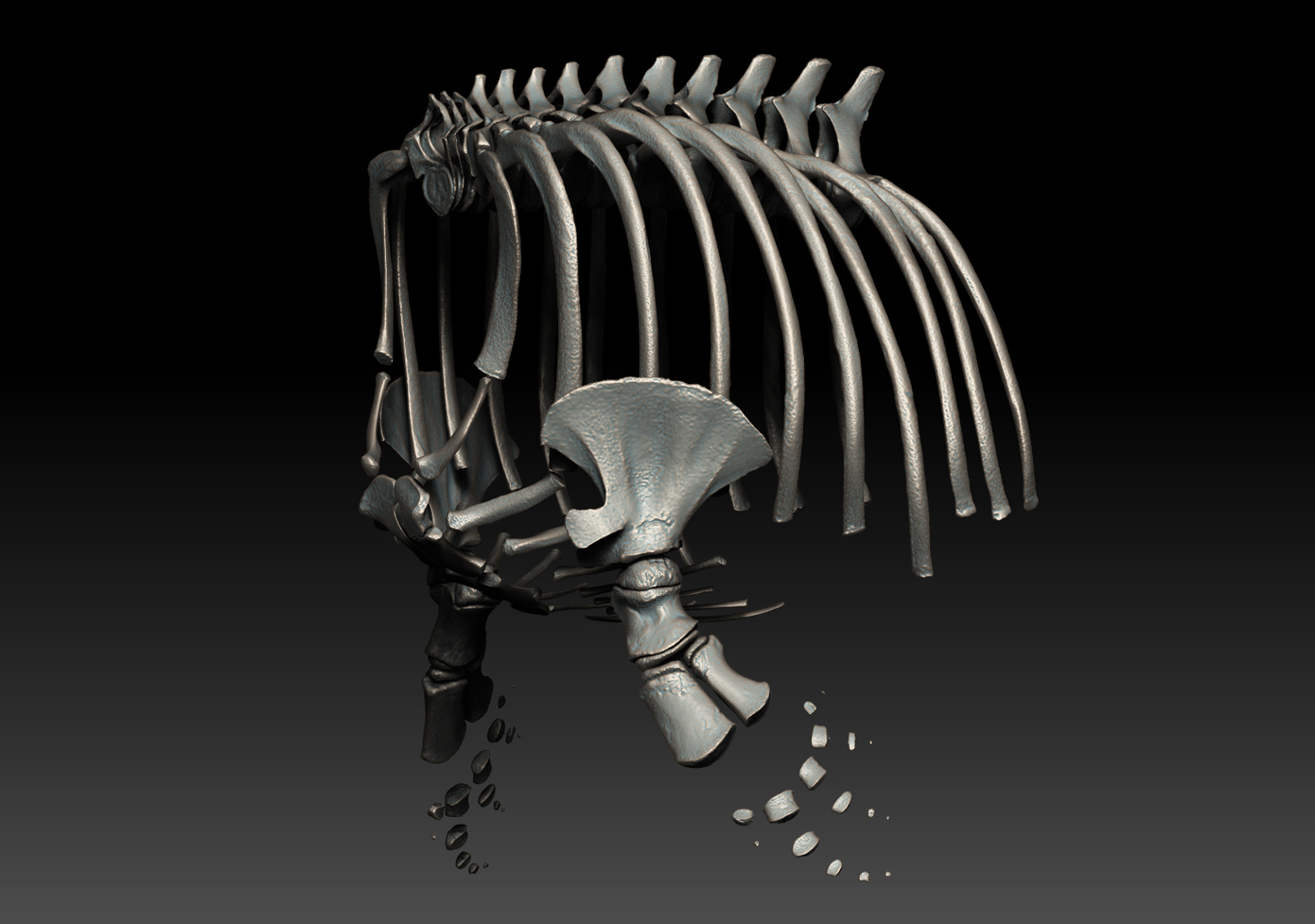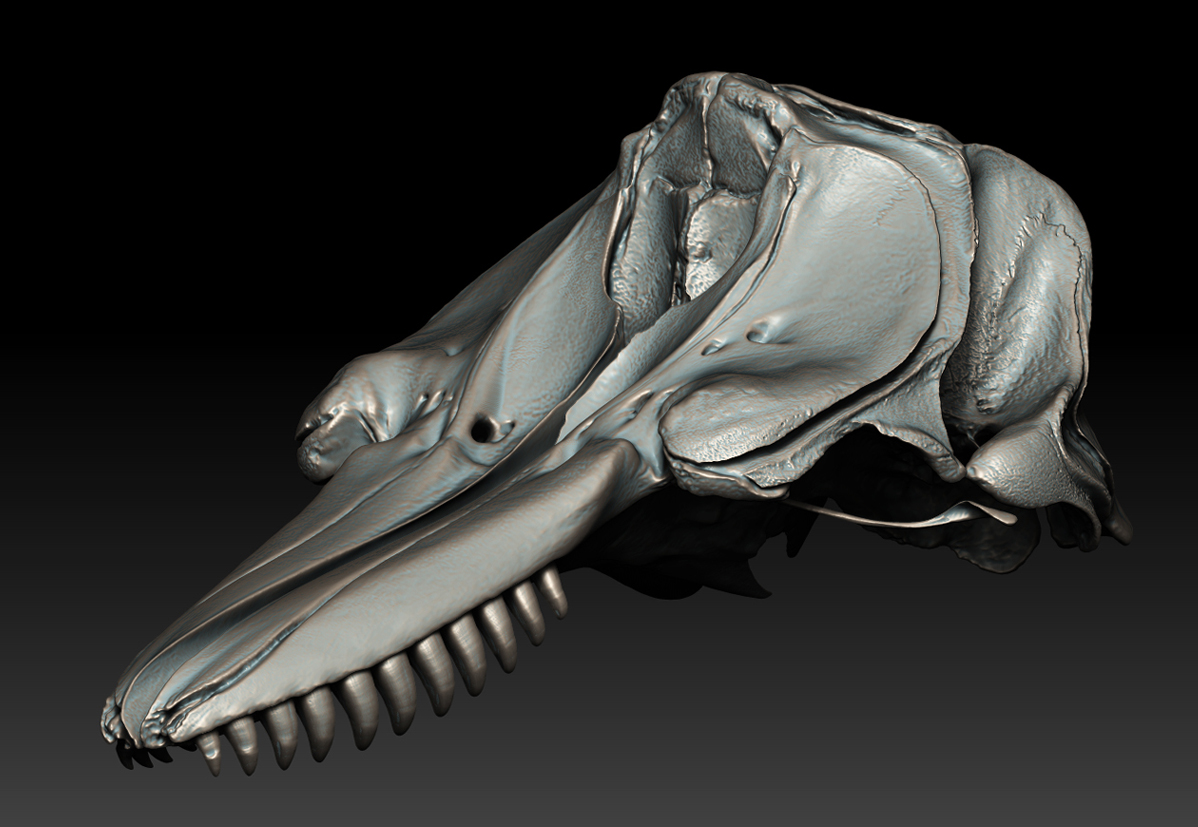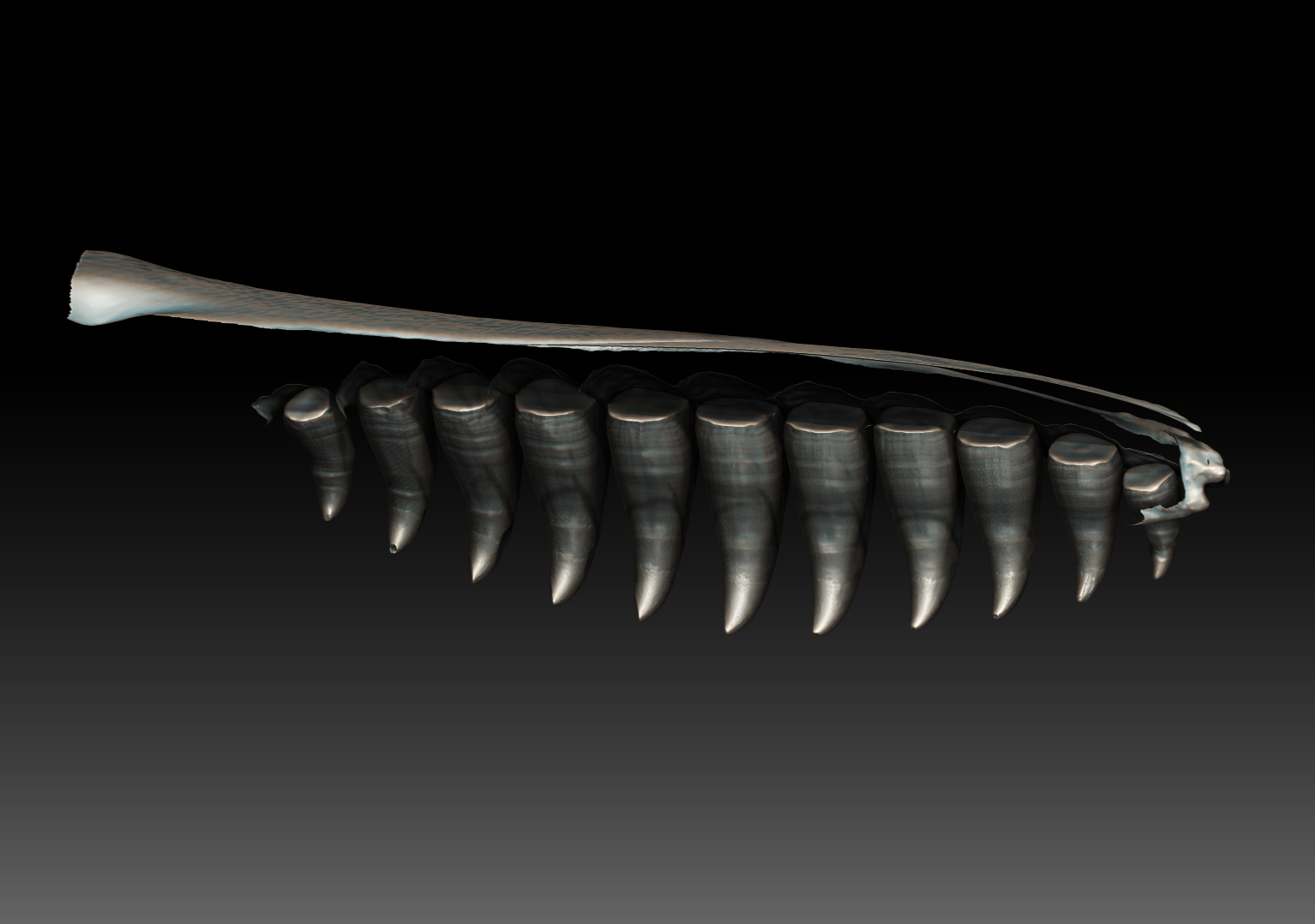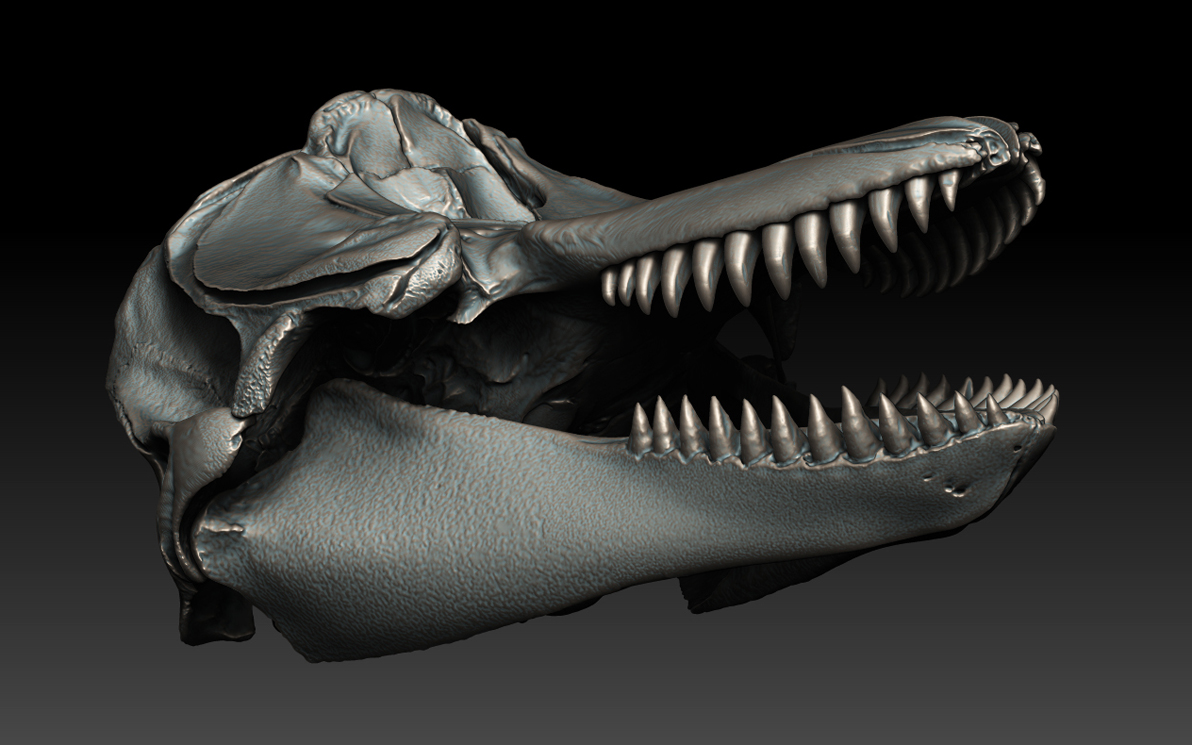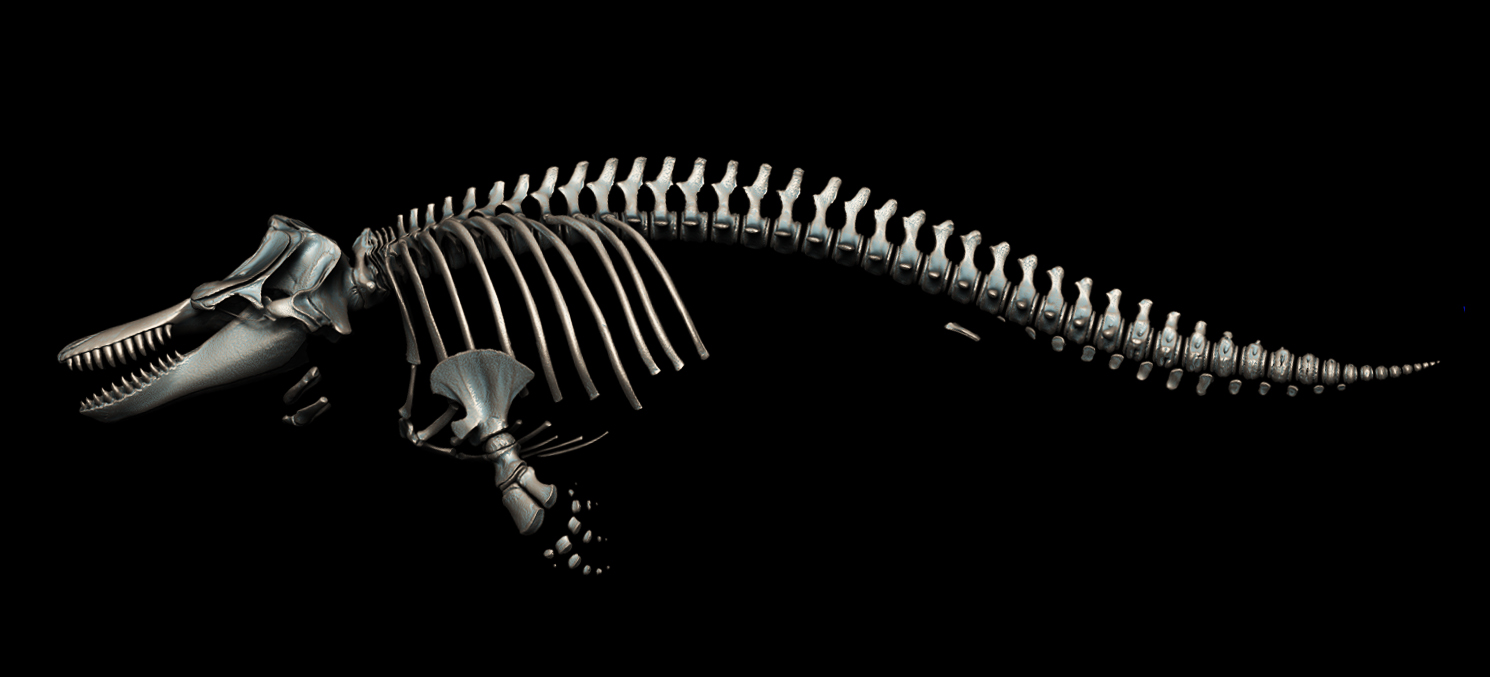 Here is the side by side of both Orca whales, the large is the adult female, the small is the juvenile male. Both of these individuals are actually physically articulated and hung on display at their prospective sceince centers. The adult female on top is housed at the Port Townsend Marine Science Center in Port Townsend, Washington and is the subject of a soon to be released and much anticipated orca bone atlas (ill add links here once the project is finished). The juvenile male below is on display at the Sitka Sound Science Center in Sitka, Alaska. I encourage anyone visiting these areas to go and have a look, the actual specimens are quite a sight to see and the administrators/researchers at these centers are wonderful folks. Indivually, each of these bones can also be found on the VZAP database linked out earlier in the thread as well as several thousand other bones from over 130 unique taxa.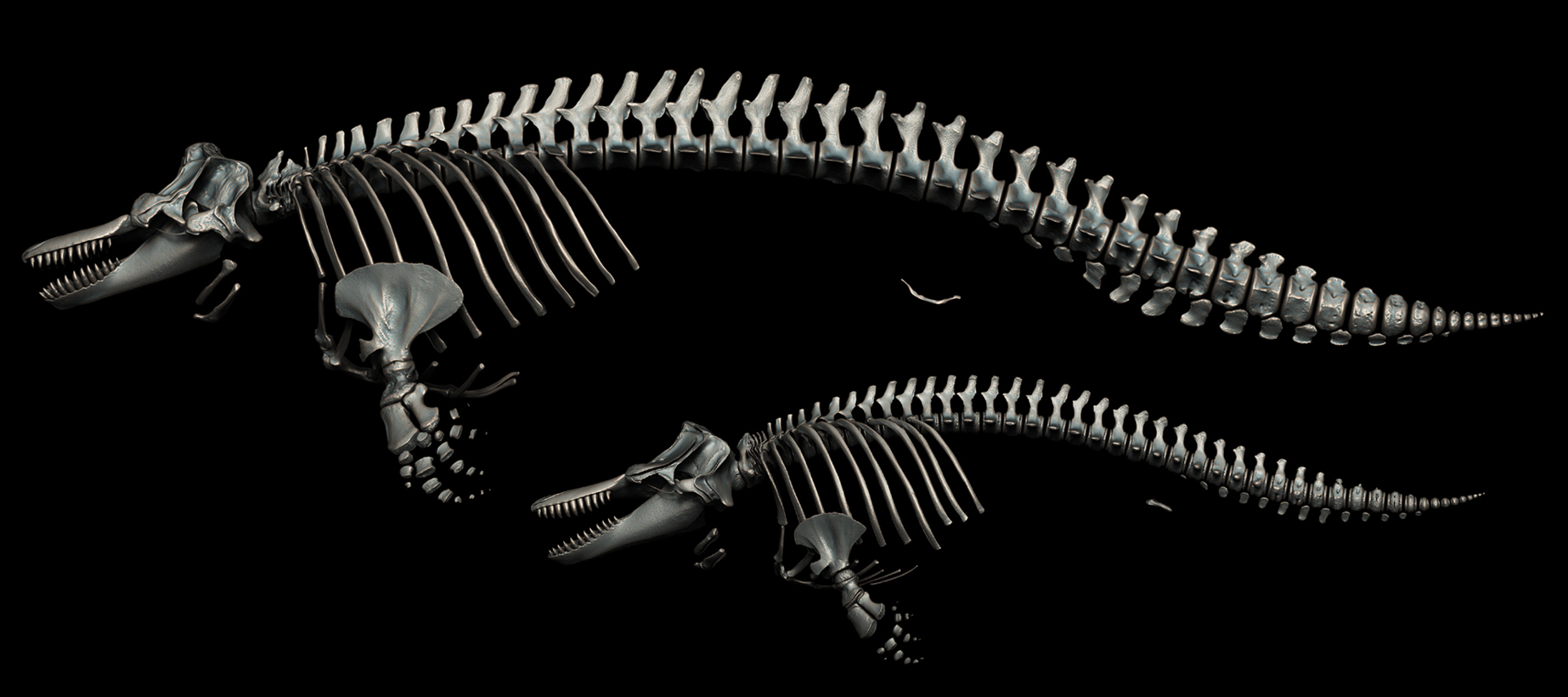 More to come soon!
Cheers,
NGC
Attachments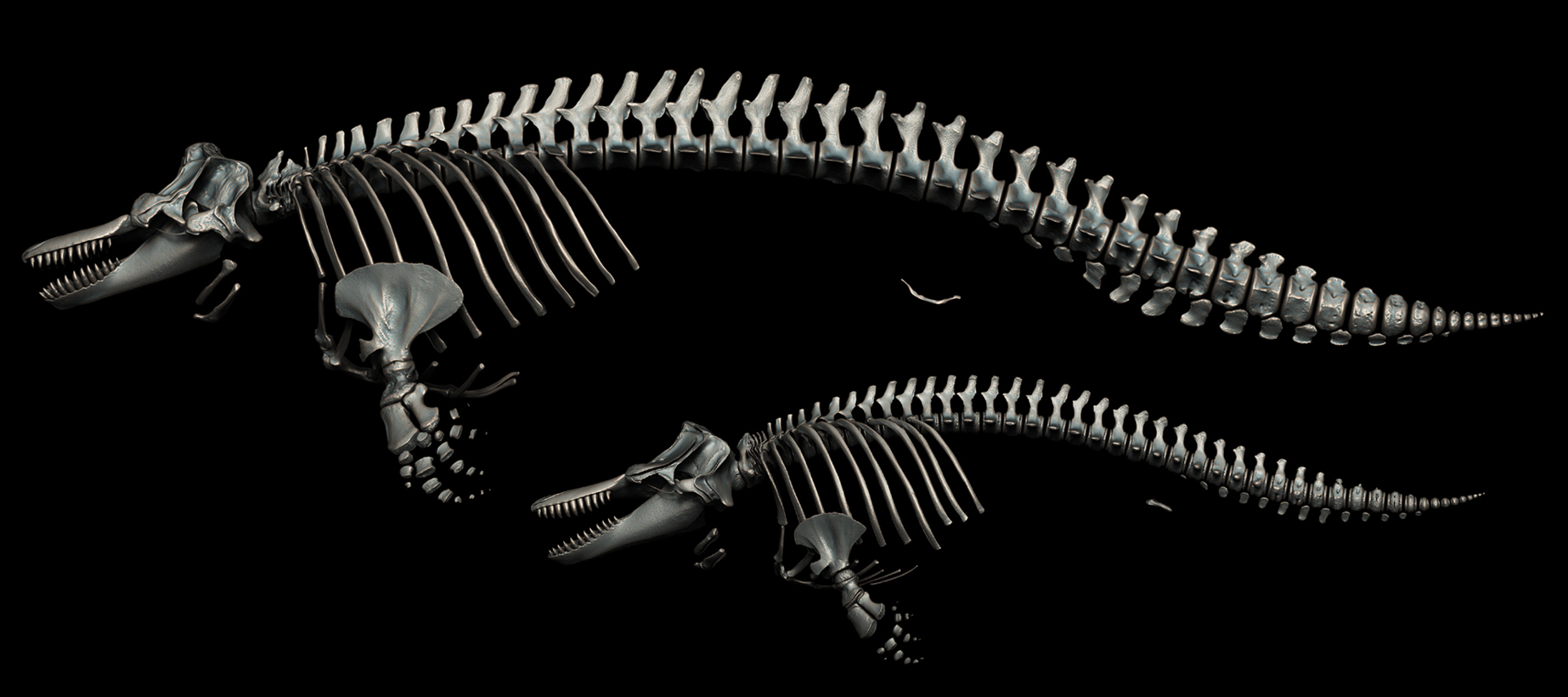 wow! thank you for sharing your work again


Its a real pleasure to see something that truly comes from nature, and executed with such precision too.
Seeing the correct skeletal structure puts the creature in perspective.
Keep on posting please