Hello there,
I currently have a major problem with the import of SVG-Data into ZBrush:
As soon as composite paths are mixed with simple paths, ZBrush seems to fill the intersection of the SVG files.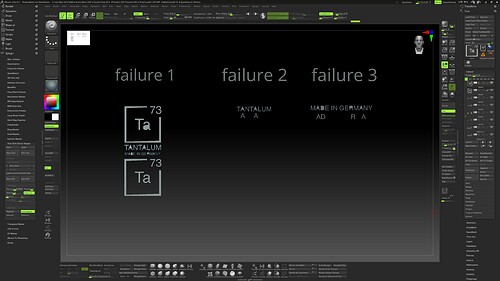 Explanation to the Screenshot above and the failure it shows:
When I try to export a logo completely as svg I get an incorrect display. [top of Failure 1,2&3]
If I try to export single parts with the same export settings then it works. [bottom of Failure 1,2&3]
I have read other posts about this and tried the following:
I tried adjusting the decimal places of the exports.

I exported the paths as contours OR as faces.

I edited the paths in Illustrator with different shape modes, so I either split the paths into intersections or transformed them individually.

I tried to adjust and equalize the attributes of the individual elements.
All of the Software i was using for this is updated ( Illustrator and Zbrush 2022 )
Does any of you ZBrush professionals have a way to solve this issue for, or together with me?
I hope i sufficiently described the problem for you, as i am not a native speaker.
Kind regards and thanks in advance for your help!