Hi gang!
First of all, (slightly) offtopic but has to be shared: ZBrush is awesome, even though I am still busy learning the basics I've already managed to do so much despite still being somewhat of a novice. For me ZBrush is the #1 'expansion' for my Daz Studio endeaviours but I've also started to make progress stand alone (even expanded ZBrush with KeyShot (for ZB) which is also an awesome experience).
My actual question…
I followed this #AskZBrush YouTube video on how to make a tile patten, it explains about making an InsertMesh and then NanoMesh brush.
My question is about the moment at 8:20 in, the InsertMesh brush is created and ZBrush shows both the InsertMesh brush but also shows the IMM Viewer at the top. Whenever I repeat these steps with 2021.7.1 I do see the brush but I don't get to see the IMM viewer on top.
I checked my preference setting (Preferences => Interface => IMM Viewer) but just to make sure I also renamed the "ZStartup" folder to force ZBrush to start in a pure vanilla state. But even in this state the InsertMesh brush shows up, but not the IMM viewer.
Despite the preference being set to default (Placement set to 1, and Auto show/hide is enabled).
I can't help the feeling that I'm overlooking something obvious but can't put my finger on it. Do you have any idea what could be happening here?
Here is what's shown on my screen: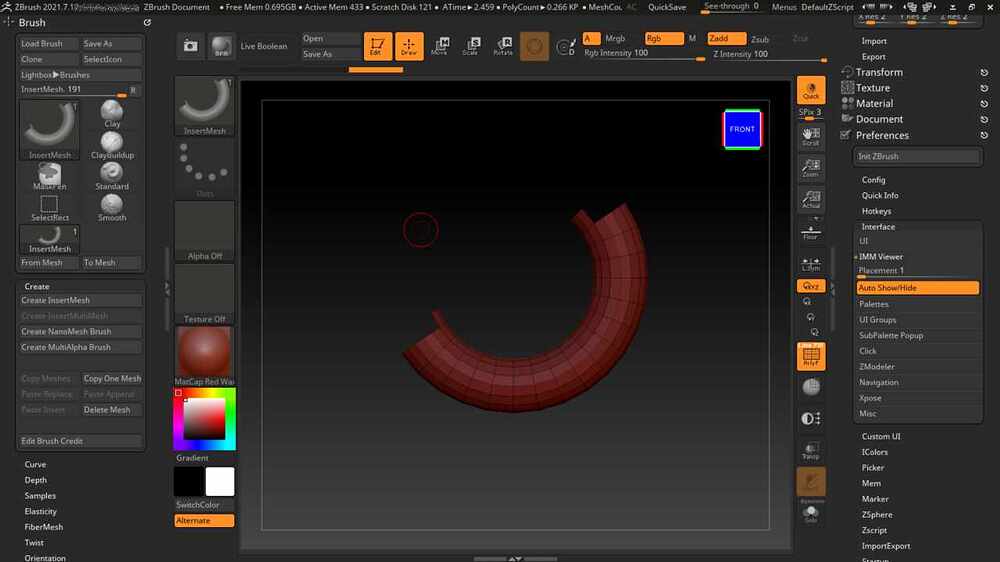 Thanks in advance for any possible feedback!