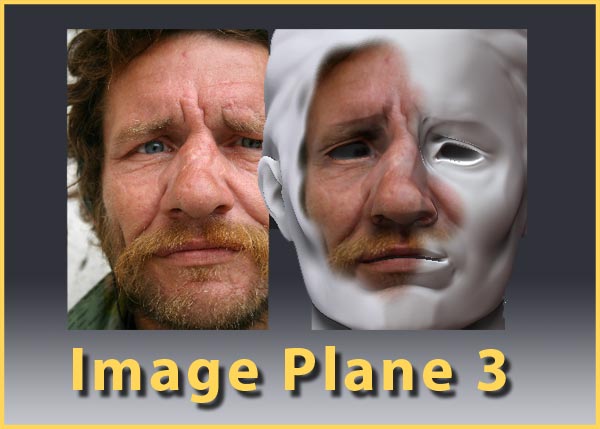 Image from www.3d.sk
Image Plane 3 provides an easy way to load images into ZBrush for use in texturing, either using ZProject brush polypainting, or with Projection Master as in the Texturing with Photo Reference tutorial .
For ZProject polypainting, quickly change the background Image without leaving Edit mode.

For Projection Master texturing, Image is automatically wrapped onto your model.
INSTALLATION
The zip contains:
ImagePlane_readme.txt - the readme file
ImagePlane3.zsc - the plugin file
Unzip the zip file and place the ImagePlane3.zsc in your ZBrush 3 …ZStartup\ZPlugs folder.
Restart ZBrush. You should now have an Image Plane subpalette in the Texture palette, with a LoadImage button, ImgSize, Shift H, Shift V and Model Opacity sliders. Shift-click the LoadImage button for help.
HOW IT WORKS
Click the [color=Orange]LoadImage button to create an image plane. If a texture is selected that image will be used, otherwise you will be asked to choose an image file.
If a model is in Edit/Transform mode then the plane will be placed behind the model (for example, for ZProject brush polypainting). If Projection Master is in use, the plane will be wrapped onto the model and adjustments can be made using Edit Move mode or the gyro.
Use the ImgSize slider to adjust the size of the image as a percentage of document size. For polypainting with the ZProject brush the slider value should be changed before loading an image.
The Shift H and Shift V sliders adjust a background Image when a model is in Edit mode. They have no effect in Projection Master.
The Model Opacity slider is for adjusting the opacity of a model against a background Image used as reference for sculpting. It can be used with subtools. Simply adjust to the desired level. The Fast Shader material works well with model opacity.
The RePos button will store a model's position for recall later. Shift+click the button to store, click to recall the position.


EDIT: Now updated for ZBrush 3.1
I hope you find Image Plane 3 useful.
Attachments