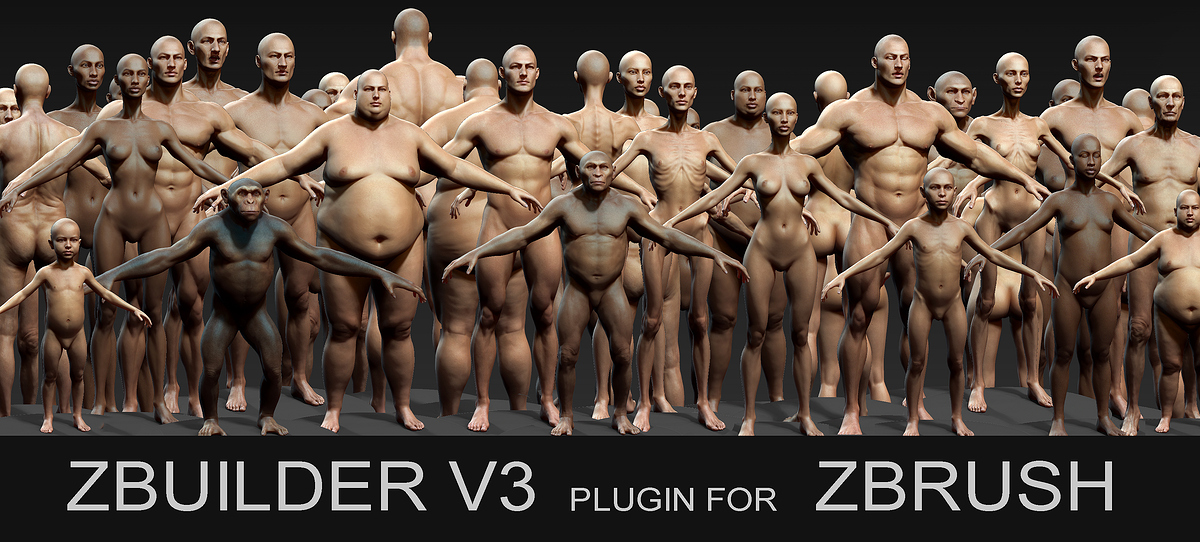 Hello guys i just want to share my last version of zbuilder :
HUMAN ZBUILDER v3 THE EASY WAY TO MAKE HUMANS
supported Zbrush versions:
Zbrush 2020 64bit
or higher version WIN or OSX
Tool for making detailed high polygon human models in Zbrush
Human ZBuilder is a plugin for Zbrush. With this plugin you can make any types of human bodies and custom body types as a creatures or humanoids…
NEW FEATURES in ZBUILDER V3:
NEW REALISTIC HIGH POLYGON MODELS : All models are remodeled in to fit today quality standards .
CLEAN POLYGON TOPOLOGY: The new models has clean edge loop topology and it is ready for rigging and animations.
SEPARATE EYES AND MOUTH: The new models has separate eye and mouth.
FEATURES:
EDIT POSE: will allow you to make basic pose of your model.You can save or load your pose.
EDIT MODEL: will allow you to edit your own model and integrate it into zbuilder plugin as a custom preset. And continue using all zbuilder features.
EDIT RENDER: will allow you to make great presentation of your model. The scene is set with the best settings as materials and lighting presets for easy use.
GET MODEL: will allow you to get the finished model and use it for any purpose that you want.
6 colorized layers for great blending between them

32 MORPH controlled for ( body types, face types , expressions and etc.)

2 CUSTOM morph controllers for your custom changes of the models

Presets for Materials, Dramatic Lighting, Rendering ,SSS,Ao,Shadows, backgrounds and etc. For BPR render.

The models have UVW map and they are ready to bake textures from the polypaint

Clean edge loop topology ready for rigging and animations

The models are good for close up renders ,presentations and etc.
You can use the tool for commercial or noncommercial purposes.
you can't resell it !
Want to buy : https://gumroad.com/l/GuShH
**support email: cecopsychoart@yahoo.com
Hope you will like it

Video link :