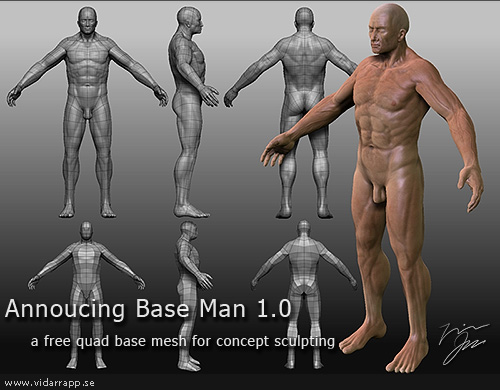 What is it?
This is not a typical base model, rather it's been created to be very quickly adapted into any sort of bipedal creature of your imagination. The name Base Man is therefore a bit misleading, but I'll stick with it for now.
The main thing about this base is that it's not aimed at providing good edgeloops for animation, rigging or the likes. It also includes no specific edgeloops for a human anatomy. The only strictly human features of this mesh is the five fingered hands, apart from that it's basically just a box-man. Basically, this mesh strives towards being as even a surface as possible for ease of sculpting.
So why would you want a mesh like this? Well, I have personally found this type of mesh to be easier and more flexible to work with when doing concept sculpts, where animation-friendly topology is not as important as the overall shape you're trying to develop.
The end result can then easily be re-topologized into a new mesh with a topology that fits snugly on the new form you've developed.
Who would want this?
The people who could have use for this base mesh would include concept sculpters, high-res sculpters as well as 3d artists in general who are interested in learning new workflows and exploring the wonderful world of re-topologizing.
Downloads
Base man - Highres (ZTL) ~10mb
Includes all 6 levels and vertex colors, ready for Zbrush sculpting.
Base man - Lowres (OBJ) 121kb
Just the first two levels in OBJ-format, for all other applications.
P.S. Please leave a comment if you end up using the mesh to do something!
Cheers,
Vidar