Superb! I love your style and I am very impressed.

5*
whoa thanks a ton yallz!



Daemon3d: dang it's nice to hear encouragement from you cuz you were one of my first big inspirations into 3d - love your work!
Trist: thanks a ton man!
branduarte: Thanks man, I've really been loving your ladies, really inspiring work


Shepard: thanks a bunch!
Deckard01: I was just admiring your water-composition figures, stunning work man!
-Storm-: thanks! I dig your style
lazy noob: thanks man!
HerraPuputti: glad you dig it!
Jonboywalton82: thanks a bunch man!
vickgaza: hey thanks man, good to see you here


xada: thanks for the encouraging words


Pixolshaper: wow thanks a ton, that's really encouraging to hear


mattinabox: thanks a ton!
SolidSnakeXXX: thanks a bunch! I really loved your Lady of Naga piece


immilesaway: hey thanks a bunch for the C&C, I'll try to sharpen up my colorstyle going forward


Dman3d: thanks! i like your creature work


makeusong: thanks a bunch


BoBo: hey thanks, that means a ton!! You're a huge inspiration


stubobpot: thanks!
nebular: hey thanks a bunch!
First of all Welcome to ZbrushCentral


Really fantastic first postings on here, really great sculpts!


That hand/chicken creature is just stunning, really nice work!
I like your headsculpts aswell, keep up the great work!
All the best and happy zbrushing,
Hi, I really liked all your stuffs, but the turkey hand is just awesome!

I have followed your work on Polycount for awhile. Awesome to see ya over here on ZBC man.
Great stuff as always. We'll have to get you into Zscripting forums next
Style and workflow. I think I will test some of them out tonight lol :). Maybe I am get as good as you lol.
Love your work. Timelapse was great also!
Wow, so good, yet Another Great If intimidating Inspiration to me!
Keep On posting
Fantastic work, love all of them.
Wow. It's very pleasant for me.
Looking forward to the new cartoon girls

Keep posting
Great stuff Funky! I am really digging the stylized look there! Also its cool to see your timelapses!

great sculpts, really well done
I already commented how I'm going to love this thread but I've just come across your work on lunchcrunch.org and MAN!!! Sweet!!! I loved your Gadget Hackwrench speed sculpt! Very nice indeed!
KEEP IT COMING!!!

KC-production: Thanks man!
VictorHD: glad you dig it


Nyx702: thanks man! and hahaha! you may just see me in those forums soon enough picking your brain

Cloudrid3r: thanks a bunch


muchlove106: thanks man!
Jake Rupert: hey thanks a bunch, it's really awesome if my work can be inspirational


gonso: thanks a ton!
Daemon3d: thanks again man


CrazyMatt: Oh snap! thanks man, I'm glad I got a chance to meet up with you at gdc man!
Unbeliever88: thanks a bunch!
Jonboywalton82: Hey! I love lunchcrunch! thanks a ton man

I've witnessed how much a lot of people dislike girls with animal ears on a couple games haha but I wanted to do some anime fanart and Spice and Wolf seemed to fit the picture for the type of sculptural composition I was feeling.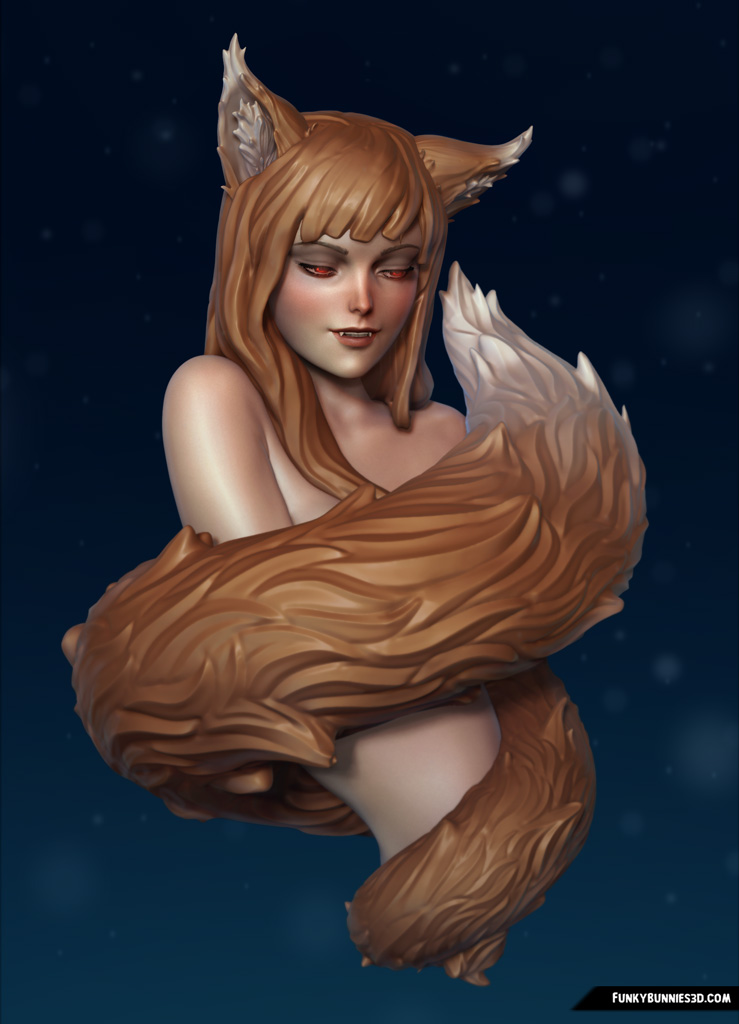 I did a timelapse if anyone's interested

just beautiful, really nice sculpting and really enjoyed watching your timelapse, learned a lot of useful tricks!

Very beautiful, and thanks for the timelapse! It's inspiring for me to see you working

Beautiful! I like your style.
Really nice, reminds me of some Houden Eizou illustrations.
The fur and tail aren't coming off as exceptionally furry or hair-y but that could be a conscious aesthetic choice on your part. Cool. Keep 'em coming.