Thanks for these really awesome brushes, can't wait to try them all out.
Ryan
Here is the first set of skin and wrinkle brushes. Please give me as much feedback as possible! I have many more to make, but I would like a little beta before I make them. Don't expect these to be setup exactly how you want them. Feel free to customize them for yourself. I didn't even try to adjust many settings for them since there are so many ways to sculpt skin and pores etc.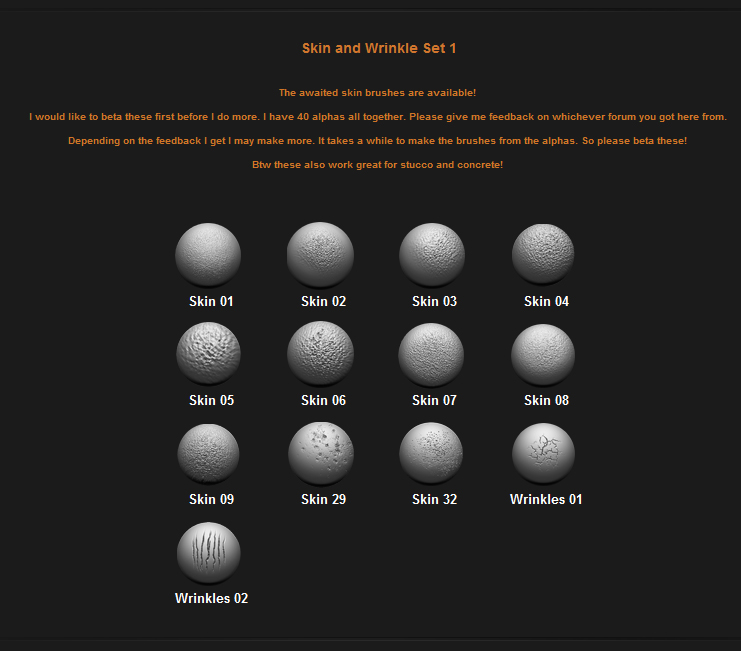 And as always… ENJOY!-Michael
Hey man,
thanks a ton for all these brushes!
Thank u very much, i m new a beginner so i m really very benefited by your custom brushes
Damn, man! Here lately, I've been spending more time downloading and installing your brushes than actually sculpting anything!:D:D
Thanks for the wonderful time savers! As someone asked before, would it be possible for you to start zipping them up into neat little packages? It would help all of us who are your devoted followers even more.

Well I wasn't going to zip them up just yet. I wanted to track them for a few weeks. Although since so many people are asking. I think I've had at least 50 emails asking me for zips. I will start including a zip/rar of each package. So look for it soon!

-Michael
I have now added rar packages for each set on the site for easier downloads.
It might be a while before I make any more brushes. I am trying to finish some work I began long ago. http://www.zbrushcentral.com/showthread.php?164811-Michael-Dunnam-s-Sketchbook. But I will continue working on the screws and bolts brushes. I am modeling each head and baking a heightmap for each brush. So it takes time. In the meantime enjoy the brushes!
-Michael
Thanks a lot Michael.

I apologize I made a mistake when packaging the tech and skin brushes. I addded the icons instead of the brush files. This has been fixed. So if you downloaded either one of those rars download again. Once again sorrys!
-Michael
Wow Michael,
Thanks for your time and effort in creating these brushes, very gracious of you my friend

Beers for you _/_/_/
Cheers,
~Tung
Thank you so much for your generosity.
Really do appreciate it.

Some have asked the best use of the skin brushes. Instead of me spending the time re-uploading them, my advice would be to change the brush to Inflate, reload the alpha from the pallet, set the intensity very low, turn the draw size up to what you need and set the Z to Zsub. Sorry I didn't save them in this way, but its easy enough to change. There are a lot of ways to get good results with skin. Try that out or tinker with it ***8203;

I am working on the nature brushes now. I should have some finished soon. The first pack will be small. If anyone has any suggestions for what you want to see in the nature pack. Please let me know.
The first nature set is now available! This set is mostly meant for distant detail. There are a few closeup detail brushes as well. Let me know if you would like to see anything different in set 2.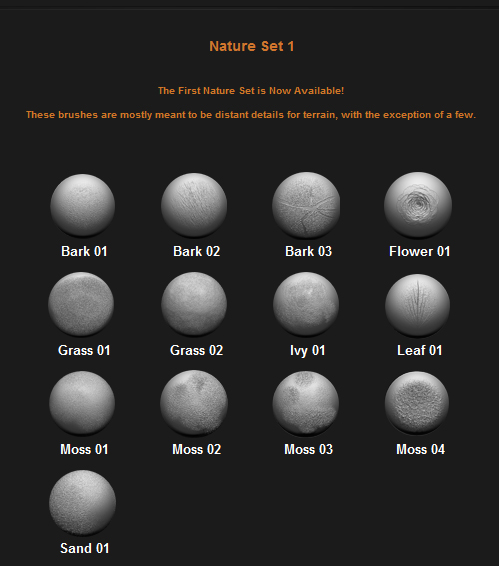 As always
!Enjoy!!
-Michael
Thanks a lot man! These brushes are awesome, just what I was looking for

Thank you so much !!!
Regards Kecaj
I have been slaving away in my free time (not too much of it lately). I will have a very large, hopefully about 20-30 Terra brushes, lots of terrain detailing, cracks, rocks, bulking etc. Hopefully I can finish them tonight or tomorrow and I will post as soon as they are done. Honestly the part that takes the longest, other than making the alphas is actually making the icons lol. But look for them very soon! And just so everyone knows, I have been keeping track of requests. There have been soooo many hits. And I also want to thank the many donations, small and large that I have received. I have tried to respond to as many of them personally as I can. It's definitely a nice motivation to keep this going. I do plan on a few other surprises soon.
Just so everyone knows I have a baby on the way. Actually due in a few weeks, so if I drop off the grid for a while, this will be the reason. But eventually I will be back :).
So look forward to some new brushes very soon. Btw over 15,000 downloads of individual brushes and almost 7000 downloads of the packaged brushes so far! I didn't even know that many people knew zbrush haha.
Have a good evening people!
-Michael