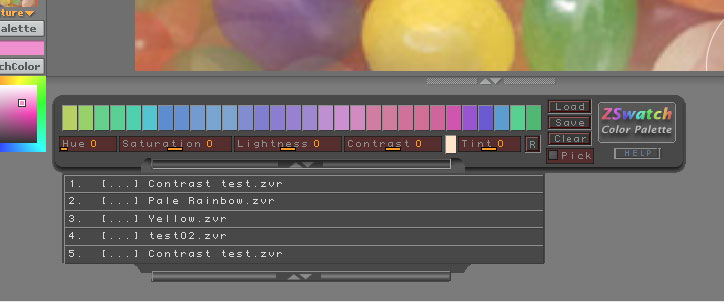 ZSwatch 3.0 is a simple but powerful way to save color palettes between ZBrush sessions.
Pick and store colors quickly using keyboard hotkeys. Colors are sampled from under the mouse or pen, from anywhere on the ZBrush interface.
Adjust colours on the fly using Hue, Saturation, Lightness and Tint. The sliders work together giving a wide range of color adjustments.
To pick a color while painting simply click on the cell. Load ZSwatch even while using Projection Master.
Save and Load palettes at any time. Loads palettes from [ZColor](http://www.zbrushcentral.com/zbc/showthread.php?t=20665) and previous versions of ZSwatch. The current palette and slider settings are preserved between ZSwatch and ZBrush sessions.
Last Used File List in click-open tray for fast loading of saved palettes.
Download and try it! Full instructions in the zip.
ZSwatch started as a reworking of a script by Jay Mackey (Jay's Color Palette Thingamajig v1.4) with thanks to Jay and to Pixologic (TextureMaster) and Digits (who's code Jay used).
Thanks also to cameyo, Svengali, TVeyes, and Davey; I couldn't have written ZSwatch without 'borrowing' bits of their code. Thanks also to aminuts for testing, ideas and all round enthusiasm.
I hope you find ZSwatch 3.0 useful.
121 welcome.
Marcus
P.S. Code is available. Send me a message.
Edit: I've revised the plugin installation instructions. Also included in this zip is the ZLauncher icon.
UPGRADE: 25 January 2005
now pick Shaded or Unshaded colors from anywhere on the ZBrush interface.
Contrast slider added: increases or reduces contrast between palette colors.
Tint slider: negative values for subtracting color.
fixes include:
Used File List tray stays open until clicked closed. Sampling the same pixel twice no longer turns cell black.