Hi all, I know, another noobie sketchbook. Jeez.
I'm a hobbyist only and have had about 1 ½ years prior experience in modeling using Blender before I got Zbrush in October. This project stems from my becoming inspired by Pixolator's motorcycle and Hell666's bicycle. They are both such superb artist and Zbrush technicians. I felt that this would enable me to get accustom to many of Zbrushes features and it has done just that. I know Hell666 said it took him 4 days to build his bike and another 4 days to texture. This project has taken me MUCH longer than that to do in the evenings after work and some weekends. I only wish I could work as smoothly as Pix does in the motorcycle vid.
All long parts, bike frame, handlebars, brake and derailleur cables, were made using Zspheres as shown by Hell666 in his thread. The chain was also made per Hell666's little tutorial on that. Most of the other parts were made in shadowbox or with extraction. The wheels/tires are one piece for both wheel and tire and made using initializing of a ring. I learned a ton about using the transpose, masking and many other parts of this very cool tool while making this bike.
The bike has 131 subtools listed but I merged many pieces to get some of the individual subtools so I'm estimating that there were probably 170 individual pieces made to complete the bike. The total polycount is 18,333,151. At the end, while trying to do the renders with ZBR, I was barely able to move the bike as it was bogging down my little laptop so bad. My original intention was to make a rider for it also but there is no way my computer can handle that, so I guess I'm finished with this project by default. C and C very welcome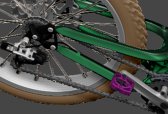 Attachments