Hi !
Here is a crocodile model I've juste finished:
Zbrush model and max/vray render.
Photohop texturing.
Fred
Attachments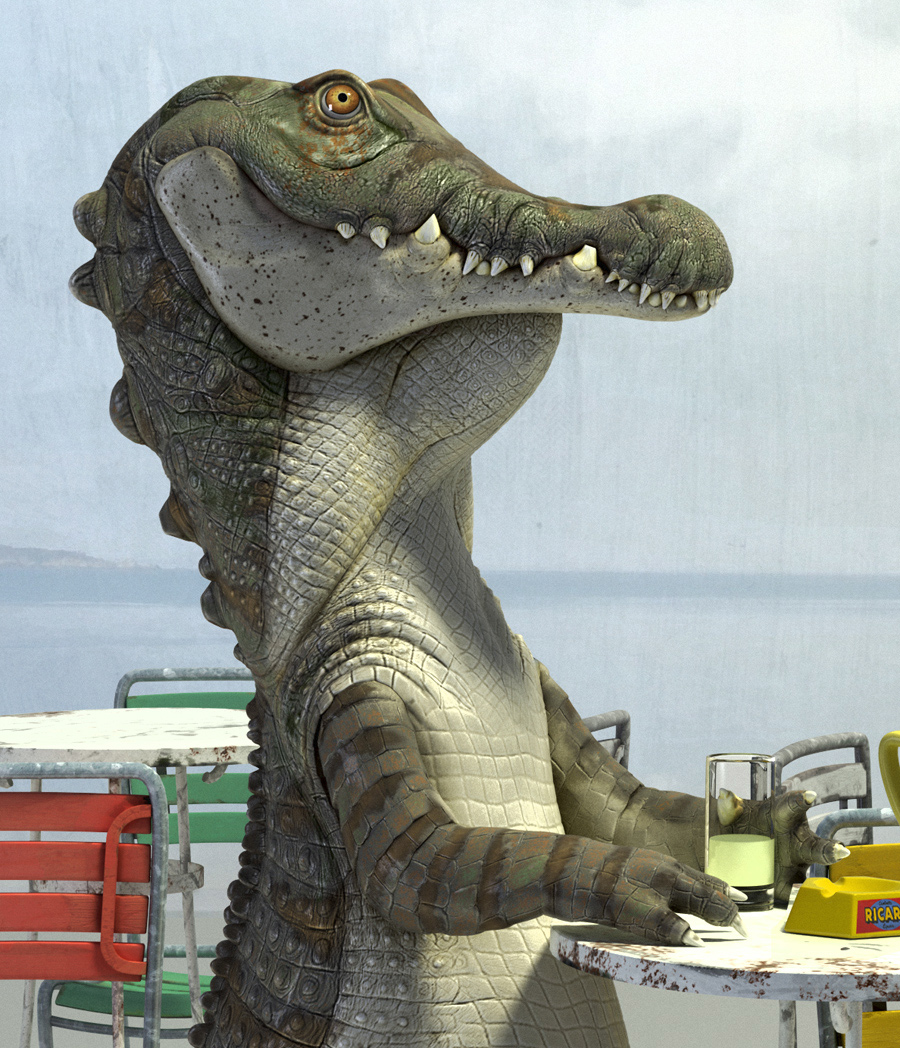 wonderful image. great modeling, and superb texture… one little thing is that the crocodile seems to float above the chair, and its right hand also does not show "weight". but that is nitpicking, atmosphere and all is great. love it.
Funny!! Maybe the floor is too clean, more dirt and broken tiles will be a better combination with those rusty chairs.
Tex, quel plaisir de voir du nouveau de ta part ! Et je tombe pile poil au bon moment.
C'est un bien beau bestiau que tu nous postes là… mais il a encore l'oeil vif, il n'en est sûrement qu'à son premier pastaga… allez je critique, la pose ne me semble pas super naturelle - la main qui flotte et la colonne bien droite… il n'a pas l'air tellement relax !
Bonne continuation !
Ash
Looks great! I really like the croc as a model and design, and the whole scene is just absurd.
I think it could use some work though, first thing is, that I don't know how that head is attached to that body, it looks a bit funky, and then I think the fluid in the glass could use some shader work, it looks pretty radioactive right now.
But those small things aside, I really like this image, stared at it for quite some time, can't really put my finger on why this combination is so great though, but I really dig it

Lovely character!! just awesome!!

small_orange_diamond

small_orange_diamond

Awesome, love the composition and the head. It feels very original. The pose does feel like it could use some work to feel a bit more natural. The neck also feels a bit weird but I don't know if that's me not getting how the skin actually folds… Not often you see a Crocodile sitting up :).
Just came across this. Your work is really excellent. I had to search all you've posted here. Great works! Super painting as well.