This post was flagged by the community and is temporarily hidden.
That's a pretty good likeness. Especially the one of him dancing. You got his facial expression down really well.
What is the height on the printable figure?
Thank you! I really appreciate it!
You can adjust the scale in your slicing software and print him in any size you want.
That is true about on the slicing. I have bought a copy plus a bonus for your web site. I'm not a big Trump fan but I know some people that are. They will enjoy it. Thanks
Thank you very much! Feel free to contact me if you have further questions.

So I printed the sculpt after a little decimation. The only thing I added to both was a base plate. Thank you for not putting one on. That way I can make any base I want to print. On the neutral position I will need to bridge the fingers. I noticed that after I printed, The fingers are real weak for my printer to do well, and I pulled some of them off with the supports. I also cut off the end of the tie on accident.
The good thing is I work in the plastics industry and can take the bad prints to work and recycle them.
What I used:
My printer is an Ender 3-pro.
The material is PETG, I will print PLA ones later.
I did a base white so they can be painted. My mother likes to paint.
I used a 0.4mm tip.
I used Z-brush to add the plate, decimate the figures, and scale to 154mm(6 inches).
I used Z-brush 3d print hub to scale and export as an STL to bring in to Simplify 3d slicer software.
Its been a fun project.
I forgot to say I have not done the little bit of cleaning and sanding, and fix on the neutral pose jacket.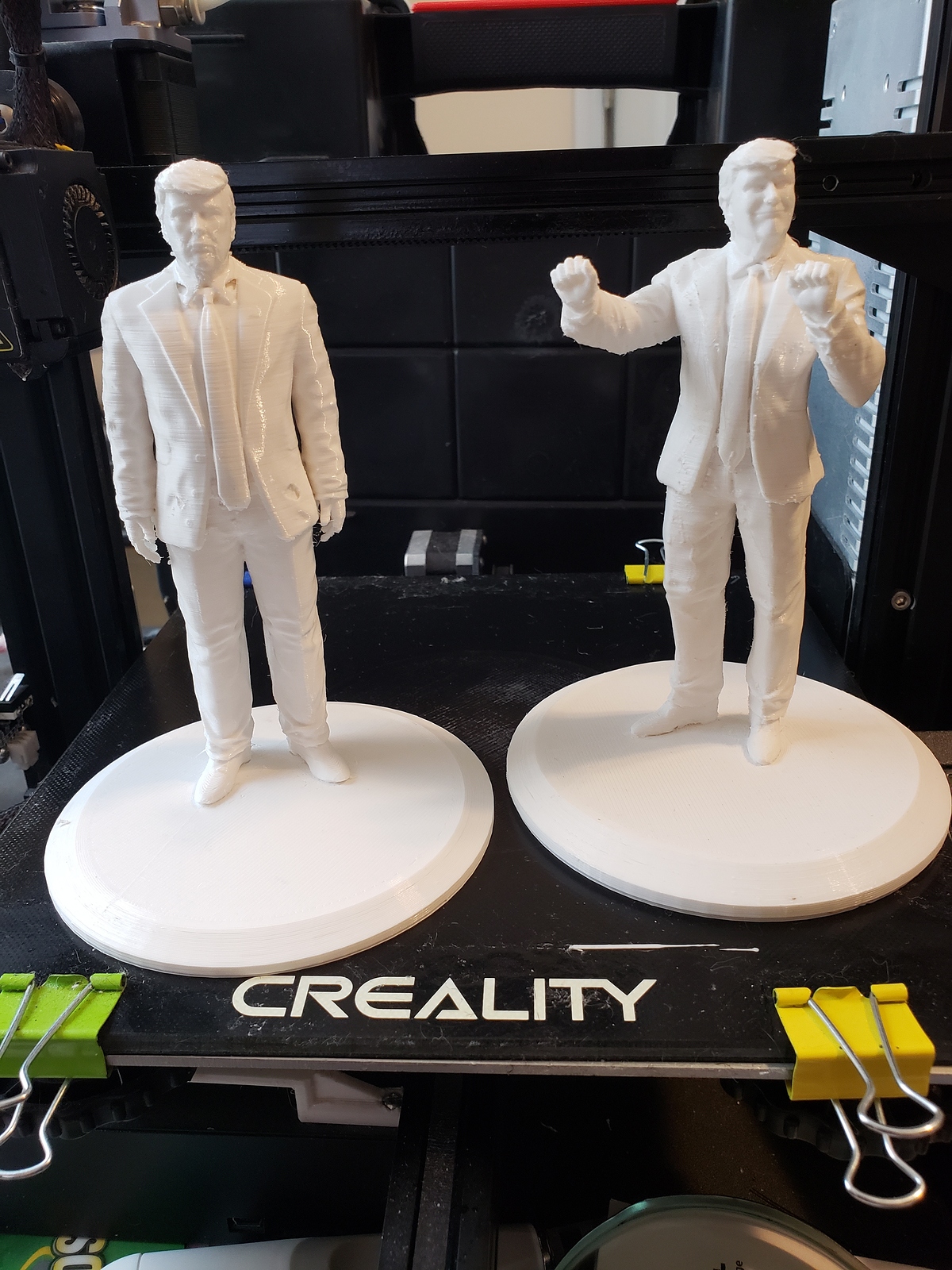 Thanks for sharing this!
I am going to upload an improved Version at some point.
I definitely need to optimize the neutral version for 3D printing.
Thanks for your feedback!
Are you going to paint the prints?
I have to print them as well as soon as I have repaired my printer.
Have a wonderful day
Niclas