great, your crativity is exploding,very nice.Your drawing of the satyr is very cool.go on.
nGene works are very dynamic and expressive…
Can't help but post again… apologies! I really like your experiments and above all, your willingness to post them: a true





"Artist's Log". Looking forward to the next!
Wasn't going to do any more with the zombie head but found best render and started to see how much better things could look.
(Did a little post - highlights, shadows, etc in PS)
Quite pleased with the result, so will probably continue detailing and texturing & see this one through to the finish. If that turns out good enough, I'll work a background and narrative.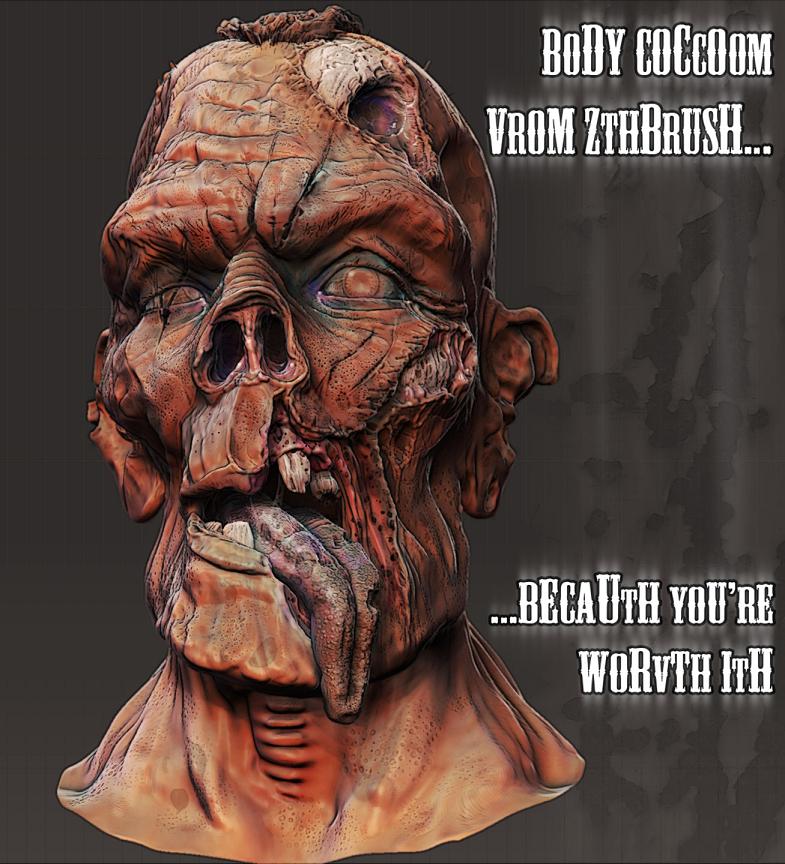 love this zombie head and the puch line is hilarious:lol: ( isn't that the Loreal or garnier line?! ). I like how you have layered geometry. the inside of the mouth , the tongue coming out etc. gr8 work!
zombie looks good…
i like his teeth…
and by the way wonderful 2.5 D stuff…
No ,you cant have "H" he`s mine

!
Oh well, wonderful stuff H .
Im gonna go for a swim now…somewhere off the Amity coast seems a sweet place this time of year.

Brilliant as always !
regards
DAZ
Excellent painting on the Zombie head.
So much for doing a texture tutorial!!! 5 mins in, this began happening to my screen… took a whole hour and 2 cans of mr muscle to shift it.
'Decagog (a Gir)' <!--[attach=154600]Decagog (a Gir).jpg[/attach]--> Don't know why I enjoy these so much, maybe because there's no wrong or right for me to be overly critical about, simply the joy of creating them...

I have a feeling that I might do one really big 2.5d experiment and enter it for the Royal Academy's Summer Exhibition next year ... imagine if a zbrush entry made it in :)![Decagog (a Gir).jpg|778x594](upload://iWxYzTHbZTm2dddDyhPCvaOYTsk.jpeg)![Decagog II (a Gir).jpg|900x1058](upload://uqnkb2LGprUOsBVpGPkl2gMQOrS.jpeg)
dude, your art is awesome! I love the 2.5 d stuff
Learning about creating matcaps today…lunchtime break highjacked again…
…my final Jean Giraud tribute, promise!

'Journeys of the Dark Incal'
(Gir-Jodorowsky Paradox)
![Journeys of the Dark Incal.jpg|960x696](upload://rMjmtzH2BXxTFl1uFvlz52aokye.jpeg)
looks like alot of fun, i like were your taking your work.
…the Jean Giraud (Moebius) tribute!
I like the one with the purples - reminds me of finger painting art - cool technique.
Keep the Journey going.
ART here! just five stars.

Was deciding which tutorials to buy next, saw the rockface alpha and thought, how hard can that be?
As it turns out, there were probably things I could learn about work flow, certainly in scaling my rockface to replicate it around my scene, the larger versions show off some distinct lack of res/detail, and I was very clumsy in matching alphas to my sculpted details… (and I probably shouldn't have snakehooked a tree either) still I liked the result enough to do a pretend matte from it… a nice way to spend 3 1/2 hours on a friday afternoon

The weekend!!! (probably spend it with zbrush, provided the missus doesn't mind too much)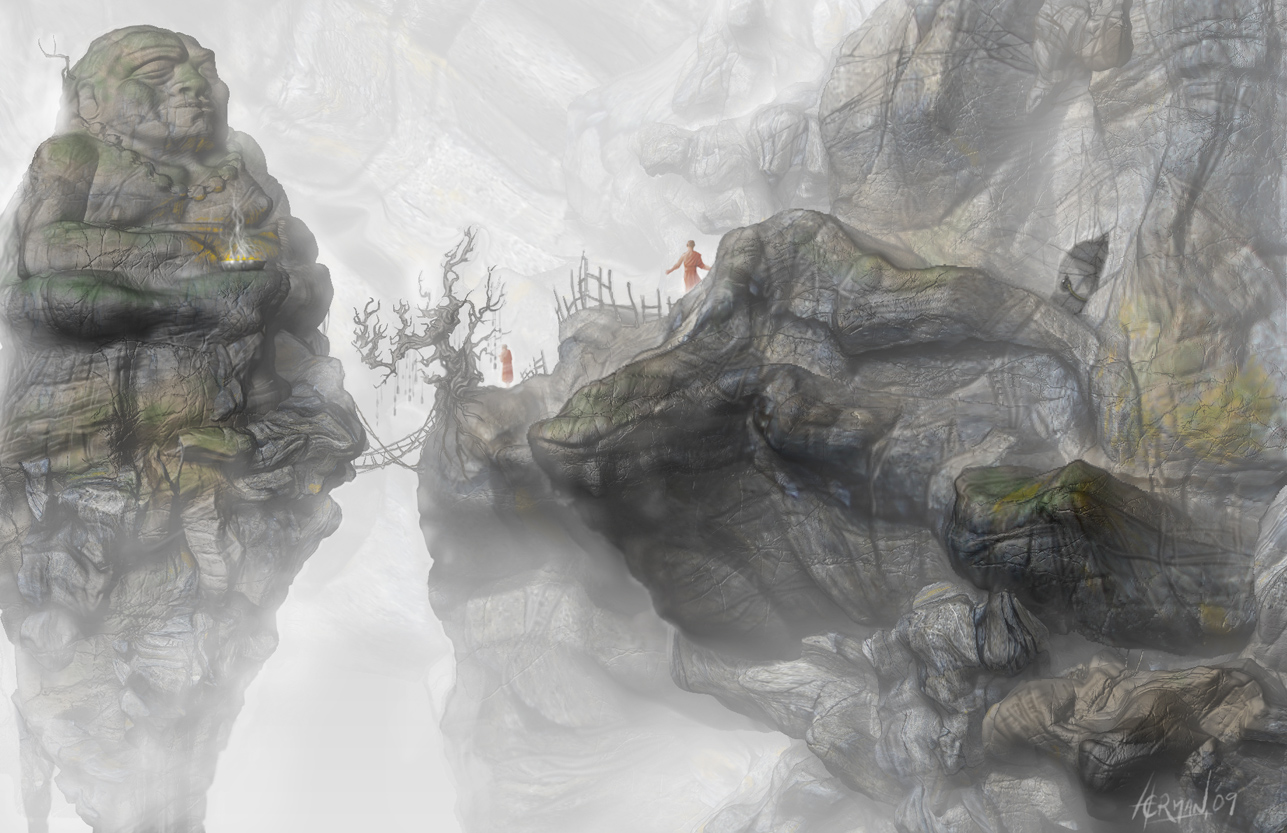 Attachments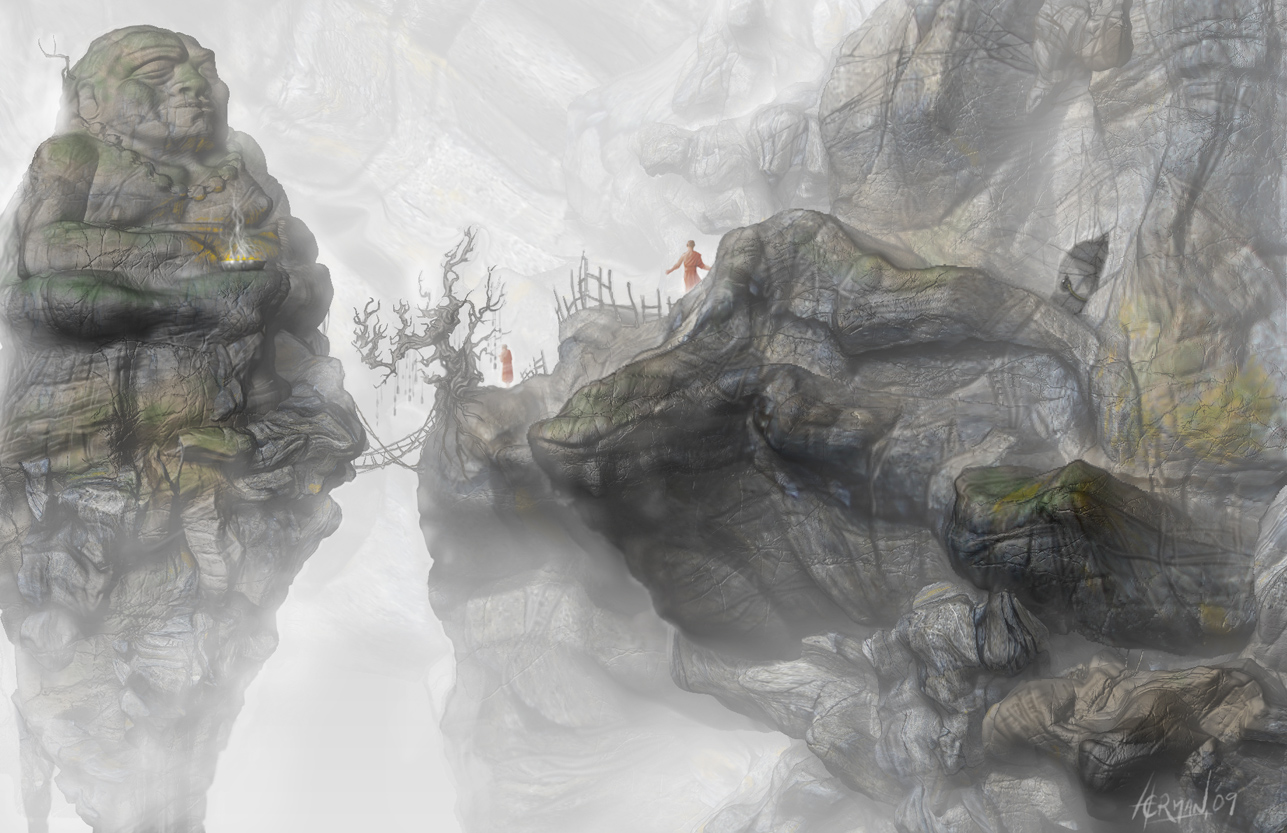 Cool image - really nice fog effect.
I lke the snake hooked tree, and the blown from below direction of the branches lends some power to the environment. First impression is tgood my eye goes to the holw in the wall on the right because of the clarity in the air there, maybe it could do with another tree or some other element to brake it up just abit over the hole.
Ditto Point's comment on the tree. I think go back to the basic render (with fog off) and add some detailing with the noise brush on the rocks to me they seem a little to smooth but that's just mho.
Thanks Point, Spaceman… have to agree to both points.
I hadn't planned this pic and it does show


Compositionally (for interest) it's quite lacking, but then it was just a pretend matte to see how good/useful the rock face needed to be.
Will try the tip of using the noise brush … must have missed that.
I was trying for all sculpt with the rockface, but because I didn't pull it off that well I ended up tarting some bits up in PS when adding the figures, bells etc. Will plan it next time and compose it properly and with a better sense for workflow with the rocks … …hopefully

Here's another doodle, this time for the love... I used to dream about getting this kind of texture into my work at art school; always loved all those textural abstract expressionists... used the fun pack alphas a lot in this latest version, they were a bargain, and by far the most exquisite alphas I've come across! Surface II (Birth of a Nation) <!--[attach=156449]Surface II.jpg[/attach]-->![Surface II.jpg|1032x841](upload://nA4zGGuBrL9gwg5szeXd82tZ4yk.jpeg)